Chocolate Pecan Pie Bars – a fun and delicious version of pecan pie, these bars are decadent, sweet, and incredibly easy to prepare. The perfect treat for a crowd, too!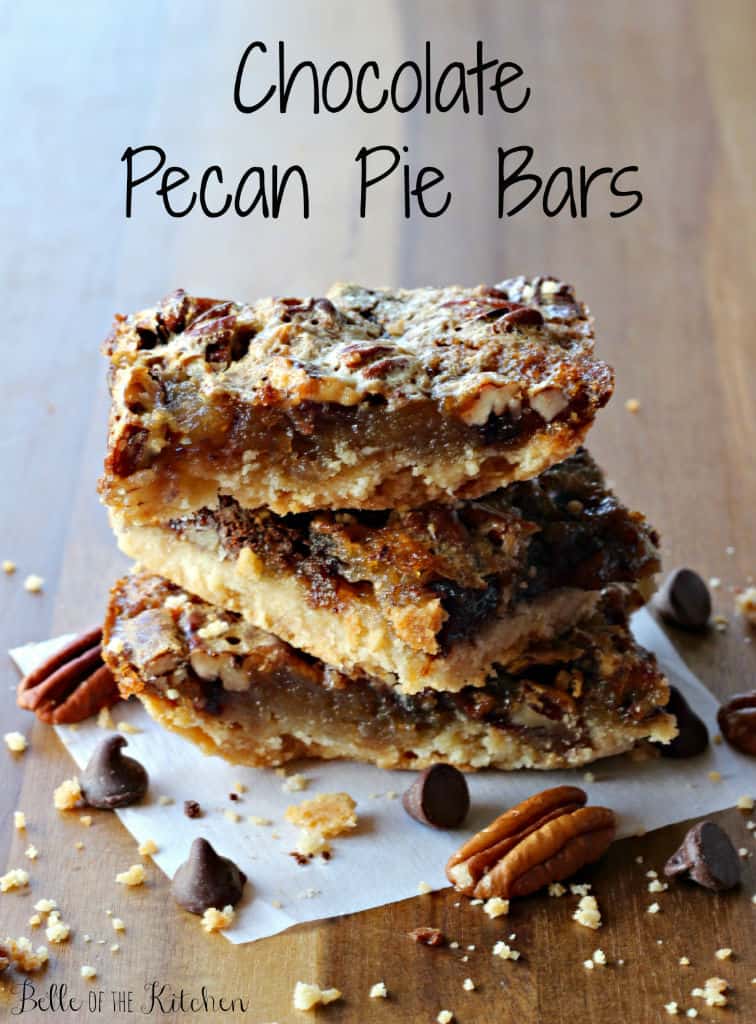 Do you have a favorite dessert? I do. It's my mom's homemade chocolate pecan pie. Whenever I get to see her (which isn't often enough) she always makes one for me, and it just gives me that warm, fuzzy feeling of "home." We are separated by about 5,000 miles, with her back in the south and me allllll the way out here in the Pacific. Missing family is one of the hardest things about living this military/gypsy life, and sometimes you just need a little piece of comfort food to ease that ache of homesickness that comes around on occasion.
This recipe is a lot like my mom's chocolate pecan pie, and I like it because it lends well to sharing. These can be made ahead and cut into bars to take to get togethers, potlucks, bake sales, etc. And they're pretty great for just enjoying all by yourself, too.

The recipe comes from one of my favorite cookbooks, The Cookie Bible
. It is full of all kinds of delicious dessert recipes (mostly cookies and bars) and I find myself grabbing it off the shelf whenever I've got a hankerin' for something sweet.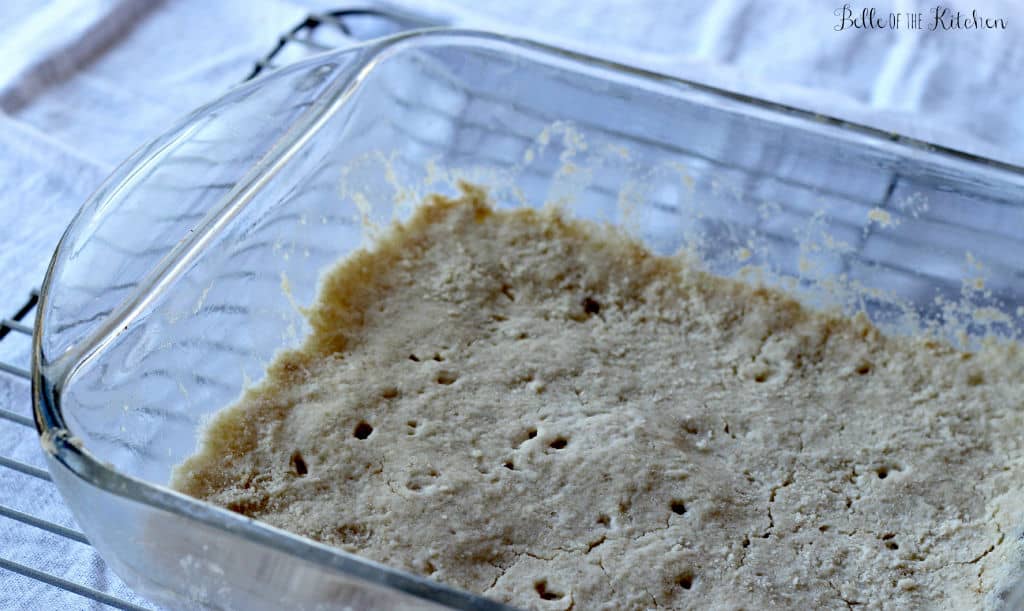 There are two parts to this recipe, both of which are super easy. First you'll make a crust with some flour, butter, and brown sugar and bake it for about 12-15 minutes.
While the crust is baking, mix up the rest of your ingredients in a medium sized bowl.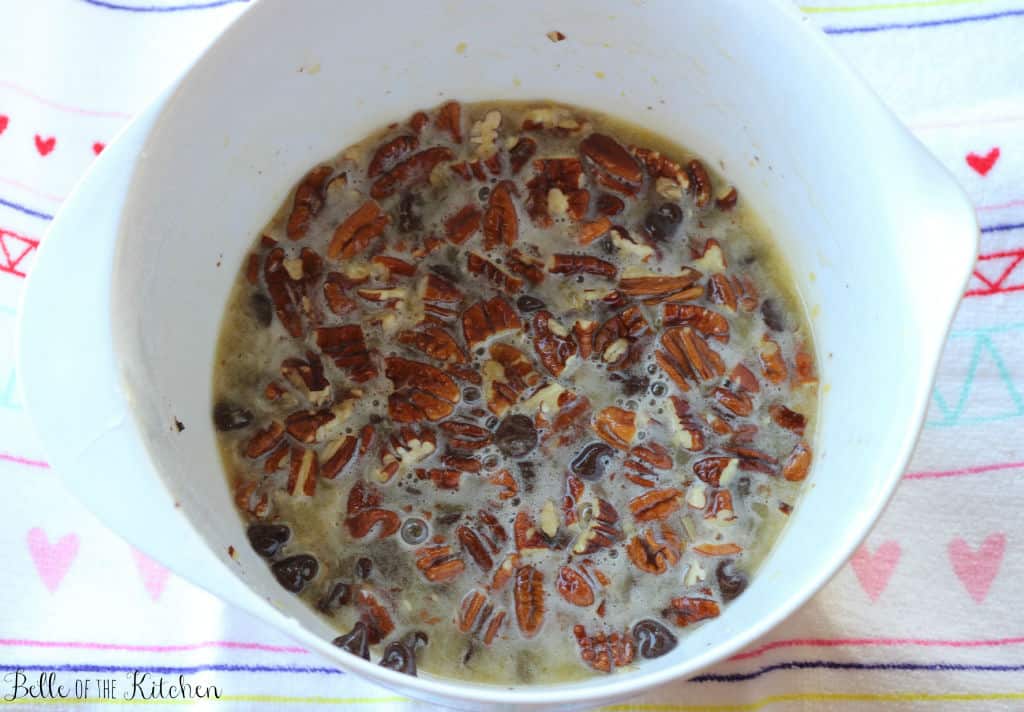 Then pour over the top of the warm crust…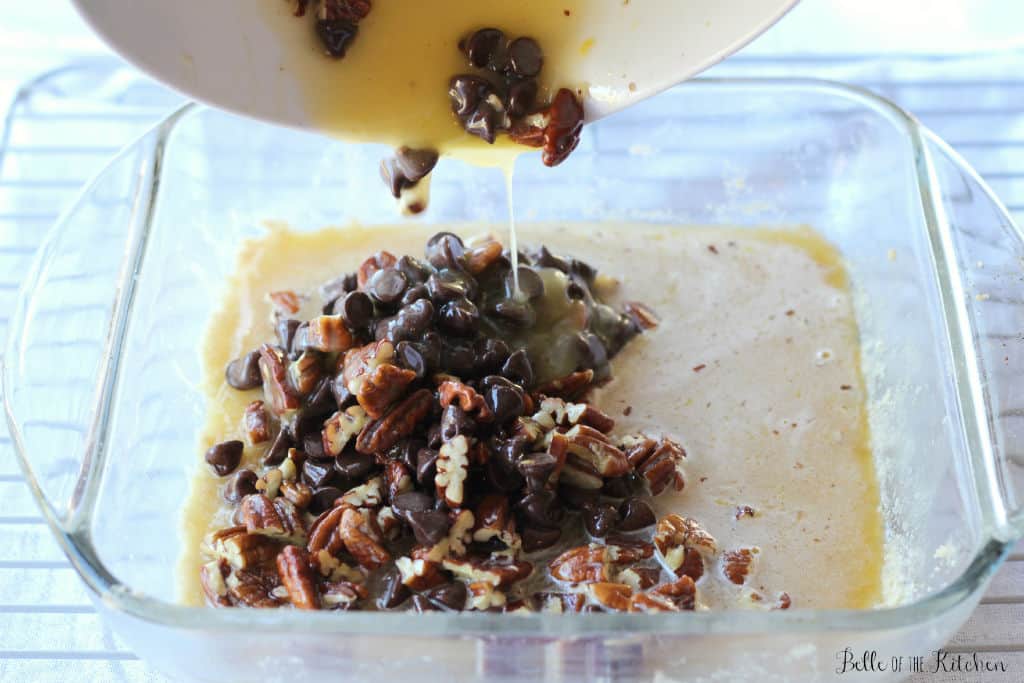 Spread it around, all nice and even, and then pop it back in the oven to bake for about 25-30 minutes. In the meantime, prepare for complete dessert bliss by pouring a sizable glass of milk. My husband believes it's impossible to truly enjoy most desserts without a big glass of milk. He may be on to something…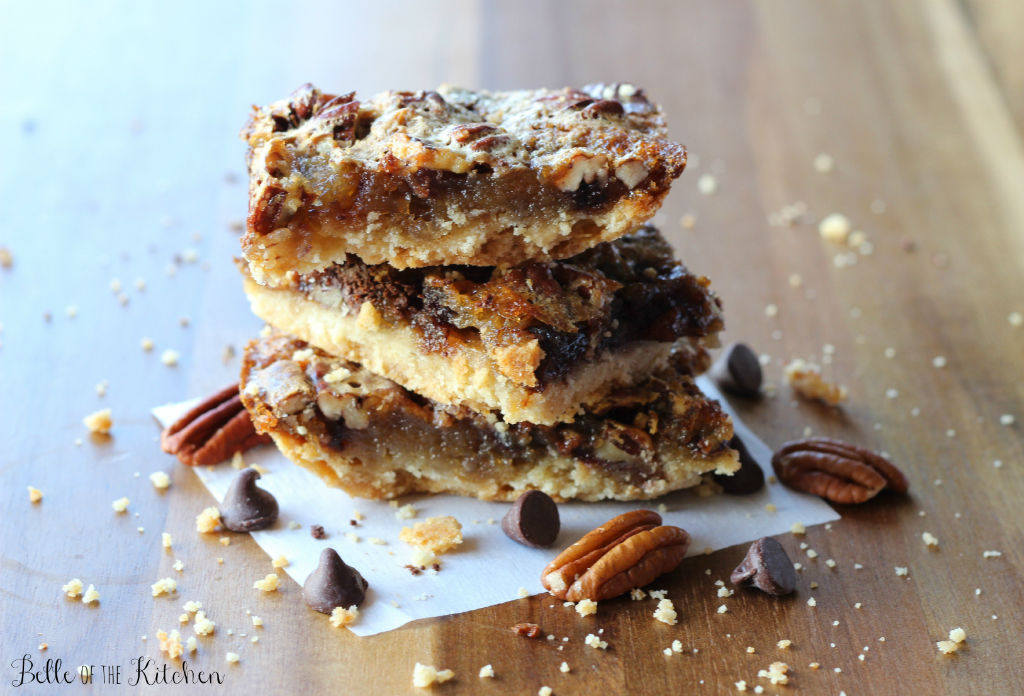 Mmm mmm yum. Hope you've got that milk ready.

Have a fabulous rest of the week.

Chocolate Pecan Pie Bars
Ingredients
Crust:
1½ cups flour
¼ cup packed brown sugar
½ cup butter, softened
Filling:
3 large eggs
¾ cup granulated sugar
¾ cup light corn syrup
1 tsp vanilla
2 TB melted butter
1½ cups chopped pecans
1¾ cup semi-sweet chocolate chips
Instructions
Preheat oven to 350 degrees F. Grease a 9 x 13 pan and set aside.
Combine flour, brown sugar, and softened butter in a medium sized bowl and beat with an electric mixer until crumbly. Press evenly into bottom of prepared pan. Bake for 12-15 minutes.
Meanwhile, whisk together eggs, granulated sugar, vanilla, corn syrup, and melted butter in a medium sized bowl. Fold in pecans and chocolate chips.
Pour over top of warm crust. Return pan to oven and bake for 25-30 minutes, or until filling is set.
Allow to cool completely on wire rack before cutting into bars.
Notes
Adapted from:
The Cookie Bible
*When I made this, I halved the recipe because my husband was gone on a work trip and not home to help me eat it! That's why my pictures show a smaller baking pan. If you make the full recipe, be sure to use a 9x13 pan. :)

If you like these Chocolate Pecan Pie Bars, you might also like….
Related posts: