Do you ever celebrate Meatless Monday?
We do, though it's not always on Monday. This week it was "Too-cool-for-meat-Tuesday" at dinnertime, and we enjoyed this quick, and yummy Vegetarian Chili.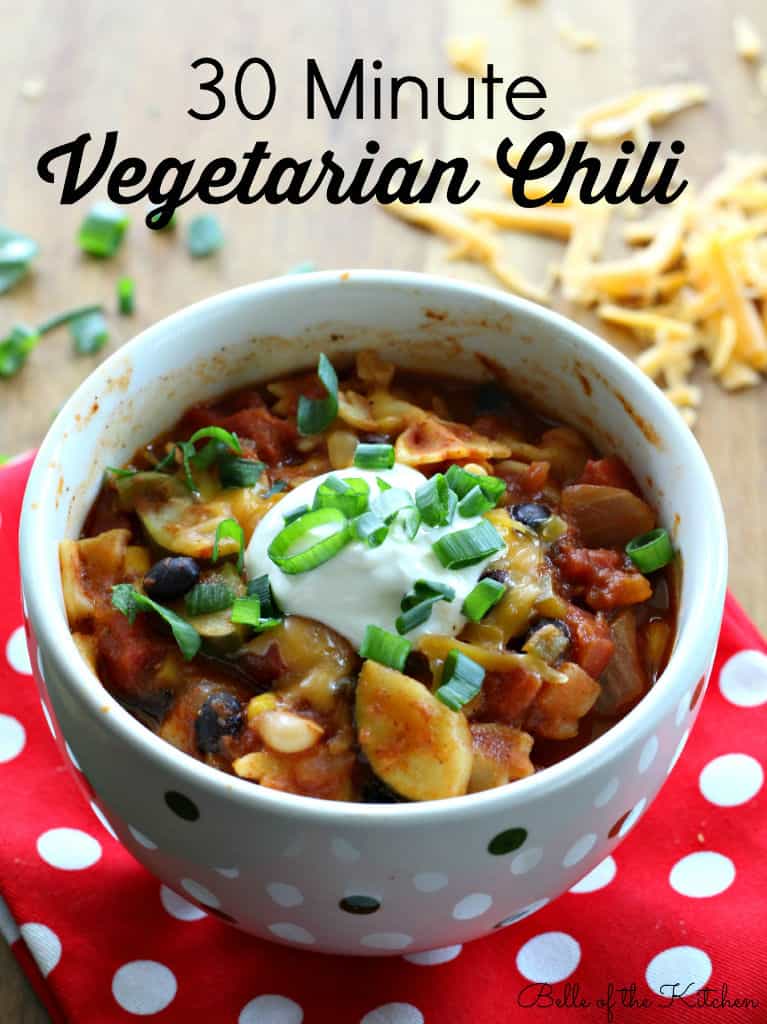 This chili is so amazingly tasty, yet still filling even without the meat! It's chock full of veggies, including my personal favorite, zucchini! I also added some mini-faralle pasta, but you could always leave that out if you're going grain-free.
The first time I made this chili, I was amazed at how incredibly flavorful and delicious it was. While I try to make a few meatless meals each week, we do eat our fair share of meat. I am married to a self-proclaimed meat-a-tarian, after all. Really, friends, if I go even a couple days without a meaty dinner (preferably beef), my hubby claims to develop "the shakes." Yes, I know, he's TOTALLY full of it. 😉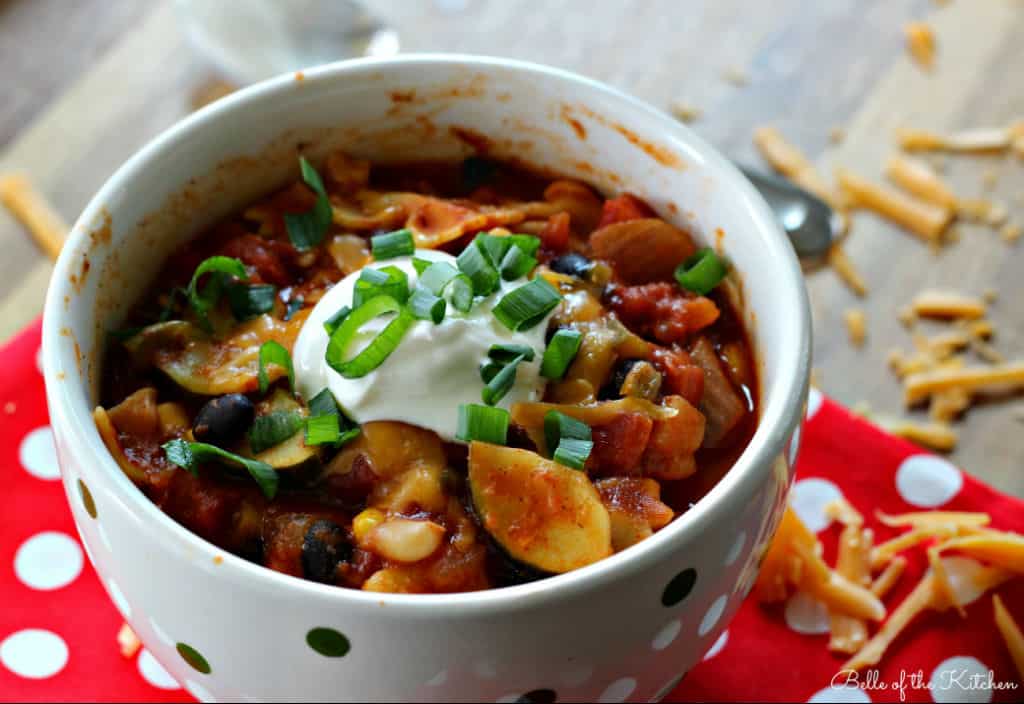 The nice thing about this meal is that it satisfies the meat-a-tarian and even my picky three year old. My son happens to love beans, so he tends to pick those out first. Plus, he gets excited about "bows" in his dinner. It's fun to explain that those are actually noodles, and not meant to be clipped into sissy's hair.

This chili is the perfect weekday meal, since it's fast, healthy, and easy to prepare. It cooks up in one pot and is ready to serve in 30 minutes. Now you can't beat that with a stick!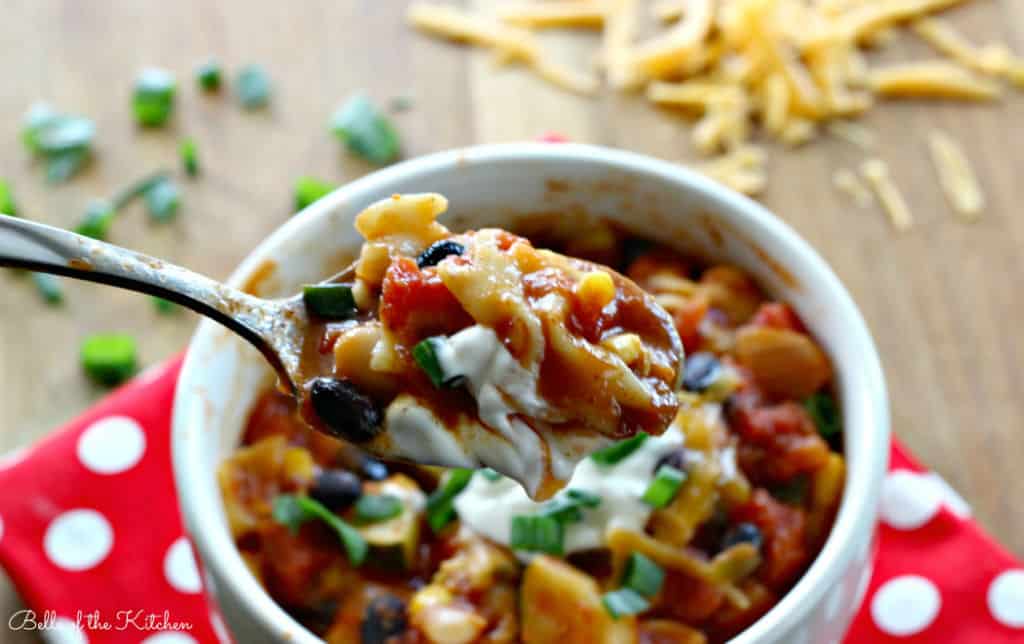 I hope all of you are having a wonderful week so far! I'm looking forward to celebrating Easter this weekend with my kiddos, especially since it's my sweet girl's first Easter. Be on the lookout for the perfect spring dessert, and a yummy appetizer for Easter dinner later this week! And as always, I'm so glad you're here.

30 Minute Vegetarian Chili
Ingredients
1 cup green pepper, chopped
½ cup onion, chopped
3 garlic cloves, minced
1 TB olive oil
2 (14.5 oz) cans, diced tomatoes with chili seasonings, undrained
1 cup tomato sauce
1 cup water
1¾ cup vegetable broth
3-4 tsp. chili powder
1 tsp. cumin
1 tsp. dried oregano
½ tsp. ground black pepper
1 can black beans, drained and rinsed
1 can cannellini beans, drained and rinsed
1 cup zucchini, sliced into quarter moons
1 cup frozen corn
1 cup mini bowtie pasta (or pasta of choice)
Instructions
Heat oil in the bottom of a large soup pot or dutch oven over medium heat. Add green pepper, onion, and garlic and sauté until soft, about 5 minutes.
Add in tomatoes, tomato sauce, water, chicken broth, and spices. Heat to boiling. Reduce heat to low, and simmer covered for 10 minutes.
Stir in beans, zucchini, corn, and pasta. Continue to cook over low heat until veggies and pasta are tender and cooked through, about 10 minutes.
Top with cheese, sour cream, and scallions to serve.
Notes
Adapted from:
Better Homes and Gardens New Cook Book