This delicious Maple Coconut Granola is full of healthy, clean ingredients, and is so easy to prepare. Pair it with milk for a yummy bowl of homemade cereal, sprinkle it on top of your yogurt, or simply eat it by the handful!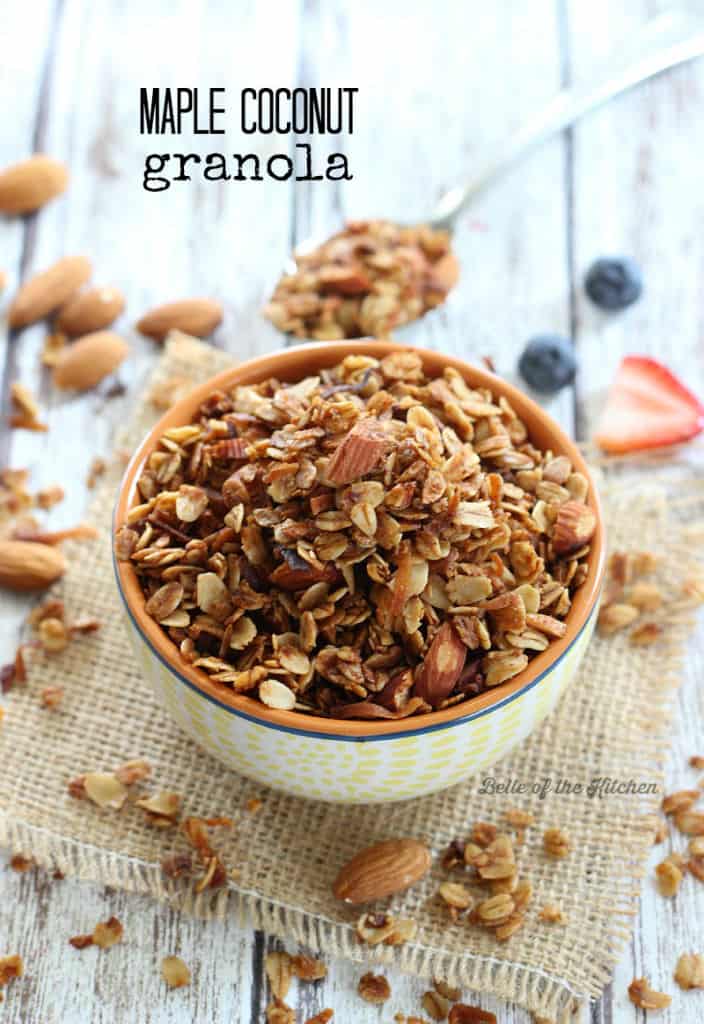 So we had a couple of hurricanes drop by the islands over the weekend. I mentioned the hurricane hysteria that was going on around here when I posted my Pepperoni Pizza Dip a few days ago, and it seems that all that water hoarding that was taking place ended up being all for nothing. The Big Island did get hit and sustain some damage. Some folks there are actually still without power. Here on Oahu though? Well, I've seen way worse storms than what Iselle gave us. In a weird way, I was a little disappointed!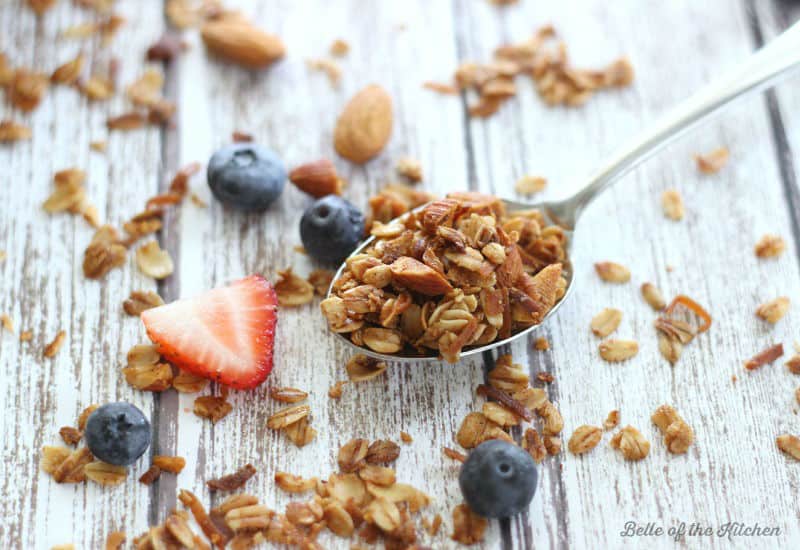 The nice thing about being cooped up with a storm going on outside, is that I had the chance to whip up some Maple Coconut Granola. I've had the idea for this in my head for a few weeks, because I've wanted to start making homemade cereal. I've really cut back on the cereal that I buy from the store because I'm just not crazy about all those strange ingredients so many store-bought cereals contain, even the organic or more natural ones. I also love putting granola on my yogurt, but it's very hard to find a certified peanut-free version that is safe for our son.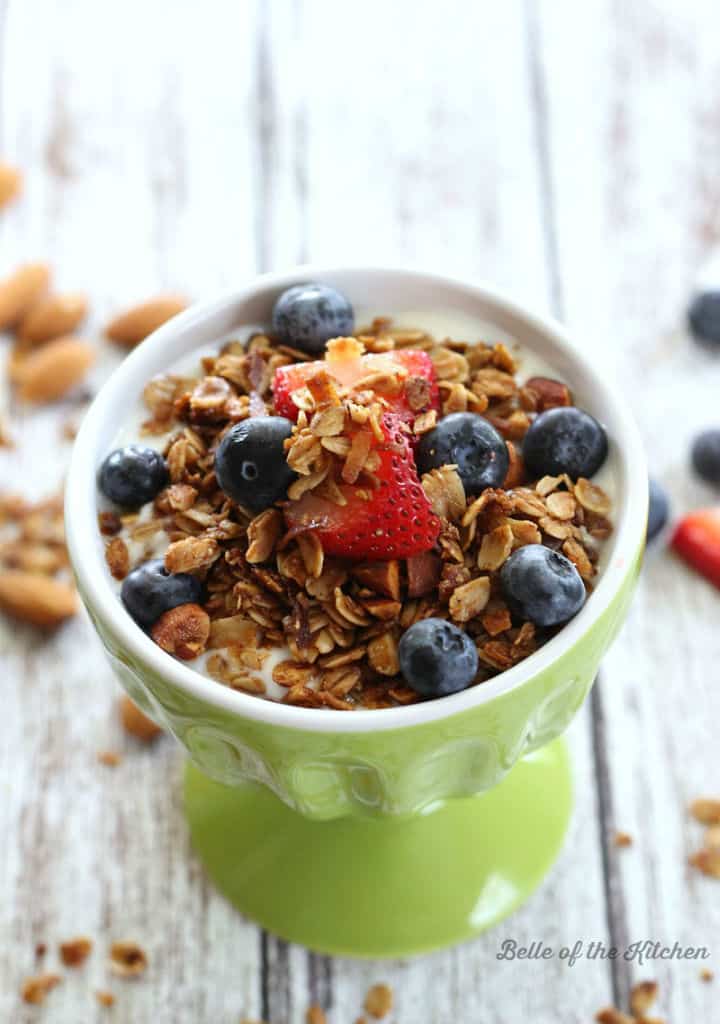 I decided it was time to create my own, and y'all I am SO excited with how this turned out! Our kitchen smelled absolutely amazing, and I had a very difficult time not devouring the entire bowl of granola before it even had a chance to go in the oven. It was really, truly THAT good.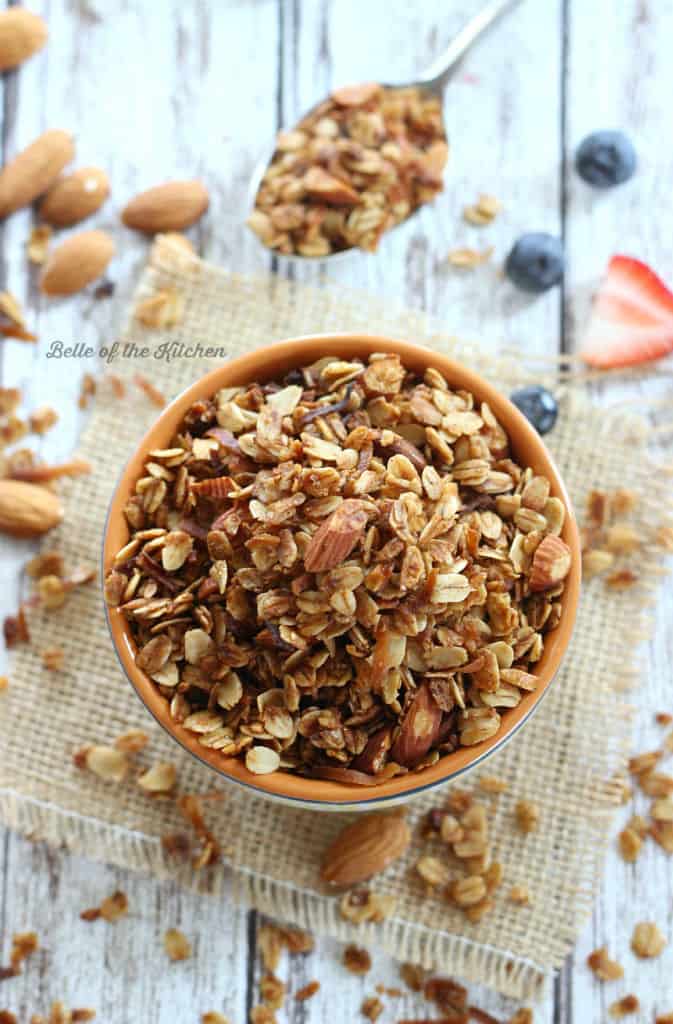 Next time I'm going to add in some raisins! What are some ways that you enjoy eating granola? Share some of your ideas with me, I'd love to hear them!

Maple Coconut Granola
Ingredients
3½ cups old fashioned oats (could also use gluten-free oats)
¾ cup almonds, coarsely chopped
½ cup flaked coconut
1 tsp cinnamon
¼ tsp salt
½ cup coconut oil
½ cup pure maple syrup
2 tsp vanilla extract
Instructions
Preheat oven to 350 degrees.
Combine oats, almonds, flaked coconut, cinnamon, and salt in a large bowl and stir to combine. Set aside.
In a microwaveable bowl, combine coconut oil, maple syrup, and vanilla. Microwave on high for about 20-30 seconds, until coconut oil is melted. Stir ingredients with a spoon, then pour over the top of oat mixture.
Stir all ingredients, making sure to coat oat mixture evenly.
Spread granola in an even layer on a large cookie sheet. Bake in the preheated oven for 20 minutes, stirring once or twice during baking.
Remove from oven and allow to cool. Granola will crisp up as it cools. Store in an airtight container and enjoy!