These Dulce de Leche Blondies are perfectly chewy and filled with a gooey caramel center. You might want to make a double batch, because these babies go fast!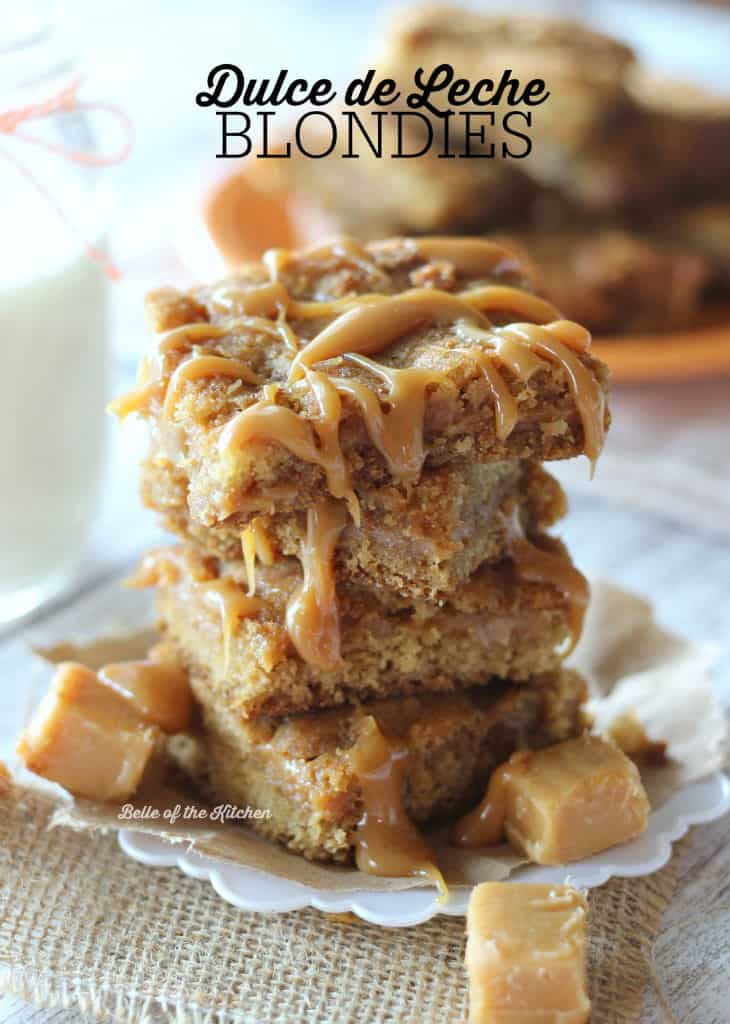 If I'm anything, it's a chocolate lover. It's hard to get through the day without a little bit of chocolate, whether it's a handful of M&Ms or my beloved Iced White Chocolate Mocha from Starbucks (TOTAL addict over here). How about you? Are you a member of the chocoholics club, too? Or a fellow SB's lover? 😉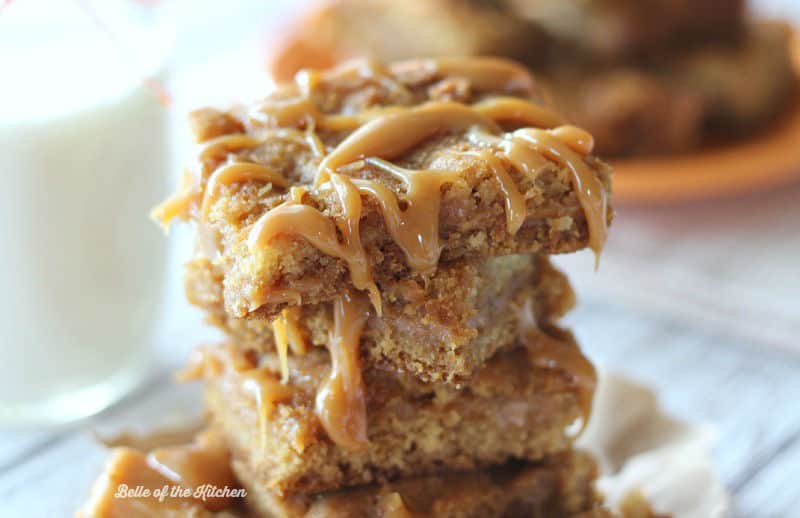 Normally when I'm enjoying a brownie, the more fudgy, chocolatey, and decadent the better. Seriously, is there really such a thing as too much chocolate? But when I first saw this recipe for Dulce de Leche Blondies, I just knew they were going to happen. Have you ever had a blondie before? They're like a brownie's delicious  second cousin, just minus the chocolate. They're amazing, and even better when you spruce 'em up Dulce de Leche style. I mean, a layer of gooey caramel in the middle of perfectly chewy blondie layers? Goodness.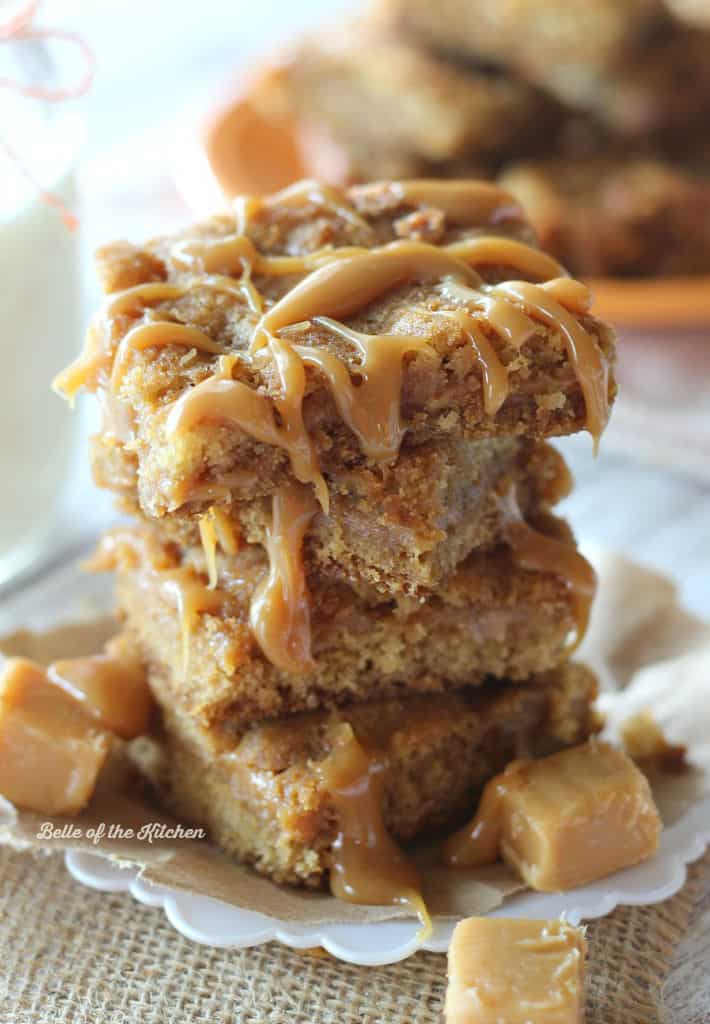 When I made these, I didn't have time to photograph them right away, so I packaged them up to shoot the next day. I knew this was going to be hard on my husband, who does not like having to wait for pictures to be taken before he gets to eat something. ESPECIALLY when it's dessert. So when he came home from work, I told him he could eat ONE. Well, I walked out of the room for a minute and when I came back… lo and behold, there he is halfway through his THIRD blondie! He claims he didn't hear me say to only eat one, but the deer-in-the-headlights look he had makes me think otherwise. 😉 So just be forewarned, you may need to make a double batch of these. They don't last long!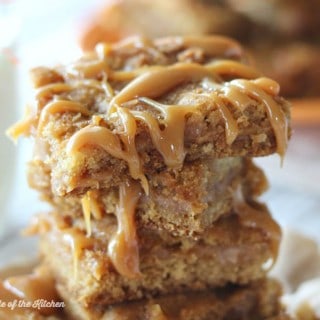 Dulce de Leche Blondies
These Dulce de Leche Blondies are perfectly chewy and filled with a gooey caramel center. You might want to make a double batch, because these babies go fast!
Ingredients
2

cups

all purpose flour

1

teaspoon

baking soda

1

teaspoon

salt

1

cup

(2 sticks) unsalted butter, softened

1

cup

firmly packed brown sugar

2

eggs

1 1/2

teaspoon

vanilla extract

1

(14 oz) package caramels

1/2

cup

evaporated milk
Instructions
Preheat oven to 350 degrees. Grease a 13x9 baking pan and set aside.

In a medium sized bowl, combine flour, baking soda, and salt. Set aside.

In a large mixing bowl, beat butter and sugar with an electric mixer until creamy. Add in eggs and vanilla and beat until smooth. Gradually add in the flour mixture, beating over low speed.

Spread 1/2 of mixture into the bottom of prepared baking pan, using a spatula to spread evenly. Bake in preheated oven for 7-8 minutes.

While bottom layer is baking, begin melting caramels in the evaporated milk in a medium sized saucepan over very low heat. Stir frequently until completely melted and smooth, about 10 minutes.

Reserve about 1/3 cup melted caramel for drizzling over finished blondies. Pour remaining caramel over baked layer. Drop dollops of remaining dough over caramel layer, and swirl slightly with a knife. Bake for 20-25 minutes or until golden brown. Cool in pan on wire rack.

When completely cooled, cut into squares. Reheat reserved caramel (I heated mine in the microwave) and drizzle over the top of the blondies. Enjoy!
Nutrition Facts
Dulce de Leche Blondies
Amount Per Serving
Calories 260
Calories from Fat 99
% Daily Value*
Fat 11g17%
Cholesterol 44mg15%
Sodium 317mg14%
Potassium 98mg3%
Carbohydrates 36g12%
Protein 3g6%
Vitamin A 330IU7%
Vitamin C 0.2mg0%
Calcium 60mg6%
Iron 0.8mg4%
* Percent Daily Values are based on a 2000 calorie diet.

Want some other delicious desserts? You might like these: