This is a sponsored post written by me on behalf of Fleischmann's yeast. All opinions are my own.
This S'mores Pizzas uses Fleischmann's yeast for a fun twist on a campfire treat. With an easy, homemade dough and classic s'mores toppings, this will definitely be a new family favorite!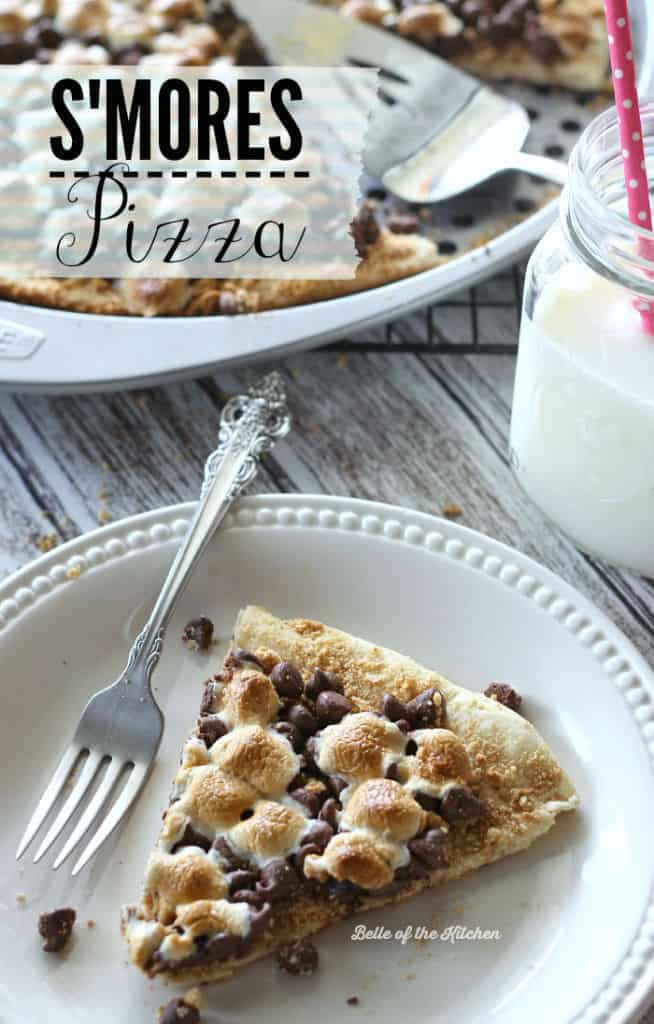 Since fall is here, I know lots of folks like to pull out the camping gear and hit up the great outdoors. We have not been camping in AGES! Actually, we (my hubby and kids) have never gone camping together! I think my husband I went a few times before we had the kids, but that feels so long ago. It's not that I don't like camping, I just remember it being a lot of work, and it will probably feel like a whole lot more now with the kids! What about y'all? Do you like to go camping? Any tips to share to get me back out there? 😉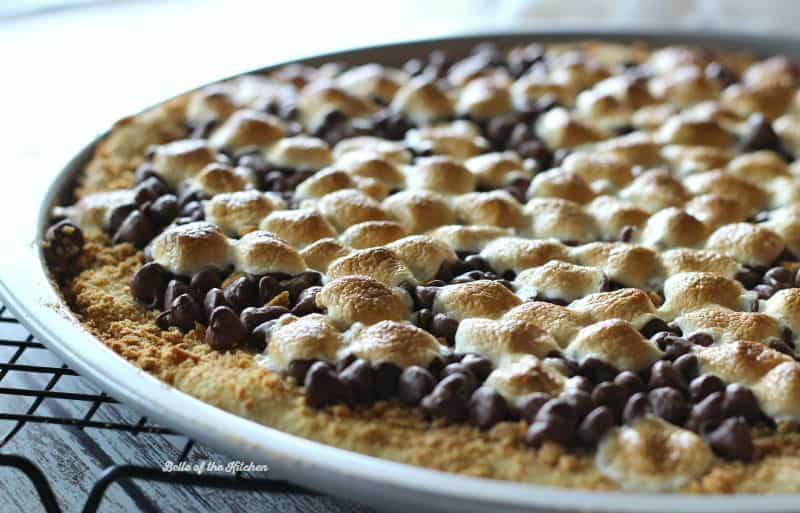 While it might be a little while before we pull out the tent and sleeping bags again, at least in the meantime we can enjoy S'mores at home; pizza style! This was very easy to make, especially since I used Fleischmann's Pizza Crust yeast, which doesn't even need any time to rise. You just stir up the ingredients, knead the dough a bit, and you're ready to bake! And you really can't beat the taste of a homemade pizza crust.
My son and I had so much fun making this together!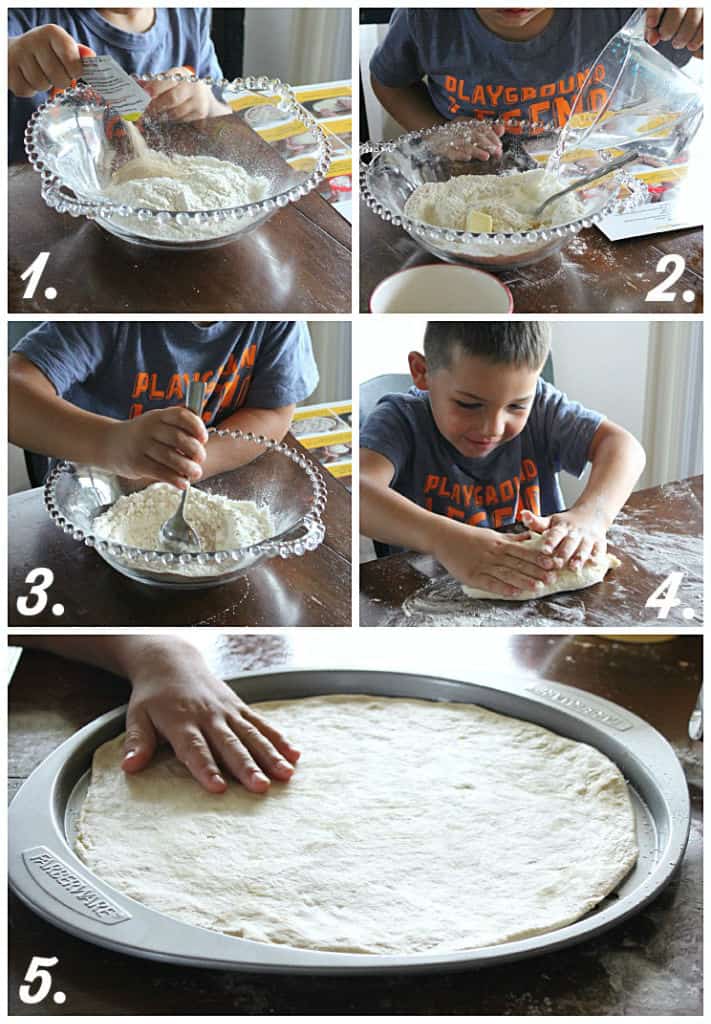 Making the dough was actually pretty easy! My son was able to do a lot of the work with just a little assistance from me. I am now considering him the official dough-kneader of the family. 🙂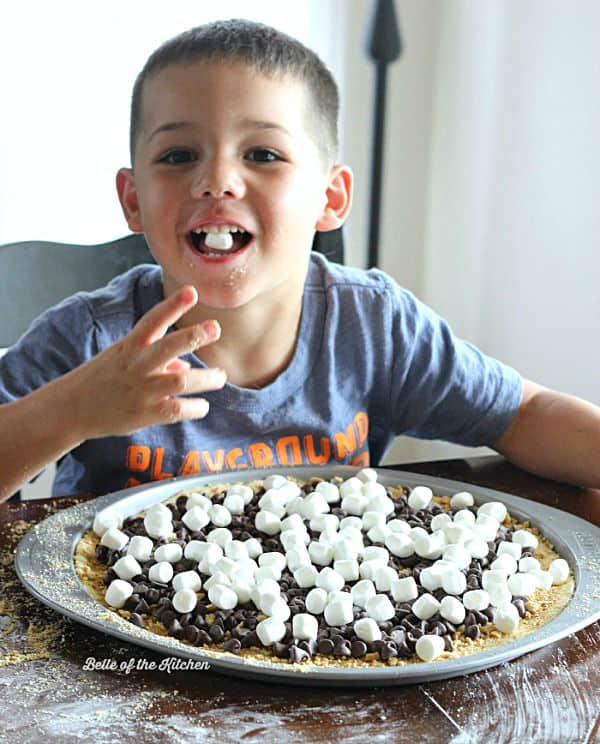 Putting the toppings on was probably his most favorite step though. I mean, those yummy toppings are just too hard to resist.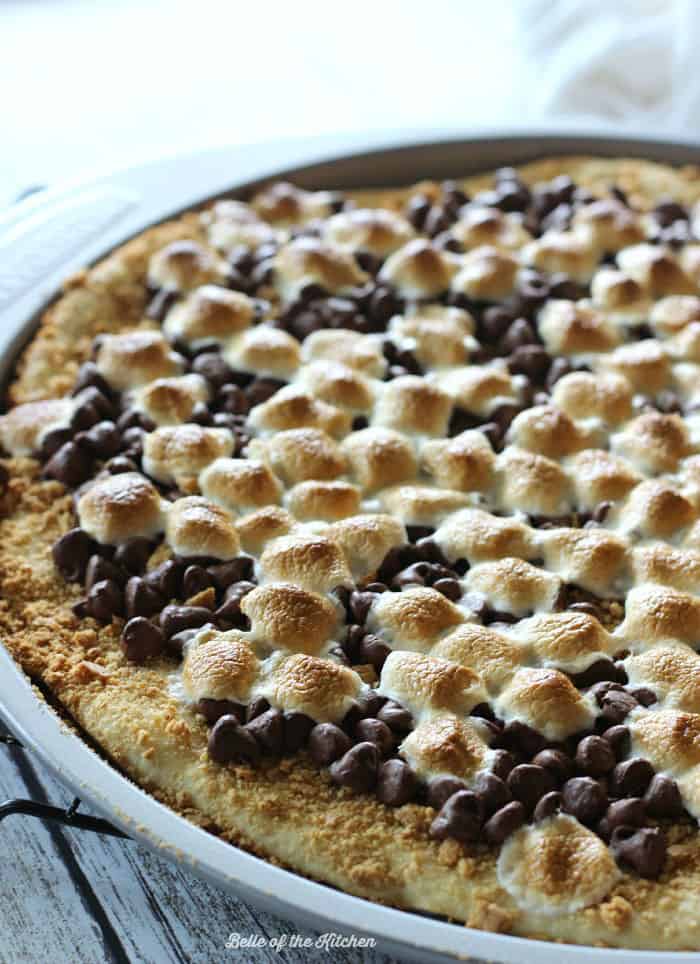 We've made a little pledge to start a family pizza night once a month, making homemade dough and decorating our pizzas together. If you want to do the same, you can find plenty of pizza recipes and tips from Fleischmann's by going here. You can also find recipes for different kinds of pizza crusts here, like Garlic and Herb Pizza Crust, or even a Brown Sugar Cinnamon Pizza Crust!
S'mores Pizza
Ingredients
Crust:
1-1/4 to 1-3/4 cups all-purpose flour
1 envelope Fleischmann's® Pizza Crust Yeast
OR 1 envelope Fleischmann's® RapidRise Yeast
2 tablespoons sugar
¾ teaspoon salt
½ cup very warm water (120° to 130°F)*
2 tablespoons butter OR margarine, softened
Toppings:
1 cup graham cracker crumbs
1 package (12 ounces) semi-sweet chocolate chips
1-1/2 cups mini marshmallows
Instructions
Preheat oven to 425°F.
For crust: Combine 1 cup flour, undissolved yeast, sugar and salt in a large bowl. Add very warm water and butter; mix until well blended, about 1 minute. Gradually add enough remaining flour to make a soft dough. Dough should form a ball and will be slightly sticky. Knead on a floured surface, adding additional flour if necessary, until smooth and elastic, about 4 minutes. Cover; let rest on floured surface 10 minutes. (If using Pizza Crust Yeast, omit 10-minute rest.)
Pat dough with floured hands to fill greased pizza pan or baking sheet. OR roll dough on a floured counter to 12-inch circle; place in greased pizza pan or baking sheet.
For Toppings: Spread graham cracker crumbs evenly over crust. Firmly press crumbs into crust. Sprinkle chocolate chips evenly over crumbs to within 1-inch of the edge of crust. Spread marshmallows over chocolate.
Bake on lowest oven rack for 11 to 14 minutes or until marshmallows are dark golden brown on top and the crust's edge is golden brown.
Looking for more Pizza Night Ideas? You might like these: