This shop has been compensated by Collective Bias, Inc. and its advertiser. All opinions are mine alone. #Feast4All #Collective Bias
Enjoy all the flavors of fall right at home with this Pumpkin Spice Coffee. It's quick and easy, making it the perfect pick-me-up for both you and your guests this Thanksgiving.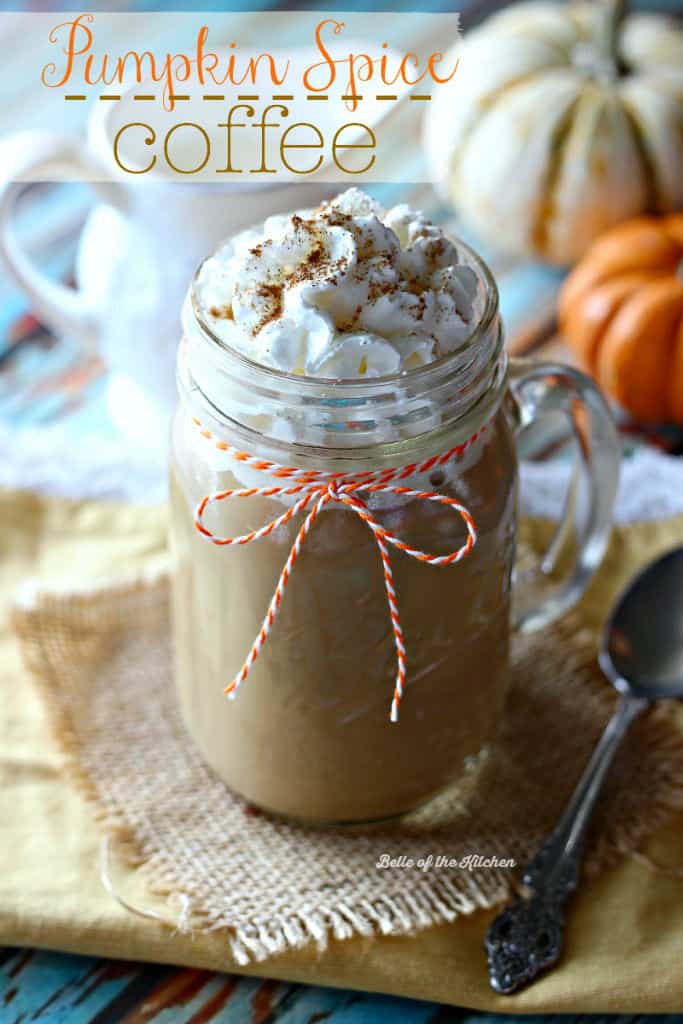 Mmm…coffee. 🙂 I know I've mentioned my love for that liquid magic on here before, and today I'm bringing you one of my favorite versions. Pumpkin Spice!  Oh fall, I love you so.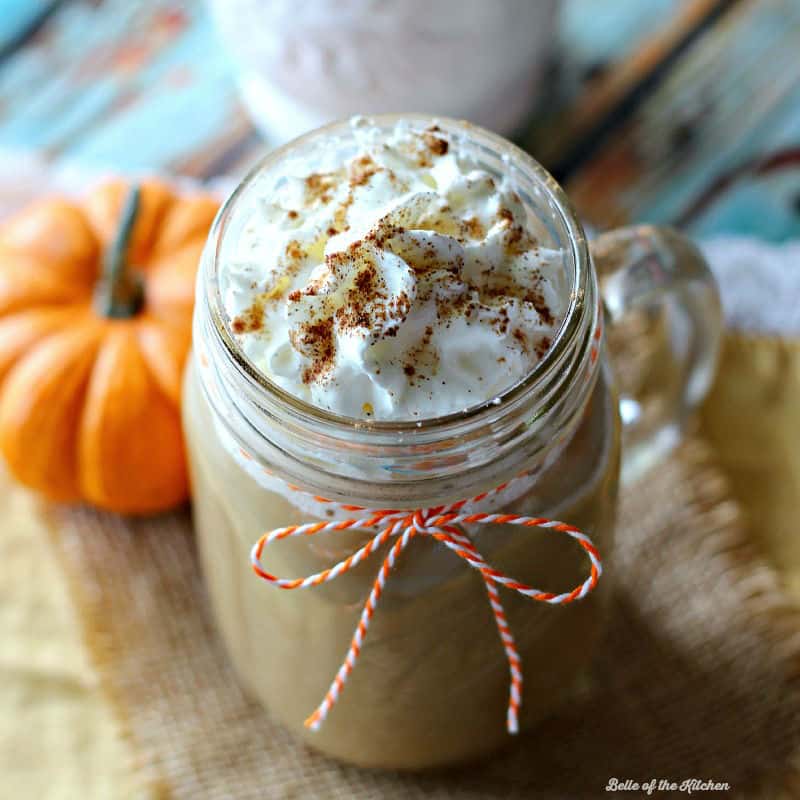 With Thanksgiving just a couple of weeks away, I see myself drinking a whole lot more of these. Right now they're just helping me get through the day of wrangling these wild kiddos of mine. Like when I came downstairs the other morning to find that my son had covered both our living room and dining room in hot pink yarn, creating his own version of a spider web. I do applaud his creative thinking, but unraveling an entire skein of yarn from your lamps and curtain rods at 6 a.m.? Yes, that definitely required an extra large mug of Pumpkin Spice Coffee.
So are y'all ready for this super easy recipe? Well, get ready, because you are going to save yourself lots of money by making these at home rather than paying top dollar at your local coffee shop. And when it only takes a couple of minutes to make? Mmm…ok, I'm getting thirsty again…
I found everything I needed to make this easy peasy Pumpkin Spice Coffee at my local Walmart. All you need is Nescafe Tasters Choice House Blend Coffee, Nestle Coffee-Mate Liquid Pumpkin Spice Creamer, whipped cream, and a little bit of pumpkin pie spice. Told ya it was easy!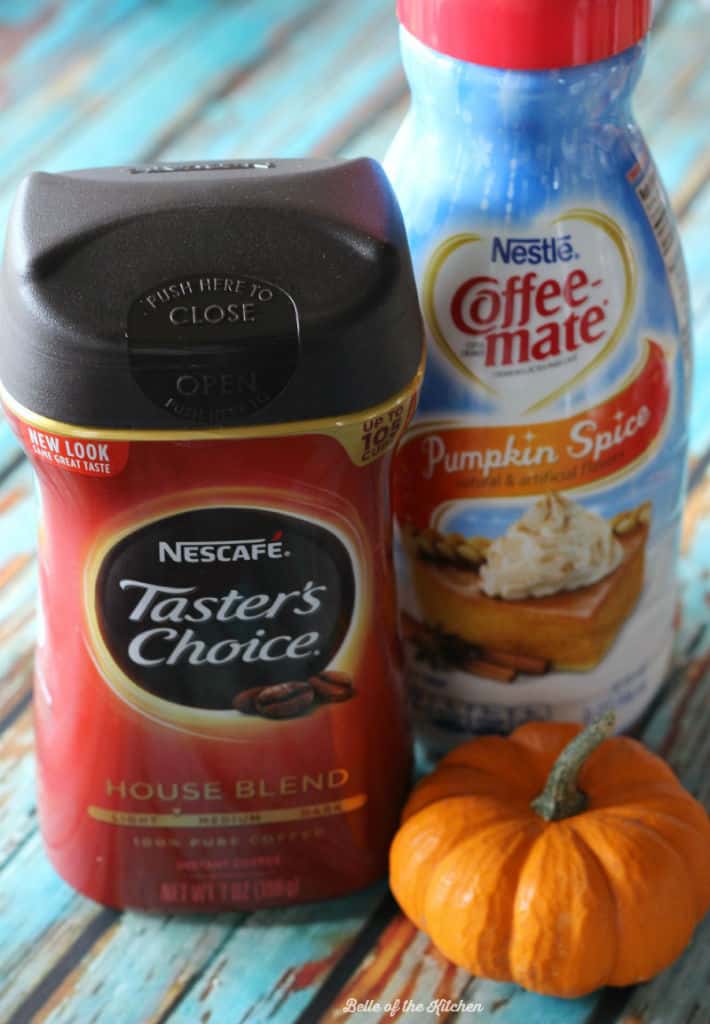 I really like Taster's Choice Coffee because they use high quality beans and their coffee always has a very smooth flavor. Plus it smells amazing when you pop open the lid! The coffee paired perfectly with the Pumpkin Spice Coffee Creamer, which was sweet and creamy. And IT smelled so good, too!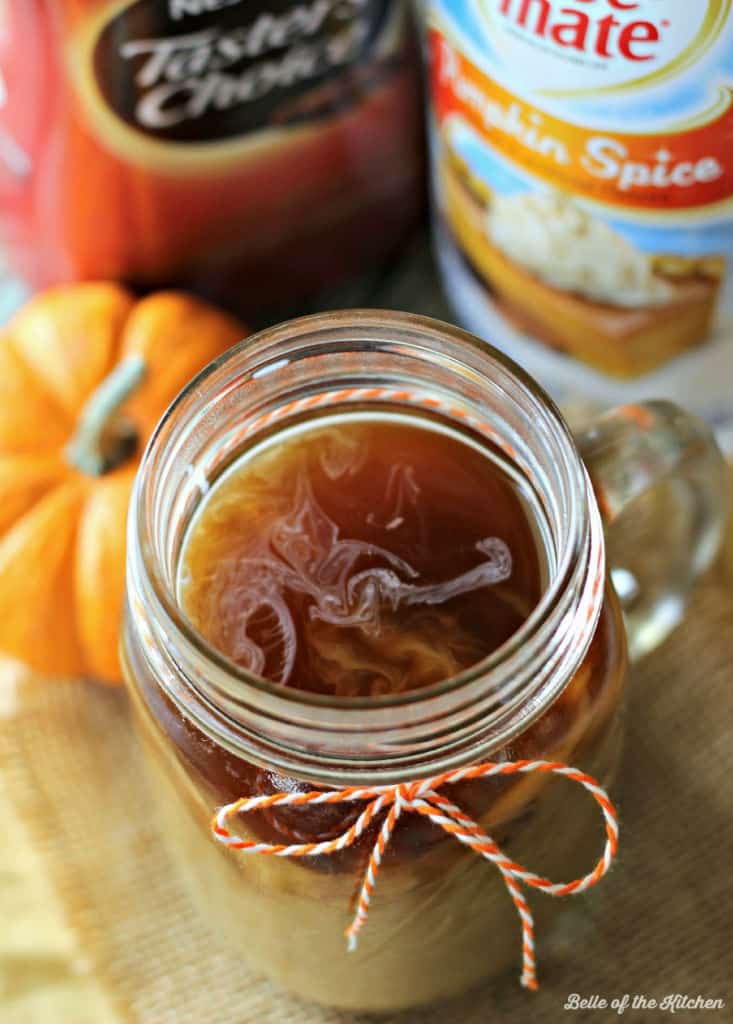 Going back to our Thanksgiving talk, how do y'all like to start your feast-eatin' day? I'm usually up early working on the turkey or baking a pie (Chocolate Pecan Pie recipe coming soon!) so I'm planning to make a Pumpkin Spice Coffee to help me wake up that morning. Plus I think these would be really fun and yummy to serve with dessert after the big meal.
If you're looking for more Thanksgiving inspiration, be sure to check out some other great recipes using Nestle products here.
Pumpkin Spice Coffee
Ingredients
For an 8 oz. coffee:
8 oz. water
1 heaping tsp. Nescafe Taster's Choice House Blend Coffee
2 TB Nestle Coffee-Mate Pumpkin Spice Liquid Coffee Creamer
whipped cream, for topping
pumpkin pie spice, for topping
Instructions
Heat water until very hot. I simply microwaved mine for about 2 minutes on high, but you can also boil your water on the stove or use an electric kettle. I like to use my electric kettle to heat up a lot of water when I'm making multiple cups of coffee for friends or guests.
Stir 1 heaping tsp. of coffee into hot water until completely dissolved.
Stir in Pumpkin Spice Creamer, then top with whipped cream and a dusting of pumpkin pie spice.
Enjoy!