Grilled flank steak pita wraps are the perfect summer dinner recipe! They are loaded with fresh veggies and topped with a homemade Greek yogurt sauce! They are a must-make for a quick weeknight meal or a weekend picnic/dinner party!
Good morning, Belle of the Kitchen readers! I hope you are all having a wonderful summer! My name is Justine and I am the blogger over at Cooking and Beer, where I pair my favorite dishes with the best craft beer I can get my hands on. I was super excited when Ashlyn asked me to do a guest post for her. Her recipes are constantly making me hungry, so I obviously jumped at the chance to contribute!
I don't know about you guys, but I have basically been obsessed with grilling lately. You name it, I have probably grilled it. From sweet potatoes to chicken and eggplant to pork chops, I just can't get enough of standing next to a hot grill. These grilled flank steak pita wraps are one of my latest obsessions, and the reasons go above and beyond the grilled flank steak!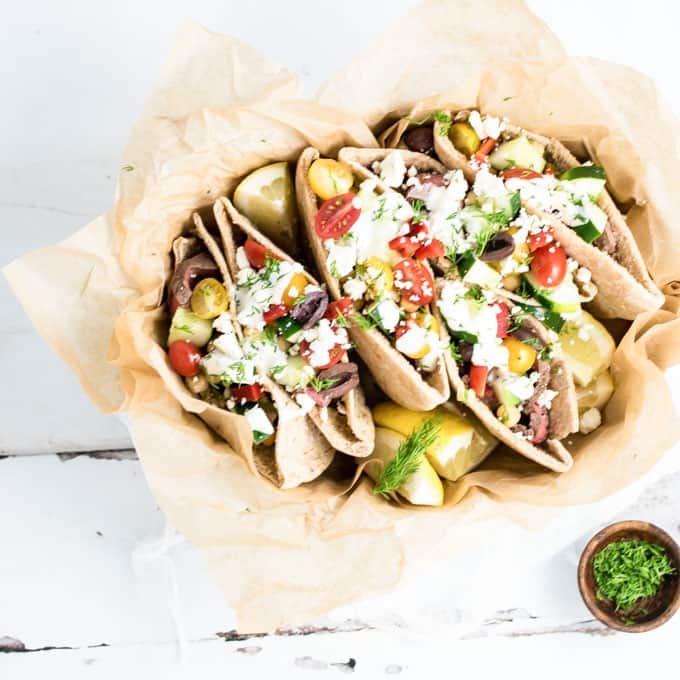 I think what I love most about these grilled flank steak pita wraps is the Mediterranean flare they have. They are kind of like a gyro, but not really. Oh sure, they have the cucumber, dill, and the Greek yogurt tzatziki-like sauce. All of the amazing fillings, like fresh tomatoes, are stuffed inside a pita pocket. Ok, so maybe they are exactly like many gyro recipes, but I like to think that this recipe has it's own special touches. The kalamata olives for one really sets these pita wraps apart and gives them super fun flavor! The addition of a thin layer of hummus on the inside of the pita really adds an extra element of deliciousness.
These pitas are seriously perfect for summer. They are jam packed with freshness, and the char on the flank steak can not be matched!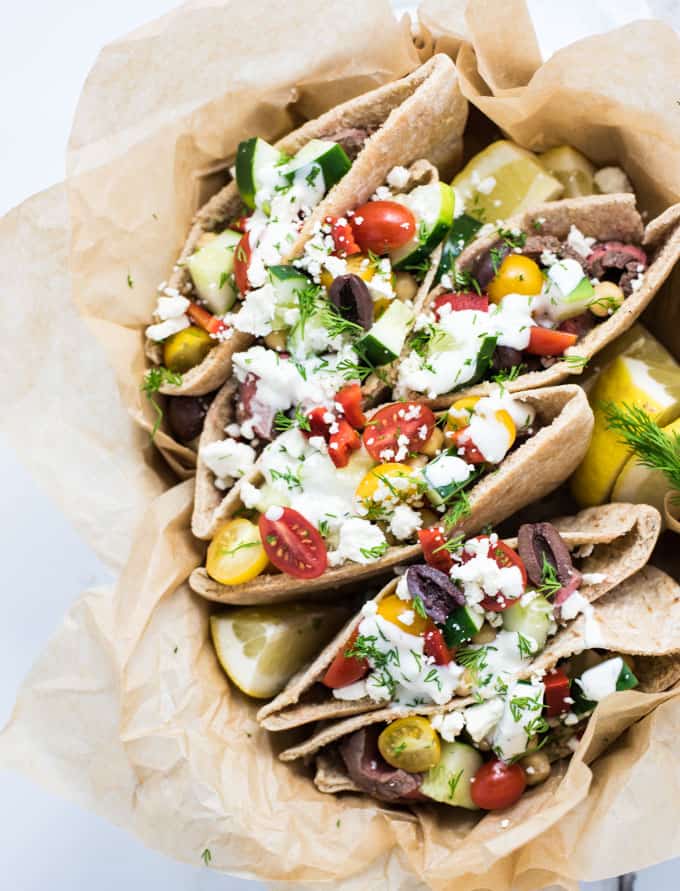 I hope you guys enjoy these grilled flank steak pita wraps as much as I enjoyed creating them for you!
Grilled Flank Steak Pita Wraps
Inactive Time: 2 hours
Ingredients
GREEK YOGURT SAUCE
1 cup plain Greek yogurt
1 small seedless cucumber, diced small
2 tablespoons honey
2 cloves of garlic, minced
1 tablespoons lemon juice
2 tablespoons fresh dill
1 tablespoon olive oil
½ teaspoon kosher salt
¼ teaspoon black pepper
pinch crushed red pepper
GRILLED FLANK STEAK
1½ pound flank steak
¼ cup extra virgin olive oil
¼ cup lemon juice
¼ cup white wine vinegar
6 clove of garlic, minced
2 tablespoons chopped dill
1 tablespoon honey
½ teaspoon kosher salt
¼ teaspoon black pepper
GRILLED FLANK STEAK PITA WRAPS
6-8 whole wheat pita pockets
4 ounces store-bought hummus
1 pint heirloom grape tomatoes, cut in half
1 small seedless cucumber, diced small
½ cup kalamata olives, cut in half
4 ounces roasted red peppers, sliced thin
4 ounces crumbled feta cheese, more as needed
fresh chopped dill and lemon wedges, for garnish
Instructions
To prepare the Greek yogurt sauce, add all of the ingredients through the crushed red pepper to the food processor. Pulse until smooth, or leave a little chunky if desired. Cover and refrigerate until you are ready to use.
Place the flank steak in large shallow dish. In a medium bowl, whisk together the rest of the ingredients for the flank steak: extra virgin olive oil, lemon juice, white wine vinegar, garlic, dill, honey, salt, and black pepper. Pour the marinade over the steak, cover, and refrigerate for at least 2 hours.
Once the flank steak has marinated, preheat the grill over medium-high heat. Grill the steak for about 4 minutes on each side or until it is done to your liking. Remove from heat and set aside to rest for about 5 minutes before slicing.
To assemble your pita wraps, spread a thin layer of hummus on the inside of the pita pockets. Fill the pita pockets with a combination of grilled flank steak, grape tomatoes, cucumbers, kalamata olives, and roasted red peppers. Drizzle the pita pockets with Greek yogurt sauce and sprinkle with feta cheese and fresh dill.
Serve the pita pockets with fresh lemon wedges and enjoy immediately!