Hello Belle of the Kitchen readers — and happy September! I'm Carrie from Kenarry: Ideas for the Home where we share recipes, crafts, DIY projects, kid activities and other ideas to help families create homes they love. September means football season is kicking off so I brought over a fun idea that's perfect for game day. This barbecue football mini meatloaf recipe makes 4 little loaves, each shaped like a small football.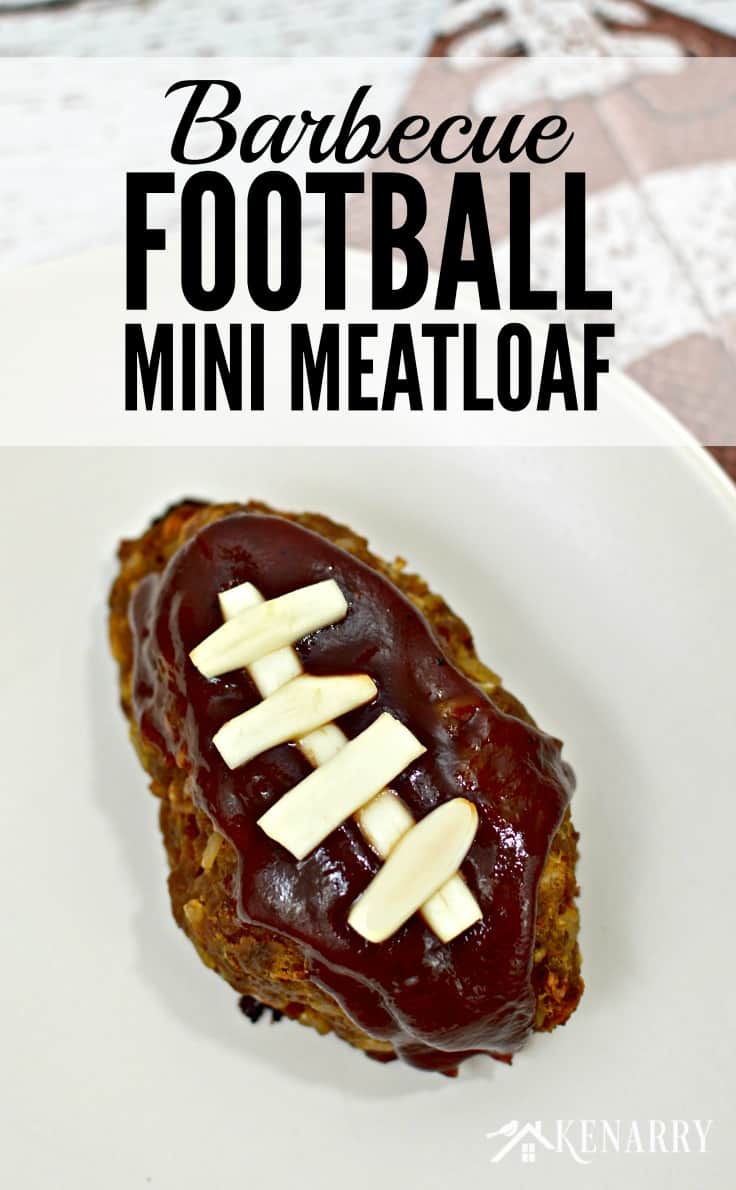 Is it just me or did September seem to sneak up on you this year too? I feel like I blinked twice and summer was over. This month brings the beginning of a new school year, leaves starting to change color and cooler temperatures throughout most of our country. It also brings another new season of that all-American pastime, football!
My husband, Kent is a big fan of the Seattle Seahawks. If they're playing on a Sunday or Monday night, it's inevitably what's playing on the big screen in our family room downstairs. I cannot personally claim to know much of anything about the game of football. I mostly watch for the commercials or enjoy it as an opportunity to catch up with friends. I am, however, a big fan of making delicious food for game day, especially fun food like Ashlyn's Game Day Chocolate Chip Cheesecake Ball shaped like a football.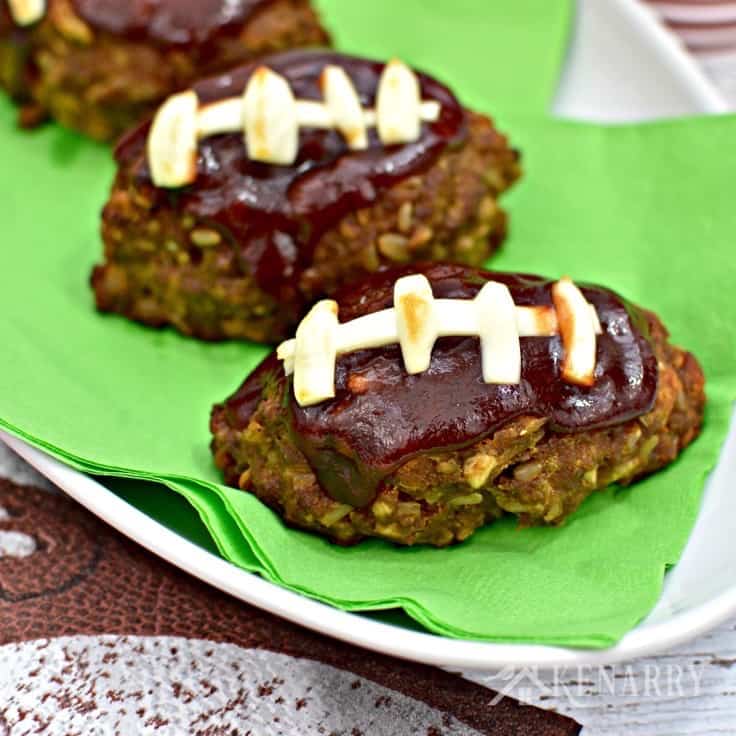 To celebrate the beginning of football season, I thought it would be fun to share another football shaped idea with you. The barbecue football mini meatloaf recipe I'm sharing today makes four small football shaped loaves. You could easily modify it though to make just one big football meatloaf. Or make the portions smaller for football shaped barbecue meatballs. Wouldn't that be a cute appetizer?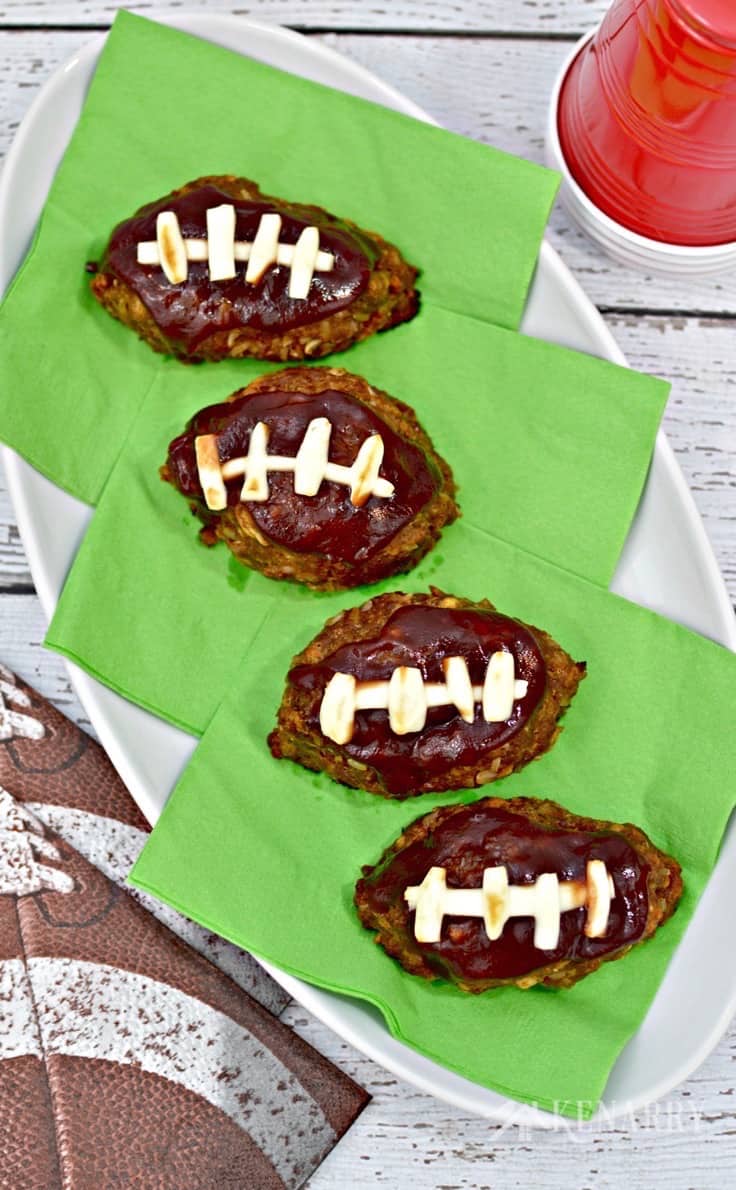 This barbecue football mini meatloaf recipe is really easy to make. You just combine all of the ingredients in a large bowl. Then divide the meat into four little loaves, using your hands to make them football shaped. After baking for a bit, you top each one with a little barbecue sauce and strings of mozzarella to make the laces.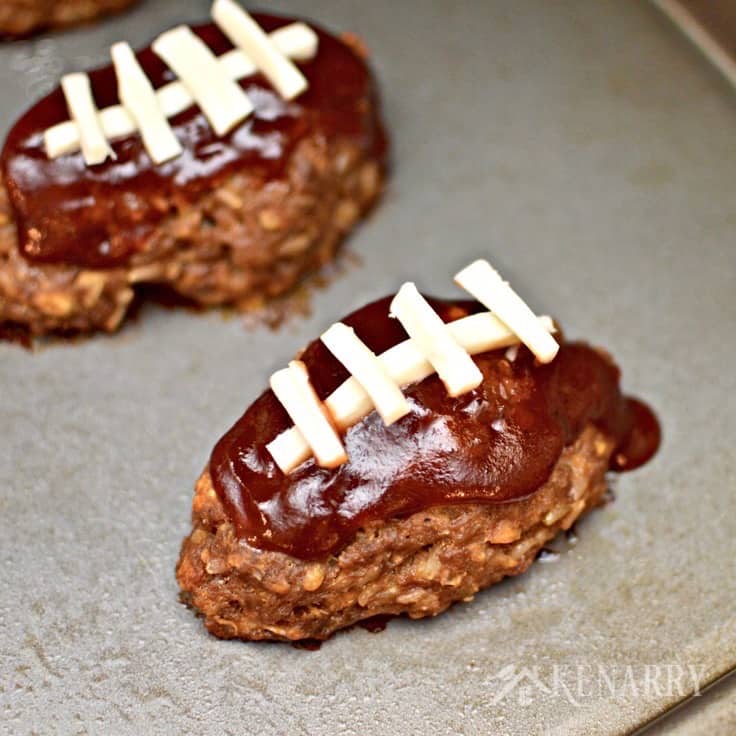 Return the barbecue football mini meatloaf pan to the oven for another 5-10 minutes until the cheese is melted. Then you're ready to serve these barbecue football mini meatloaves for dinner or as a game day snack.
This barbecue football mini meatloaf recipe would be great to serve your junior high, high school or college players to fuel up before the big game, to celebrate a victory or to comfort them after a loss. They'd also be a big hit to bring for tailgating or to a potluck party to cheer on your favorite football team.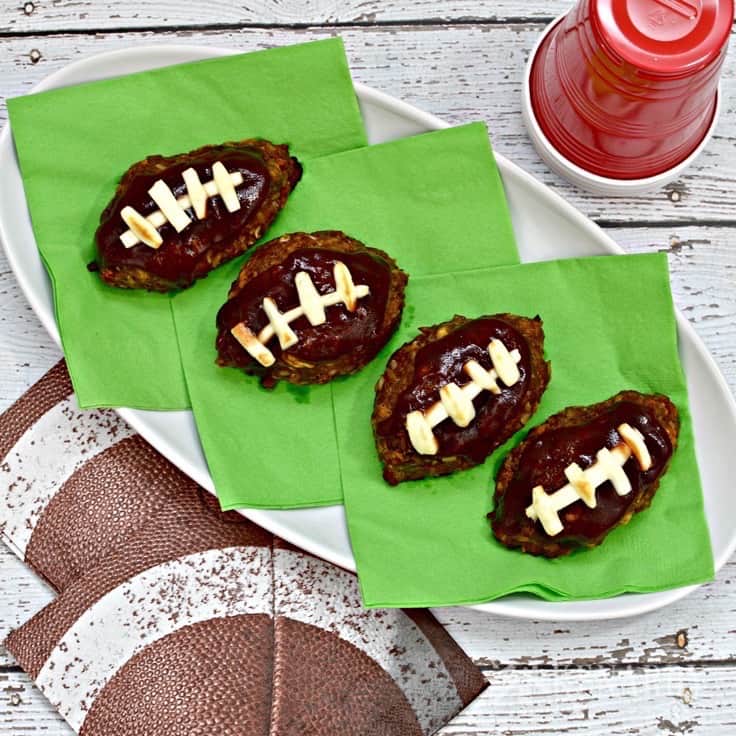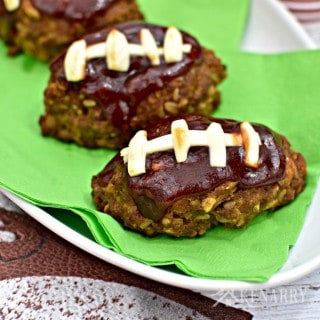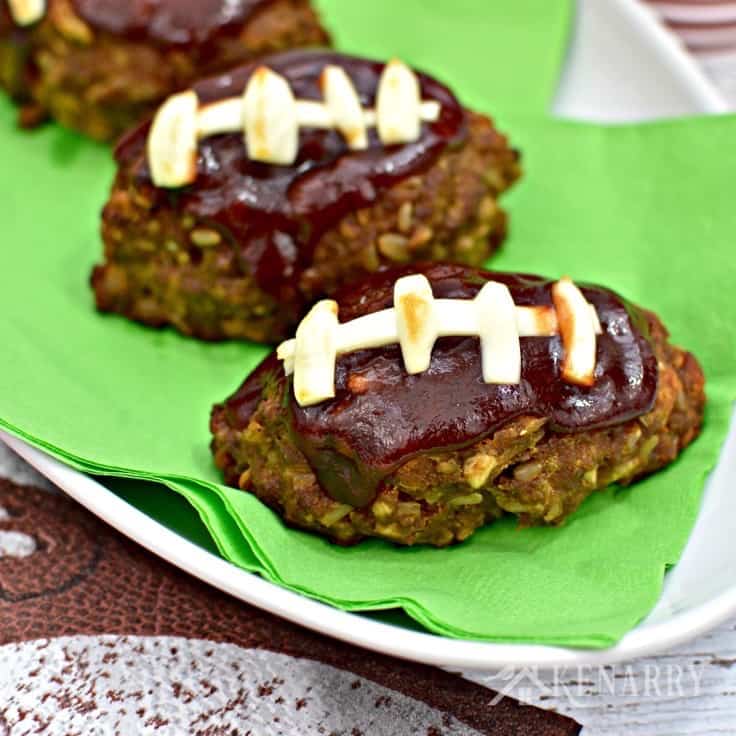 Barbecue Football Mini Meatloaf
Ingredients
1

pound

ground beef

2

eggs or 1/2 cup of egg substitute

1/2

cup

barbecue sauce

2

tablespoons

Worcestershire sauce

2

tablespoons

yellow mustard

1

teaspoon

garlic powder

2

tablespoons

brown sugar

1/2

teaspoon

salt

1/2

teaspoon

pepper

1/2

teaspoon

chili powder

1

medium onion,

finely chopped

1

sleeve of saltine crackers,

crushed (approx. 1 cup)

1

cup

cooked brown rice

1/2

cup

barbecue sauce

for topping

1

individual package of string cheese or mozzarella slices
Instructions
In a large mixing bowl combine eggs, barbecue sauce, Worcestershire sauce, mustard, garlic powder, brown sugar, salt, pepper and chili powder. Stir until well blended.

Next, stir in the onion, saltine crackers and brown rice. Add ground beef and mix thoroughly.

Divide the ground beef mixture into four equal parts. Mold each part into a football shape by hand and transfer it to an ungreased loaf pan.

Bake uncovered at 350 degrees for 30 minutes. Top each football meatloaf with barbecue sauce and strips of mozzarella or string cheese to form laces. Bake 5-10 minutes longer until the cheese is melted. Serve and enjoy!
Nutrition Facts
Barbecue Football Mini Meatloaf
Amount Per Serving
Calories 569
Calories from Fat 243
% Daily Value*
Fat 27g42%
Cholesterol 166mg55%
Sodium 1371mg60%
Potassium 668mg19%
Carbohydrates 52g17%
Protein 26g52%
Vitamin A 355IU7%
Vitamin C 3.5mg4%
Calcium 91mg9%
Iron 3.9mg22%
* Percent Daily Values are based on a 2000 calorie diet.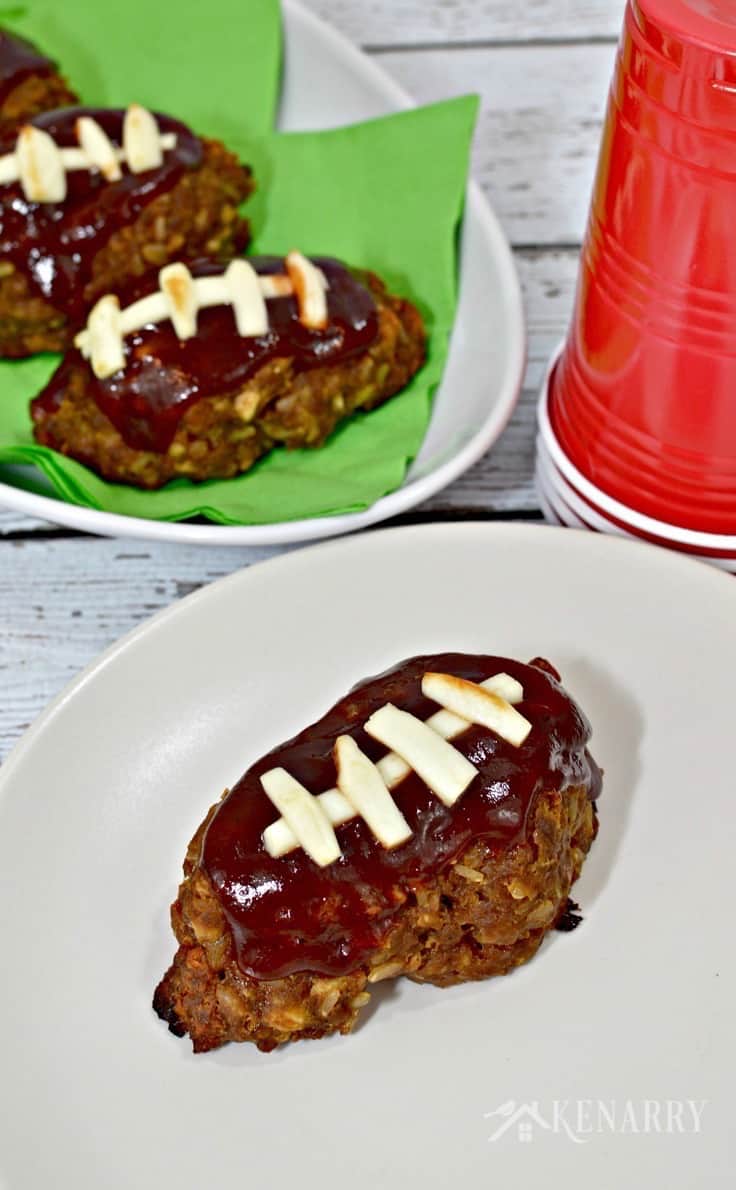 Barbecue Football Mini Meatloaf Serving Suggestions
This barbecue football mini meatloaf recipe is really easy to make, but here are a few suggestions to help make it easier or to vary it for your family:
If you're trying to avoid red meat, you can also make this recipe with ground turkey. In fact, it was my Sweet Barbecue Turkey Meatloaf that inspired this barbecue football mini meatloaf idea.
Prepare a barbecue football mini meatloaf batch ahead of time. Instead of baking them, put them on wax paper or parchment paper and freeze each football shaped meatloaf individually. Once they're frozen solid, you can transfer all of the football meatloaves into a large resealable freezer bag. Then on game day, you just pop them out of the freezer bag to thaw early in the day. Then just before the game, bake a pan of football meatloaves and top with the barbecue sauce and mozzarella laces.
If you have a family favorite meatloaf that you prefer over this barbecue meatloaf recipe, just use that instead! Make your recipe into football shapes and finish them off like we did. You could even skip the barbecue sauce topping and just put the mozzarella laces directly on each football meatloaf. We have a great Meatloaf Burger recipe that would be great to make into football shapes too.
We like our barbecue football mini meatloaf recipe to be on the sweet side, but you can easily omit the brown sugar if that makes it too sweet for you. Or if you prefer more of an Italian flavor, our Homemade Meatballs would also be awesome to make as footballs.
If you make this barbecue football mini meatloaf recipe into one large football shaped loaf like I suggested earlier, you will need to extend the cooking time to 60-80 minutes to make sure it cooks all the way through. Likewise, decrease the cook time if you divide the barbecue football mini meatloaf recipe to make much smaller footballs as an appetizer.
Feeding a crowd? Just double, triple or even quadruple the barbecue meatloaf recipe! In this case, I'd also highly recommend you prepare the football mini meatloaves in advance and freeze them like I suggested earlier. This will make much less work for you on game day.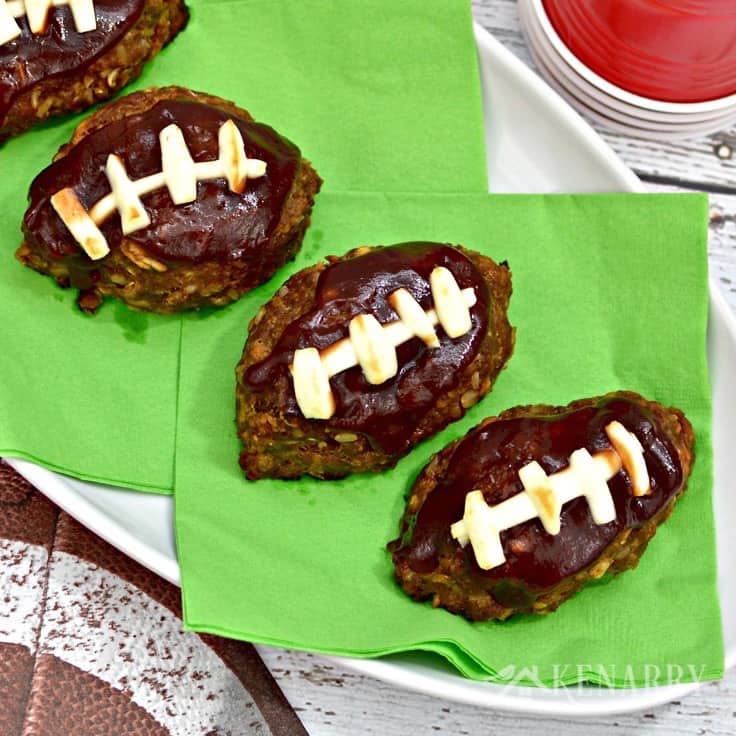 What's your favorite recipe to make for game day? Please comment below and share. Ashlyn and I are always looking for new ideas for the kitchen.
If you enjoyed this barbecue football mini meatloaf idea, please share it with your friends or pin it for later:

You may also enjoy some of these other appetizer ideas for game day on Kenarry: Ideas for the Home: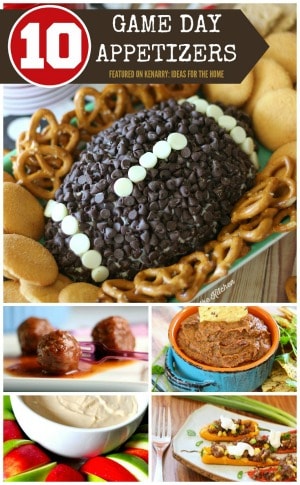 15 Easy and Fresh Salsa Recipes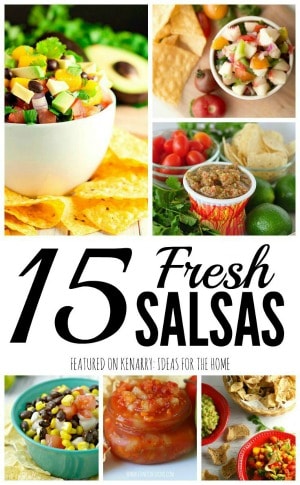 About Carrie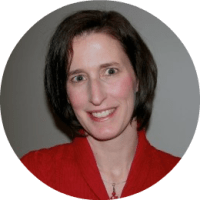 Carrie is the chief writer, crafter and cook at Kenarry: Ideas for the Home where she and her husband create and curate ideas you'll find useful for your home. She's an optimist by nature and enjoys sharing recipes, trying new craft ideas, planning for parties and events as well as organizing and decorating. Carrie's passion, though, is volunteerism and connecting people with opportunities to make a difference in their community. When she's not blogging, preparing meals or picking up around the house, you're bound to find her hidden away in a castle under the stairs reading to her two young boys. Whether you're cooking, crafting or creating for your family, you'll find inspiration by connecting with Carrie. Find her online at Kenarry, Google+, Pinterest, Facebook, Twitter and Instagram.