Crockpot Buffalo Chicken Tacos- Juicy and delicious buffalo chicken cooked to perfection with the help of your crockpot. Stuff it into tortillas with a little coleslaw mix, blue cheese crumbles, and a drizzle of homemade Buffalo Ranch, and you have an easy and yummy dinner!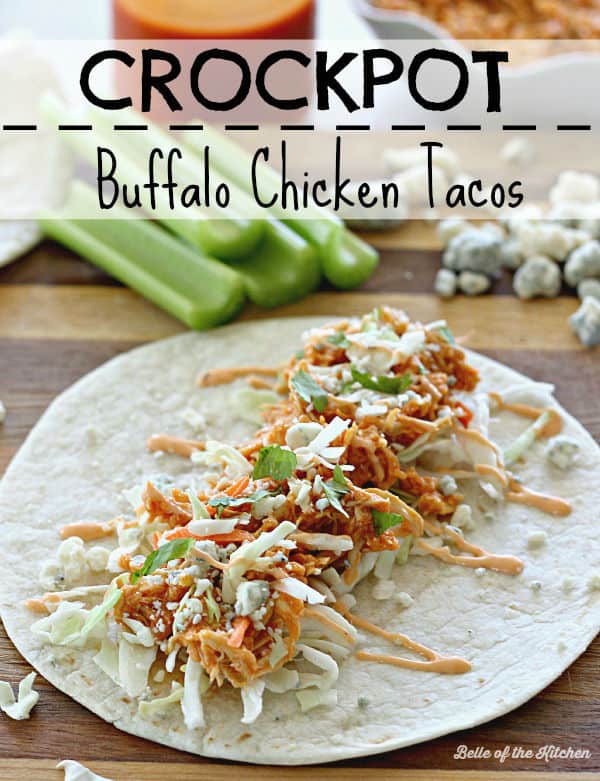 Happy Tuesday, y'all! My son starts back to preschool today, and I am SO ready to get our routine rolling again. It was nice having him home in the mornings for the past few weeks, but….well, I'm pretty excited that he's headed back with his friends and teachers, too. 😉
In addition to school starting again, T-Ball season also kicks off in a couple of weeks. My hubby is really excited for our little guy to try it out since baseball was his favorite sport growing up. I'm hoping our son has better luck with T-Ball than his mama did, since I spent a lot of time running to THIRD base after hitting the ball rather than to first. No joke.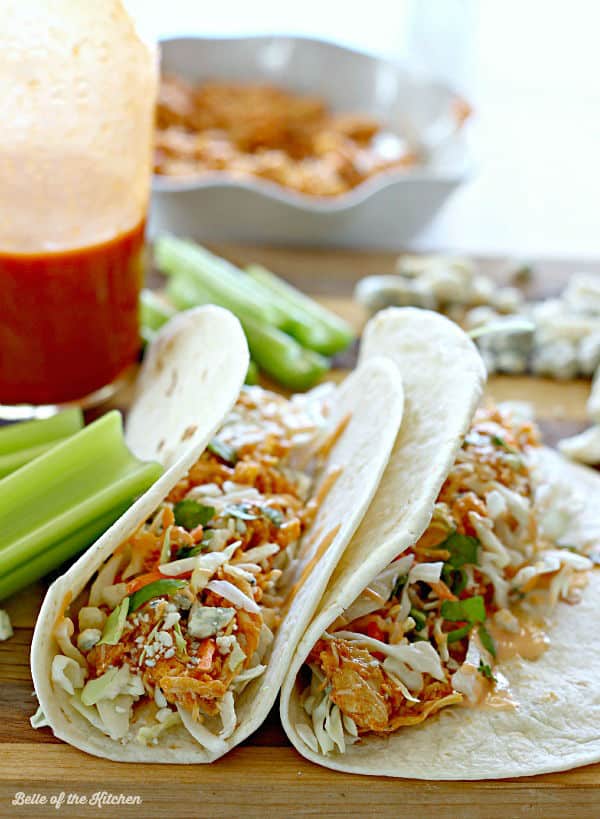 With all of this going on, I love to turn to my good ole pal the crockpot. He never lets me down.

And if you love buffalo wings, then you need some of these Crockpot Buffalo Chicken Tacos in your life!
These are crazy easy to make. Making the chicken takes you less than a minute of prep, and then you let the crockpot do the rest. When the chicken is done cooking, shred it up with a couple of forks, stuff it into some tortillas (or hard taco shells if you'd rather), add on some toppings, and bam, dinner is done!
I decided to spice my tacos up with a little bit of Buffalo Ranch, which again, is very easy to make. Just reserve a couple tablespoons of the buffalo wing sauce and stir it into your ranch dressing and you're ready to roll. You could also use blue cheese dressing if you like that better!
Enjoy!
Crockpot Buffalo Chicken Tacos
Ingredients
Buffalo Chicken:
1½ pounds boneless, skinless chicken breasts
1 packet dry ranch dressing
1 (12 oz) bottle buffalo wing sauce (reserve 2 TB)
Buffalo Ranch Dressing:
½ cup prepared ranch dressing
2 TB buffalo wing sauce
Tacos:
Small corn or flour tortillas
Coleslaw mix
Blue cheese crumbles
Instructions
Place chicken breasts in the bottom of your crockpot. Sprinkle with ranch seasoning then pour buffalo wing sauce over the top, reserving 2 TB of sauce for later. Cook chicken on low for 6-8 hours or on high for 4-5 hours.
In a small bowl combine ranch dressing and the reserved 2 TB of buffalo wing sauce. Stir to combine, then refrigerate until ready to use.
To assemble tacos, fill tortillas with the buffalo chicken, then sprinkle with coleslaw mix, blue cheese crumbles, and drizzle with the buffalo ranch dressing. Enjoy!
,