This shop has been compensated by Collective Bias and its advertiser. All opinions are mine alone. #EverydayEffortless #CollectiveBias
This Cheesy Garlic Chicken Spaghetti is quick and easy, and made all in one-pot! Delicious pasta and juicy grilled chicken is mixed with a cheesy garlic sauce and ready in 10 minutes!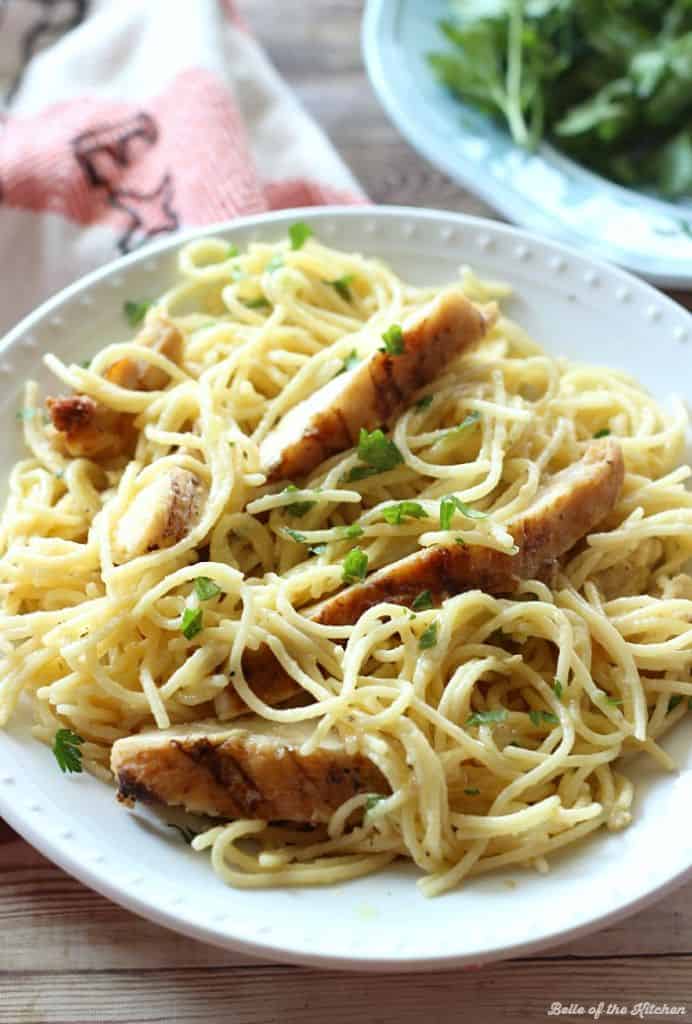 A typical weeknight at our house probably looks a bit "zoo-like" to the casual observer. Two kids and a bulldog running around, laundry piled up on the couch, soccer equipment scattered on the floor, dishes piled up on the counter from a day of blogging (and all of the eating we do), homework waiting to be done…. it can get a little crazy!
On those kind of nights where everyone in our house is busy, tired, and hungry, a dinner that's both quick and easy is a must! Well y'all, if your household is anything like mine and you're looking for an easy dinner idea, then you are in luck! Today's recipe is all of those things and it's yummy to boot!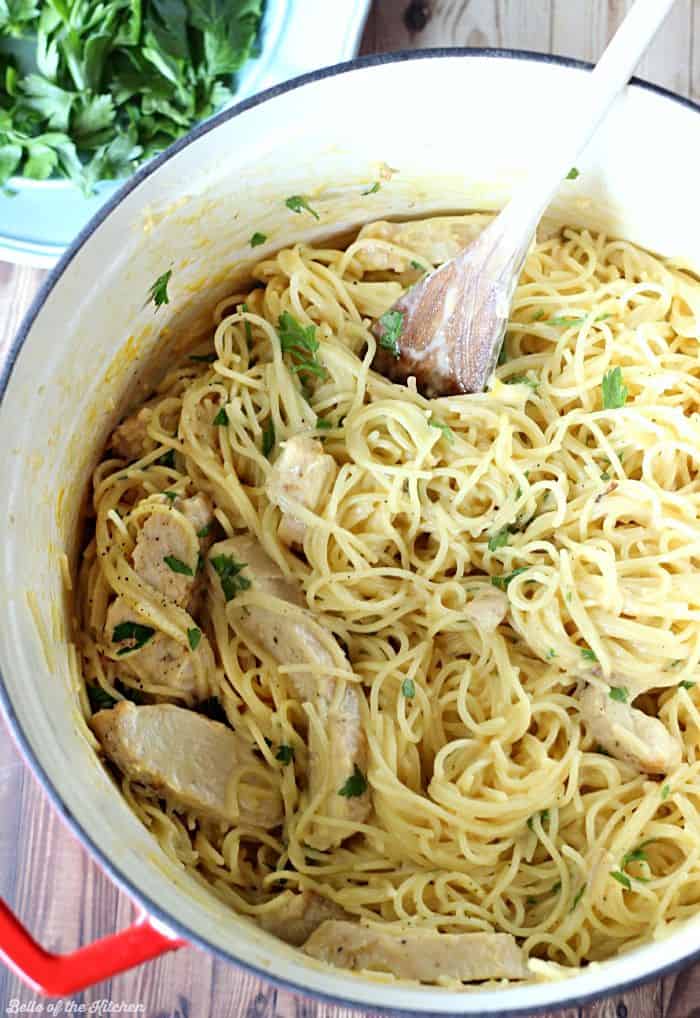 I actually came up with this recipe a few months ago and have been meaning to post it here ever since. As I was planning what to make for dinner the night before I ran my first half-marathon back in April, I decided that my meal needed some pasta, chicken, and a sauce that wasn't too heavy. I was thrilled with how it turned out (and how it helped me power through my race!), and I have been making it ever since, especially on busy nights when I just want a quick and tasty dinner that my kids enjoy, too.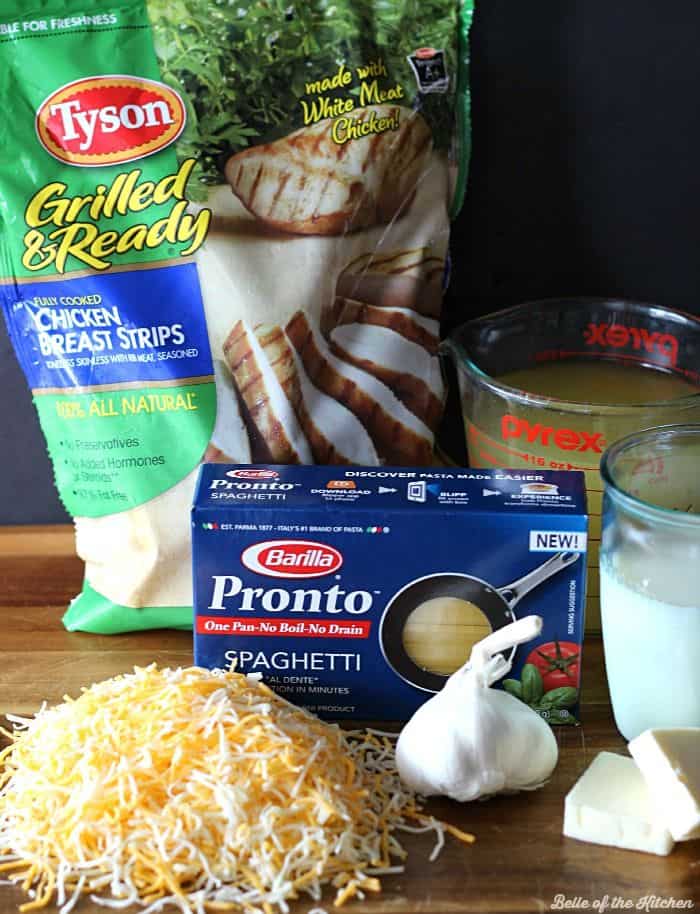 To make this recipe even quicker than usual, I used the new Barilla Pronto Spaghetti which is a one-pot, no boil, no drain pasta that cooks in under 10 minutes! I paired it with Tyson Grilled and Ready Chicken Breast Strips which are already fully-cooked, 98% fat free, and have no preservatives. I found both of these quick and easy ingredients at my local Walmart store.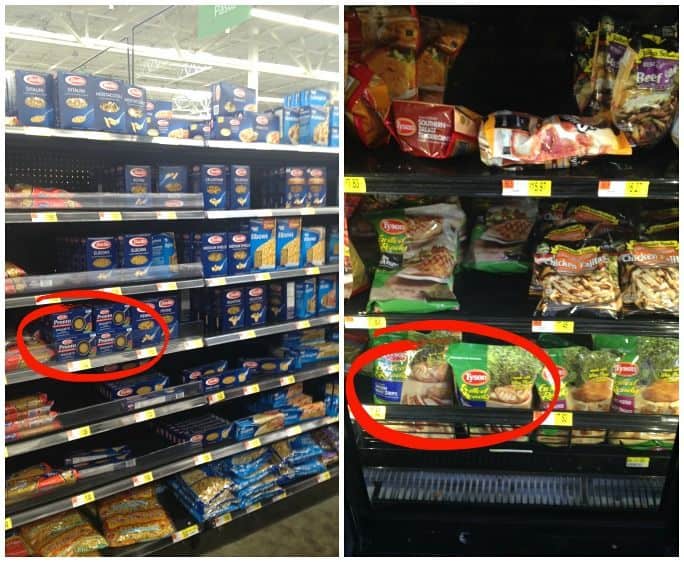 All you have to do is cook a few cloves of garlic, add in some chicken broth, milk, and the Barilla Pronto Pasta and let it cook. Once most of the liquid is absorbed, add in your Tyson Grilled and Ready Chicken Breast Strips along with some shredded cheese. Stir it all up and allow the chicken to cook a bit, and then voila! An easy, peasy, yummy dinner in 10 minutes!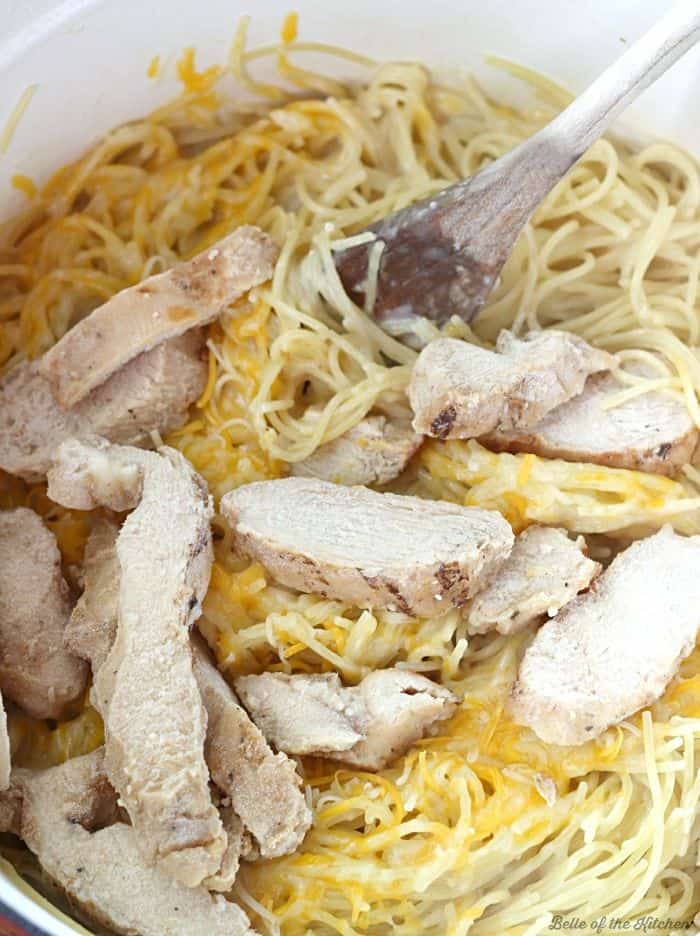 With all of that extra time saved, I was able to help my son with his homework and I got an extra load of laundry folded! Whoo hoo, more room on my couch! 😉
For recipe inspiration, check out more #EverydayEffortless ideas here!
#AD One-Pot Cheesy Garlic Chicken Spaghetti
Ingredients
2 TB butter
4 cloves garlic, minced
2 cups chicken stock
1 cup milk
1 (12 oz) box Barilla Pronto Spaghetti
8 oz. Tyson Grilled and Ready Chicken Breast Strips
1½ cups shredded cheese (I used Monterrey Jack)
Instructions
Melt butter in a large skillet over medium heat. Saute garlic until golden brown and fragrant, about 1 minute. Be careful not to burn.
Stir in chicken broth, milk, and Barilla Pronto Spaghetti and increase heat to high. Cook, stirring occasionally, until pasta is cooked and most of the liquid is absorbed.
Stir in the cheese and the frozen chicken. Allow to cook for a couple minutes more until chicken is thawed and warm. Serve and enjoy!