Easy Baked Apples
These Easy Baked Apples are the perfect sweet treat for fall! Top them off with a scoop of vanilla ice cream and a drizzle of caramel for a truly heavenly dessert!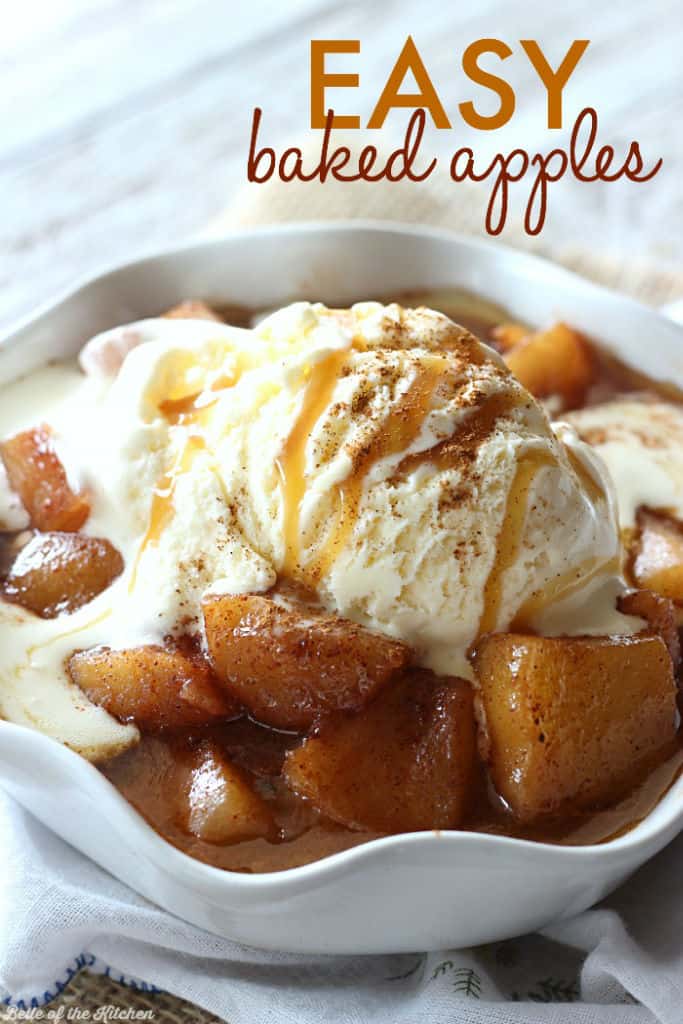 Happy Friday, y'all! I am totally pumped about today's recipe because it's part of a fun event that I'm taking part in along with some other amazing food bloggers. Basically, each of us were secretly assigned another blog to read through and find a recipe we would like to make. Then, we were to try out the recipe, photograph it, and share it today, AKA "Freaky Friday!" We weren't allowed to tell each other whose blog we had or what we were making from their site. Until now…
I was super excited when I found out that I would get to make one of the gorgeous recipes created by Jenny from Honey and Birch! I've admired Jenny's blog and all of her beautifully photographed recipes ever since I met her through some blogger networking groups earlier this year. She is a self-taught home cook who makes simply elegant food; the likes of which belong in restaurants, I would say!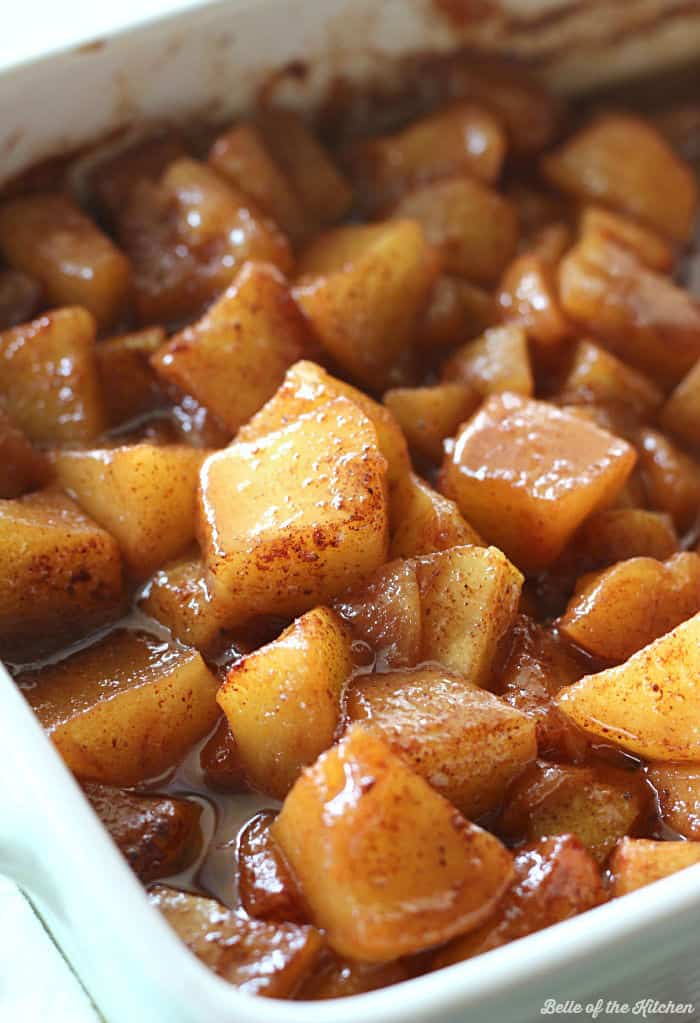 It was easy for me to find plenty of her recipes I'd like to try, but it was super hard to narrow it down to just one! With options like Fish Tacos with Poblano Pepper Pico de Gallo, Vanilla Bean Bundt Cake with Pomegranate Glaze, and Gouda Jalapeño Roasted Red Pepper Grilled Cheese, I had some tough decisions to make!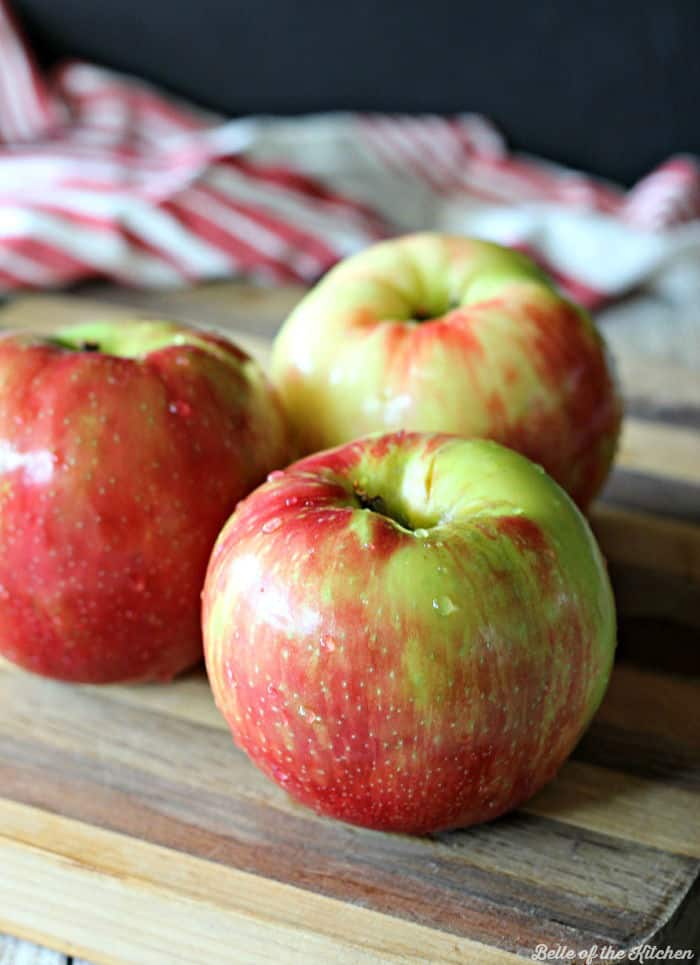 Ultimately, it came down to these incredible looking Easy Baked Apples. After I first spotted them and then kept coming back to the recipe, I knew they were going to be it! Y'all know I love quick and easy recipes that taste amazing, and you really just can't beat these.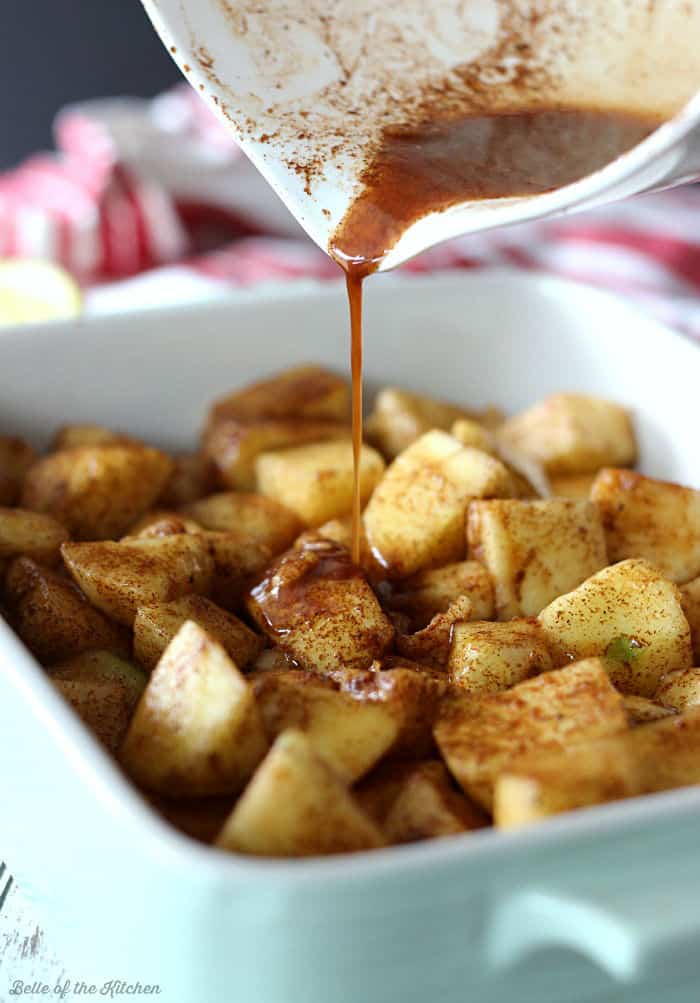 With fall in full swing, I've been craving apple desserts like crazy. I had a big bowl of Honey Crisp Apples sitting on the counter just begging to be put to good use, so I knew this recipe just had to happen. These baked apples also make me think of the delicious fried apples that you can get at Cracker Barrel, and goodness knows how much I miss those!
Jenny made her easy baked apples in an adorable mini cocotte pan. I've got pan envy (yep, that's a thing) and really want one of those now, but in the meantime I just used a regular baking dish to make these. I also doubled her recipe since I knew I'd have to share this deliciousness with my hubby and two kiddos, so the recipe listed below reflects the doubled version. As for any ingredient changes, I kept nearly everything the same from Jenny's recipe except that I used a little less nutmeg and I omitted the cardamom. That omission was simply because I couldn't find it in either of the two stores I went to! I'm now on the lookout for both a cute cocotte pan and cardamom. 🙂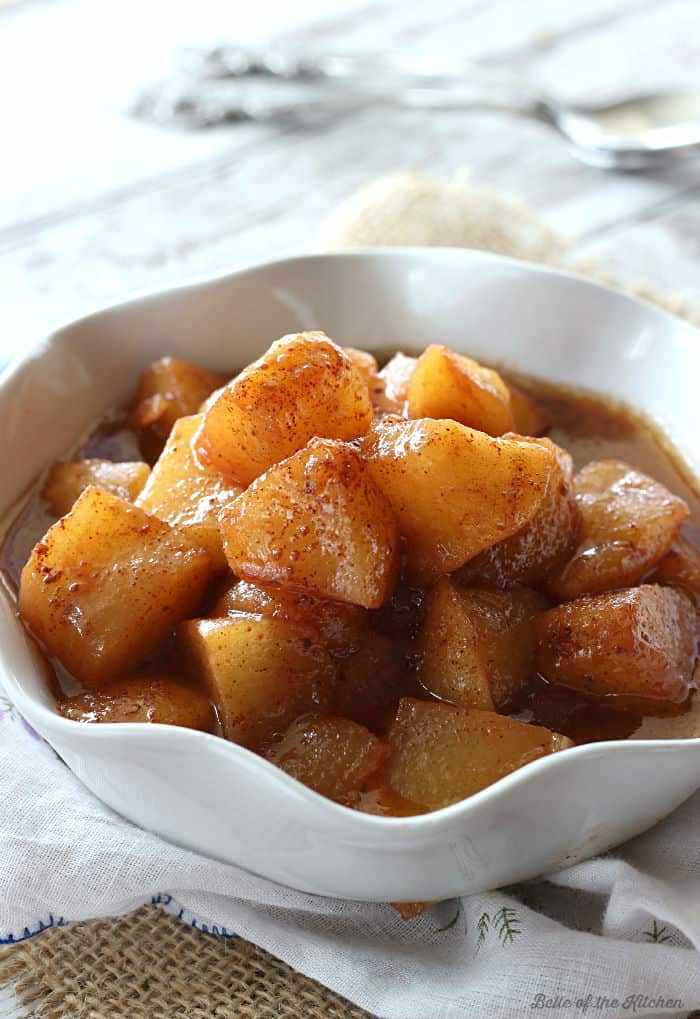 Once it was baked and ready, we decided to top ours with some vanilla ice cream and a little drizzle of caramel. One word: HEAVEN!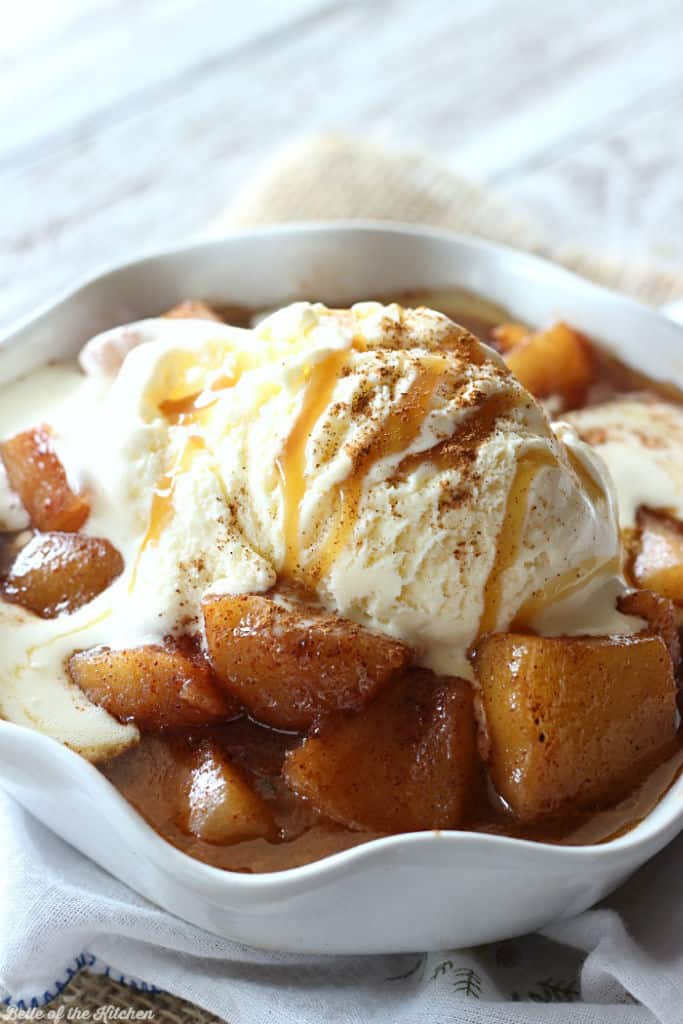 If you'd like to see more of the recipes that were secretly swapped today by the other Freaky Friday Bloggers, you can check them out below! Just click the pictures in the link-up to take you right to their page.
Easy Baked Apples
These Easy Baked Apples are the perfect sweet treat for fall! Top them off with a scoop of vanilla ice cream and a drizzle of caramel for a truly heavenly dessert!
Ingredients
3-4 large apples,, peeled and cored, about 6 cups (I used Honeycrisp)
1/3 cup brown sugar
2 Tablespoons fresh lemon juice
4 teaspoons ground cinnamon
1/2 teaspoon nutmeg
1 teaspoon cornstarch
4 Tablespoons cold butter,, cubed
Instructions
Preheat the oven to 400 degrees. Grease a medium-sized baking dish and set aside.

Cut the apples into ½ inch chunks. In a small bowl, combine the apples, brown sugar, lemon juice, cinnamon, nutmeg, and cornstarch. Stir until all ingredients are well combined and apples are evenly coated.

Pour the apple mixture into the prepared baking dish. Spread the butter cubes over the top of the apples and cover the dish with foil.

Bake in preheated oven for 35-40 minutes or until apples are tender. Remove from oven and stir. Serve hot with ice cream and caramel sauce if desired. Enjoy!
Calories: 249kcal, Carbohydrates: 39g, Fat: 11g, Saturated Fat: 7g, Cholesterol: 30mg, Sodium: 106mg, Potassium: 170mg, Fiber: 4g, Sugar: 32g, Vitamin A: 425IU, Vitamin C: 6.3mg, Calcium: 47mg, Iron: 0.5mg
"Freaky Friday" was brought to you by:
A Dish Of Daily Life || A Kitchen Hoor's Adventures || An Affair from the Heart || Aunt Bee's Recipes || Belle of the Kitchen || Cooking on a Budget || Full Belly Sisters || Honey and Birch || LeMoine Family Kitchen || Pic-Nic || The Flavor Bender || The Foodie Affair || The Magical Slow Cooker || Who Needs A Cape || Wildflour's Cottage Kitchen
This site contains affiliate links, if you make a purchase through them, we receive a small commission.