These Almond Butter Chocolate Chip Cookies are made with no flour, oil, or butter. They are perfectly chewy, full of chocolate, and downright addicting!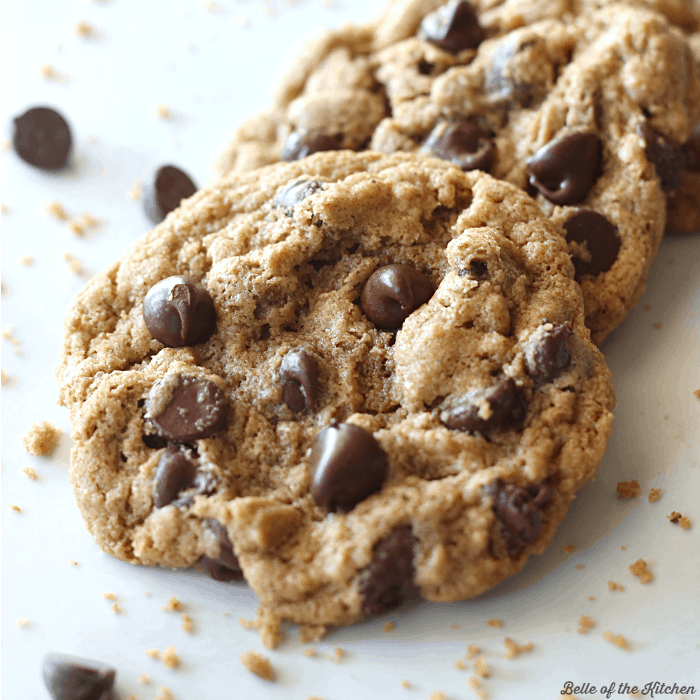 Hey y'all! Happy Wednesday! Today I'm bringing you one of my new favorite treats, Almond Butter Chocolate Chip Cookies!
These are soooo good, plus they are flourless for all of my gluten-free pals out there!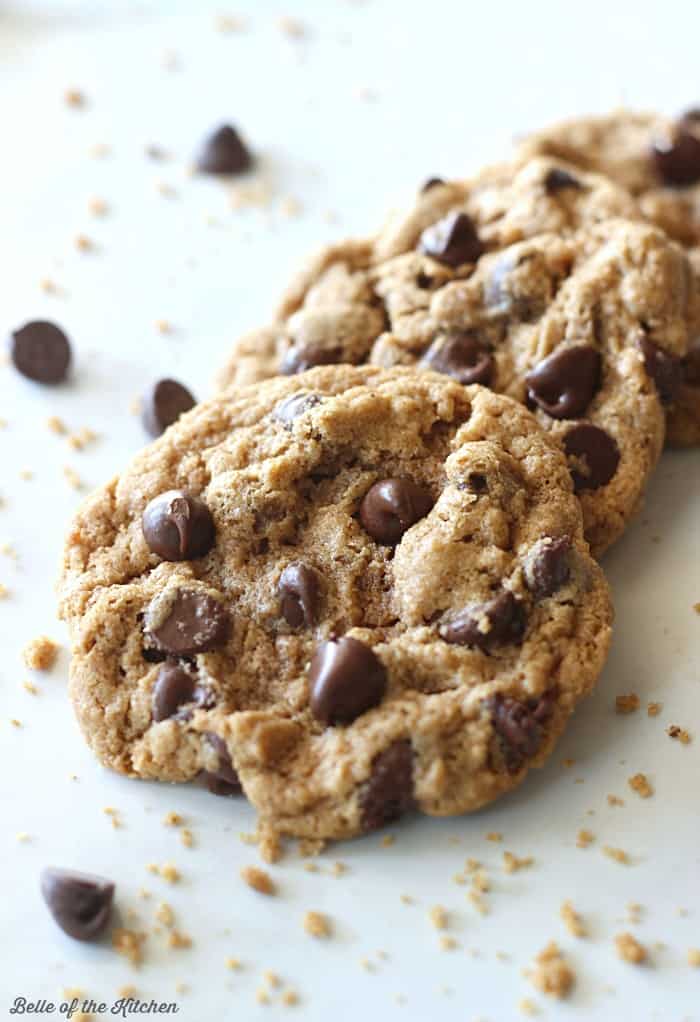 We love almond butter around here and I like to find all kinds of ways to put it to good use. We became true-blue almond lovers about four years ago after my son was diagnosed with a severe peanut allergy. Thankfully almonds don't cause any issues for him, so we use almond butter and sunflower seed butter as a replacement for peanut butter.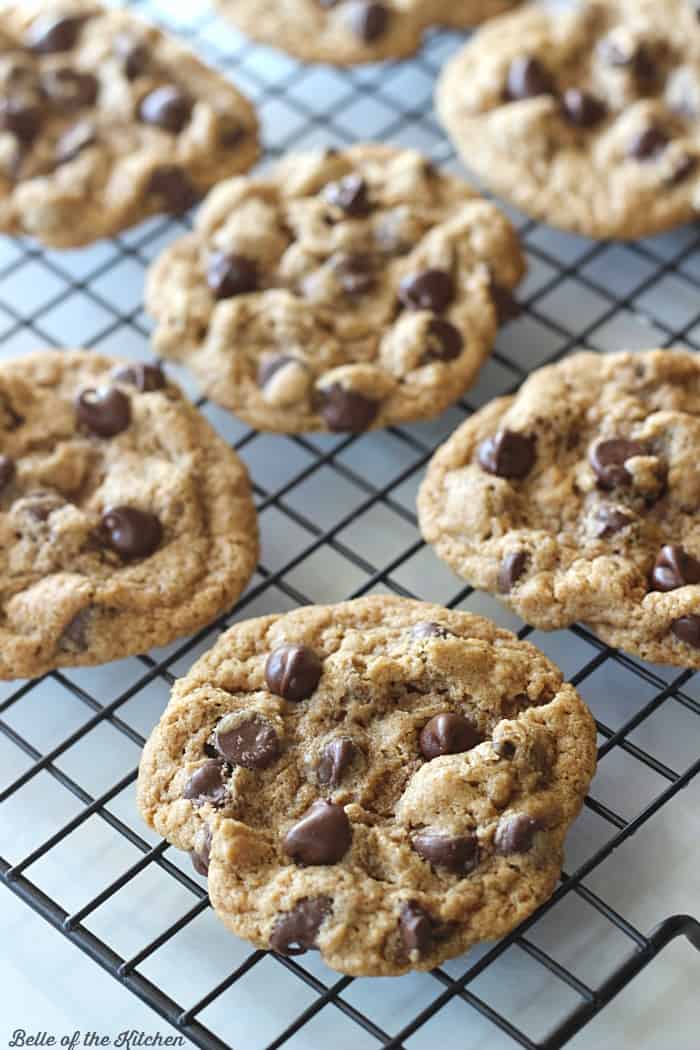 I will fully admit to y'all that giving up peanut butter was a bit of a challenge. More so for me than it was for my husband. As soon as he found out that our son was allergic, he declared that he was done with peanut butter and he had no desire to eat it anymore. Me? Well, I struggled! At the time we found out about his allergy, I was making peanut butter, banana, and spinach smoothies nearly everyday for breakfast. Plus, any peanut butter dessert was automatically my go-to favorite.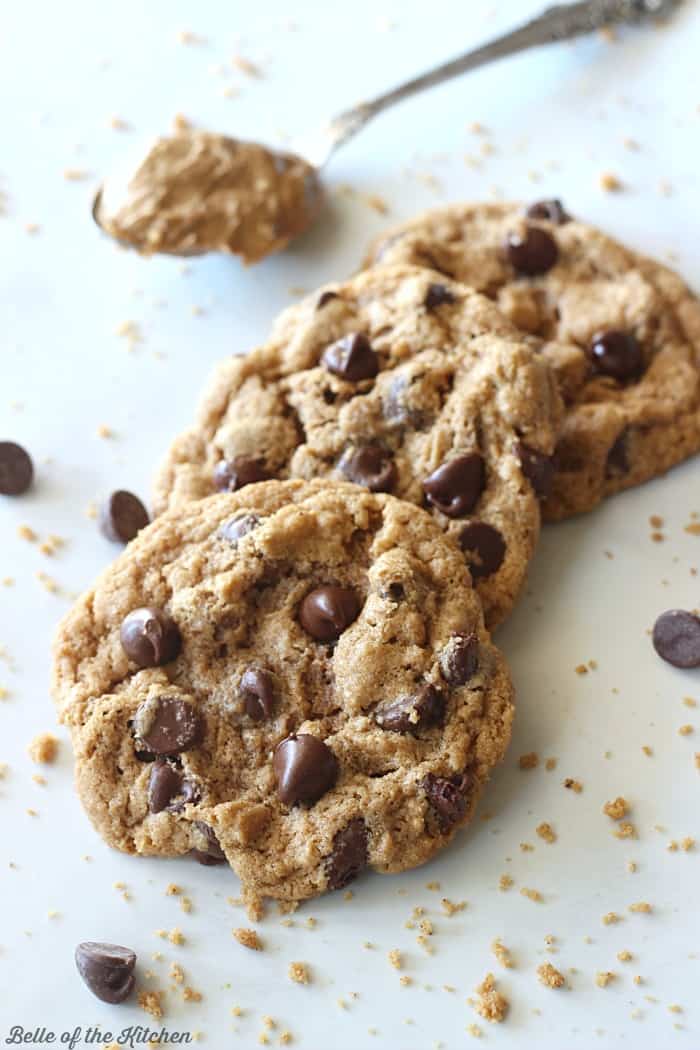 Over time I started trying peanut butter alternatives and have found some that I really love. I actually make all of our almond butter at home because many of the kinds that you buy at the store have a risk of cross-contamination with peanuts. The store-bought kinds are also more expensive, especially out here in Hawaii where everything costs an arm and a leg! Almond butter is SUPER easy to make, as long as you have a food processor. I've made multiple kinds including, cinnamon, maple, vanilla, and more. I'll have to share some of those soon.

You can use any kind of almond butter you like in these cookies, store-bought or homemade. I'm going to try these with cinnamon almond butter next time! You could also use a different kind of nut butter, including peanut, if you don't have any allergies.

Flourless Almond Butter Chocolate Chip Cookies
Ingredients
1 cup almond butter
¾ cup sugar
1 egg
1 tsp vanilla
½ tsp baking soda
½ tsp salt
1 cup chocolate chips
Instructions
Preheat oven to 350 degrees fahrenheit. Line cookie sheets with parchment paper or silicone baking mats and set aside.
In a medium sized bowl, stir together almond butter, sugar, egg, vanilla, baking soda, and salt until well combined. You can do this by hand; no need for the electric mixer. Stir in the chocolate chips and mix well.
Scoop the cookie dough by rounded tablespoon and place on prepared baking sheets about two inches apart. Bake in preheated oven for 10-11 minutes, being careful not to over bake. Allow to cool on cookie sheet for 3-5 minutes before transferring to a wire rack to cool completely. Enjoy!

Related posts: