Miniature cheesecakes made with an Oreo crust, and a creamy cheesecake filling that's been swirled with a dollop of irresistible Nutella. They are topped off with more crushed Oreos and a drizzle of warm Nutella on top!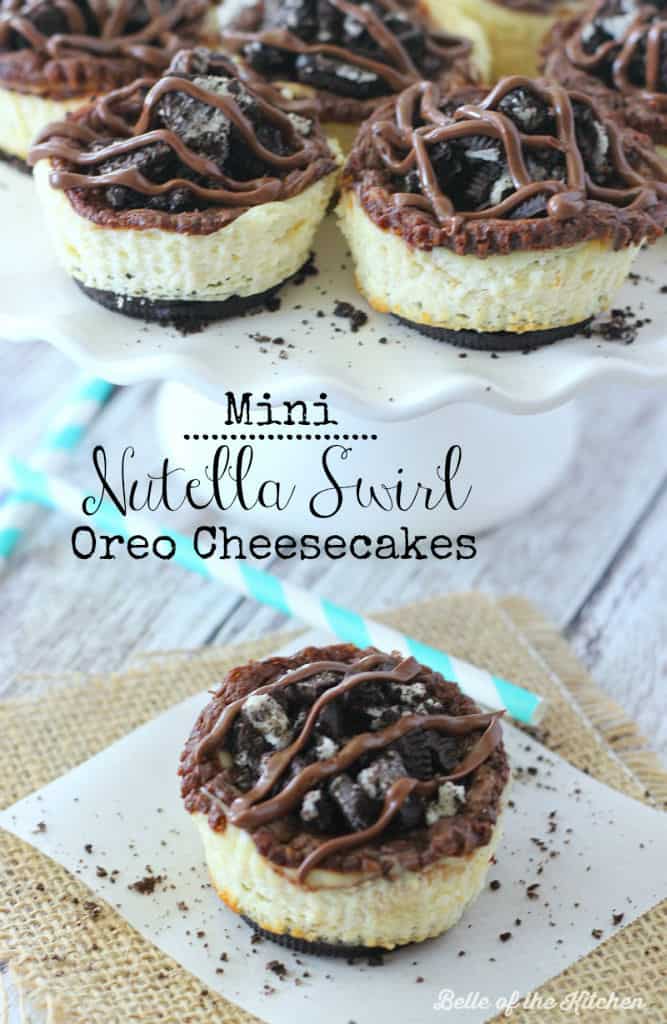 I can't resist cheesecake. I JUST. CAN'T. DO. IT. I love everything about it. How creamy it is, how versatile it is. It tastes amazing with fruit or chocolate. I've even love it with pumpkin when fall rolls around. Which by the way, is just around the corner!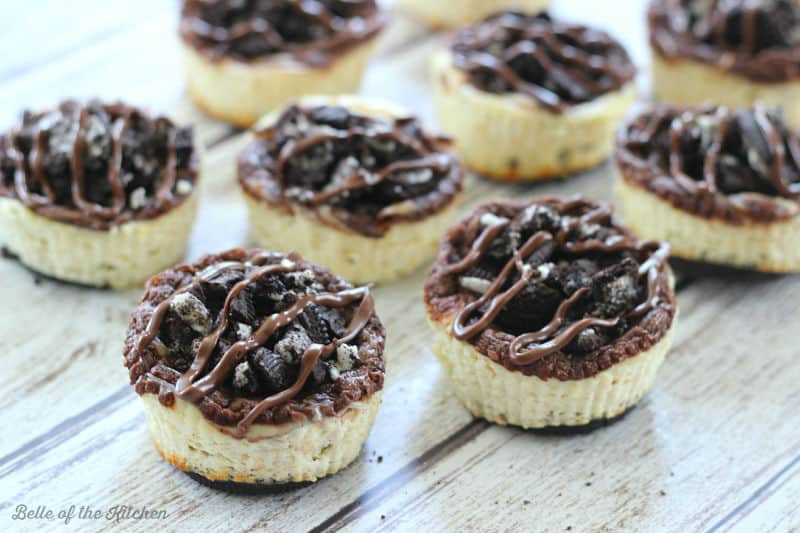 I had a hankering for cheesecake the other day, but I didn't really feel like making a big one. I was craving Nutella, and decided to try combining it with Oreos to make some miniature cheesecakes. I also knew I needed to exercise a little portion control since my daughter's birthday was coming up and I'm never good with regulating myself when cake is available. I LOVE cake. It really might be my favorite food ever. Stay tuned later this week for a simple vanilla cake recipe and my post all about how I made my daughter's smash cake for her first birthday!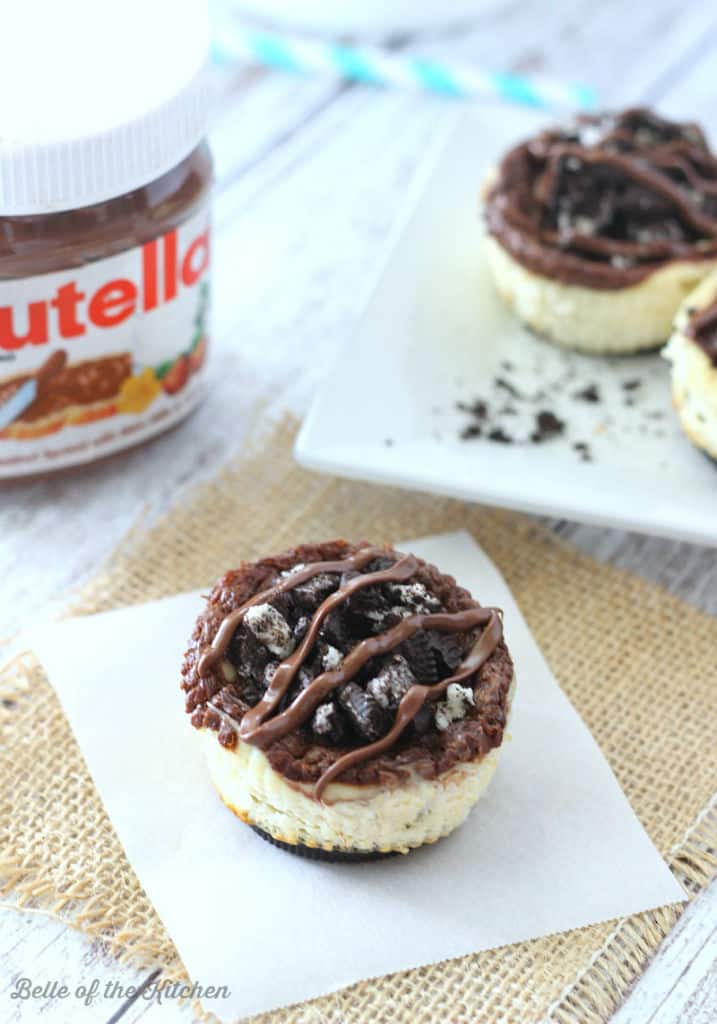 These miniature cheesecakes are perfect for a fun make-ahead dessert and are a great way to get your kids to help out in the kitchen! My son placed all of the cupcake liners in the muffin tin and added the Oreos to the bottom of each one. He of course ate a few while he was at it. 😉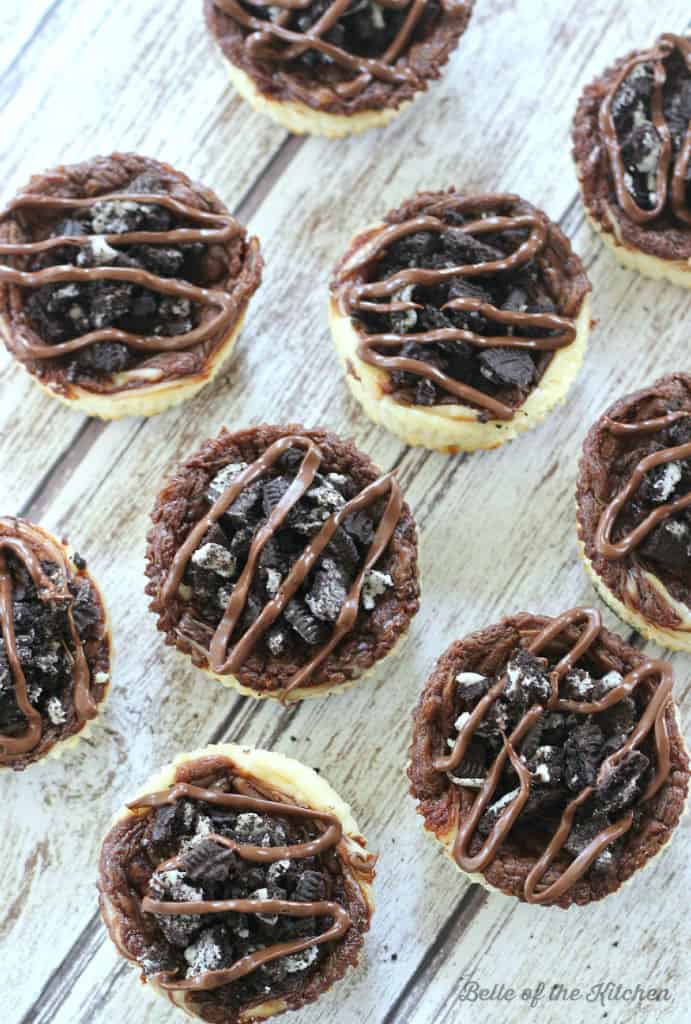 Have a great week everyone, and be sure to stop by tomorrow, as I'm sharing a recipe for Slow Cooker Salsa Chicken Tacos as part of a Back to School blogging event! You'll also find plenty more recipes, crafts, and organizational ideas from some of your favorite bloggers.

Mini Nutella Swirl Oreo Cheesecakes
Makes:
12 mini cheesecakes
Ingredients
20 Oreo cookies, divided
2 (8 oz) packages cream cheese, softened
1 egg
¼ cup sugar
2 tsp. vanilla extract
⅓ cup + 4 TB Nutella
Instructions
Preheat oven to 350 degrees.
Line a standard muffin tin with 12 baking cups. Place an Oreo cookie into the bottom of each cup. This will make the crust of your cheesecakes.
Combine cream cheese, egg, sugar, and vanilla in a mixing bowl and blend together with an electric mixer until smooth, about 3 minutes. Divide the mixture evenly between the 12 prepared cups.
Place ⅓ cup Nutella in a small, microwaveable bowl and heat for about 30 seconds. Place a small scoop into the center of each cheesecake and swirl with a toothpick.
Bake in the preheated oven for about 25 minutes, or until cheesecakes are set. Remove from oven and cool on a wire rack for 30 minutes. Transfer to the refrigerator and chill for at least 3-4 hours.
When ready to serve, crumble the remaining Oreo cookies and sprinkle over the top of the cheesecakes. Place 4 TB Nutella into the bottom corner of a small ziploc bag. Heat in the microwave for 20-30 seconds until warmed and easily spreadable. Cut a VERY small tip from the corner of the bag, and drizzle Nutella over the top of each cheesecake. Serve and enjoy!