This post was sponsored by Tastefully Simple as part of their Project Simplicity Program.
All opinions are mine alone.
Buffalo Chicken French Bread Pizza – Quite possibly the easiest, most delicious pizza ever! Chicken, gooey cheese, onions, and a delicious Garlic Parmesan Wing Sauce from Tastefully Simple sit on top of crusty french bread for a dinner that's ready in under 15 minutes!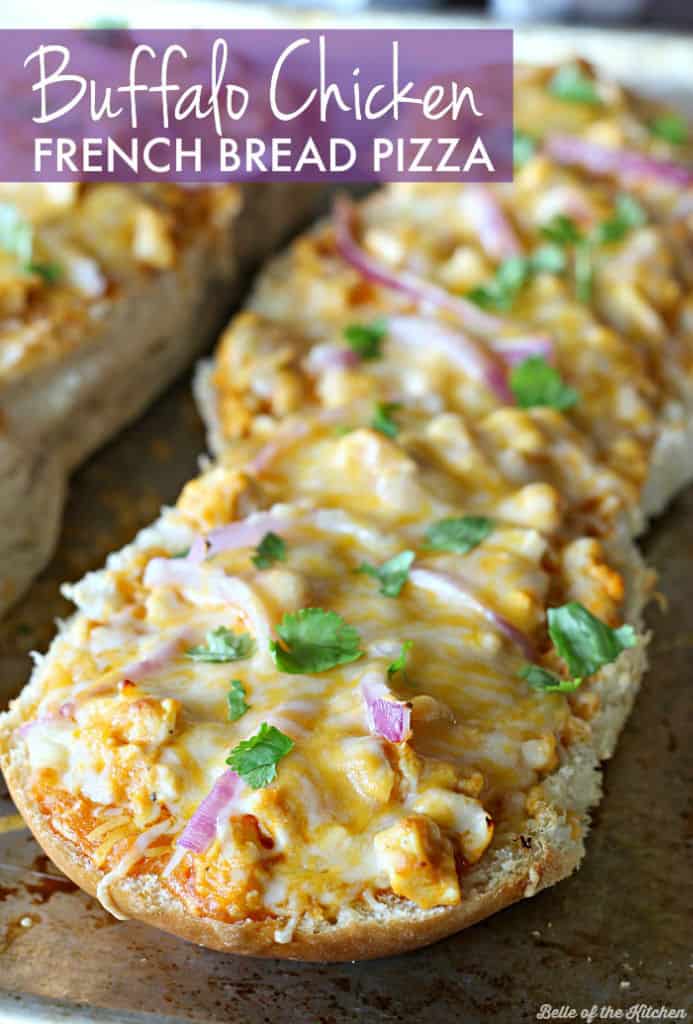 I'm so excited to share this recipe today! If you like hot wings, this one is a definite keeper, y'all!
See, hot wings are one of those foods that I get a craving for every so often. Maybe the craving is just stronger right now since it's the middle of football season (aka: the most wonderful time of the year) and I just tend to want tailgating food all the time. Hand me a bowl of wings, some ranch, and a few wet wipes and I'm a happy girl!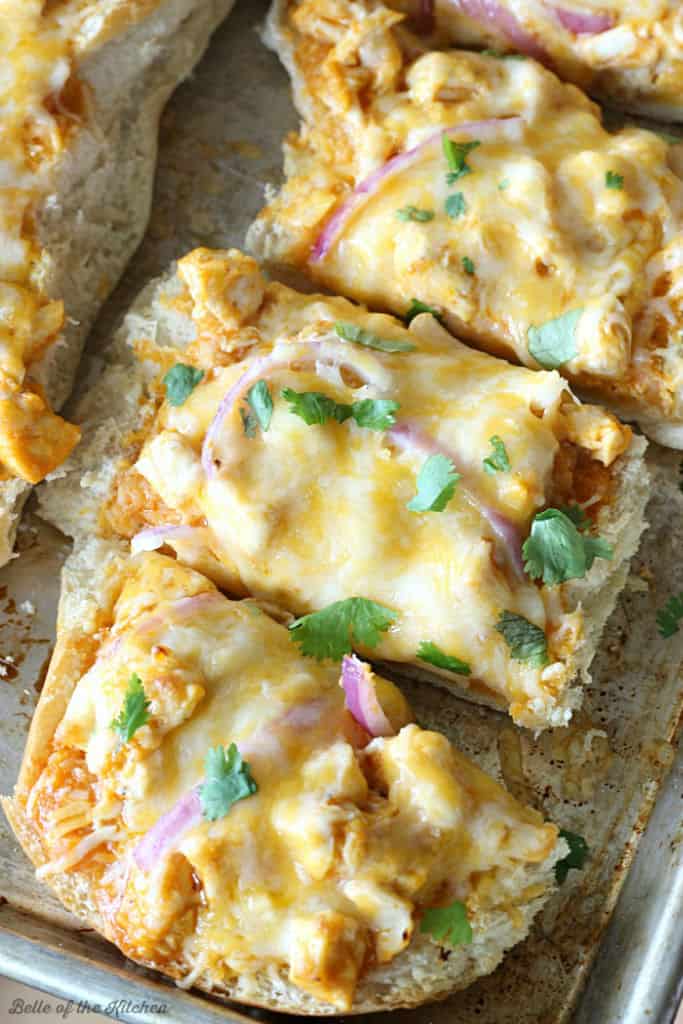 I tend to enjoy buffalo chicken in all forms, not just as hot wings. I love it in wraps, tacos, and now french bread pizza! I like to make french bread pizzas at our house fairly often because they are ridiculously easy to prepare. All you do is slice the loaf of french bread in half, slap on some pizza sauce, toppings and cheese, then bake for all of 10 minutes. Yep, it's THAT easy!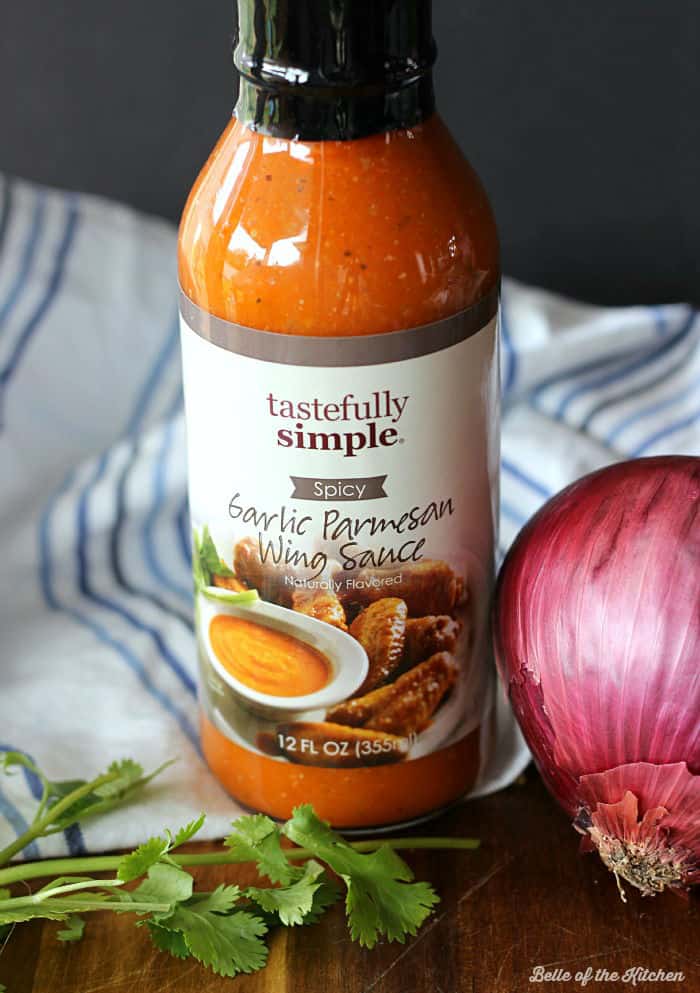 For this pizza, I used the Garlic Parmesan Wing Sauce from Tastefully Simple. I've been creating recipes with Tastefully Simple products here on the blog for the past fews months, and this is definitely one of my new favorites.  You just can't beat the flavors in this sauce. I mean, garlic and parmesan?! Those are two of my favorite things!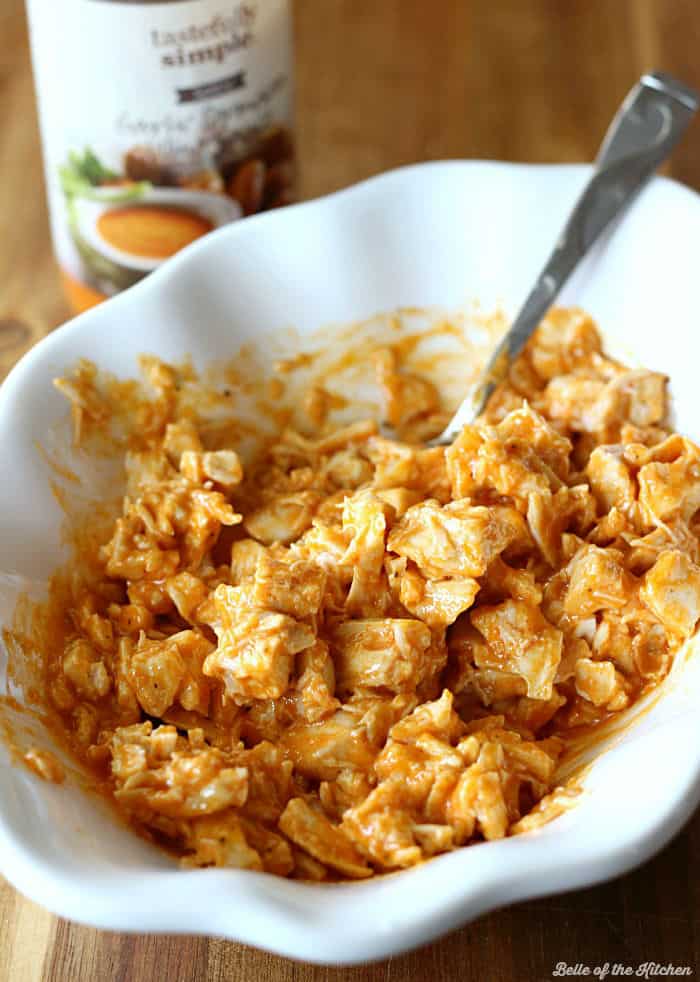 The sauce definitely has some kick to it, but we love spicy food in our house so that wasn't a problem. Just keep some ranch or blue cheese on hand for drizzling or dipping and you'll be good to go.
While this sauce definitely has some heat, I found it to have more of a smoother taste than the other buffalo sauces that you can buy at the grocery store, and I MUCH prefer its flavor! I can't wait to try it in other recipes, too!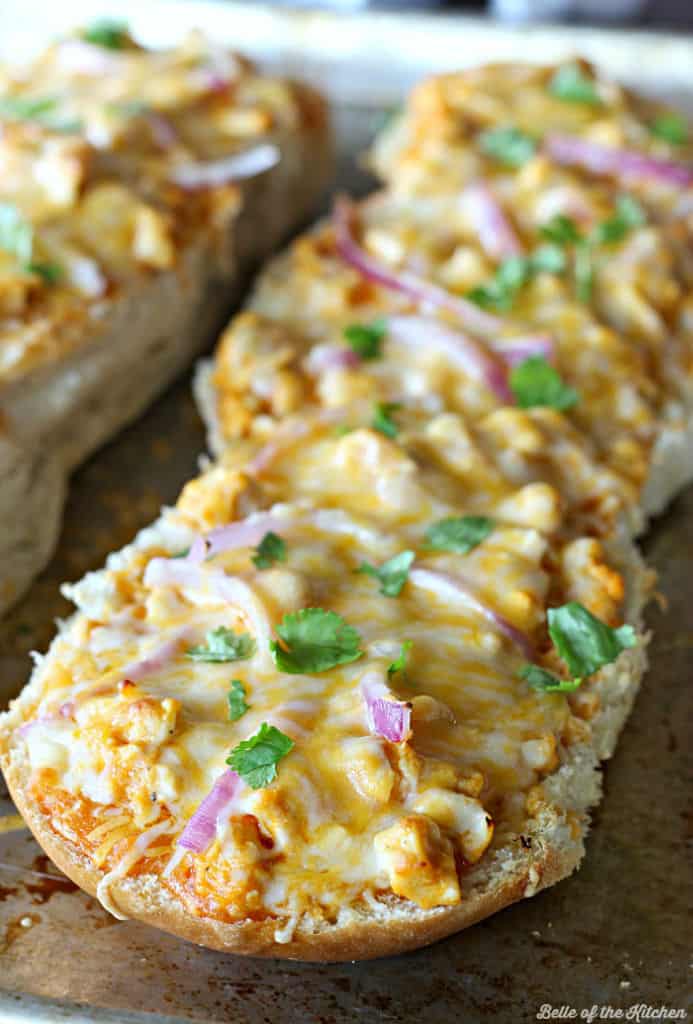 Be sure to check out my other recipes using Tastefully Simple products here!

Buffalo Chicken French Bread Pizza
Ingredients
1 loaf french bread
2 cups cooked and chopped chicken
1 cup Garlic Parmesan Wing Sauce from Tastefully Simple
½ medium red onion, sliced
2 cups shredded cheese (I used Monterrey Jack)
Ranch dressing for topping
Chopped cilantro for topping
Instructions
Preheat oven to 425 degrees.
Slice french bread in half lengthwise and place on top of a cookie sheet. Spread ½ of a cup wing sauce over the tops of the french bread.
In a small bowl, mix together the chicken and the remaining ½ cup of wing sauce. Spread chicken mixture evenly over the two halves of french bread. Sprinkle with sliced onions and cheese.
Bake in preheated oven for 10-12 minutes. Sprinkle pizza with cilantro and drizzle with ranch dressing. Slice, and enjoy!
Related posts: