Hello Belle of the Kitchen readers! I'm Carrie from Kenarry: Ideas for the Home where we share recipes, crafts, DIY projects, kids activities and other ideas to help families create homes they love. Today I'm visiting Belle of the Kitchen to share a recipe for the most important meal of the day: breakfast! This Bacon, Spinach and Feta Breakfast Casserole is an overnight casserole you make the day before using crispy bacon, fresh spinach, feta cheese, onions, eggs and frozen french fries.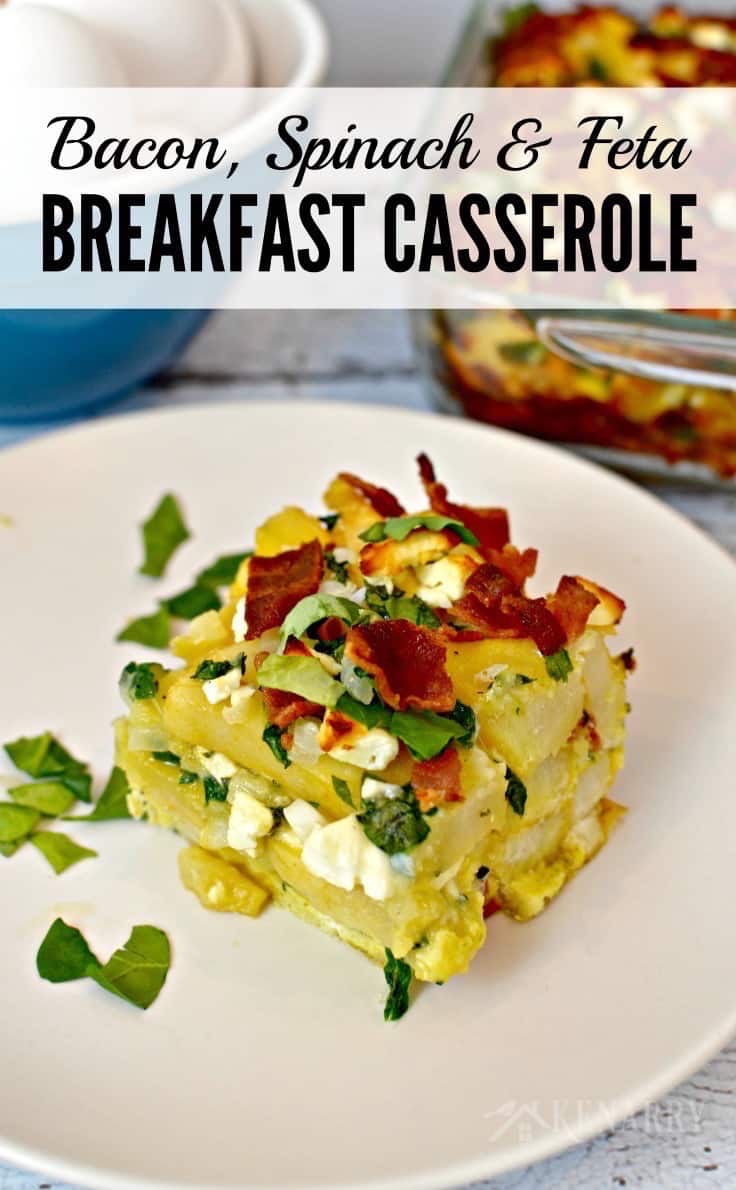 I love breakfast, but I hate fussing in the morning when I'm groggy with sleep and haven't found a cup of coffee yet. I naturally gravitate to any breakfast recipe that you can make the day before and store in the refrigerator overnight. Heck, I even have a recipe for breakfast enchiladas that I've made weeks in advance and put in the freezer.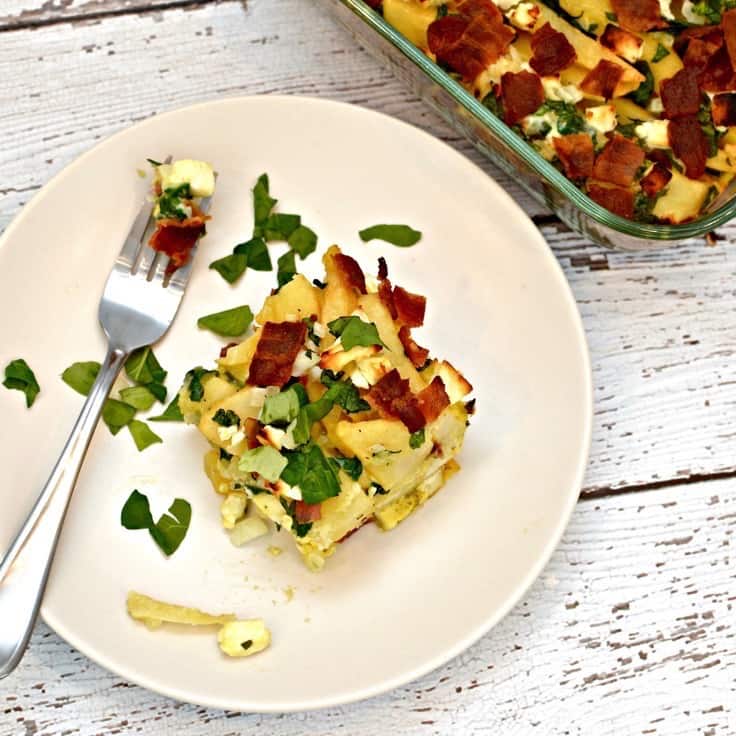 When the weather is nice, we spend a lot of time up north at our cottage which is right next door to my parents. My dad and I have gotten in the habit of taking my dog, Scruffy, for long three mile walks on Saturday mornings. When I get up to the cottage on Friday nights, I quickly whip up a breakfast casserole of some kind and put it in my parents' refrigerator.
In the morning on Saturday, my dad throws the casserole in the oven before we hit the road for our walk. By the time we get back everyone else has woken up for the day and the egg casserole is cooked and ready to eat. It's been working out perfectly.
We've been in the habit of doing this for long enough now that I've started to get a reputation in my family as the queen of breakfast casseroles. The casseroles I make are hardly ever the same from week to week. Some times I use cubed or shredded hashbrown potatoes, some times I use ham or sausage, some times I make a pizza breakfast casserole or a french toast casserole. You just never know what I'll throw together!
I like to get creative with the ingredients I use in an egg casserole so it doesn't get boring or start to feel like you're eating the same thing all the time. There are really only so many ways you can use ham and cheddar cheese for breakfast, right? I got inspired to make a Bacon, Spinach and Feta Breakfast Casserole since I love how those flavors blend together and rarely think about using spinach or feta in my egg casseroles.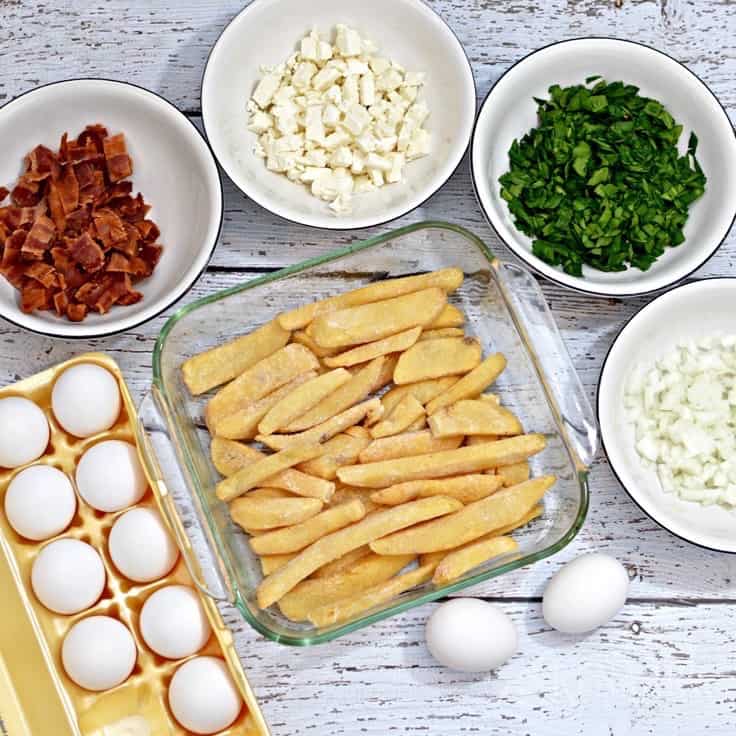 While looking at hashbrown potatoes in the freezer section at my grocery store, my eyes wandered over to the frozen french fries. Hmm… I've made egg casseroles with tatertots or small crispy rounds before, but never french fries. I couldn't imagine why they wouldn't work just as well in an egg casserole as the tatertots or hashbrowns do and decided to give it a try.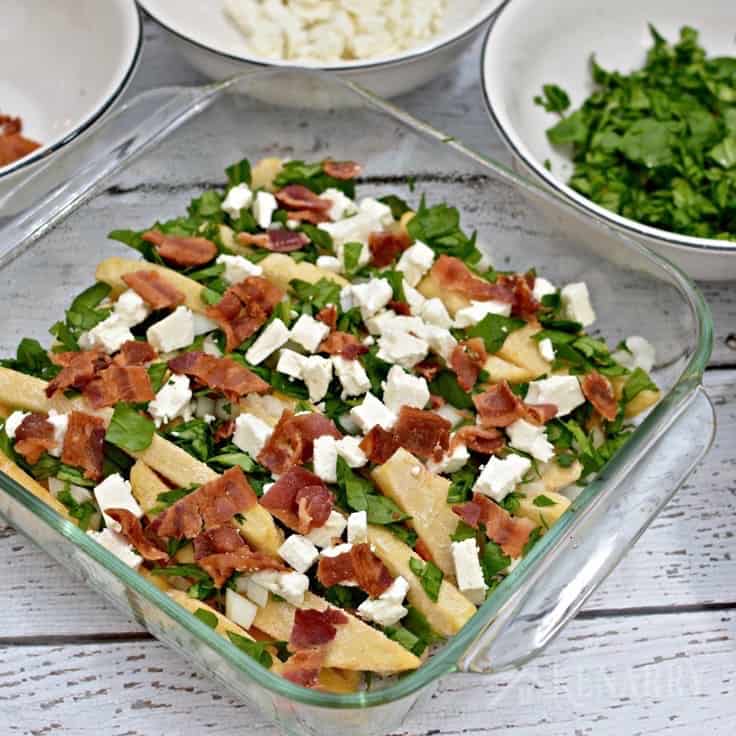 It's pretty simple to make this Bacon, Spinach and Feta Breakfast Casserole. You'll find the full recipe below, but basically you start with a layer of frozen french fries, then half of the diced onion, crispy bacon, crumbled feta and fresh spinach. Then spread a second layer of french fries and sprinkle with the remaining onion, bacon, spinach and feta.
Beat together some eggs, milk and a few spices to pour over the Bacon, Spinach and Feta Breakfast Casserole. When you're done, put it in the refrigerator overnight.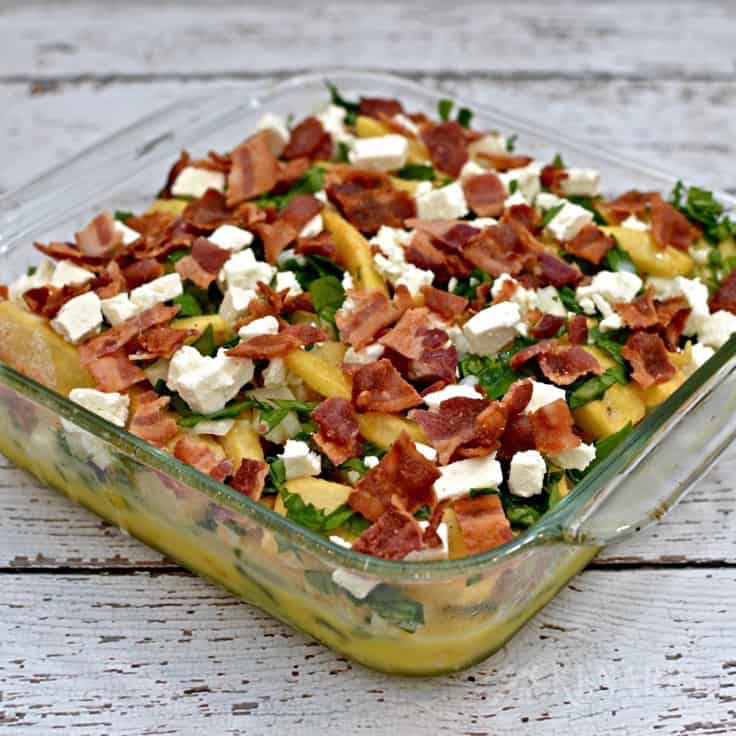 In the morning, throw the Bacon, Spinach and Feta Breakfast Casserole in the oven then go for your walk, have your morning cup of coffee, watch the news or whatever you want to do. Once the egg is fully cooked you can serve and enjoy!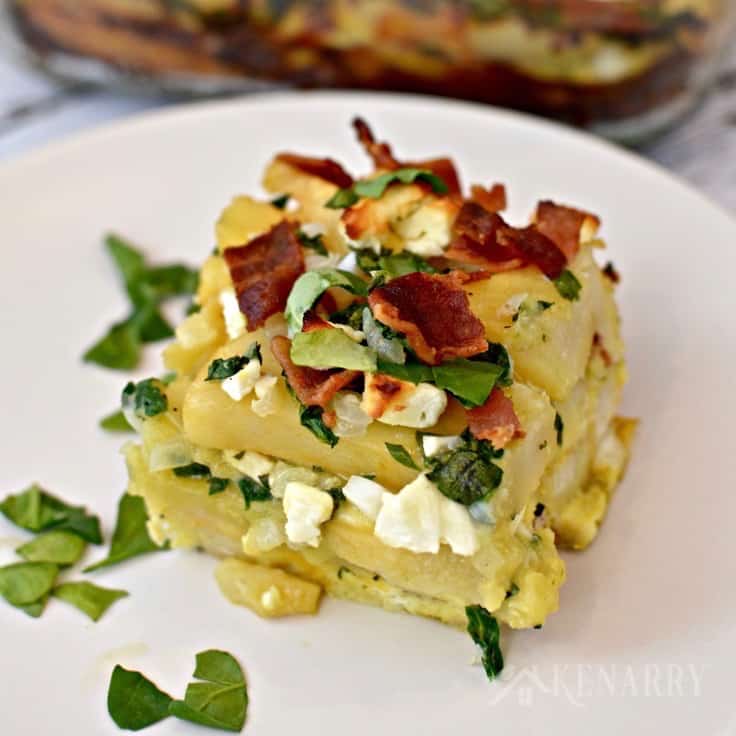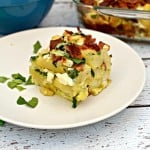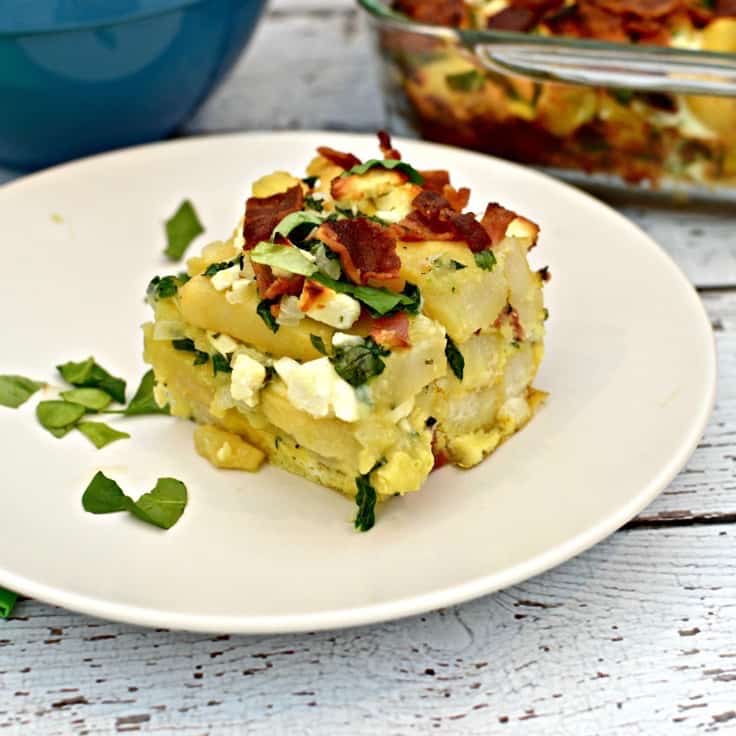 Egg Casserole Recipe with Bacon, Spinach and Feta
Ingredients
1

cup

chopped fresh spinach

2/3

cup

diced onion

1

cup

crispy bacon

4

oz

crumbled feta cheese

28

oz

steak fries

6

eggs

2/3

cup

milk

1/8

teaspoon

black pepper

1/4

teaspoon

salt

1/4

teaspoon

garlic powder
Instructions
Lightly grease an 8 x 8 pan or 2 quart baking dish with cooking spray.

Spread half of the steak fries in the bottom of the baking dish.

Layer half of the feta, bacon, spinach and onion.

Top with the remaining steak fries.

Sprinkle with the rest of the onion and spinach.

In a medium sized bowl, whisk together eggs, milk, pepper, salt and garlic powder. Pour over the breakfast casserole.

Top with feta and bacon, then refrigerate overnight.

In the morning, bake at 350 degrees for 60-70 minutes or until eggs are cooked. Enjoy!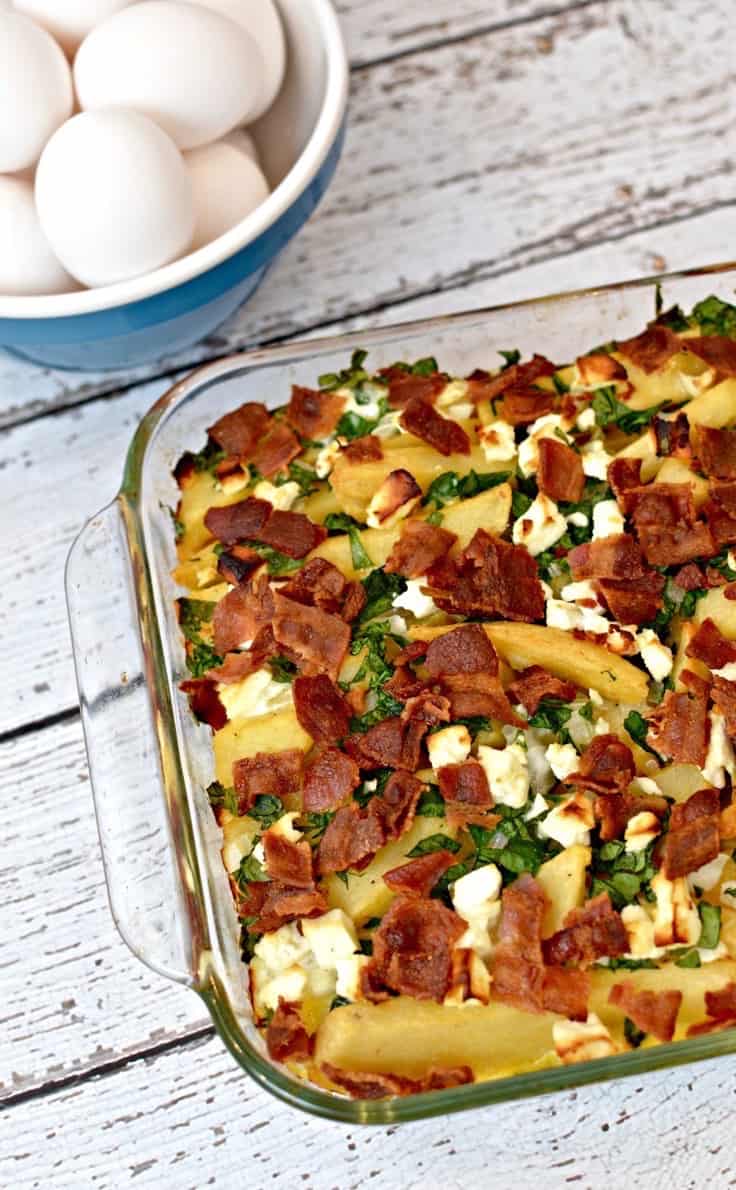 Suggestions for Bacon, Spinach and Feta Breakfast Casserole
This Bacon, Spinach and Feta Breakfast Casserole is really easy to make but here are a few ideas for how you could modify the recipe:
Instead of frozen french fries, you can use cubed or shredded frozen hashbrown potatoes. You could also use tatertots or crispy rounds. There's just something about tatertots that my whole family raves about when I use those in a breakfast casserole.
The Bacon, Spinach and Feta Breakfast Casserole is pretty dense with the french fries. If you like your breakfast casseroles to be eggier, you could cut the amount of french fries in half.
Replace the bacon with diced fresh tomatoes if you prefer more of a vegetarian egg casserole.
Top your egg casserole with store bought salsa or homemade pico de gallo for some added flavor.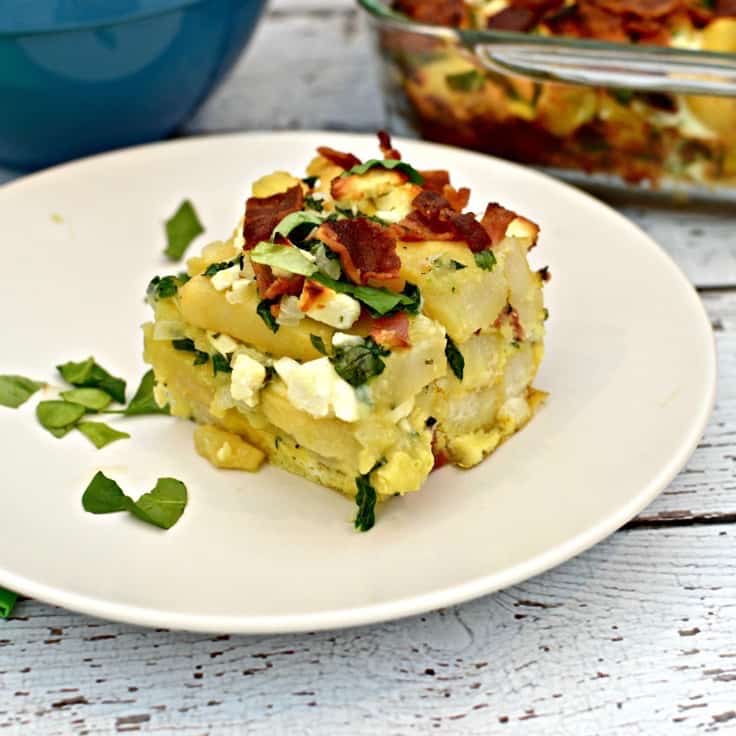 What are your favorite ingredients for a breakfast casserole? Please comment below and share. Ashlyn and I both love breakfast and are always looking for new ideas for the kitchen.
If you enjoyed this Bacon, Spinach and Feta Breakfast Casserole, please share it with your friends or pin it for later:

You may also enjoy these other breakfast recipes on Kenarry: Ideas for the Home: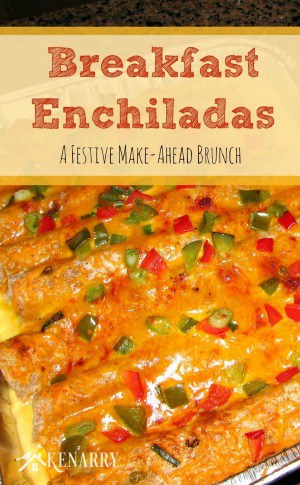 Easy Overnight Quinoa Breakfast Recipe from Lisa at Life on Merlin on our Creative Team
About Carrie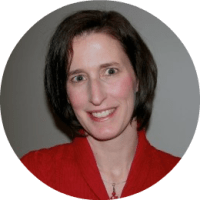 Carrie is the chief writer, crafter and cook at Kenarry: Ideas for the Home where she and her husband create and curate ideas you'll find useful for your home. She's an optimist by nature and enjoys sharing recipes, trying new craft ideas, planning for parties and events as well as organizing and decorating. Carrie's passion, though, is volunteerism and connecting people with opportunities to make a difference in their community. When she's not blogging, preparing meals or picking up around the house, you're bound to find her hidden away in a castle under the stairs reading to her two young boys. Whether you're cooking, crafting or creating for your family, you'll find inspiration by connecting with Carrie. Find her online at Kenarry, Google+, Pinterest, Facebook, Twitter and Instagram.