Pizza Breakfast Casserole
Hi, I'm Carrie from Kenarry: Ideas for the Home back again for our monthly Ideas for the Kitchen exchange where Ashlyn and I trade blogs to bring you delicious new recipes to try. For February, we thought it would be fun to share breakfast recipes. Ashlyn and I both enjoy making brunch for our families and find the best breakfast recipes are those you can make ahead of time. Today, I'm sharing a recipe for Pizza Breakfast Casserole which involves shredded hashbrowns and eggs covered with tomato sauce, Italian cheeses and your favorite pizza toppings.
If you're looking for Ashlyn, you'll find her over at Kenarry today sharing a deliciously sweet French Toast Casserole. She'll share it with you here in a few weeks, but if you're anxious to try it sooner, swing by Kenarry: Ideas for the Home to check it out!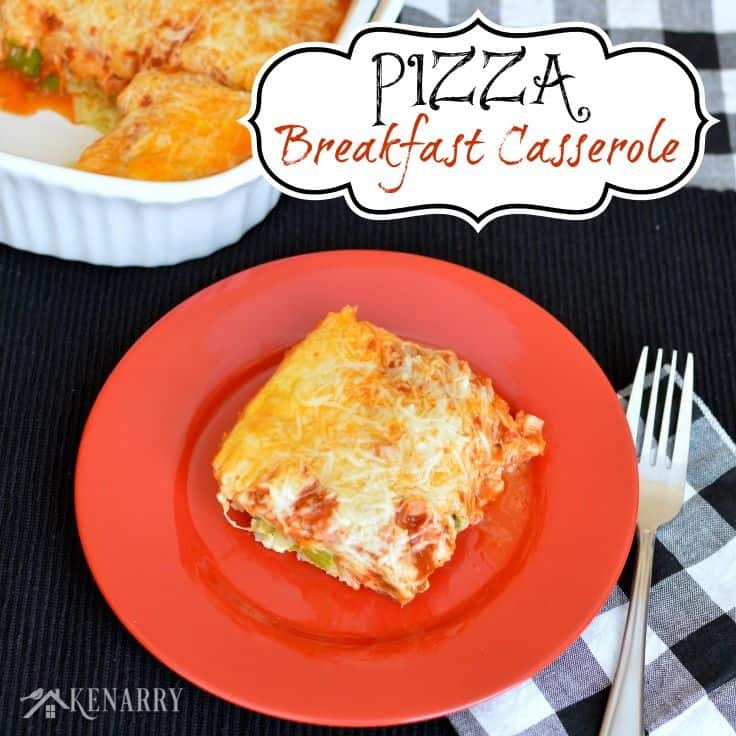 During the week, breakfasts in our home usually involve cold cereal or an occasional frozen waffle. When we have more time on the weekends, we love to create a larger heartier breakfast, like Belgian waffles, cinnamon applesauce pancakes, or egg burritos. If I'm the one doing the cooking or we're hosting overnight guests, I gravitate toward hot breakfast recipes you prepare the night before so you don't have to fuss in the kitchen in the morning.
Last summer, we hosted a "Make Your Own Pizza" party at our house where guests could choose from tons of different ingredients to top their pizza just the way they wanted. Afterwards we had small amounts of many of the ingredients leftover, so the idea for a Pizza Breakfast Casserole was born!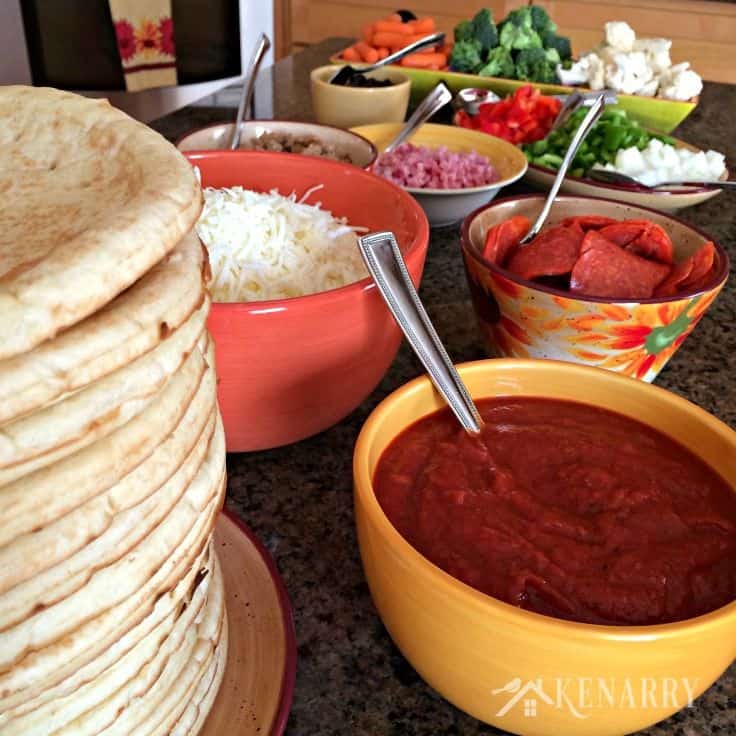 We love pizza for dinner, so why not try it for breakfast? To make this Pizza Breakfast Casserole, you use frozen shredded hashbrowns in a casserole dish as the base and cover it with any of your favorite pizza toppings. When I made it the first time I just used the remaining ham, sausage, pepperoni, peppers, onions and olives from the "Make Your Own Pizza" party. For this Pizza Breakfast Casserole recipe, I just mention and show pepperoni, ham, green pepper and onion in the pictures, but you can really use ANY pizza toppings you and your family like.
You then pour eggs, milk and Italian spices over the Pizza Breakfast Casserole and let it sit in the refrigerator overnight. In the morning, you just make your coffee, pop the Pizza Breakfast Casserole in your oven and you're ready to start your day. After it's cooked a while, you add a thin layer of pizza sauce and shredded Italian cheeses to finish off the casserole and let it cook a short while longer.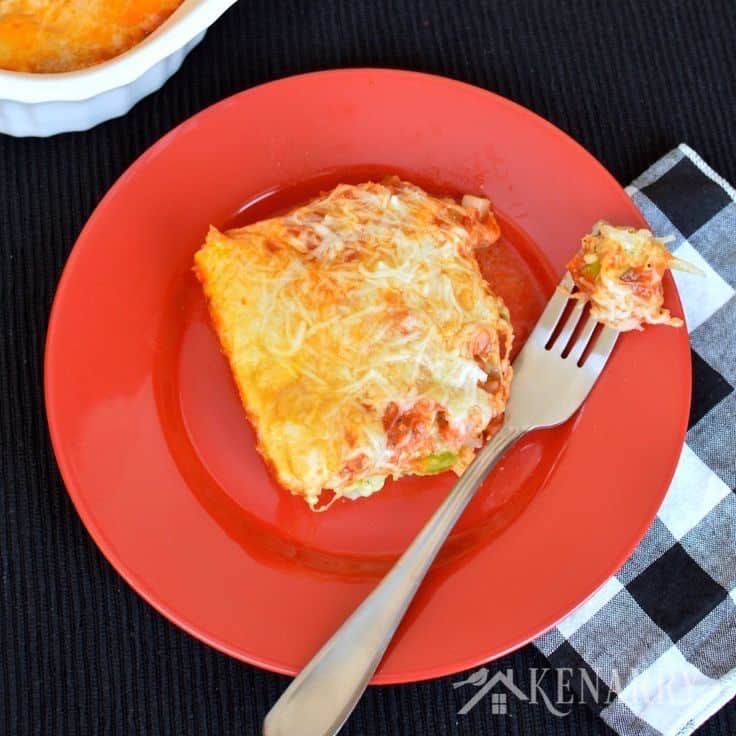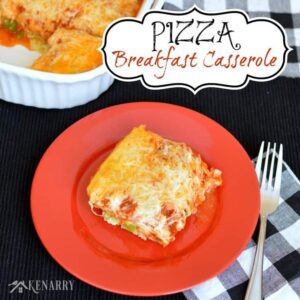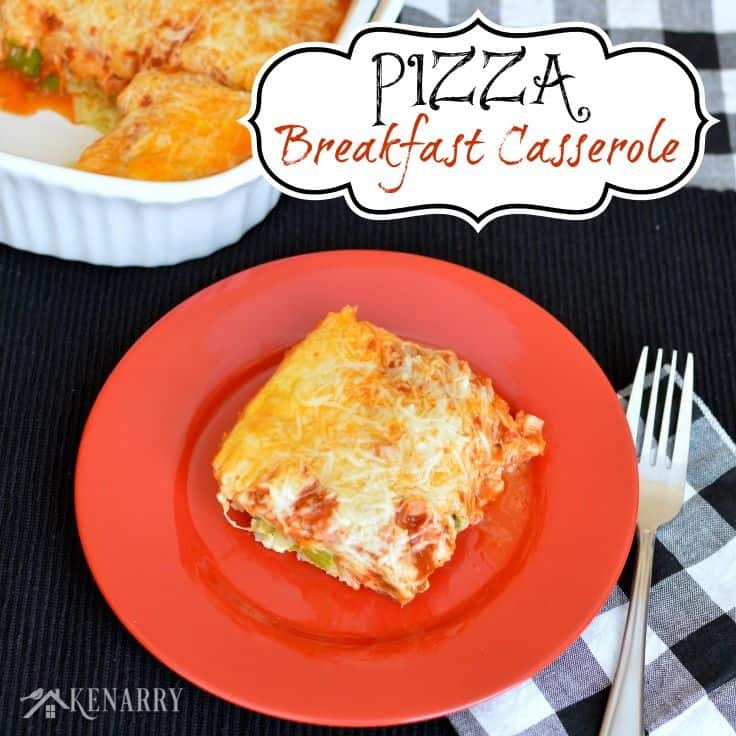 Pizza Breakfast Casserole
Ingredients
4 cups shredded frozen hashbrowns
1/2 cup chopped green pepper,, optional
4 oz diced ham,, optional
1/3 cup chopped pepperoni,, optional
1/3 cup diced onion,, optional
6 eggs
3/4 cup milk
1 teaspoon Italian seasoning
1/2 teaspoon garlic powder
1/4 teaspoon pepper
1/4 teaspoon salt
3/4 cup pizza sauce
1 cup shredded Italian cheeses
Instructions
Lightly coat an 8 x 8 or 2 quart baking dish with cooking spray.

Spread the shredded potatoes evenly in the bottom of the baking dish.

Sprinkle with your favorite pizza toppings.

Whisk together eggs, milk, Italian seasoning, garlic powder, pepper and salt. Pour the egg mixture over the Pizza Breakfast Casserole.

Cover and refrigerate overnight.

In the morning, preheat the oven to 350 degrees. Bake the Pizza Breakfast Casserole for 50 minutes.

Remove the casserole from the oven and spread pizza sauce across the top. Sprinkle with Italian cheeses.

Return it to the oven for 10-15 minutes. Let stand for 10 minutes before serving. Enjoy!
Serving Suggestions for Pizza Breakfast Casserole:
Just as you would order from a menu of pizza options at your favorite restaurant, you can make this casserole with any pizza toppings you choose. Here are a few suggestions to try:
Add bacon and Italian sausage to turn it into a Meat Lovers Pizza Breakfast Casserole.
Skip the meat and use sautéed mushrooms, red peppers and onions along with fresh tomatoes and spinach to create a Vegetable Pizza Breakfast Casserole.
Make it a Taco Pizza Breakfast Casserole and use seasoned beef, black olives, taco sauce and cheddar cheeses.
If you try it as a Hawaiian Pizza Breakfast Casserole, though, comment below and let me know. I'm curious how it would taste with ham and pineapple.
The options for this Pizza Breakfast Casserole are endless! It does go great with buttered toast, a cup of coffee and some orange juice, though. This Pizza Breakfast Casserole recipe can also be doubled and prepared in a 9 x 13″ baking dish, but may require more cooking time.
If you liked this Pizza Breakfast Casserole, please share it with your friends or pin it for later: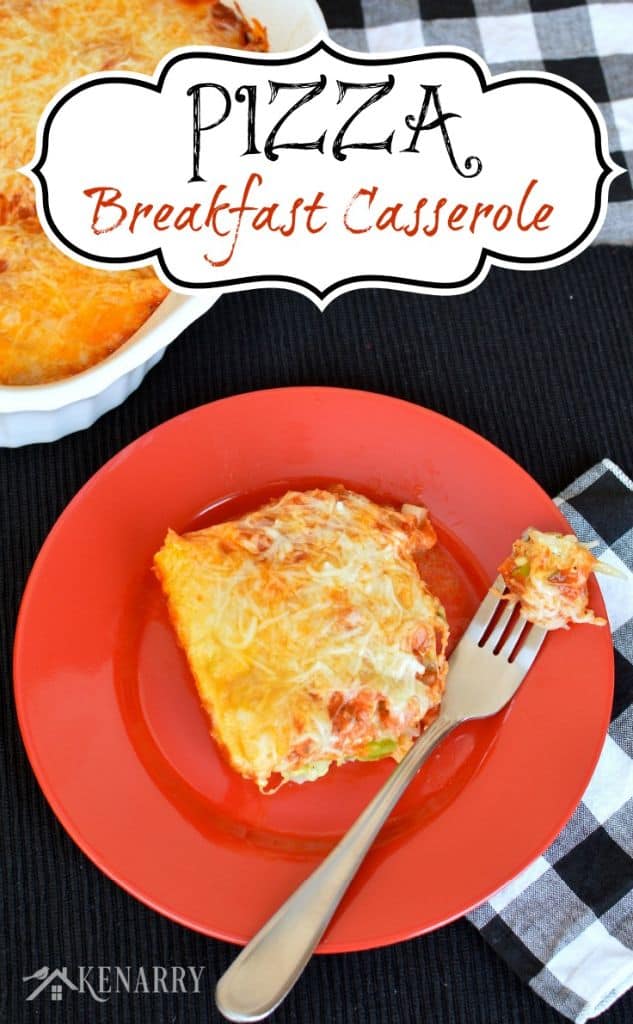 You may also enjoy these Breakfast Ideas on Kenarry: Ideas for the Home: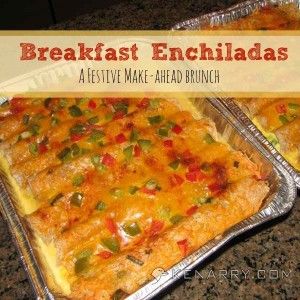 Delightfully Happy Breakfast Sandwiches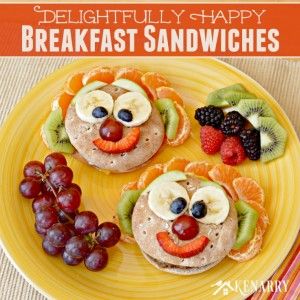 What's your family's favorite breakfast recipe? Please comment below and share. Ashlyn and I are always looking for new ideas to try. I also want to extend a big thank you to Ashlyn for allowing me to share this Pizza Breakfast Casserole with you today. I look forward to returning next month to bring you more tasty Ideas for the Kitchen!
About Carrie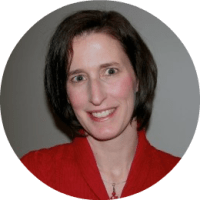 Carrie is a mother of two young boys, who enjoys sharing recipes and trying new craft ideas! At Kenarry: Ideas for the Home, she and her husband share ideas you'll find useful for your home, including projects they've done, recipes they've created, products they love and more. Carrie's passion, though, is volunteerism and connecting people with opportunities to make a difference in their community. You can connect with Carrie via Google+, Pinterest, Facebook, Twitter and Instagram.
This site contains affiliate links, if you make a purchase through them, we receive a small commission.