Mini Fruit Pizzas
Wow, I can't believe that tomorrow is the 4th of July! Seriously, summer has been going by so fast! Well, even though it's only technically been summer for a couple of weeks, it always feels like summer begins once school is out. And, I've already spotted Back-to-School stuff at Walmart. Crazy!
Since Independence Day has kind of snuck up on us, I have an easy dessert that you can whip up to celebrate; Mini Fruit Pizzas!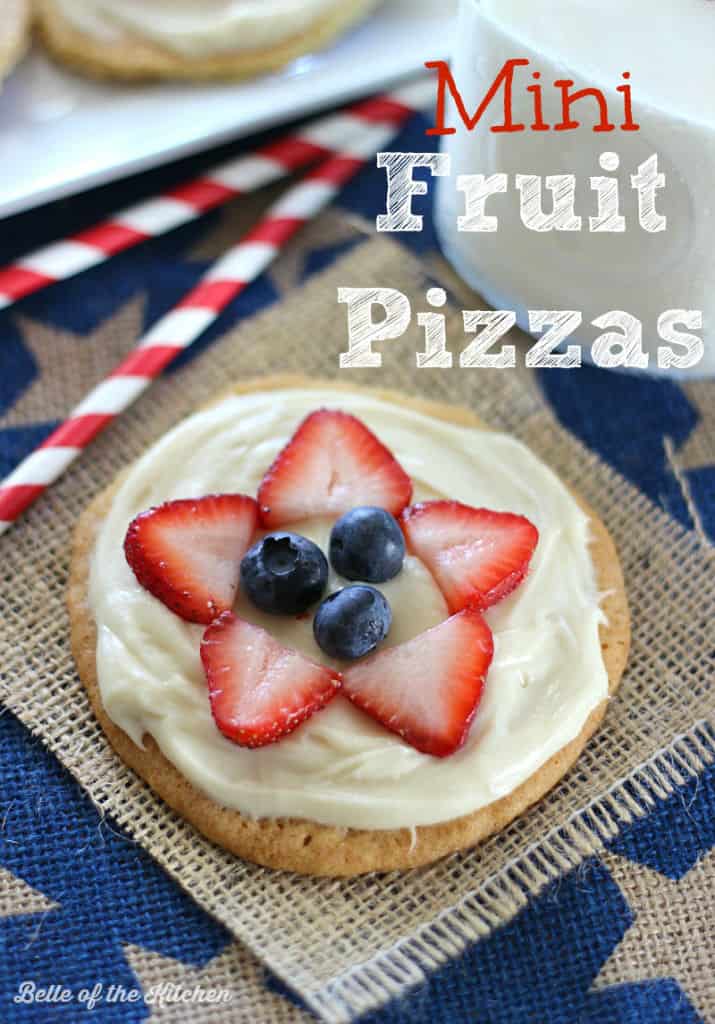 These are a lot of fun to make and if you've got little ones, they can help you decorate! I decorated mine with strawberries and blueberries to keep with the patriotic theme, but you can make these year round and use whatever fruit you'd like!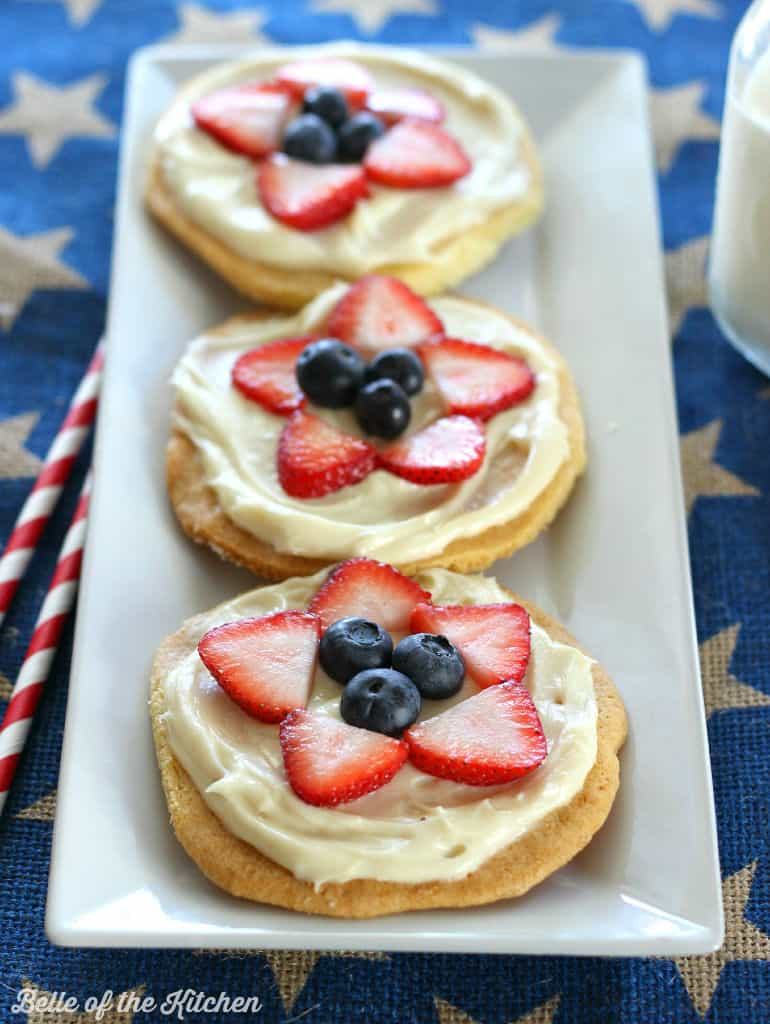 You can also make this into one large pizza by spreading the dough out onto a pizza pan and preparing it that way. I just decided to make "mini" versions because everything is fun in "mini" size, right? 😉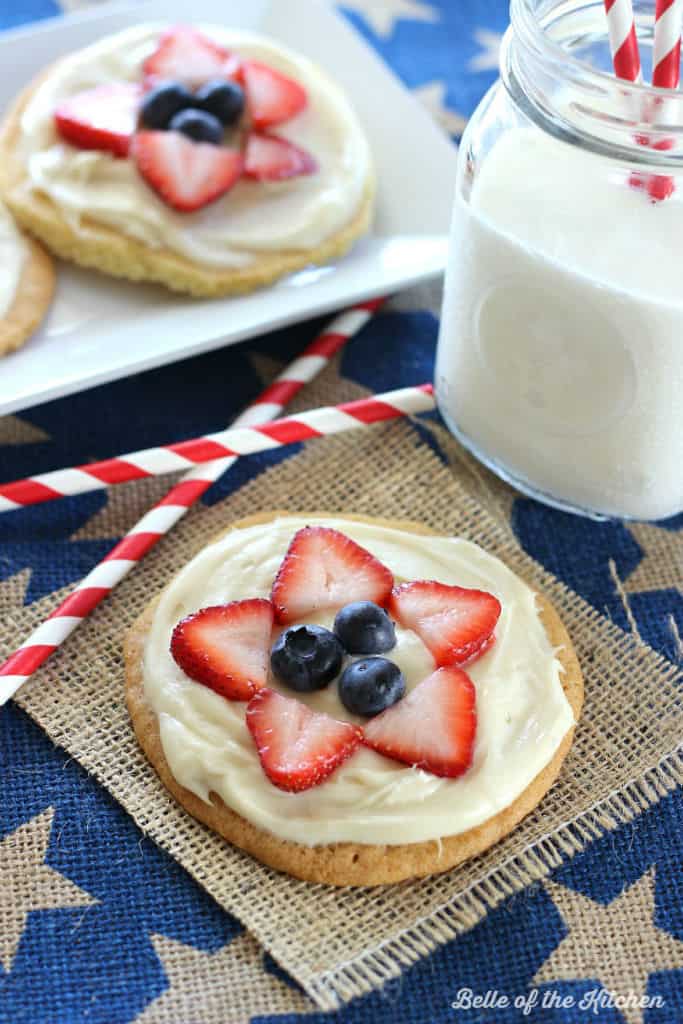 This recipe makes about 12 mini pizzas, or one large pizza. When I spread out the dough to make the minis, I make them a little bit bigger than cookie size. They will also spread a bit when they bake, so take that into consideration. These are yummy and perfectly sturdy enough to hold the yummy cream cheese frosting and fruit on top!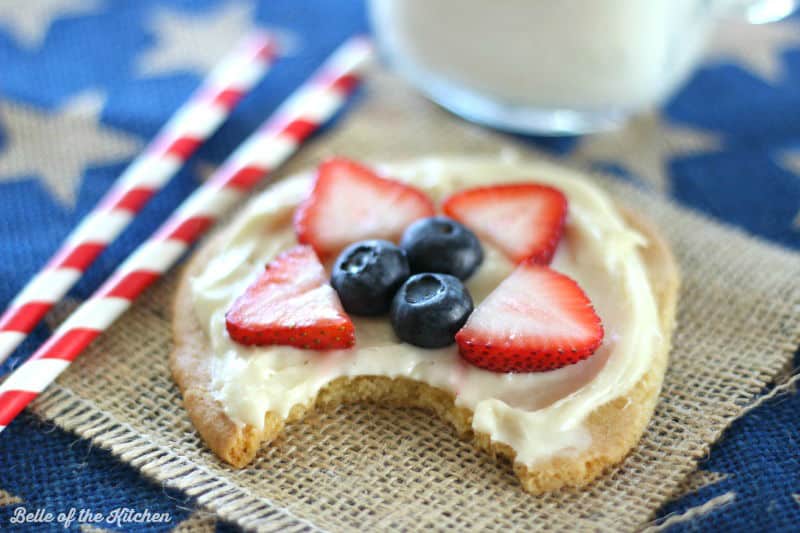 How are y'all celebrating the 4th tomorrow? We are taking the kiddos to a fun carnival at the army post we live near, and then guess who we get to see in concert?! Third Eye Blind! They are performing free for the military and their families as part of the event. I'm so excited because they were one of my favorite bands during my teen/college years, so I can't wait to see them live! It will be a great day. 🙂
I hope you and your family have a fun, safe, and happy 4th of July!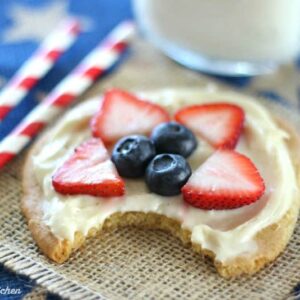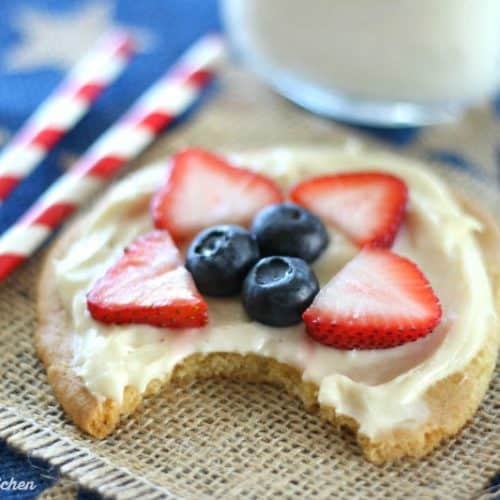 Mini Fruit Pizzas
These Mini Fruit Pizzas are a simple and delicious recipe you can whip up to celebrate the 4th of July, or for any summer barbecue!
Ingredients
Pizza:
1/2 cup butter, softened
3/4 cup granulated sugar
1 egg
1 1/4 cups all-purpose flour
1 teaspoon cream of tartar
1/2 teaspoon baking soda
1/4 teaspoon salt
Frosting:
1 (8 oz) package cream cheese, softened
1/2 cup granulated sugar
2 teaspoon vanilla extract
Instructions
Preheat oven to 350 degrees F.

In a large bowl, beat together the butter and 3/4 cup sugar over medium speed until creamy. Add in the egg and beat until combined.

In a small bowl, combine the flour, cream of tartar, baking soda, and salt. Add to the creamed mixture and stir by hand until just blended.

On a cookie sheet that has been lined with either a silicone baking mat or parchment paper, roll out small handfuls of dough, about 1/4 cup each. Roll and flatten into a circle shape, a little bigger than the size of a standard cookie. Be sure to leave adequate space between each mini pizza, as the dough will spread.

Bake the mini pizzas in preheated oven for 9-12 minutes, or until lightly browned. Cool.

In a large bowl, beat cream cheese with 1/2 cup sugar and vanilla until smooth. Spread on cooled mini pizzas and top with fruit. Chill if not eaten immediately.
Notes
*These will taste best if you wait to top them with the fruit right before they are eaten. This will prevent any sogginess from occurring! If you are making them in advance, you can top them with the frosting and chill until ready to serve. Just add on the fruit when you're ready to eat. 🙂
Adapted from Allrecipes
Calories: 268kcal, Carbohydrates: 31g, Protein: 3g, Fat: 14g, Saturated Fat: 8g, Cholesterol: 54mg, Sodium: 228mg, Potassium: 86mg, Sugar: 21g, Vitamin A: 510IU, Calcium: 25mg, Iron: 0.7mg
This site contains affiliate links, if you make a purchase through them, we receive a small commission.