#SouperPower Up with Campbell's Disney Soups!
Thank you to Campbell's for sponsoring this post.
Have you heard? Campbell Soup Company has released a new, fun version of their Chicken Noodle Soup, featuring labels with Anna and Elsa from Frozen! My little ones are Frozen fanatics (aren't most kids?!) and today's post is all our experience trying out the new soup, and how it helps us #SouperPower up for family fun. 🙂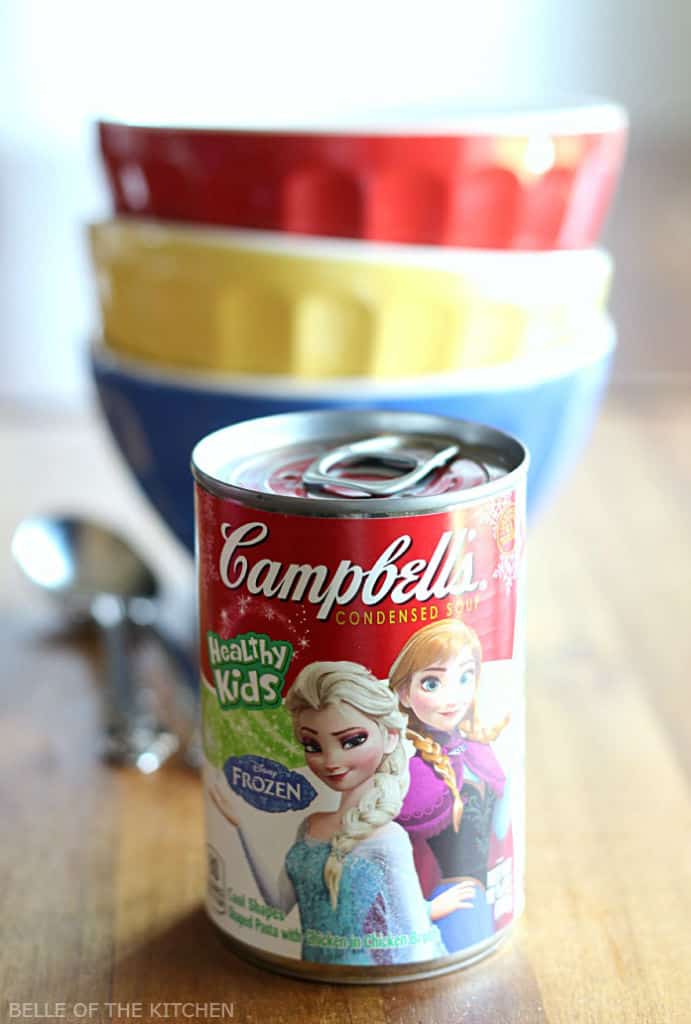 My son loves Frozen. Anytime we are out somewhere and he sees something with Olaf, Anna, or Elsa on it, he lets out a squeal and begs for us to take it home. We've accumulated quite a Frozen collection at our house, from sippy cups to singing microphones, stickers to dolls, and everything in between. But the most prominent fixture of all would have to be my son's nearly life-size stuffed Olaf. He is well-loved, and wherever my son goes, Olaf goes too. Car rides included!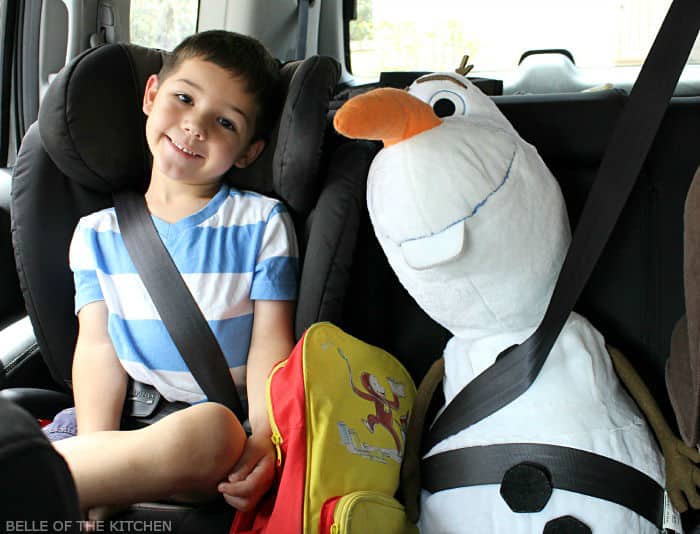 We always make sure to #SouperPower Up where safety is concerned! Snowmen need to be buckled in, too, ya know! 😉
Like I said before, Olaf and the other Frozen characters are familiar faces in our house and have been for sometime. When we had the opportunity to try out Campbell's® Condensed Chicken Noodle Soup with the new Frozen themed label, I knew my kids would be totally excited. My son couldn't wait to try it, and even ran to get the can opener to attempt opening it himself, which he's never done before! (Side note: they actually come with pop-tops, which I really like for those times when you don't feel like searching your drawers for the can opener!)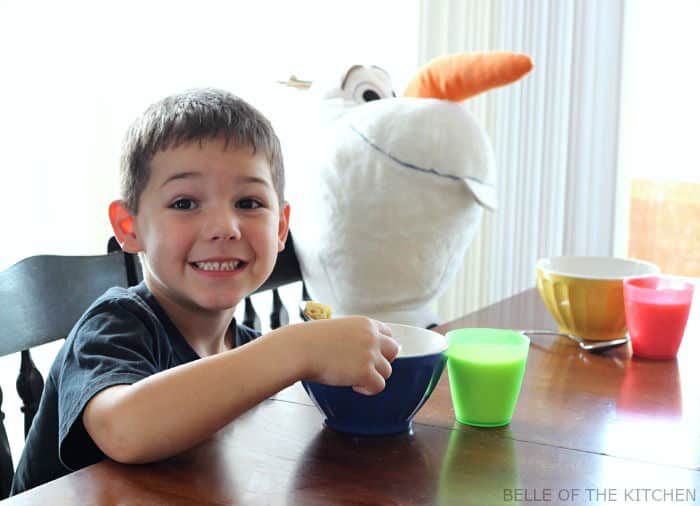 Can you tell by his face how much he enjoyed it? 🙂 He of course had to make sure Olaf had a taste, too…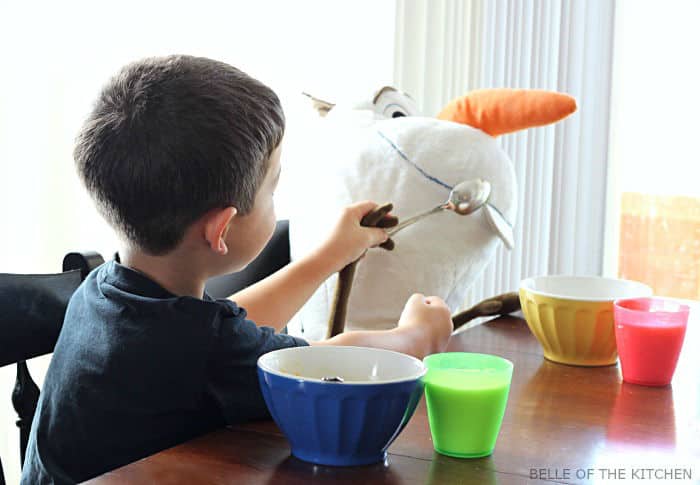 I think I've mentioned here on the blog before how much my son loves soup. He is always requesting soup for dinner, so that just upped his enthusiasm for the Campbell's soup at dinner time with Anna and Elsa. We all really enjoyed it, and I loved how easy and fast it was to prepare after a busy day. Our schedules have been pretty packed lately, so it was nice to get a quick meal on the table that everyone enjoyed.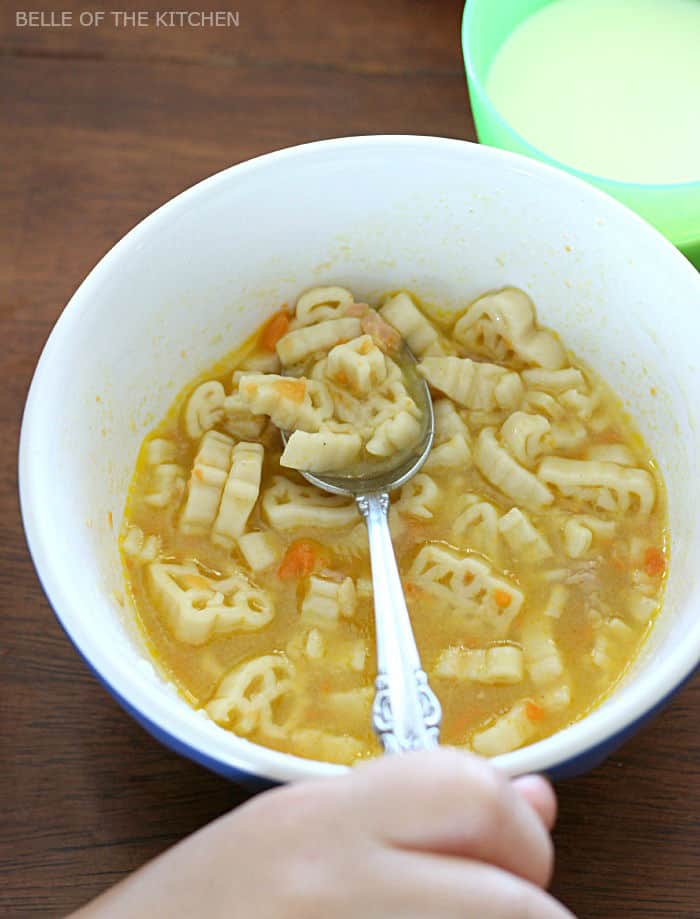 And all that yummy soup gave us enough #SouperPower to do one of our favorite things together before bedtime: reading!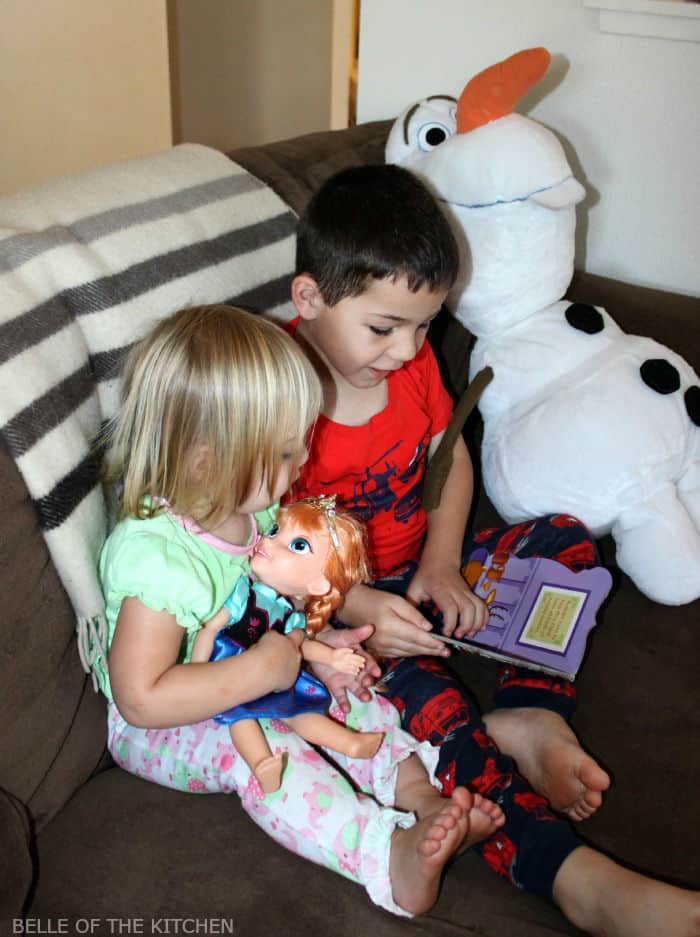 My son isn't reading on his own yet, but he loves to make up his own stories from the pictures and share them with his "sissy." These are the kind of moments I treasure, especially when most other times during the day these two are running around like little hooligans! Gotta soak these moments up while you can. 🙂
So tell me, are your kids Frozen fanatics, too? If so, you can now find Campbell's® Condensed Soup featuring the new Frozen label in the soup aisle of grocery retailers and wholesale clubs nationwide! They are priced at $1.79 for a 10.5 oz. can.
Enjoy y'all, and have fun unleashing your #SouperPowers! 🙂
I was selected for this opportunity as a member of Clever Girls and the content and opinions expressed here are all my own.
This site contains affiliate links, if you make a purchase through them, we receive a small commission.