Spaghetti and Meatball Soup
This shop has been compensated by Collective Bias, Inc. and its advertiser.
All opinions are mine alone. #CampbellSavings #CollectiveBias
This Spaghetti and Meatball Soup is a delicious, one-pot meal the whole family will love. It's quick and easy to prepare, making it perfect for busy weeknights!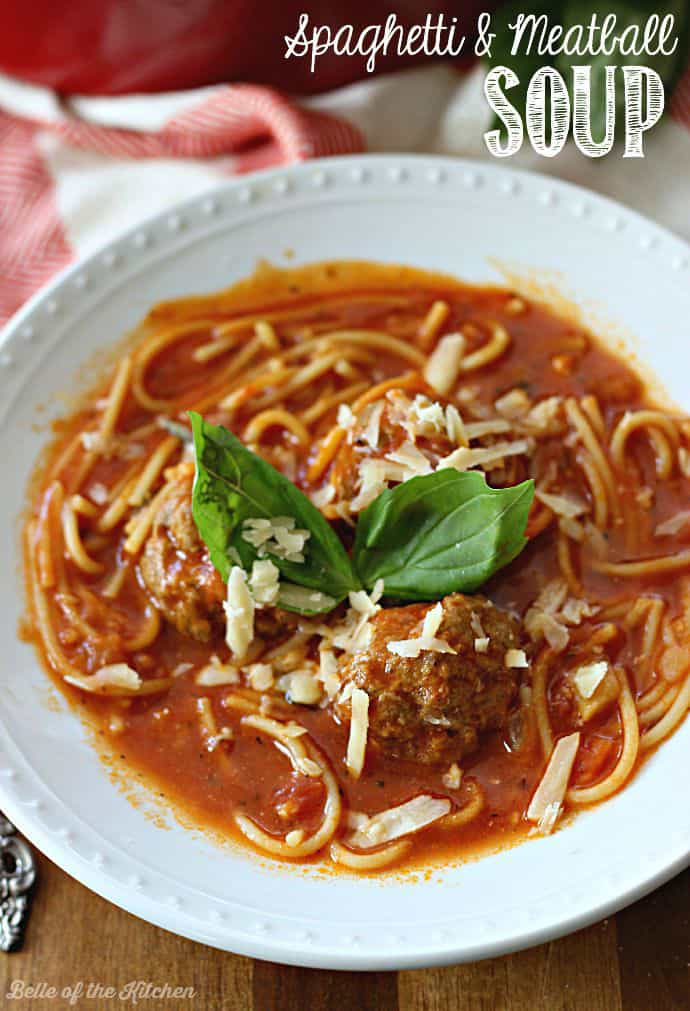 I can't believe it, but back-to-school time is upon us! My son is starting Kindergarten next week and I'm having a hard time believing that it's even possible. I mean, really, where has the time gone?! It seems like just yesterday that we were bringing him home from the hospital. I swear that I can still feel the arm-ache from holding him all night long (or what seemed like it), those first few months!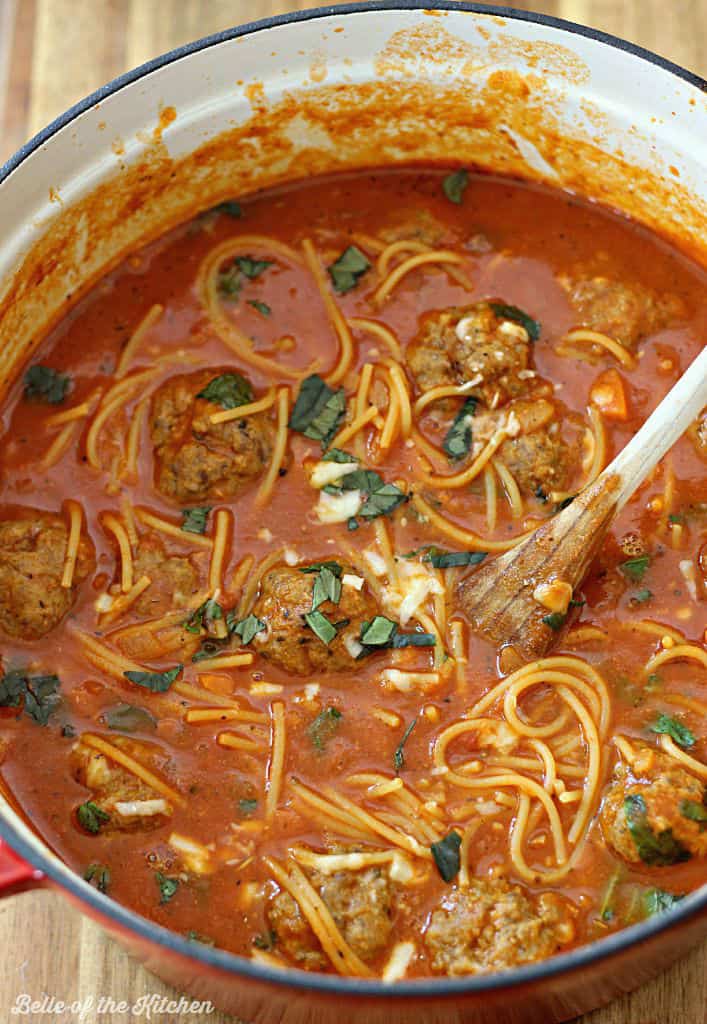 Not only is my little man starting Kindergarten, but he's also playing soccer and will be starting swim lesson in a few weeks, too. Add that to the list of all of our other commitments, and that makes for a busy week and the need for quick meals! I love easy meals in general, but I think we can all agree that they are even more important when this time of year rolls around!
And that's where this yummy Spaghetti and Meatball Soup fits in! My family loved this, especially my son since it's a play on one of his favorite meals. You can add in some veggies (carrots, spinach, peppers, etc.) to up the nutritional factor, but best of all; it's made in ONE POT! Oh yeah, less dishes is always a good thing. 🙂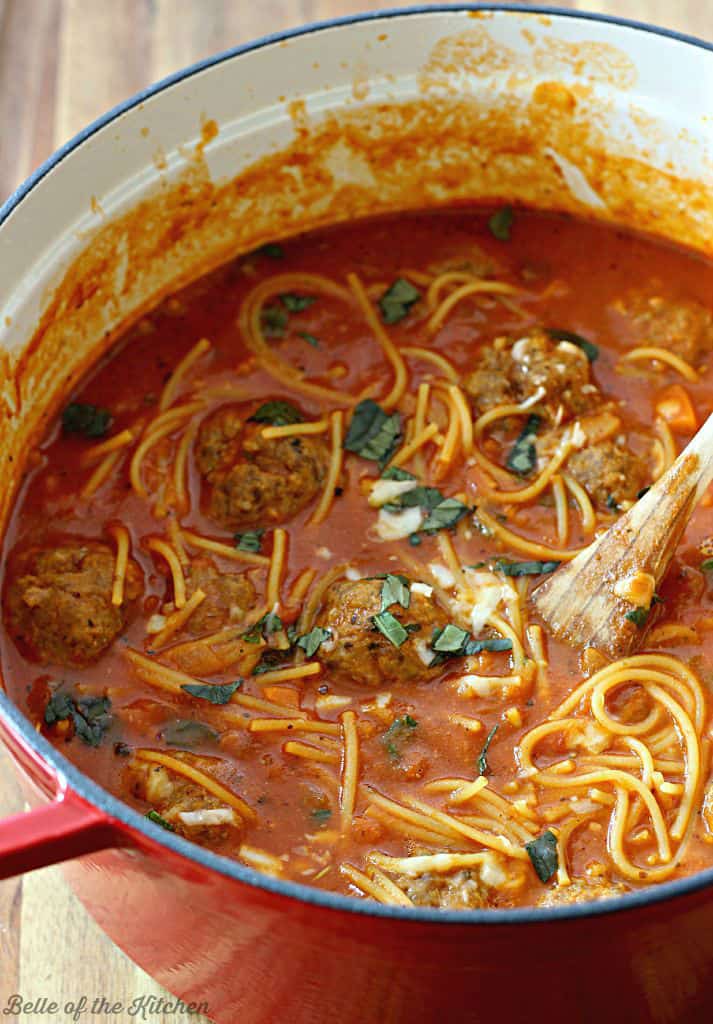 I was excited for the opportunity to make this soup using Swanson's Broth and Prego Spaghetti Sauce, especially since I used a coupon to save some money when I purchased them at Walmart.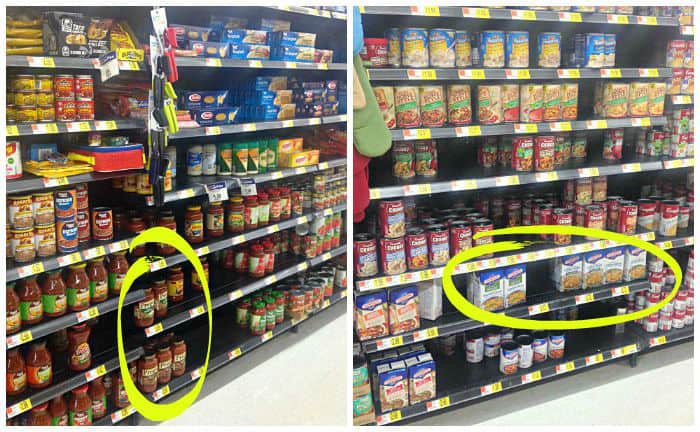 Back-to-school can be expensive, what with all of the supplies, new clothes, shoes, haircuts, etc. Thankfully, Campbell's has you covered with easy meal solutions, and also some great money saving coupons. You can find coupons for the products I used in the soup, and lots of other great savings from Walmart by going here. I picked up a couple of other great deals to help us out with dinner time during the week, including SpaghettiOs and some Pace Picante Sauce for taco night.
Be sure to save on these brands and more with coupons you can find here! Which product would you choose for preparing an easy back-to-school meal?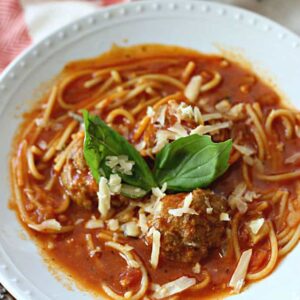 Spaghetti and Meatball Soup
This Spaghetti and Meatball Soup is a delicious, one-pot meal the whole family will love. It's quick and easy to prepare, making it perfect for busy weeknights!
Ingredients
Meatballs:
1/2 pound ground beef
1/2 pound mild Italian sausage
1 egg
1/2 cup Italian bread crumbs
1/2 cup shredded parmesan cheese
1 small onion,, diced
2 cloves garlic,, minced
Soup:
2 Tablespoons olive oil
1 small onion,, diced
1 carrot, peeled and diced (about 1/3 cup)
2 cloves garlic,, minced
6 oz. broken spaghetti noodles
4 cups Swanson's chicken broth
1 (24 oz) jar Prego Marinara sauce
1 teaspoon Italian seasoning
2 Tablespoon chopped fresh basil
grated parmesan cheese, for garnish
Instructions
Combine all of the meatball ingredients in a large bowl and mix well. I use my hands to mix it all together. Roll mixture into small meatballs, making about 18-20.

In a large soup pot, heat olive oil over medium-high heat. Cook onion and carrot together until soft, about five minutes. Add in garlic and cook until fragrant, about 30 seconds.

Stir in broth and marinara sauce and season with salt, pepper, and Italian Seasoning. Bring mixture to a low boil.

Add meatballs to the pot and cook for one minute. Stir in the broken spaghetti, and continue cooking for about 7-8 more minutes until noodles are tender and meatballs are fully cooked.

Remove from heat and stir in basil. Top individual servings with grated parmesan cheese if desired. Enjoy!
Notes
NOTE: Soup will thicken as it stands and cools. Add more broth to thin it out, if desired.
Calories: 373kcal, Carbohydrates: 27g, Protein: 17g, Fat: 21g, Saturated Fat: 7g, Cholesterol: 66mg, Sodium: 1316mg, Potassium: 626mg, Fiber: 2g, Sugar: 5g, Vitamin A: 1735IU, Vitamin C: 15.8mg, Calcium: 133mg, Iron: 2.9mg
This site contains affiliate links, if you make a purchase through them, we receive a small commission.