Tortilla Crusted Chicken
Hello Belle of the Kitchen friends! I'm Carrie from Kenarry: Ideas for the Home where we share recipes, crafts, home decor, DIY projects and other ideas to help you turn your house into a place your family loves. Each month, I venture over here to Belle of the Kitchen to share new ideas for the kitchen with you. This month, I think you're really going to enjoy this recipe – Tortilla Crusted Chicken!
You can make this delicious Tortilla Crusted Chicken in less than 45 minutes for an easy dinner idea your whole family will love. It's made with crushed tortilla chips, chicken breasts and a few spices for a quick meal you can have on the table in no time.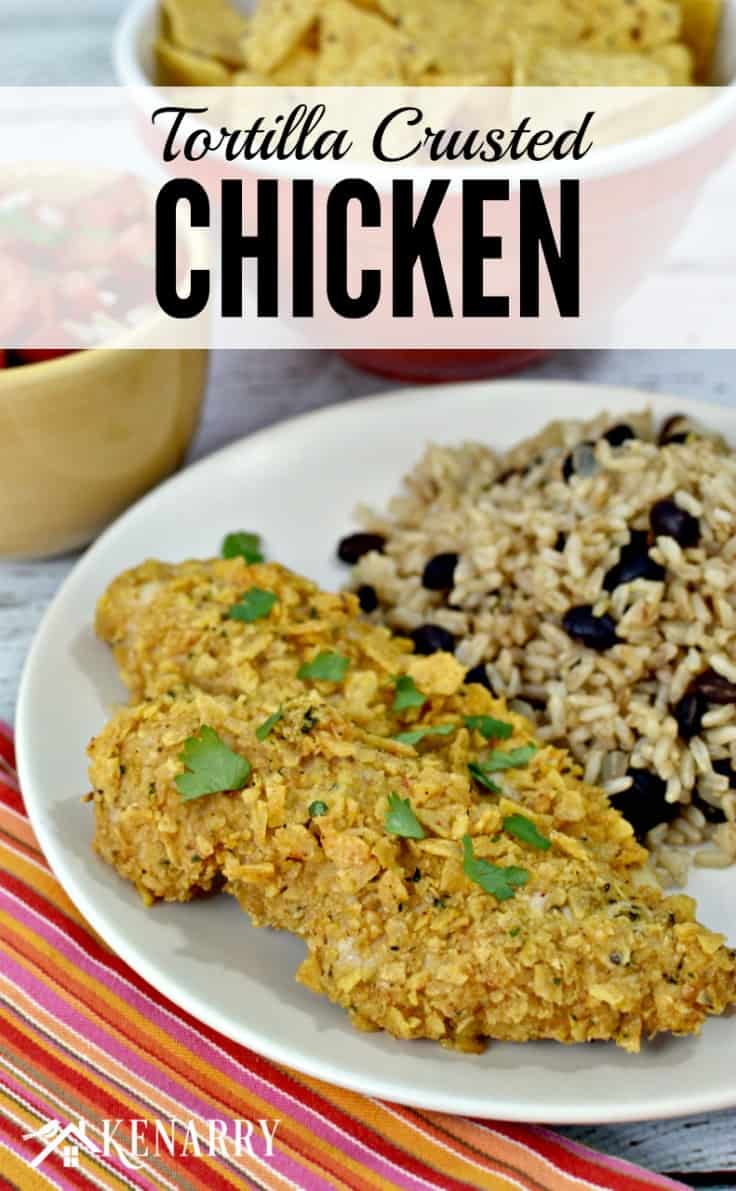 Chicken is one of those staples in our day-to-day lives. I think we have it at least 1-2 nights every week. It's versatile and can take on so many different flavors depending on how you prepare it. I love to make shredded chicken in a slow cooker to use in casseroles, soups and other chicken recipes. It goes great with pasta or as a stand alone main dish too.
Sometimes it's hard to please the kids though. Our two boys are 6 years old and 3 1/2 years old. One of their absolute favorite meals is tortilla crusted tilapia that we find in the freezer section at Costco. They also rave whenever I make popcorn chicken nuggets so I decided to combine the two ideas for an easy dinner idea – Tortilla Crusted Chicken.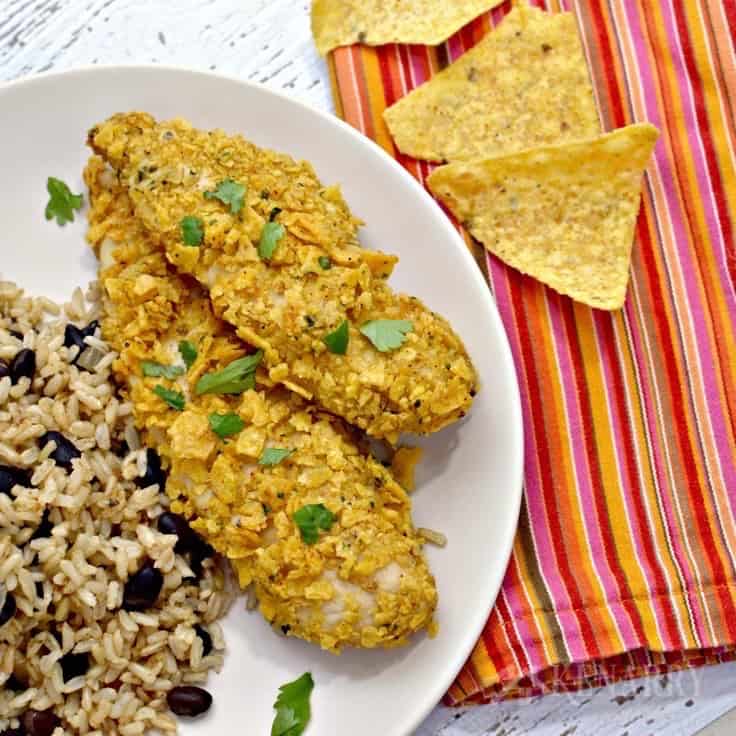 This Tortilla Crusted Chicken recipe is incredibly easy to make. You start by crushing tortilla chips and mixing them with fresh cilantro and a few spices.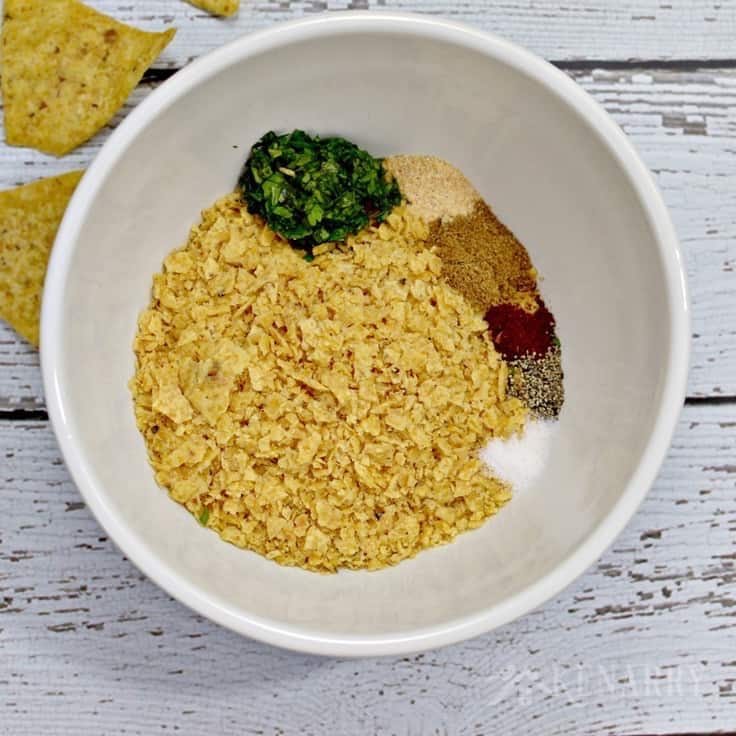 Then toss the crushed tortilla chips in a resealable bag with chicken strips and butter until the chicken is thoroughly covered. Spread the Tortilla Crusted Chicken on a baking sheet and bake in the oven for 30 minutes.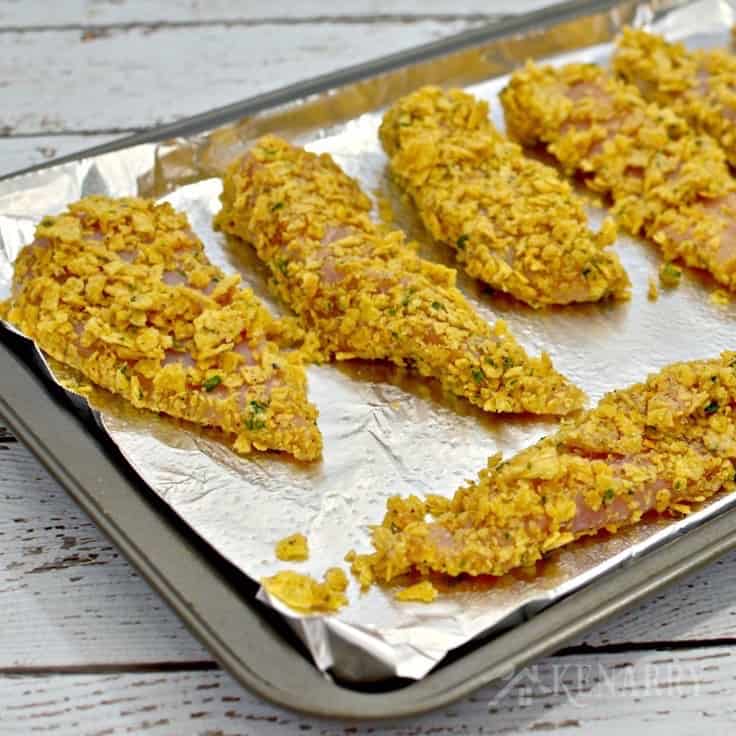 I suggest lining the baking sheet with foil for easy clean-up after dinner. The Tortilla Crusted Chicken comes out crispy and full of flavor.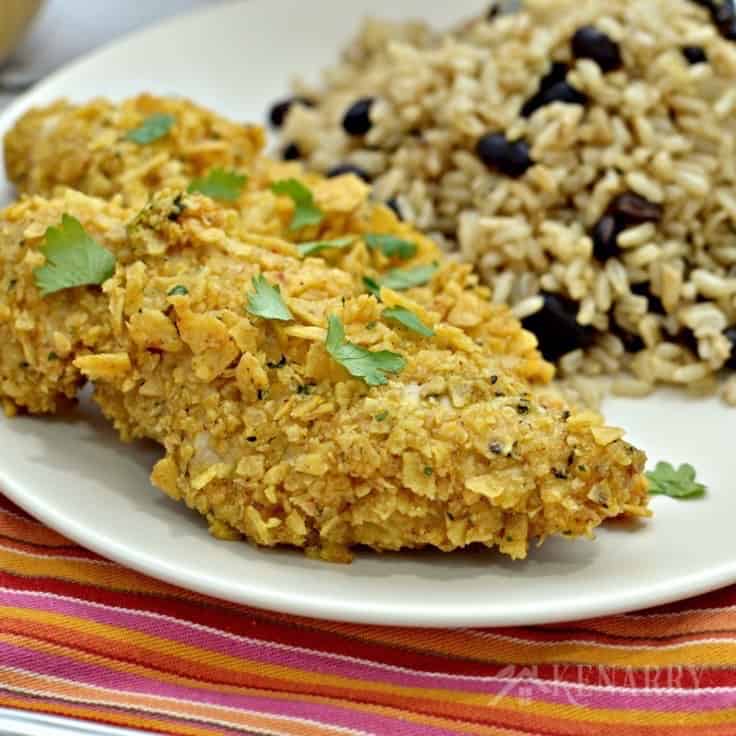 The crushed tortilla chips give the chicken just the right about of saltiness, while the cilantro and spices make this different than a typical breaded and baked chicken recipe.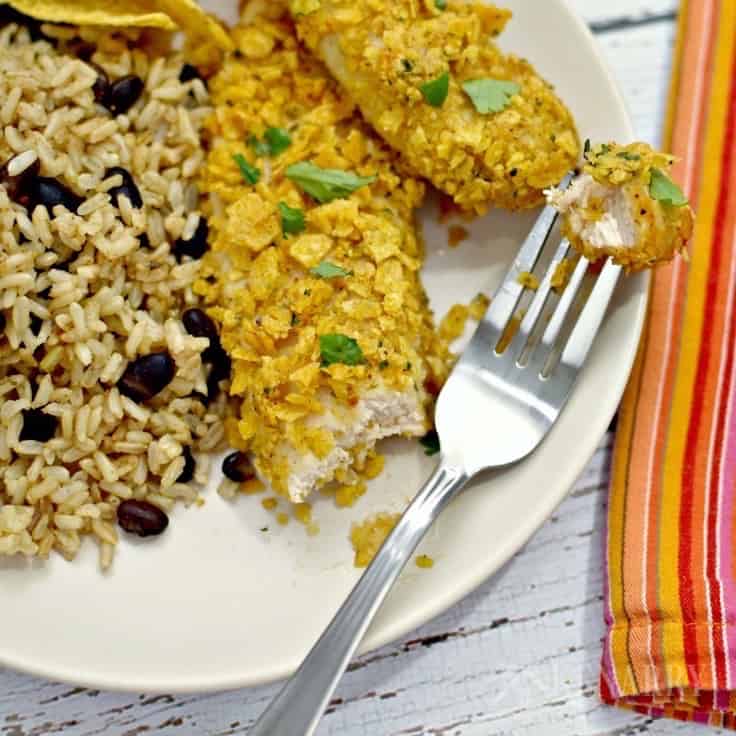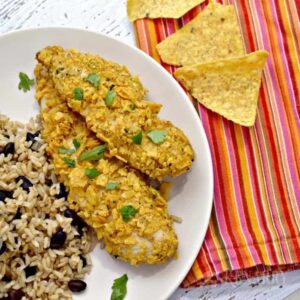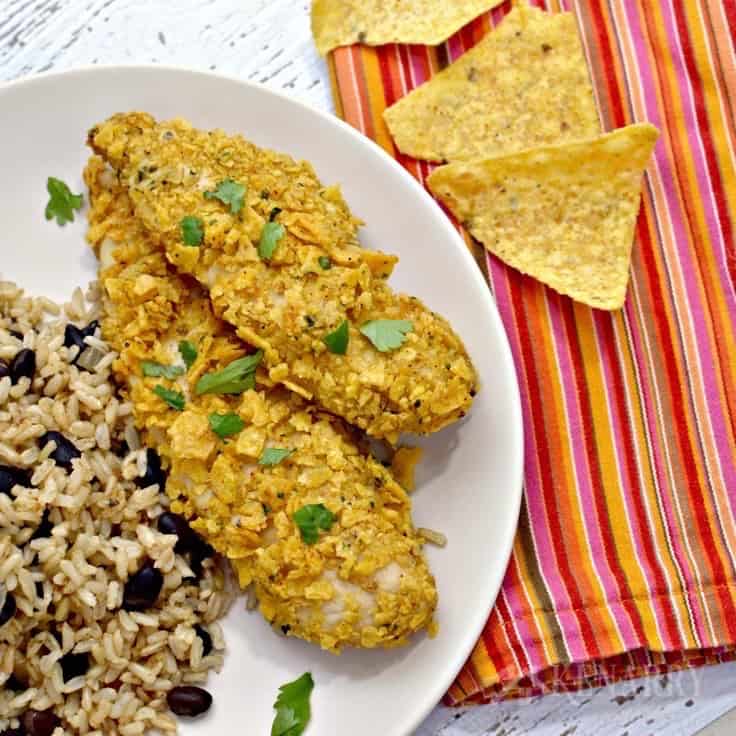 Tortilla Crusted Chicken
You can make this delicious Tortilla Crusted Chicken in less than 45 minutes for an easy dinner idea your whole family will love. It's made with crushed tortilla chips, chicken breasts and a few spices for a quick meal you can have on the table in no time.
Ingredients
4 chicken breasts
4 tablespoons butter
1 1/2 cups tortilla chips,, crushed
1 tablespoon fresh cilantro,, finely chopped
1/2 teaspoon garlic powder
1/2 teaspoon cumin
1/4 teaspoon chili powder
1/4 teaspoon black pepper
1/8 teaspoon salt
Instructions
Preheat the oven to 350 degrees.

In a small bowl, combine crushed tortilla chips, cilantro, garlic powder, cumin, chili powder, black pepper and salt.

Slice the chicken breasts lengthwise into long strips and place in a large resealable bag.

Melt butter in the microwave. Pour the butter into the resealable bag with the chicken and shake until coated.

Pour the tortilla crumb mix into the bag and shake thoroughly until all of the chicken strips are thoroughly covered.

Place the chicken strips on a lightly greased baking sheet.

Bake at 350 degrees for 30 minutes. Enjoy!
Calories: 285kcal, Carbohydrates: 14g, Protein: 25g, Fat: 13g, Saturated Fat: 4g, Cholesterol: 87mg, Sodium: 309mg, Potassium: 464mg, Fiber: 1g, Vitamin A: 225IU, Vitamin C: 1.3mg, Calcium: 45mg, Iron: 1mg
Tortilla Crusted Chicken Recipe Serving Suggestions
This Tortilla Crusted Chicken recipe would be great for a week night meal or something different for a Cinco de Mayo fiesta or Mexican-themed party. Here are some serving suggestions:
On a busy weeknight, you can make it faster to get this meal on the table by crushing the tortilla chips a day or two in advance. You can also slice the chicken breasts the night before and store in the resealable bag in the refrigerator overnight. Then when dinner time rolls around, you have minimal prep to get the Tortilla Crusted Chicken in the oven.
We used regular tortilla chips for this recipe, but would love to try nacho chips next time for a slightly different flavor.
After the Tortilla Crusted Chicken is fully cooked, you could slice it into smaller pieces and serve on warm tortillas with lettuce, tomato and cheese like a taco.
Likewise, you could slice and serve it on a bed of lettuce with black beans, cheese, tomatoes and avocado slices for a Tortilla Crusted Chicken Salad.
We enjoyed the Tortilla Crusted Chicken with rice and black beans on the side. It also goes great with the homemade Pico de Gallo recipe, I shared last month.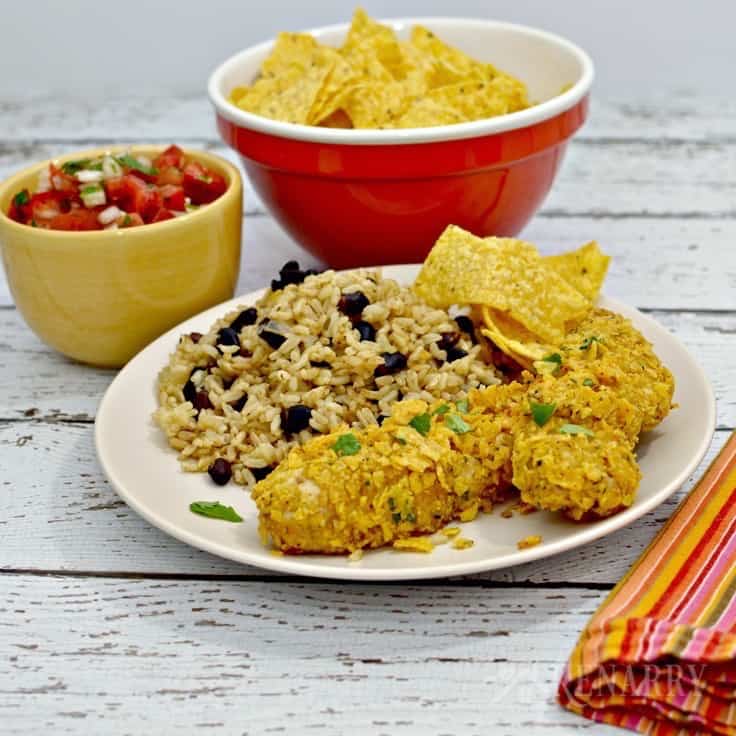 What's your favorite way to make chicken? Please comment below and share. Ashlyn and I are always looking for new ideas for the kitchen!
If you enjoyed this Tortilla Crusted Chicken recipe, please share it with your friends or pin it for later:

You may also enjoy these related recipes on Kenarry: Ideas for the Home: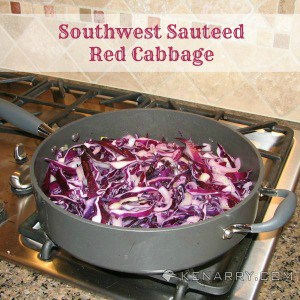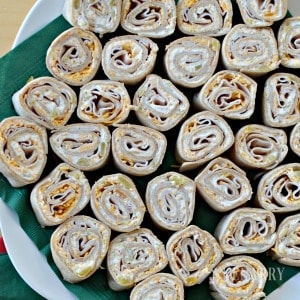 About Carrie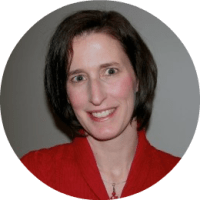 Carrie is the chief writer, crafter and cook at Kenarry: Ideas for the Home where she and her husband create and curate ideas you'll find useful for your home. She's an optimist by nature and enjoys sharing recipes, trying new craft ideas, planning for parties and events as well as organizing and decorating. Carrie's passion, though, is volunteerism and connecting people with opportunities to make a difference in their community. When she's not blogging, preparing meals or picking up around the house, you're bound to find her hidden away in a castle under the stairs reading to her two young boys. Whether you're cooking, crafting or creating for your family, you'll find inspiration by connecting with Carrie. Find her online at Kenarry, Google+, Pinterest, Facebook, Twitter and Instagram.
This site contains affiliate links, if you make a purchase through them, we receive a small commission.