I don't know what it is about honey mustard, but I swear I could eat it on just about anything. Sweet and savory all in one, it is always my go-to dipping sauce. Pair it with chicken? Awesome. Throw in some pretzels? Oh, now we're talkin.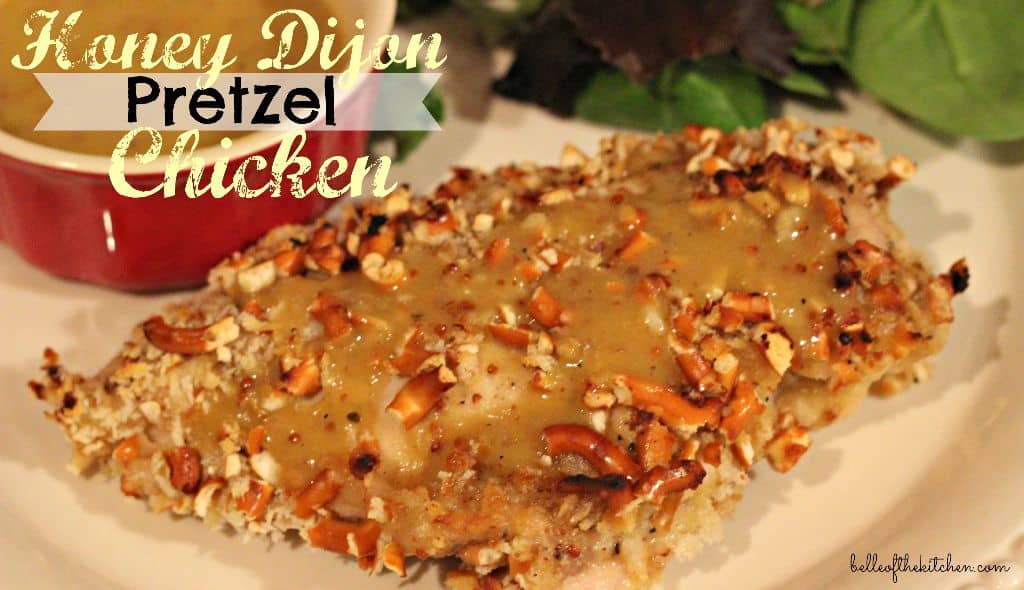 Salty, sweet, honey mustardy? Oh yeah, it's all that. I don't even think mustardy is a genuine word, but for this chicken, I think the dictionary might have to make an exception.
I absolutely love this recipe because it takes an ordinary chicken breast and turns it into an amazingly flavorful dinner that even my little three-year-old was excited about. He saw me pulling out the pretzels and started cheering, "Yay! Pretzels for dinner!" Now that's the spirit.

It comes together pretty easily and if you're using thinly sliced breasts or cutlets, it cooks quickly, too. I found this delicious recipe over at Closet Cooking, where pretty much every dish Kevin shares is mouth-watering. This one is no different!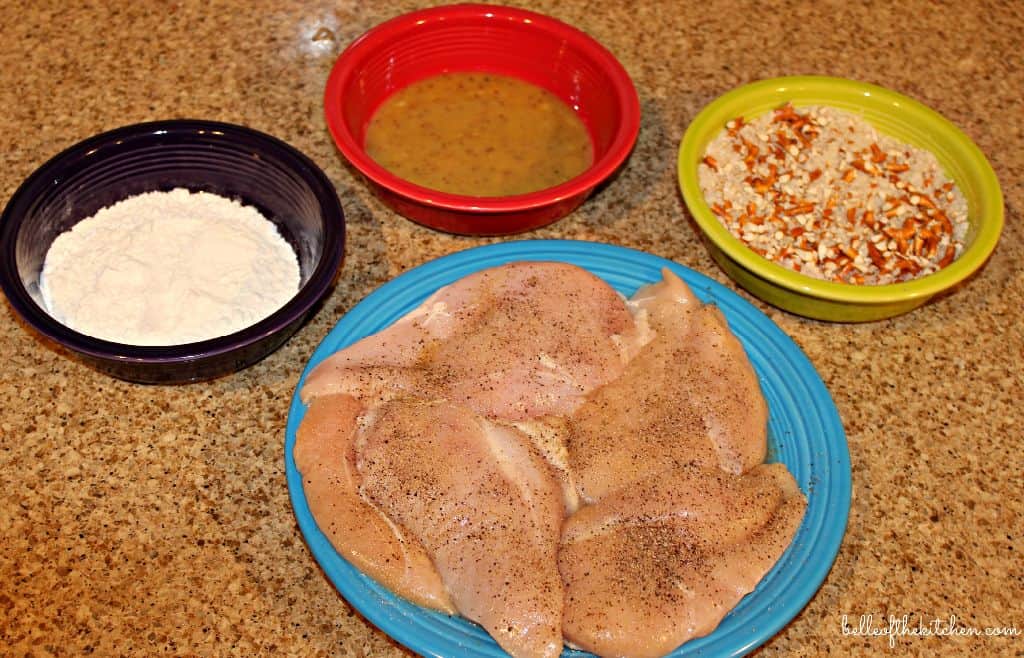 First you'll prepare an easy, homemade, honey dijon mustard to use both for cooking the chicken, and then for dipping. Season your chicken breasts with salt, pepper, and garlic powder. Dredge in some flour, then a little of your homemade honey Dijon mustard, and finally a mixture of panko and crushed pretzels.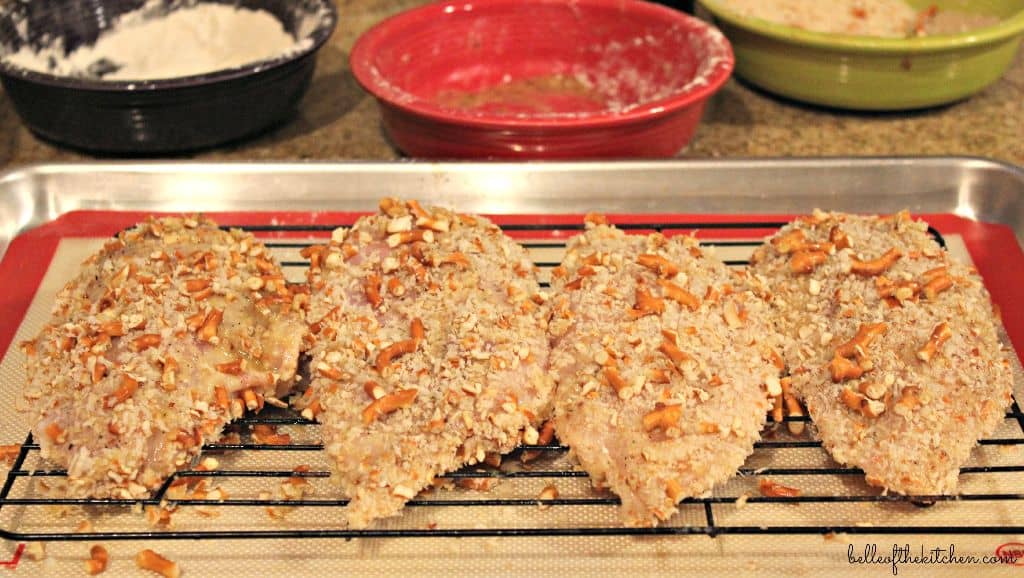 Place on a rack over a cookie sheet and bake for about 20 minutes at 400 degrees (F). These are best served immediately from the oven, and be SURE to serve them with the rest of your delicious honey Dijon mustard!
If you love honey mustard, you will flip for this! The pretzels add a delicious crunch and bring a really fun twist to dinnertime.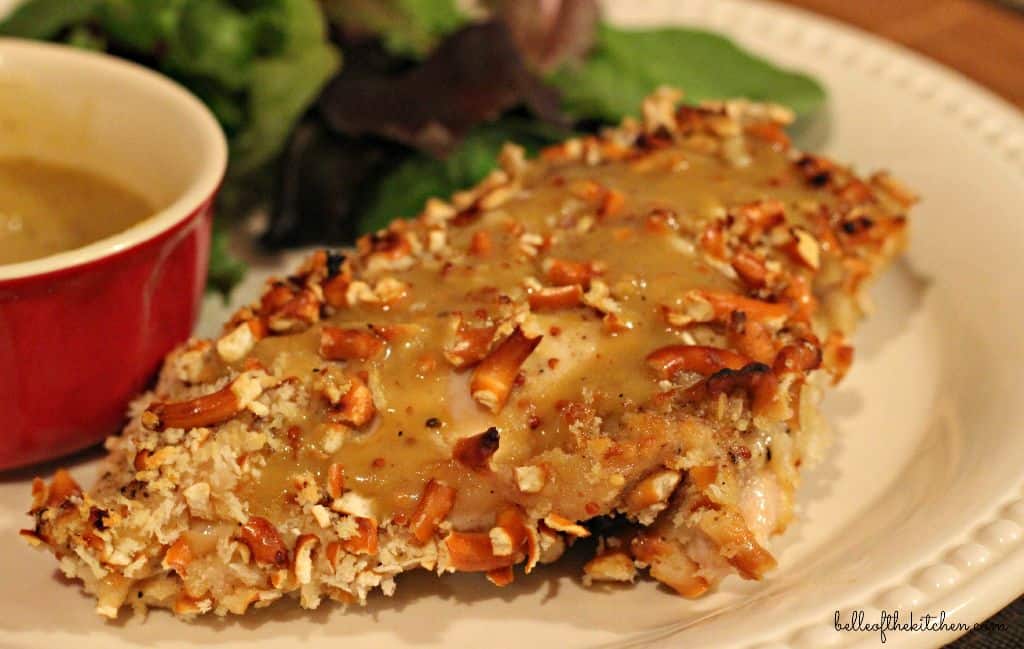 I mean, why not have pretzels for dinner?! Hope you enjoy!

Honey Dijon Pretzel Chicken
Ingredients
3 tablespoons honey
¼ cup dijon mustard
1 tablespoon grainy dijon mustard (optional)
2 tablespoons olive oil
2 tablespoons lemon juice
2 cloves garlic, minced
salt, pepper, and garlic powder to taste
16 ounces chicken breasts, pounded thin
½ cup flour
1 cup panko breadcrumbs
1 cup pretzels, crushed
Instructions
Mix the honey, mustards, olive oil, lemon juice, and garlic together in a small bowl. Season with salt and pepper and divide in half.
Season the chicken with salt, pepper, and garlic powder. Prepare a bowl for the flour, a separate bowl with half of the honey Dijon mustard, and a separate bowl combining the panko and pretzels.
Dredge seasoned chicken breasts in the flour, shaking off excess. Dip in half of the Honey Dijon mustard, shaking off excess. Press into the mixture of the panko and pretzels and place on a wire cooling rack on a baking sheet.
Bake in a preheated 400F oven until cooked (165F) and golden brown, about 15-25 minutes, depending on the size of the chicken breasts.
Serve straight from the oven with remaining Honey Dijon Mustard.
Related posts: