White Chocolate Covered Strawberry Rice Krispie Treats – A fun twist on the classic rice krispie treat made with chocolate strawberry marshmallows, and topped with a creamy layer of white chocolate. These are the perfect treat for Valentine's Day, or any day!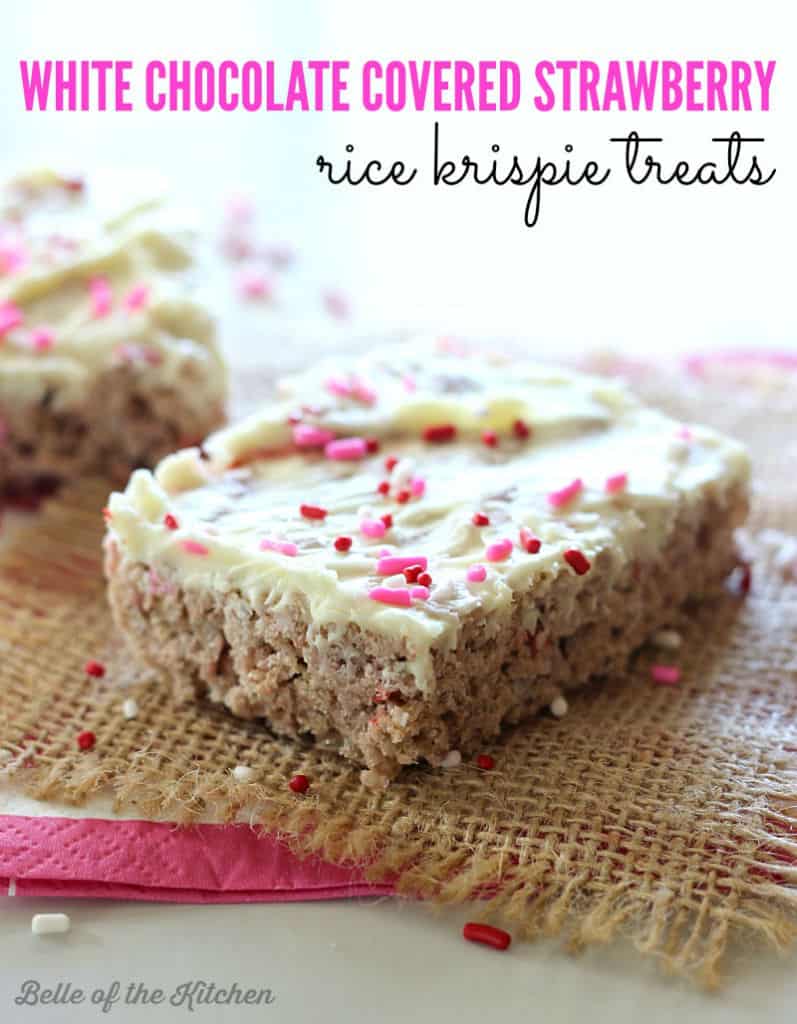 I know Valentine's Day is only a couple of days away, but if you're in need of an easy and super quick treat for celebrating, these White Chocolate Covered Strawberry Rice Krispie Treats one for you!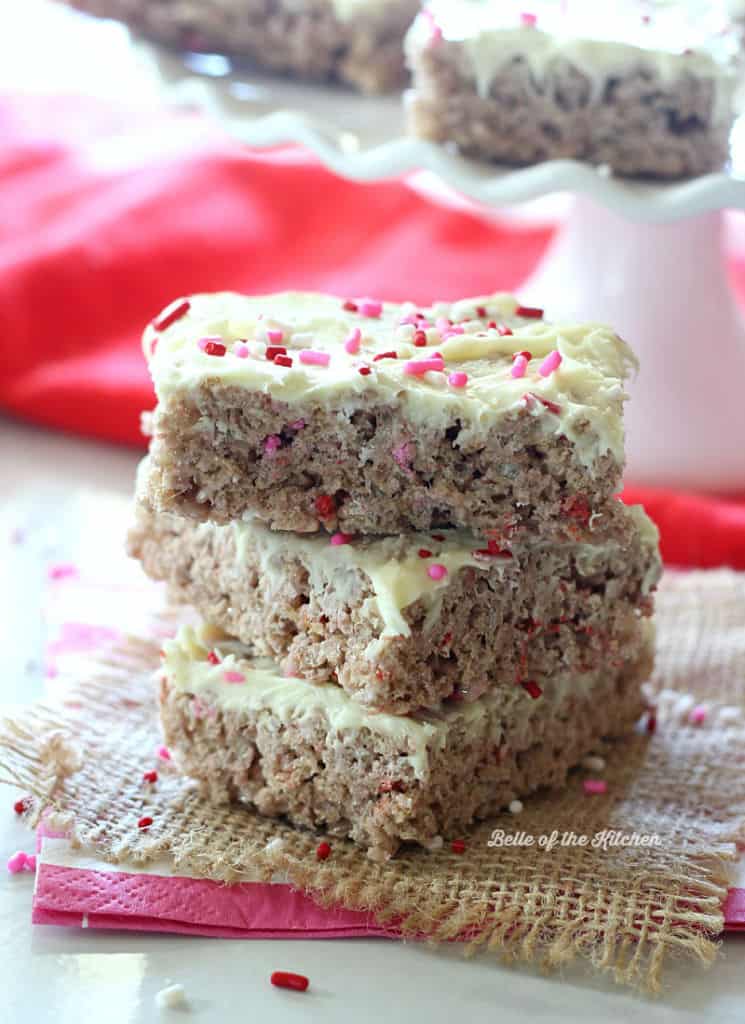 I came across these chocolate strawberry marshmallows while I was shopping at Target and got really excited about them. I decided to just go ahead and buy them and come up with a recipe later!

You can't go wrong with rice krispie treats, and when you add on a little white chocolate? SO GOOD.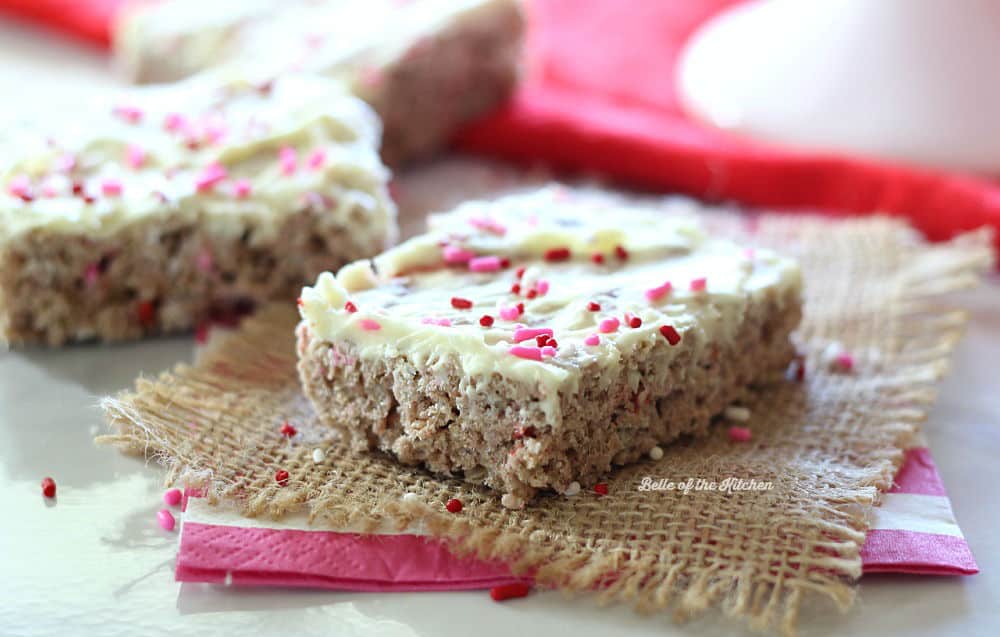 My son's first school Valentine's Day party is today and he's so excited about it. He took the process of writing his name on all of his friends' Valentines very seriously, and I've never seen him sit so quiet and still while working on something like that before! Funny story though before I move on to the recipe. I had bought exactly the right amount of Skittles packets for the kids in his class for Valentine's Day, with one for him, and he KNEW THIS. The day we made the tags for them, he begged and pleaded with me to let him have his, so I caved and let him eat it. Fast forward to last night, the night before the party, and he comes over to me with a torn open, half-eaten packet of Skittles and says, "Mama, can I go ahead and eat the rest?"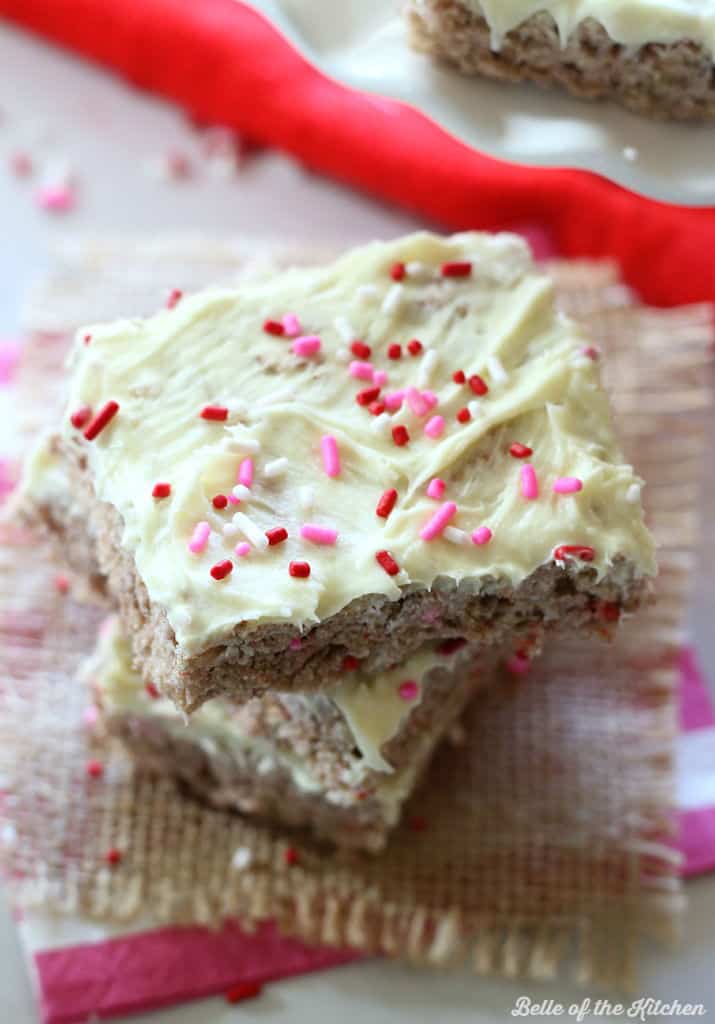 After a majorly loud intake of breath, I realized I was going to have to go out to buy just ONE packet of Skittles. But you know, they don't sell single FUN SIZE packets of Skittles, so there I was buying a whole new bag at Walgreens at 9:00 at night. But of course, they were out of the Valentine's themed ones, so one kid in his class will be receiving the Easter Skittles. Hopefully they won't mind. Boy, I learned my lesson! Rookie mistake letting him eat one so soon when I only had the EXACT right amount. Always have extras in case of emergency 4-year-old-candy-stealing-ask-forgiveness-instead-of-permission situations. I'll remember that next year. 😉
Enjoy the White Chocolate Covered Strawberry Rice Krispie Treats, y'all!

White Chocolate Covered Strawberry Rice Krispie Treats
Ingredients
3 TB butter
1 (8 oz) package Chocolate Strawberry Marshmallows
6 cups Rice Krispies cereal
2 cups white chocolate chips
sprinkles, optional
Instructions
Spray a 9x13 inch pan with cooking spray and set aside.by Begin melting butter in a large pot on the stove over medium low heat. Add in marshmallows and stir until completely melted and smooth. Remove from heat.
Stir in cereal with a spatula, mixing until evenly coated. Press mixture into prepared 9x13 pan until evenly spread out and smooth on top.
Melt chocolate chips according to package directions and spread evenly on top of the rice krispie treats. Add sprinkles if desired and cut into bars. Store covered. Enjoy!

Related posts: