This post was sponsored by Tastefully Simple as part of their Project Simplicity Program.
All opinions are mine alone.
Key Lime Cheesecake Trifle – An easy and pretty dessert made with layers of graham cracker crust, cubed pound cake, and a key lime cheesecake filling. With easy ingredients from Tastefully Simple, you can whip this up in a flash!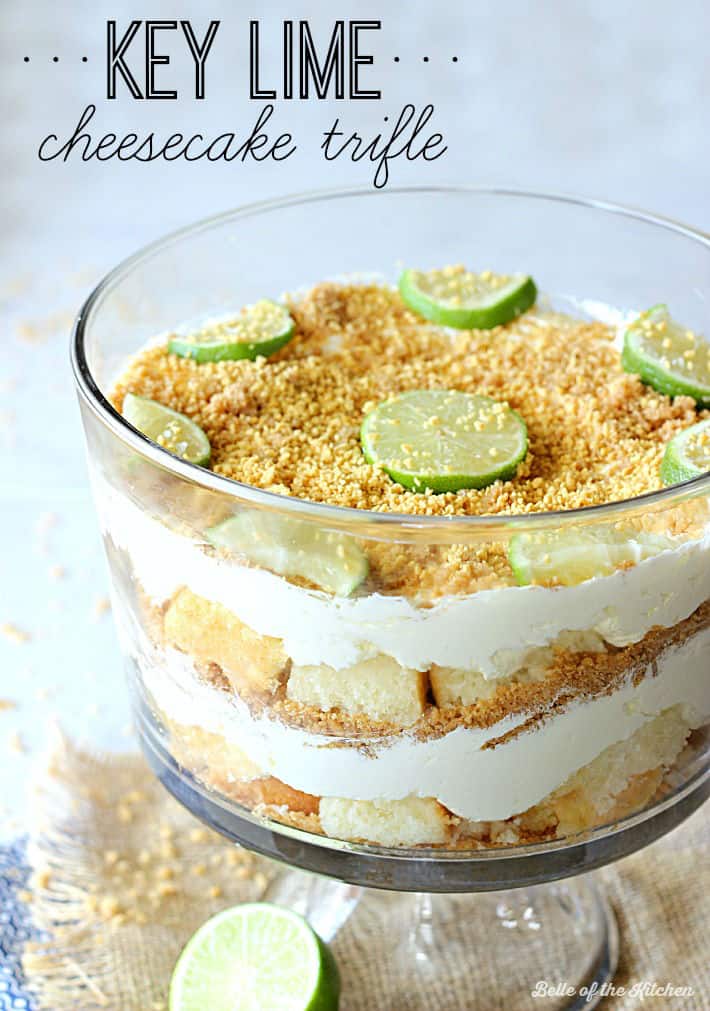 When it comes to food, I like to play matchmaker. I mean, what could be better than taking two amazing foods that are already great on their own and putting them together to create something even better? The way I see it, Key Lime Pie and Cheesecake have always been destined for a life spent together inside of my trifle bowl. They truly do bring out the best in each other! And isn't that what true love is all about? 😉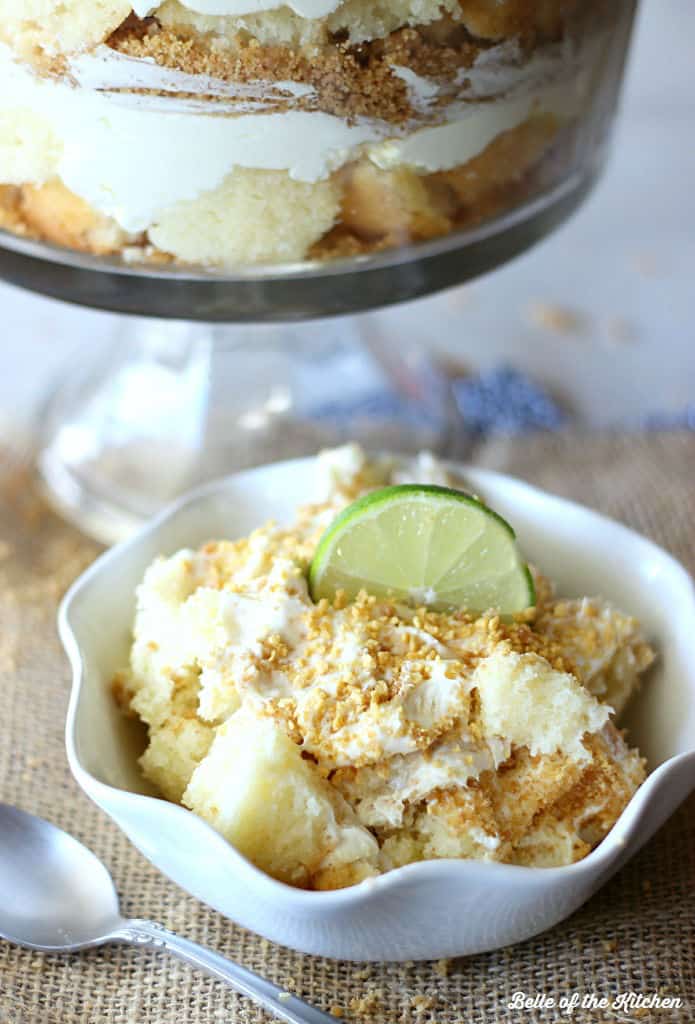 I got the idea for this trifle thanks to  yummy products I was given from Tastefully Simple to review, including the Absolutely Almond Pound Cake Mix and the Key Lime Cheese Ball Mix.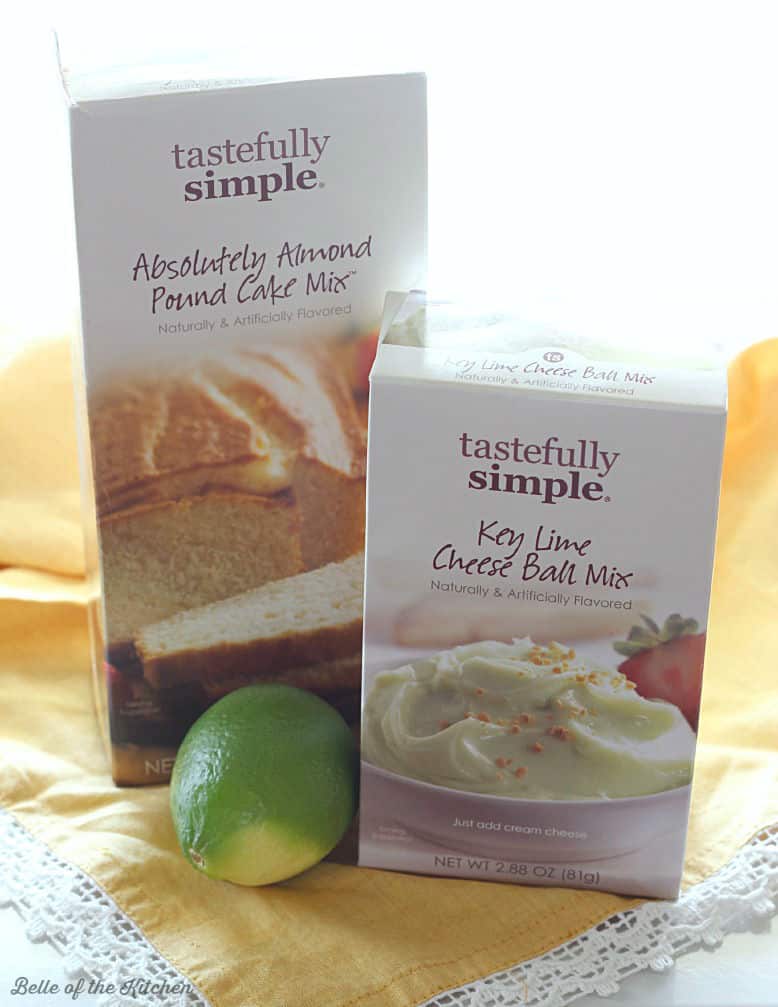 I LOVE Tastefully Simple products and have been using them for years, so I was thrilled to have the opportunity to put my own spin on the ingredients. Let's just say that this trifle lasted a much shorter period of time than I am willing to admit. Oh yeah, and it also makes a wonderful breakfast. 😉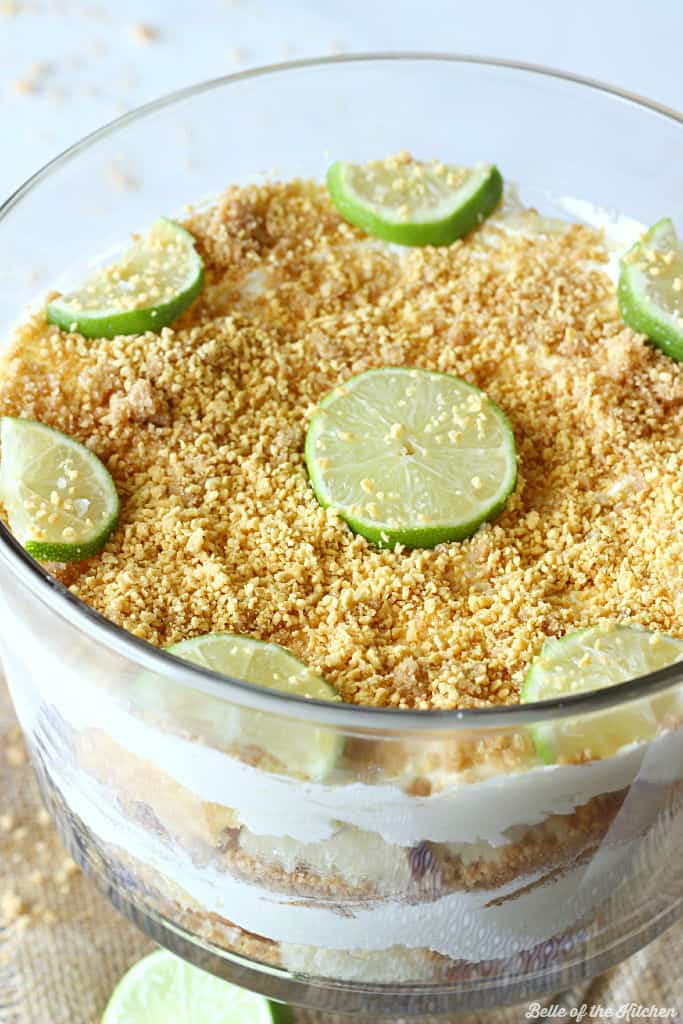 Even though my little family of four pretty much devoured this amazing Key Lime Cheesecake Trifle on our own, it would be the perfect dessert for any spring event you have coming up, including baby showers, bridal showers, Mother's Day, etc. Really, anytime would all be an excellent opportunity to let this dessert shine!
Tastefully Simple even has bridal and baby shower menus available on their website if you're looking for more ideas for your next special occasion. Like I said, I love using their products; it's where simple meets delicious.

Key Lime Cheesecake Trifle
Ingredients
1 box Absolutely Almond Pound Cake Mix from Tastefully Simple
1 box Key Lime Cheese Ball Mix from Tastefully Simple
2 cups melted butter, divided
1 cup water
1 (8 oz) package cream cheese
1 (8 oz) container frozen whipped topping, thawed
1 sleeve graham crackers
1 fresh lime, sliced
Instructions
Prepare Absolutely Almond Pound Cake with ¾ cup melted butter and water according to package directions. Allow to cool completely, then slice entire loaf into cubes.
Mix Key Lime Cheese Ball Mix with cream cheese in a medium sized bowl. Mix in the whipped topping. I used an electric mixer to help everything blend up nicely.
Pulse graham crackers in a blender or food processor to make crumbs. In a small bowl, mix crumbs with remaining ¼ cup melted butter until crumbly.
Begin assembling trifle: first, sprinkle ½ of the graham cracker mixture into the bottom of trifle dish. Top with ½ of the pound cake cubes, followed by ½ of the key lime cheesecake filling. Repeat layers.
Top with the leftover packet of crumbs from the box of Key Lime Cheese Ball Mix, and slices of lime. Refrigerate until ready to eat. Enjoy!