These easy Ice Cream Sandwiches are the perfect treat for summer time. Dip them in red, white, and blue sprinkles to enjoy at your 4th of July celebration!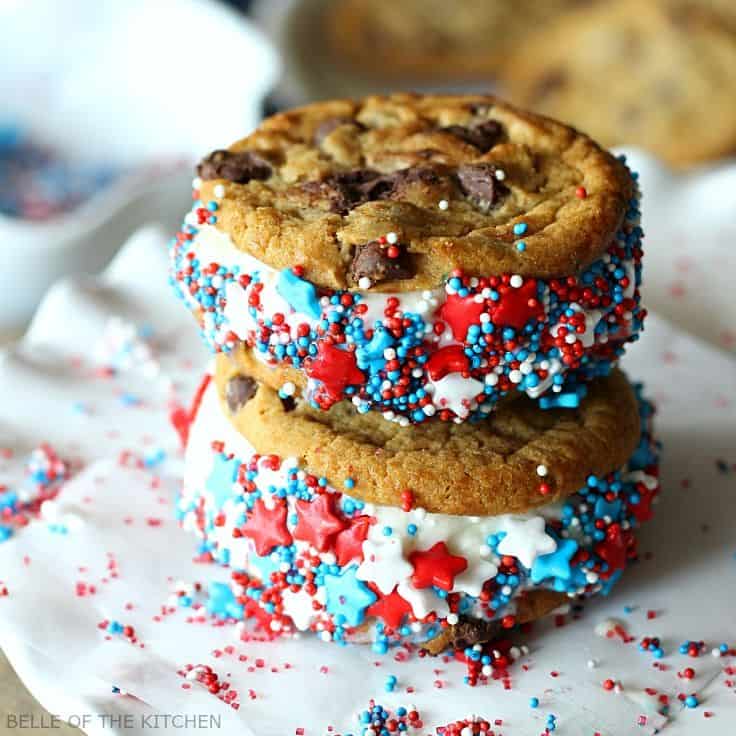 Happy summer y'all! I hope all of you had a nice time celebrating Father's Day yesterday and also enjoyed kicking off summer! I'm really looking forward to having some time to just relax and unwind with my little ones over the next couple of months. My son just graduated from preschool a couple of weeks ago (tear!), so I'm trying to soak up all of those sweet, fun moments with him before Kindergarten starts.
Right now, playing in the pool is one of his favorite things to do, so we will probably be spending a lot of time by the water this summer. And what do I enjoy most about pool time? Oh, that's easy. The pool FOOD!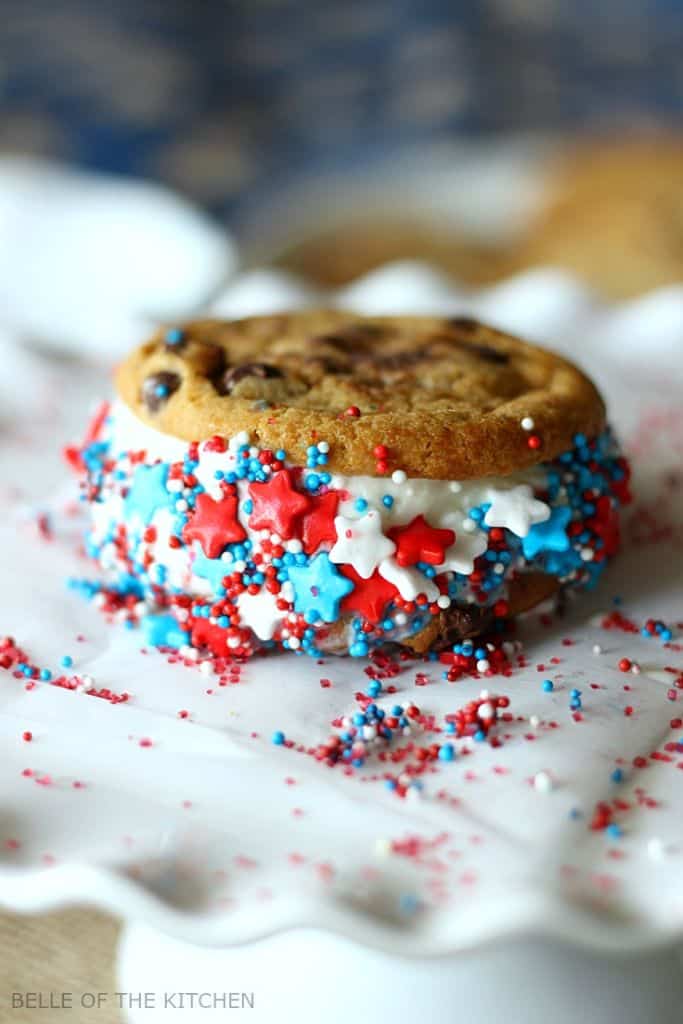 YES. I love eating pool side, especially when it's a sweet frozen treat like these Ice Cream Sandwiches. I originally shared these a few weeks ago over at Kenarry: Ideas for the Home, but wanted to share them here with y'all, too!
You're going to love how simple these are to make. Three ingredients; that's it! If you decide to make your cookies homemade there will be a few more ingredients, but I went the easy route and picked mine up from that wonderful, lovely store called Costco.

Besides cookies, the only other things you need are vanilla ice cream and some sprinkles. I made these with red, white, and blue sprinkles, so they would be the perfect treat for the 4th of July!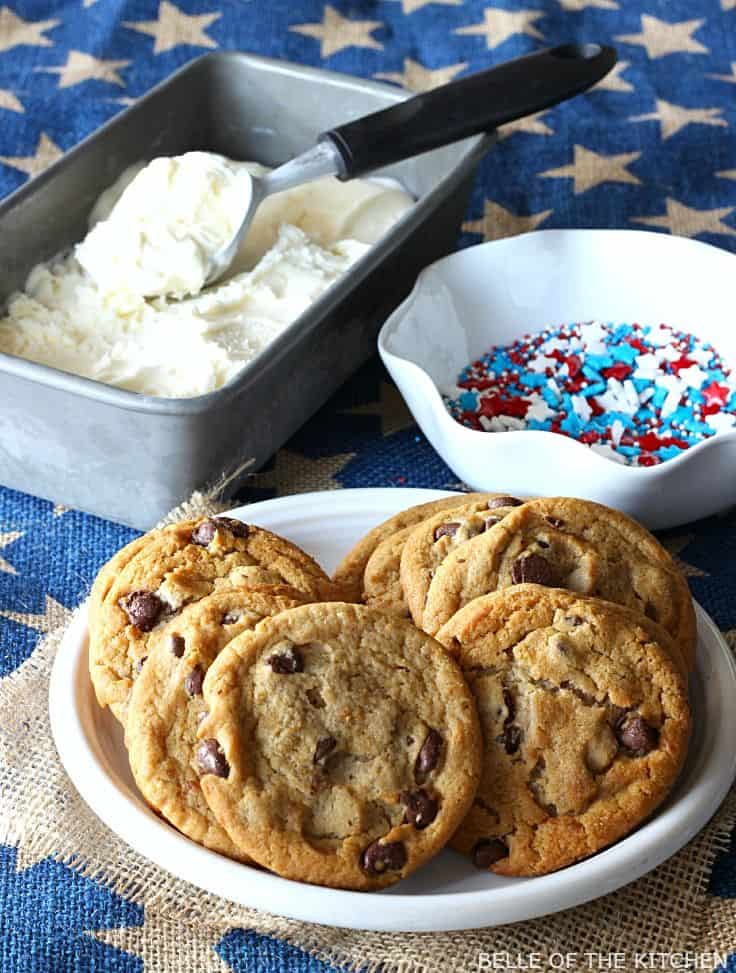 You'll start out by putting a nice big scoop of ice cream on the flat side of one cookie…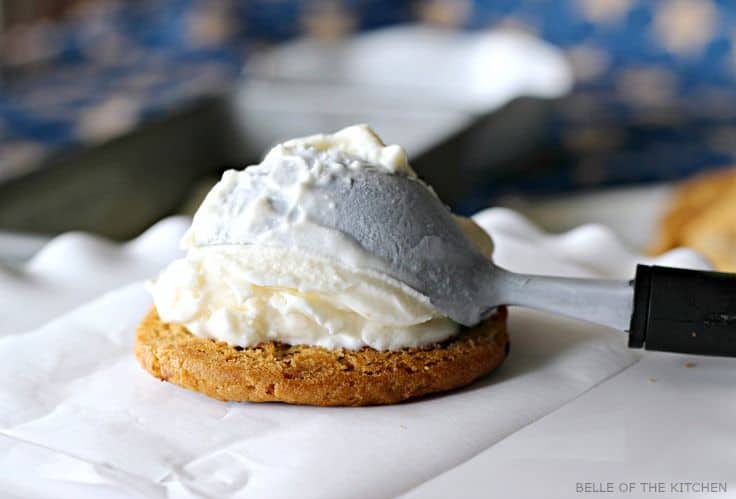 Then add your second cookie on top and smoosh down a bit.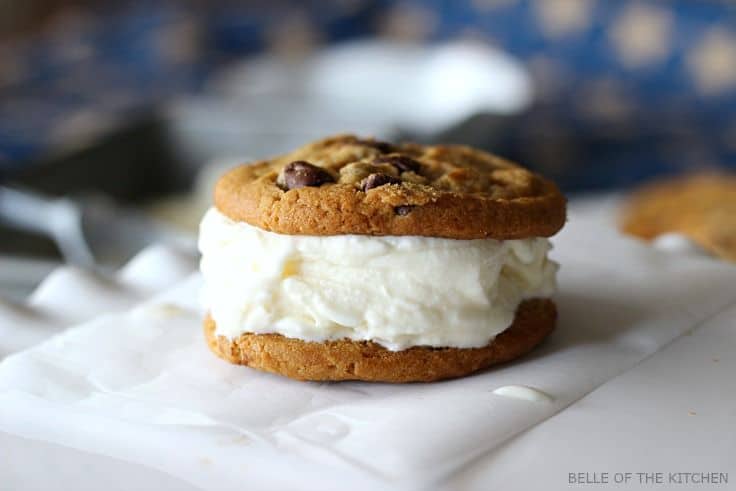 Roll the ice cream sides in some patriotic sprinkles and you're done! Easy peasy!
Patriotic Ice Cream Sandwiches
Ingredients
Chocolate Chip Cookies (homemade or store bought)
Vanilla Ice Cream
Red, White, and Blue Sprinkles
Instructions
Place sprinkles in a shallow bowl and set aside. Remove ice cream from freezer and allow to soften just slightly. Add one heaping scoop of ice cream to flat side of one chocolate chip cookie.
Add second cookie to the top, flat side down. Push down slightly to seal cookies and ice cream together to make a sandwich.
If ice cream is too soft and squishes out, use a small spatula to scrape around the ice cream and smooth the edges.
Dip edges of the ice cream sandwich in the sprinkles. Individually wrap sandwich in plastic wrap to freeze for a few hours.
Notes
*These can be eaten right away, but the ice cream might slip out when you bite into them. Freezing them for a few hours will help them to hold together better.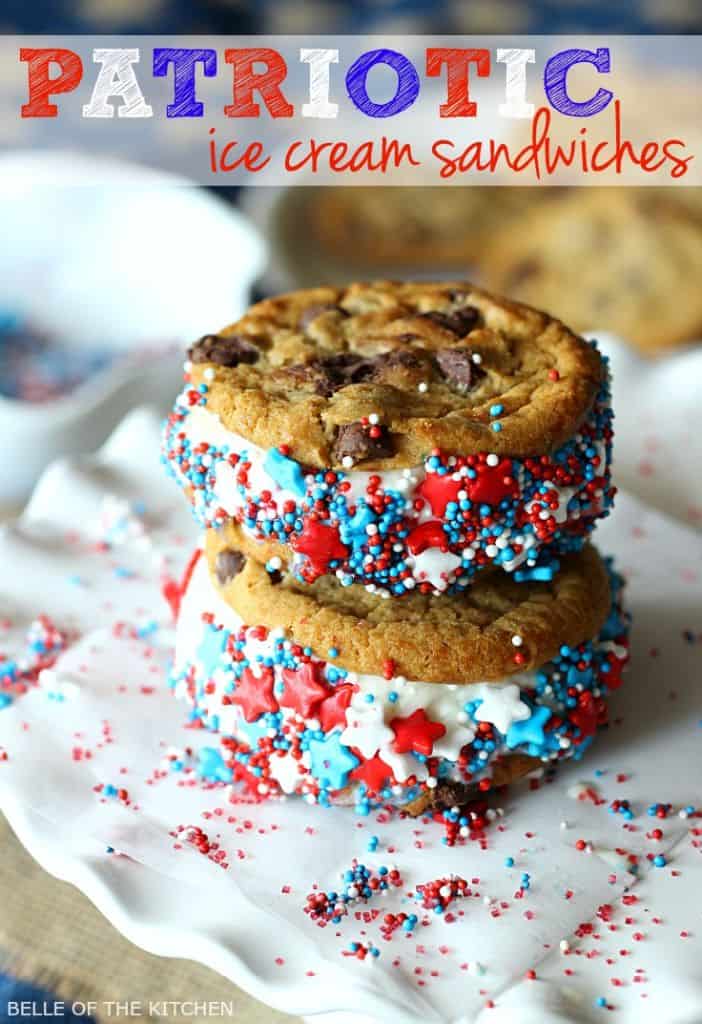 Looking for more summer time treats? You might like: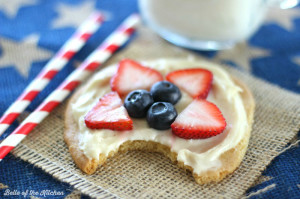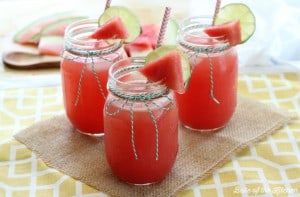 Related posts: