Classic Taco Salad
Hello Belle of the Kitchen readers! It's Carrie from Kenarry: Ideas for the Home back again for the monthly Ideas for the Kitchen exchange where Ashlyn and I trade blogs to bring you new recipes. With 4th of July just a few days away, Ashlyn and I thought it would be great to swap recipes for side dishes you could bring to a backyard barbecue or picnic. Today, I'm sharing a Classic Taco Salad Recipe large enough to feed a crowd of family and friends before the fireworks.
While I'm here, Ashlyn is at Kenarry: Ideas for the Home today with her amazing recipe for Tomato, Cucumber, and Feta Greek Salad. She'll share it with you here in a few weeks. If you need the recipe for a 4th of July barbecue this weekend though, head over to Kenarry: Ideas for the Home to get all the details.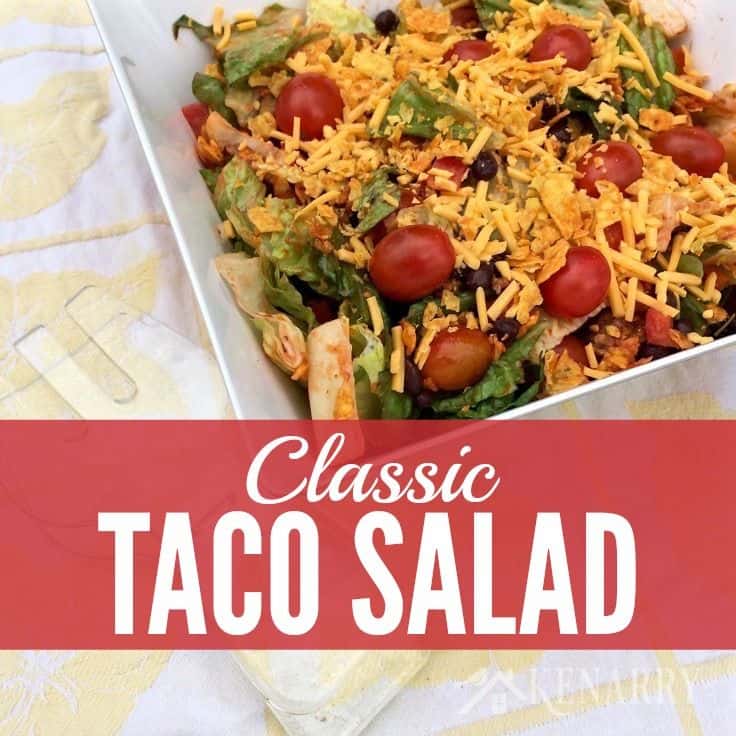 The summer season is chock full of backyard barbecues, picnics and gatherings with friends, especially around the holidays like 4th of July and Labor Day. These fun events are almost always potlucks where each family brings one or two dishes to pass. One of my all time favorites to bring is a Classic Taco Salad recipe with big leafy lettuce, seasoned taco meat, black beans, diced red pepper, crushed nacho chips and shredded cheese. It goes great with our favorite Meatloaf Burgers or Ashlyn's Bacon Ranch Turkey Burgers.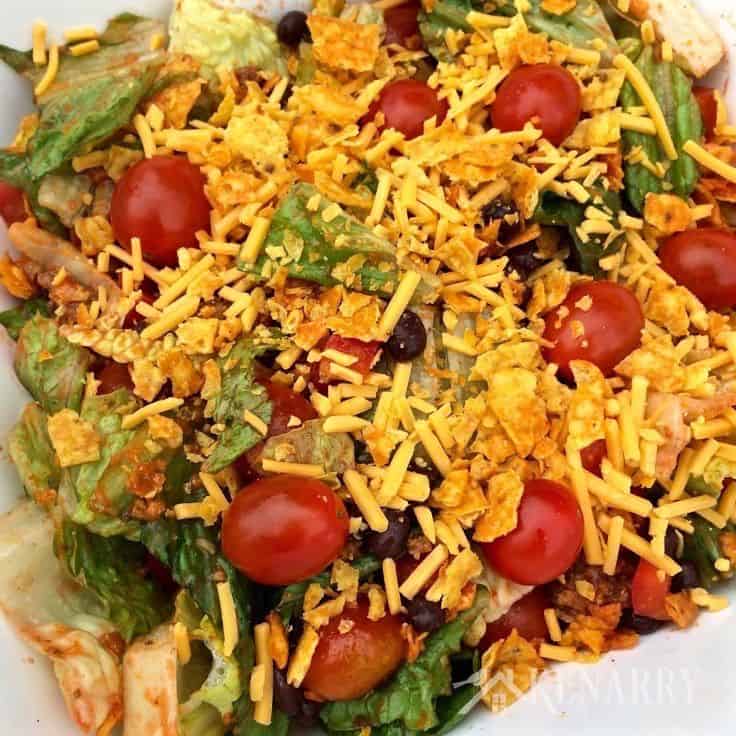 The best part about a Classic Taco Salad recipe like this is you can do most of the prep work ahead of time. I've even made the seasoned ground taco meat weeks in advance and put it in the freezer until I was ready. Most often though, I just make the meat for the Classic Taco Salad recipe a day or two ahead of time and refrigerate it.
If I really want to keep it simple, I'll even crush the nacho chips ahead of time. Then the day of the summer barbecue or picnic, all you have to do is toss the ingredients for the Classic Taco Salad together in a large bowl with some Catalina or french dressing and you're ready for the festivities.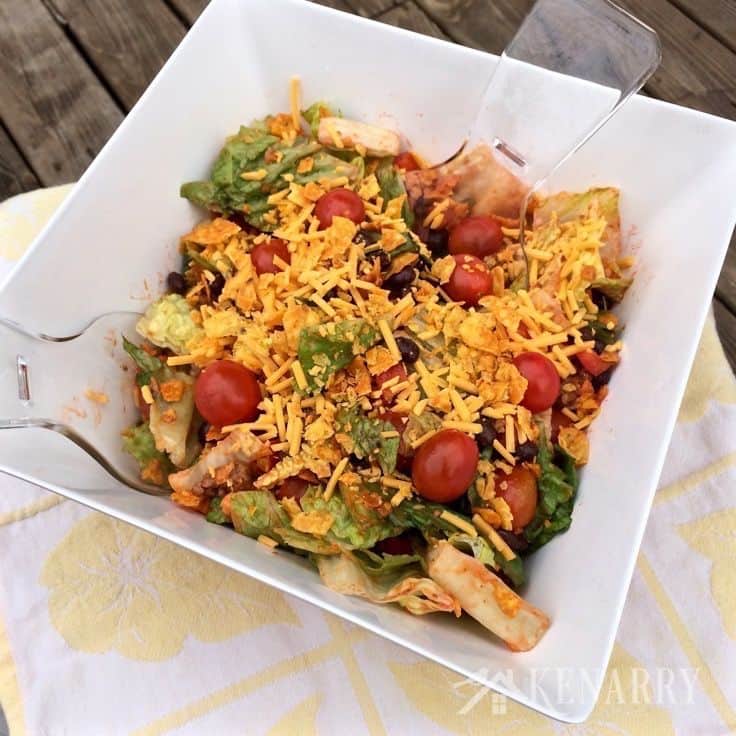 I included black beans and chopped red pepper in this Classic Taco Salad recipe. You could easily use red kidney beans and chopped green pepper instead if you wanted a slightly different flavor. Or omit the beans and peppers all together if your family doesn't like those vegetables. As long as you have shredded cheese, nacho chips and taco meat, you've got yourself a Classic Taco Salad recipe that's sure to please everyone at the potluck.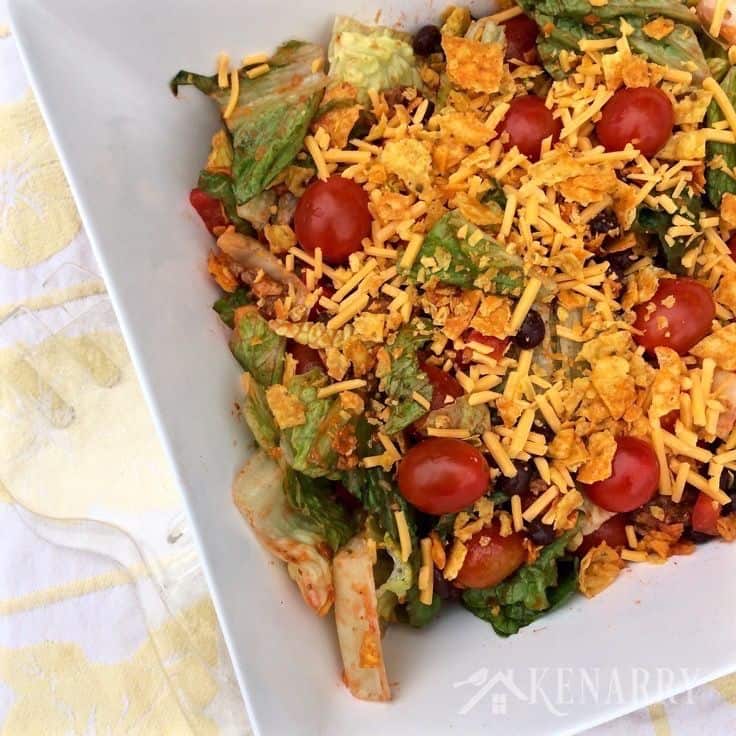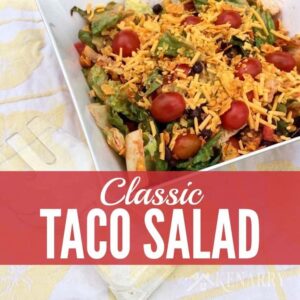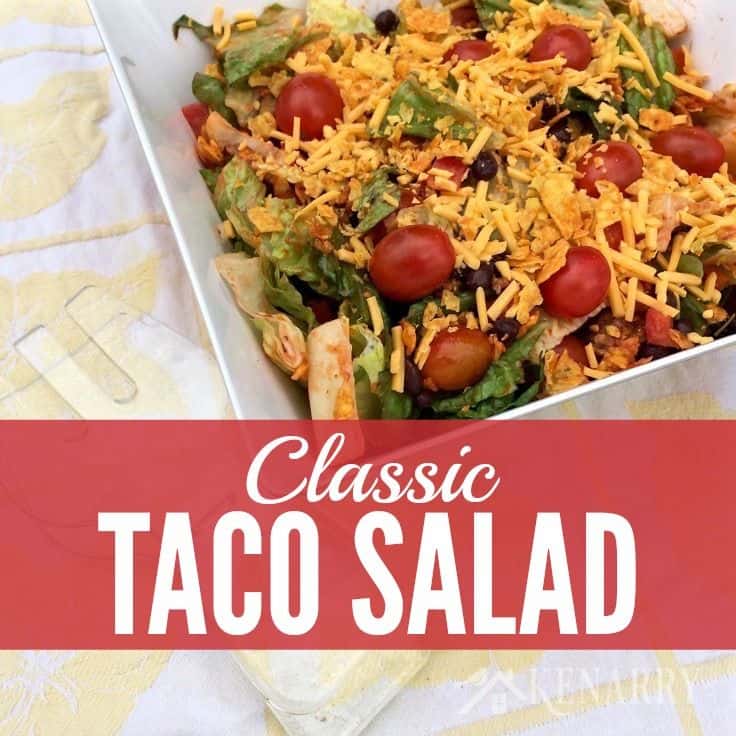 Classic Taco Salad
This Classic Taco Salad recipe is made with big leafy lettuce, seasoned taco meat, black beans, diced red pepper, crushed nacho chips and shredded cheese.
Ingredients
1 pound ground beef
1 medium onion,, chopped
1 packet taco seasoning,, 1.25 oz
2 (9 oz.) packages romaine lettuce
1 red pepper,, chopped
1 can black beans,, drained and rinsed
1 cup shredded sharp cheddar cheese
1 cup grape tomatoes
16 oz Catalina or french dressing
2 cups crushed nacho chips
Instructions
In a large skillet, brown the ground beef with chopped onion over medium heat. Drain the grease.

Add taco seasoning and water per instructions on the packet. Bring the taco seasoning to a boil, then lower the heat to simmer for 5 minutes. Set aside and allow the taco meat to thoroughly cool.

Put romaine lettuce in a large bowl. Add chopped red pepper, black beans, crushed nacho chips, half of the shredded cheese, half of the grape tomatoes and all of the taco meat.

Pour Catalina dressing over the classic taco salad and toss to coat.

Top with the remaining shredded cheese and grape tomatoes. Chill until you're ready to serve. Enjoy!
Calories: 467kcal, Carbohydrates: 31g, Protein: 14g, Fat: 32g, Saturated Fat: 7g, Cholesterol: 36mg, Sodium: 676mg, Potassium: 472mg, Fiber: 5g, Sugar: 8g, Vitamin A: 4610IU, Vitamin C: 19.1mg, Calcium: 144mg, Iron: 3mg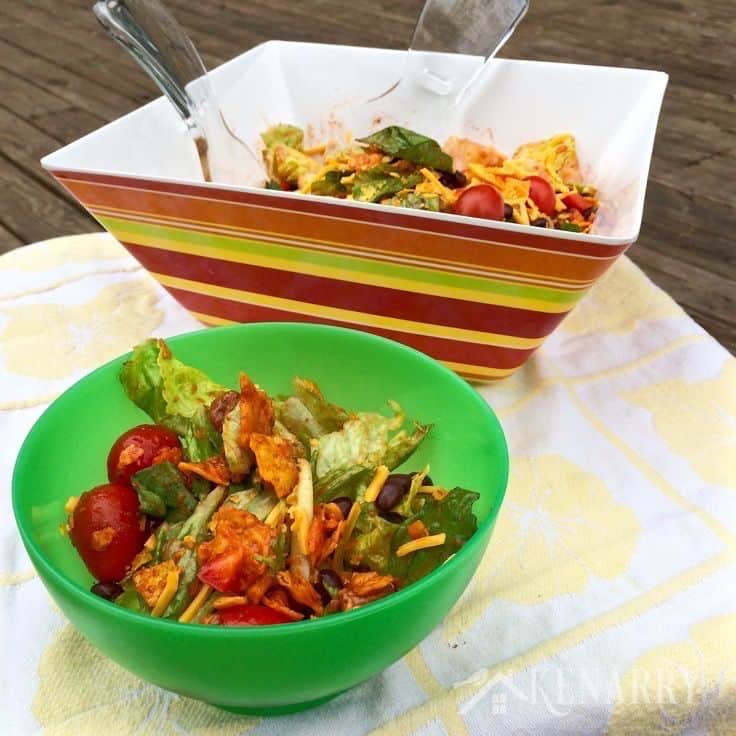 Classic Taco Salad Recipe Suggestions
There are many ways you can prepare this Classic Taco Salad recipe. Here are a few serving suggestions:
This Classic Taco Salad recipe is designed to feed a large crowd. What you see in the photos is actually HALF of what the recipe makes. I was preparing the Classic Taco Salad recipe for a small group of only six so I set aside half of all the ingredients to serve at another picnic a day or two later.
Get creative! Add other fruits and vegetables your family enjoys, like avocado, sliced olives and chopped cucumber.
Make it spicier by using a hot taco seasoning packet with your ground beef or shredded pepper jack cheese.
If you prefer a creamier salad, I've seen people use thousand island salad dressing instead of Catalina or french dressing.
Leftovers from this Classic Taco Salad are good for a day or two as long as you keep the grape tomatoes whole. Just add a handful or two of crushed nacho chips to freshen it up. If you use chopped tomatoes or slice the grape tomatoes in half when you make the Classic Taco Salad recipe, the salad will become soggy by the next day.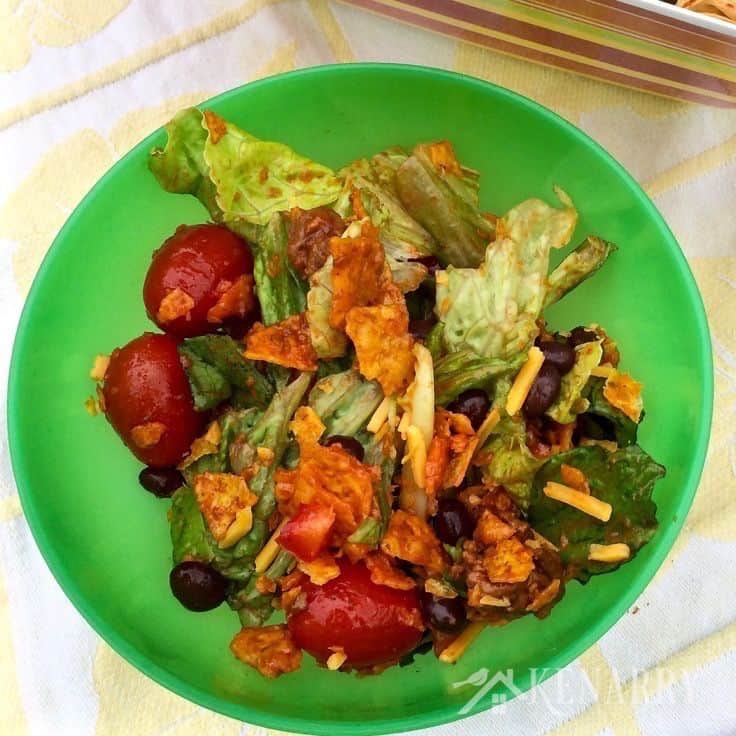 What's your favorite dish to bring to a summer barbecue or potluck, please comment below and share. Ashlyn and I are always looking for new ideas.
If you liked this Classic Taco Salad recipe, please share it with your friends or pin it for later:
You might also enjoy these side dish recipes on Kenarry: Ideas for the Home —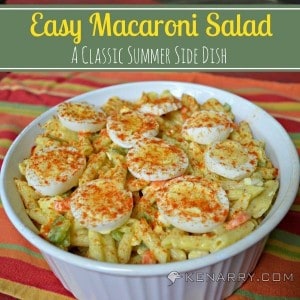 Roasted Potato and Onion Wedges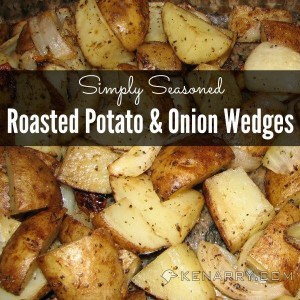 A special thank you to Ashlyn for allowing me to share this Classic Taco Salad recipe with you today. I look forward to coming back again next month to share other delicious Ideas for the Kitchen with all of you!
About Carrie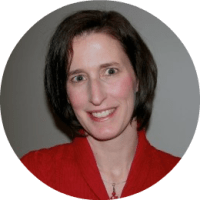 Carrie is the chief writer, crafter and cook at Kenarry: Ideas for the Home where she and her husband create and curate ideas you'll find useful for your home. She's an optimist by nature and enjoys sharing recipes, trying new craft ideas, planning for parties and events as well as organizing and decorating. Carrie's passion, though, is volunteerism and connecting people with opportunities to make a difference in their community. When she's not blogging, preparing meals or picking up around the house, you're bound to find her hidden away in a castle under the stairs reading to her two young boys. Whether you're cooking, crafting or creating for your family, you'll find inspiration by connecting with Carrie. Find her online at Kenarry, Google+, Pinterest, Facebook, Twitter and Instagram.
This site contains affiliate links, if you make a purchase through them, we receive a small commission.