Caprese Pizza – Everything you love about Caprese Salad as a pizza! Made with pesto, tomatoes, red onions, and fresh basil, then topped with a cheesy blanket of mozzarella. Drizzle with balsamic reduction for a delicious finish!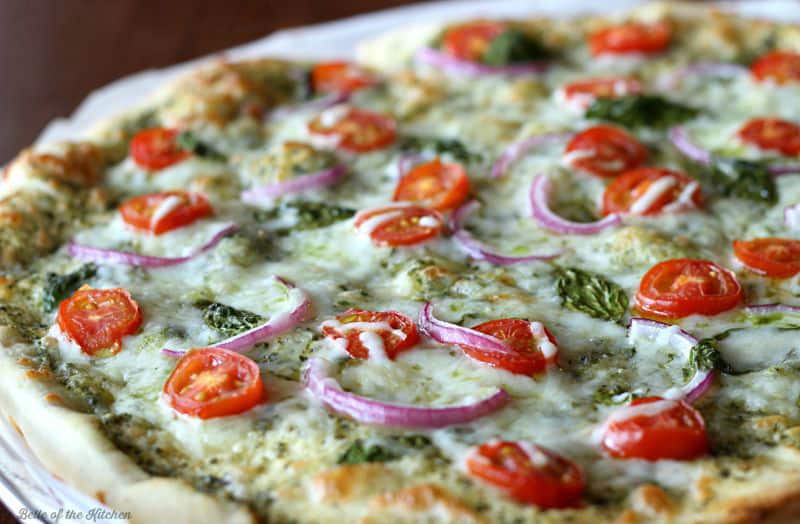 Have I professed my love of all things caprese to y'all before? If not then today's the day.

I've only dabbled here or there with it in terms of recipes. I usually like to just eat good ole caprese salad, maybe with some avocados thrown in. I've made it with crackers as the base, and that was a really yummy, easy appetizer.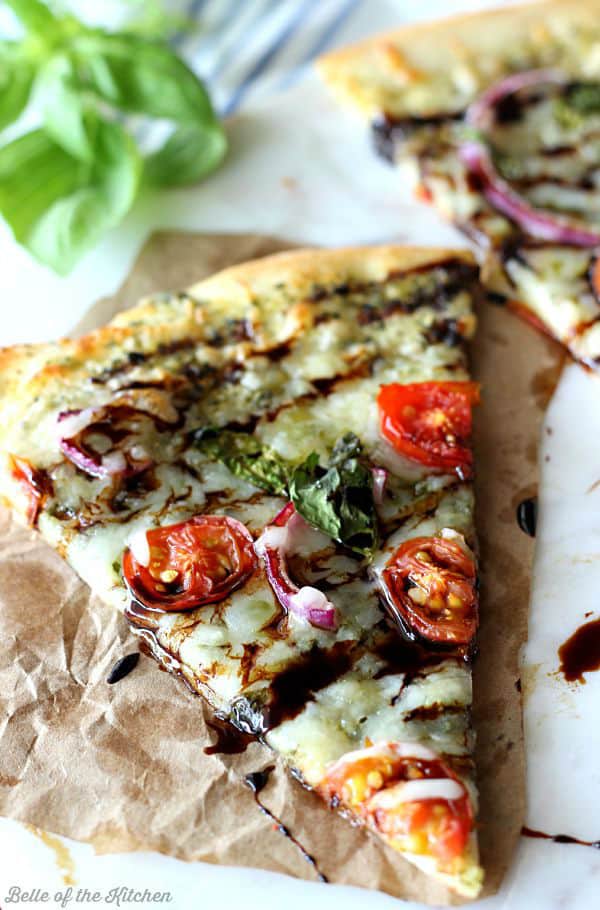 The flavors in caprese salad are just so so good. Basil, tomatoes, mozzarella, balsamic. Hard to beat.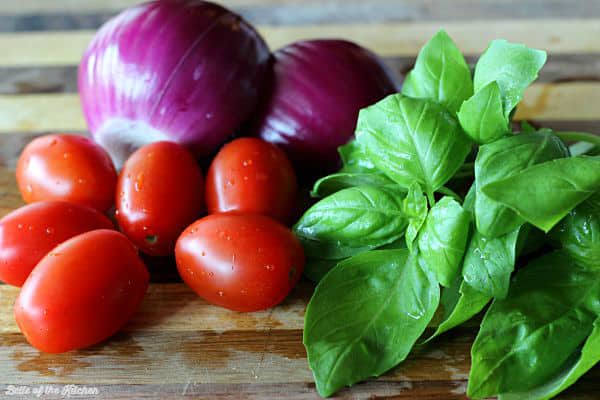 After thinking about it for awhile, I came up with the idea for a Caprese Pizza! It's probably been done somewhere before, but I decided to give it my own personal go-at-it, and I was super happy with the final product.
I started with some store-bought pizza dough, but you could totally use homemade. We are dabbling with paleo here at our house, so I'm thinking I will try this again once I find a paleo pizza dough that I like. I made one from almond meal last week that was really unappetizing, so that's still a work in progress. If you have any good paleo pizza dough recipes, please send them my way!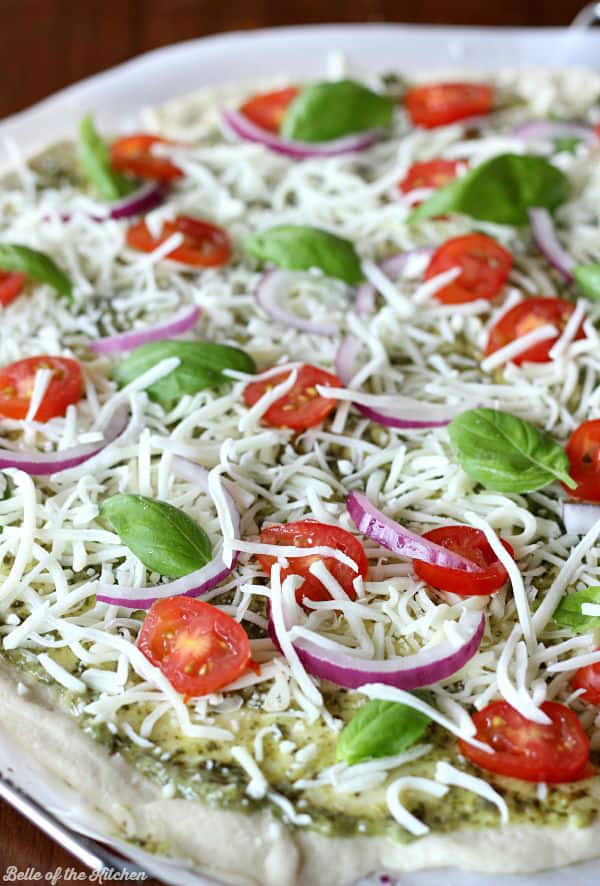 I used a pesto sauce base, which added so much yummy flavor to the pizza. Pesto and pizza really go hand-in-hand, y'all!
Next I added some mozzarella, followed by sliced grape tomatoes, fresh basil, sliced red onions, and a tad more cheese. I popped it all in the oven for about 12 minutes, and then promptly began to devour it. 😉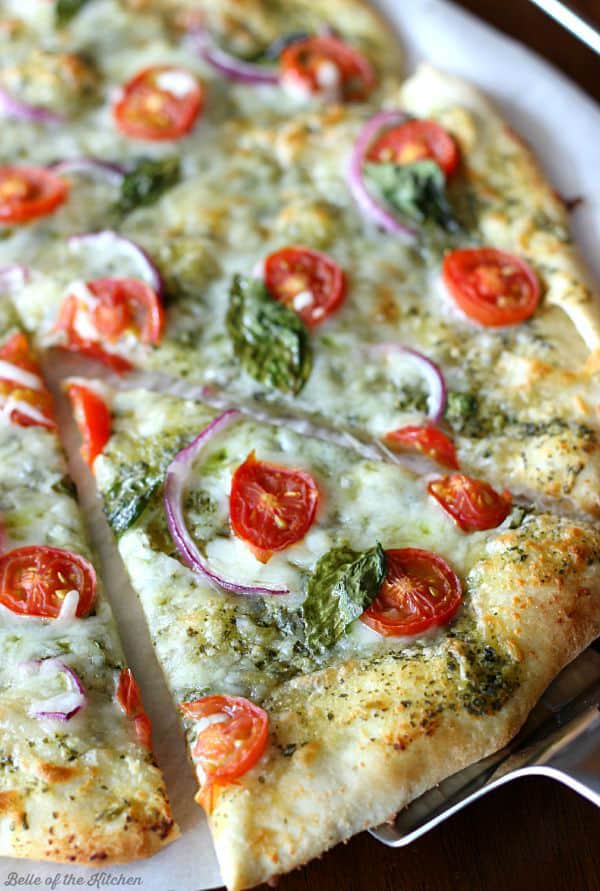 Seriously y'all, this pizza is crazy good, crazy easy, and crazy fast! This was ready in less than 20 minutes. My kind of dinner. 😉

Caprese Pizza
Ingredients
1 tube refrigerated pizza dough (or homemade)
⅓ cup prepared pesto
1½ cups mozzarella cheese
1 large handful of fresh basil leaves
6-7 large grape tomatoes, sliced
½ red onion, sliced
½ cup balsamic vinegar
Instructions
Preheat oven according to pizza dough directions (mine was 425 degrees).
Pour balsamic vinegar into a small sauce pan and place over medium-low heat. Stir occasionally until balsamic vinegar reduces and thickens enough to coat the back of a spoon. This usually takes about 15-20 minutes.
Meanwhile roll out pizza dough onto a cookie sheet lined with parchment paper. Spread pesto evenly over the dough, then top with 1 cup cheese, the basil, tomatoes, and red onion. Sprinkle with remaining half cup of cheese.
Bake pizza in preheated oven for 10-12 minutes. Remove from oven and slice. Drizzle balsamic reduction over each slice before serving. Enjoy!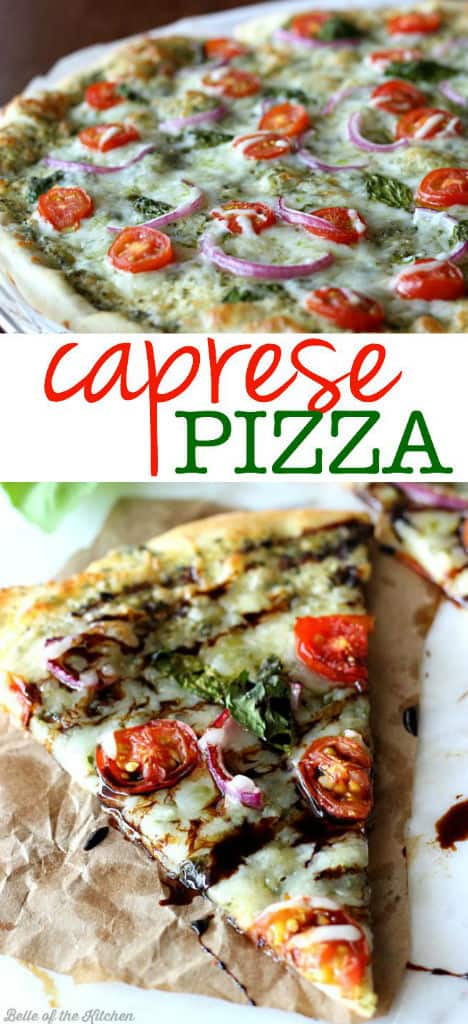 Related posts: