Caprese Salad Cracker Stacks with Balsamic Reduction
Caprese Salad Cracker Stacks – The easiest gluten free appetizer ever! Made with tomatoes, fresh mozzarella, basil, and a homemade balsamic reduction, all stacked on top of a Breton Gluten-Free Cracker! So simple and SO good!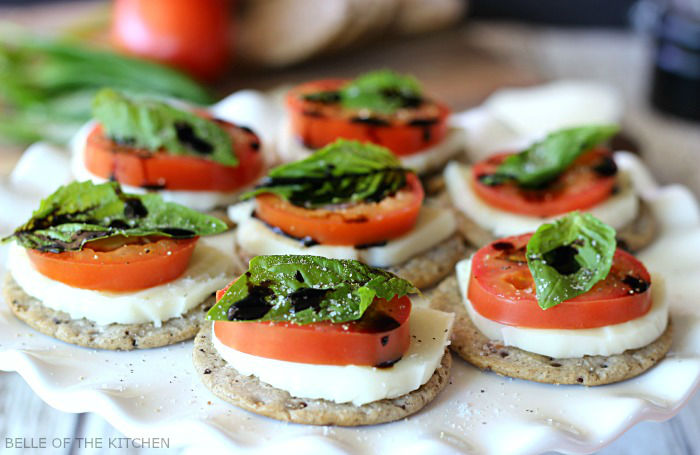 Happy Friday, friends! Or, as we like to say here in Hawaii, Happy Aloha Friday.
Are y'all ready for a nice long weekend? I know we are, and this weekend is also my little guy's 5th birthday, so we have lotsa celebrating to do. He's been reminding us nonstop for the past few weeks, lest we dare forget. He's requested pizza, pool time, and a "rectangle cake with a rainbow on top." I think I can manage that!
We are having his birthday party in a couple of weeks, and in addition to all of the Paw Patrol themed snacks for the kids, I'm going to have a few special appetizers for the adults, including these Caprese Salad Cracker Stacks.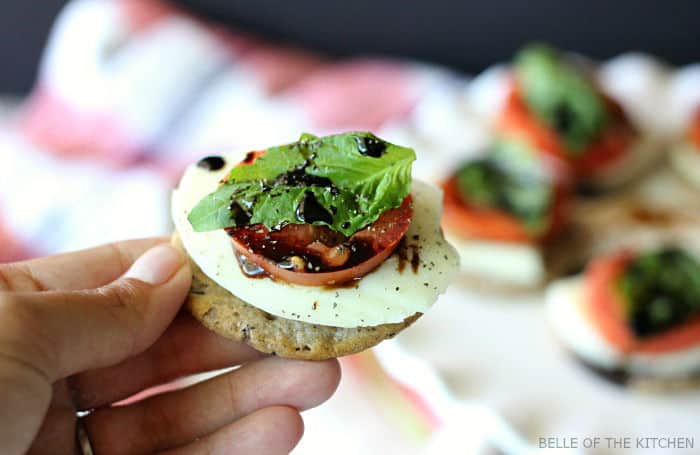 Caprese salad has always been one of my favorite easy appetizers. I could eat it all the time, especially when it's sitting on a delicious Black Bean cracker and topped with a little balsamic reduction. Hubba hubba.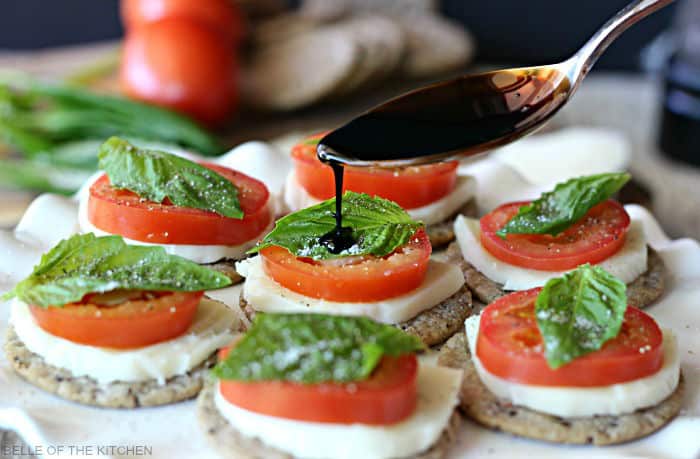 To make the caprese salad a little more "holdable" and easier to eat (with no need for a plate and fork), I decided to turn them into "stacks." For my base, I used the new Breton Black Bean with Onion and Garlic Crackers, which are SO tasty all on their own, plus they are gluten free! I also love these crackers because they are full of good stuff. Beans are the main ingredient and are listed first on the nutritional label, plus each serving contains two grams of fiber and two grams of protein. They are also low in saturated fat, contain no artificial colors or flavors, no cholesterol, and are trans-fat free! Can't beat all that goodness. 🙂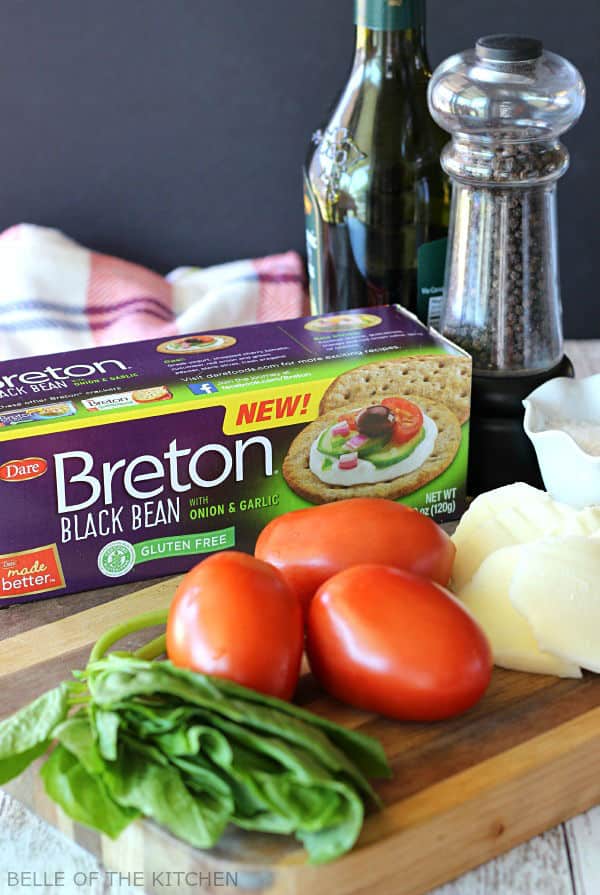 I am a huge fan of Breton Crackers and have been buying them for years because they are one of the few brands of crackers on the market that are made in a peanut free facility. If you've been following my blog for awhile then you've probably heard me mention my son's peanut allergy. It means a lot to me when a company considers the needs of those with allergies, and now all of Breton's crackers are certified gluten free by the National Foundation for Celiac Awareness Gluten Free Certification Program. That's a really good feeling.
So are you ready to make these delicious stacks of caprese salad goodness? It couldn't be easier!
First, heat up some balsamic vinegar on the stove over medium-low heat for about 15-25 minutes. You are creating a reduction, so it will reduce in volume as it thickens. Once it is thick enough to coat a spoon, take it off the heat and let it cool.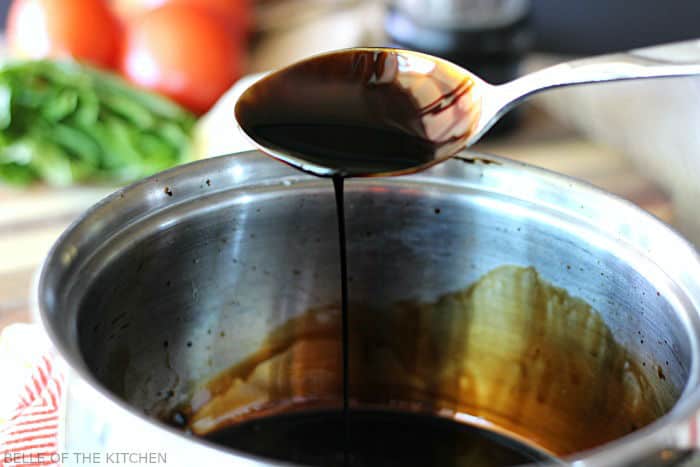 Next, start with your Breton cracker base and top it with a slice of mozzarella, followed by a slice of tomato, a little basil, salt and pepper, and a drizzle of that balsamic reduction. Then just dive on in!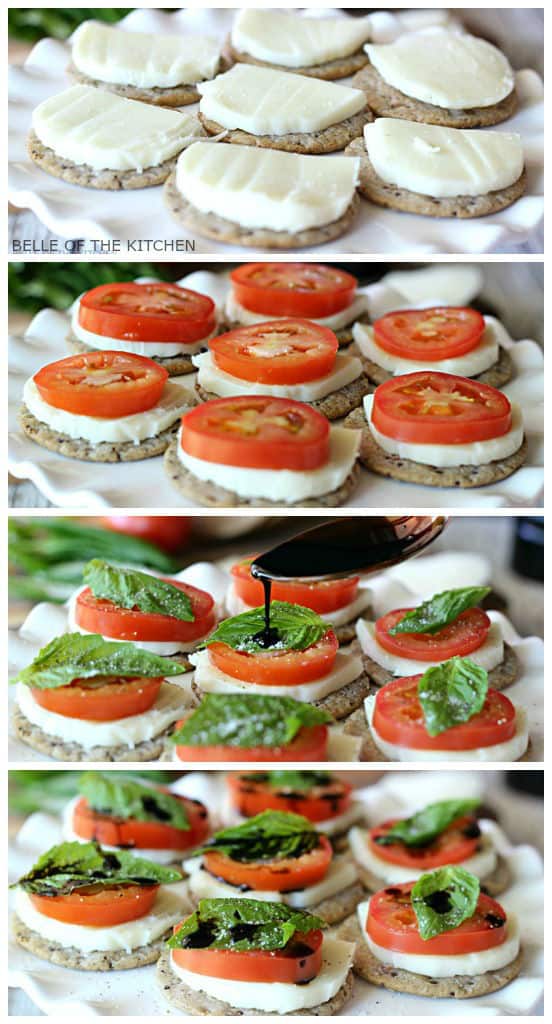 Mega mega yum, y'all. Go on now, enjoy yourself. I know I did.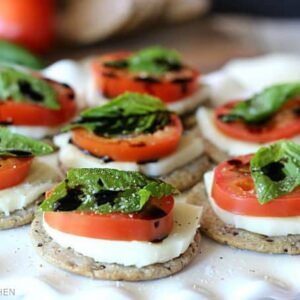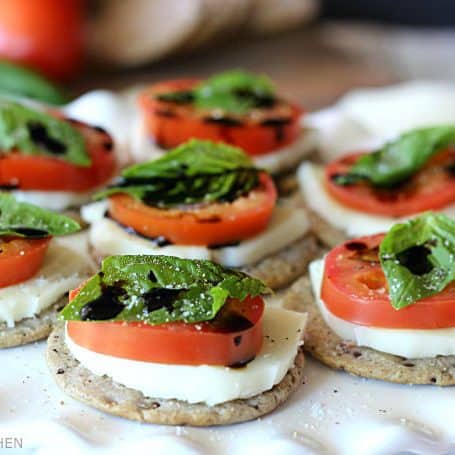 Caprese Salad Cracker Stacks with Balsamic Reduction
These Caprese Salad Cracker Stacks are the perfect appetizer! They're delicious with a drizzle of balsamic glaze on top and they're gluten free, too!
Ingredients
1 cup Balsamic vinegar
3-4 Roma tomatoes,, sliced
1 ball fresh mozzarella cheese,, sliced
Fresh basil leaves
Salt and pepper
Breton Black Bean with Onion and Garlic Crackers
Instructions
Heat Balsamic vinegar over medium heat in a heavy bottomed sauce pan, stirring occasionally. Continue to simmer for 15-25 minutes, or until reduction thickens enough to coat a spoon. Remove from heat and allow to cool.

Meanwhile, begin to assemble cracker stacks. Start by topping each cracker with a slice of mozzarella, followed by a slice of tomato, a basil leaf, and salt and pepper.

Right before serving, drizzle each cracker stack with balsamic reduction. Serve immediately. Enjoy!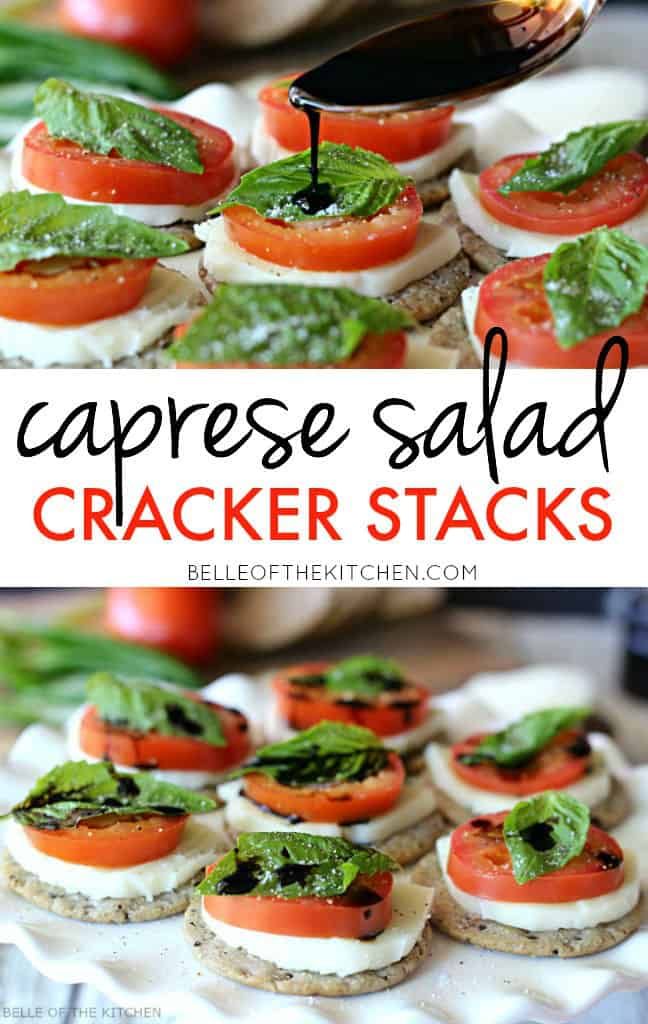 I was selected for this opportunity as a member of Clever Girls and the content and opinions expressed here are all my own.
This site contains affiliate links, if you make a purchase through them, we receive a small commission.