Patriotic Pudding Popsicles
Hello Belle of the Kitchen readers! I'm Carrie from Kenarry: Ideas for the Home back again this month to share another one of our Ideas for the Kitchen with you. Ideas for the Kitchen is a monthly feature where Ashlyn and I trade blogs for a day to exchange recipes based on a theme. Since summer officially starts in just a few weeks, Ashlyn and I thought it would be fun to trade poolside treats this month. Today, I'm sharing a recipe for Patriotic Pudding Popsicles made with fruit, Greek yogurt and vanilla pudding topped with sprinkles.
While I'm sharing the Patriotic Pudding Popsicles with you, Ashlyn is at Kenarry: Ideas for the Home today sharing Patriotic Ice Cream Sandwiches. She'll share the recipe with you here in a few weeks, but if you want to check it out sooner, head to Kenarry: Ideas for the Home to get the recipe.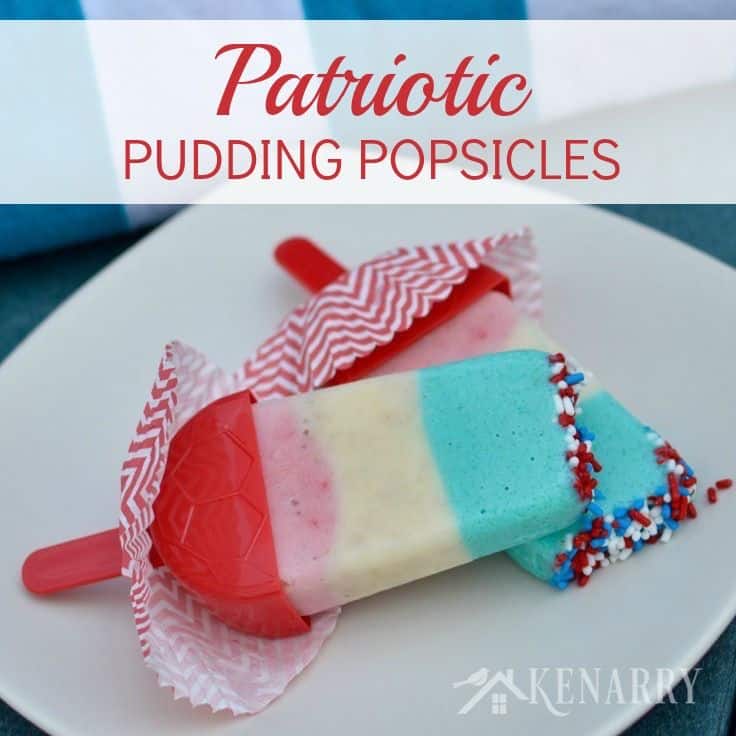 Summer is almost here. That means exceedingly warm temperatures throughout most of the United States and lots of time playing outside. Chances are you'll be spending a lot of time over the next few months at a backyard or community pool. If you're like my family, it's going to be one of those small kiddie pools you have to fill up daily from a garden hose. Ashlyn and I wanted to create frozen treats this month to help you and your kiddos feel some temporary (and delicious!) relief from the heat when you're basking by whatever pool is available to you.
As if poolside treats weren't enough fun, Ashlyn and I both made our recipes patriotic too! Ashlyn's husband proudly serves in the U.S. Army, so making the poolside treats red, white and blue is a special way to honor our country. What could be more fun and festive with 4th of July coming up than red, white and blue sprinkles?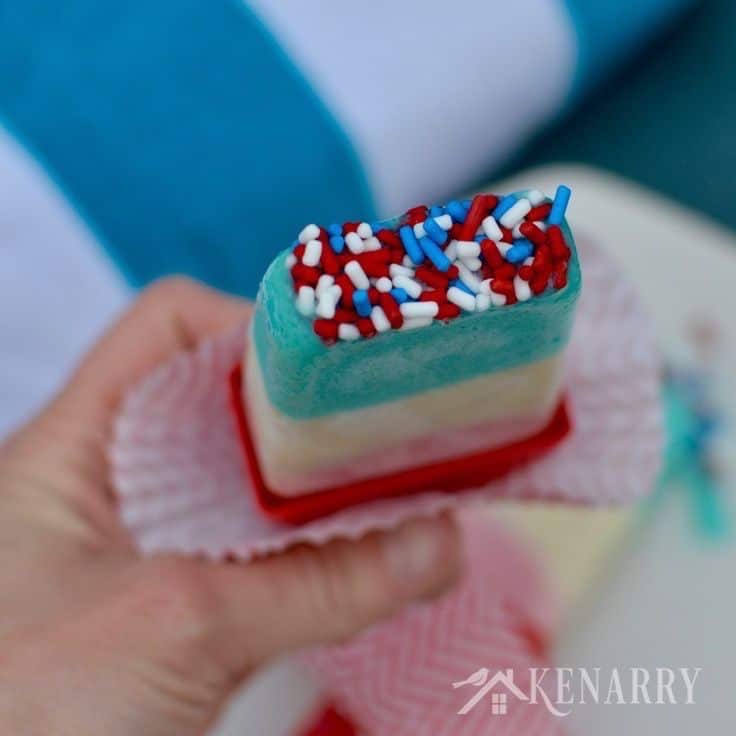 The Patriotic Pudding Popsicles are so easy to make. You just combine bananas, Greek yogurt, milk and some powdered vanilla pudding mix in a blender as your base for the popsicles. For the blue layer, you mix a third of the banana pudding mixture with powdered blue raspberry Jello mix and pour it into a plastic popsicle mold with sprinkles in the bottom. You can save the remaining powdered vanilla pudding mix and powdered blue raspberry Jello mix to make more of these popsicles for another hot day.
The second layer is another third of the banana pudding mixture left as is. Then for the final layer, you blend the leftover banana pudding mixture with strawberries to top off the Patriotic Pudding Popsicles.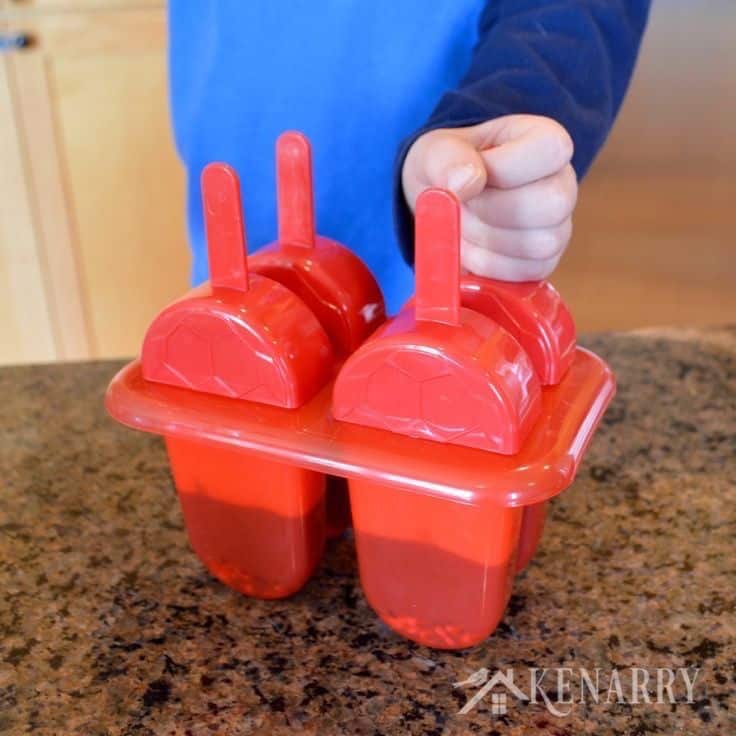 Let the Patriotic Pudding Popsicles freeze over night. When you're ready to serve them, run your popsicle molds under warm water for a minute or two to loosen up the banana pudding mixture. The Patriotic Pudding Popsicles should slide right out of the molds and be ready for you to serve to your children.
My sons are five years old and two years old. They absolutely loved these Patriotic Pudding Popsicles. My oldest gave them an enthusiastic two thumbs up which is the highest honor in his current ranking system.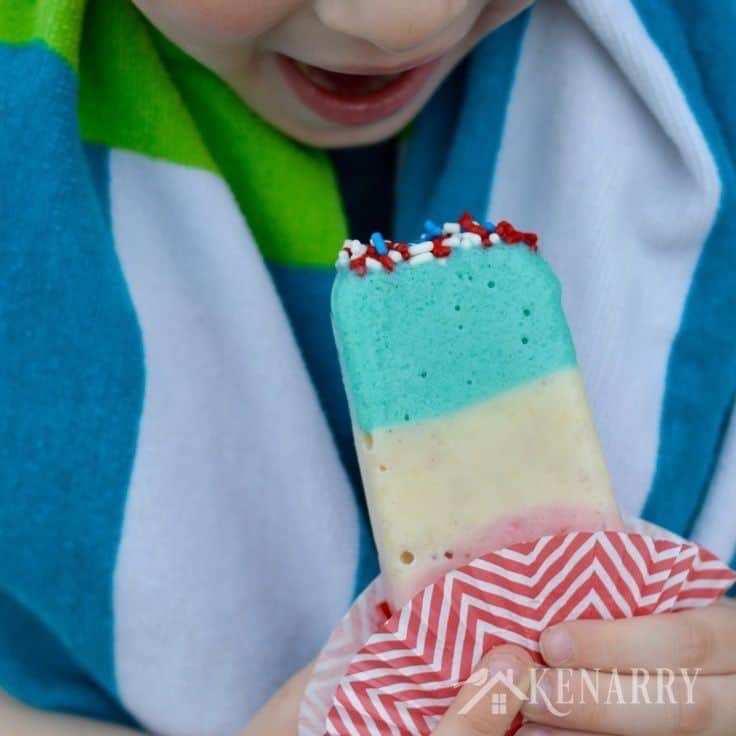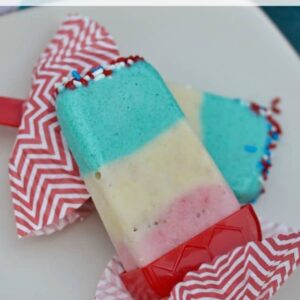 Patriotic Pudding Popsicles
Patriotic Pudding Popsicles are made with fruit, Greek yogurt and vanilla pudding topped with sprinkles.
Ingredients
4 teaspoons red, white and blue sprinkles
4 plastic popsicle molds
2 ripe bananas
1/2 cup plain Greek yogurt
1 tablespoon instant vanilla pudding mix
1/2 cup milk
2 tablespoons blue raspberry Jello powder
4 strawberries
Instructions
Pour 1 teaspoon of red, white and blue sprinkles in the bottom of each of your plastic popsicle molds. Set aside.

In a blender, combine bananas, yogurt, pudding mix and milk until smooth.

Pour 1/2 cup of the banana pudding mixture into a separate bowl. Add two tablespoons of the blue raspberry Jello mix to it and mix with a spoon until it's a bright blue color.

Divide the blue banana pudding mixture evenly between the four plastic popsicle molds to create the first layer. It should be about 1/3 full.

Fill the next 1/3 of each plastic popsicle mold with the cream-colored banana pudding mixture that's still in your blender.

Add strawberries to the banana pudding mixture that's left in the blender and mix until smooth.

Pour the final pink/red layer of strawberry banana pudding into the plastic popsicle molds.

Insert handles into each of the plastic popsicle molds and freeze them overnight. Enjoy!
Calories: 117kcal, Carbohydrates: 23g, Protein: 4g, Fat: 1g, Cholesterol: 4mg, Sodium: 62mg, Potassium: 305mg, Fiber: 1g, Sugar: 16g, Vitamin A: 85IU, Vitamin C: 12.2mg, Calcium: 65mg, Iron: 0.2mg

Suggestions for Patriotic Pudding Popsicles
As you get ready to make the Patriotic Pudding Popsicles, here are a few ideas for you to consider:
Pour any leftover banana pudding mixture into a cup and serve to your little ones as a smoothie. After all, they don't have the patience to wait for those delicious Patriotic Pudding Popsicles to freeze. The smoothie will give them a sneak peek!
You could blend blueberries into the banana yogurt mixture instead of the blue raspberry jello mix. It would give your Patriotic Pudding Popsicles more of a purplish hue than the bright blue you see in the photos.
Use a few drops of blue and red food coloring if you want the popsicles to be a more vibrant blue and red. Just be careful because sometimes red food coloring can be very bitter tasting.
A paper cupcake or muffin liner can help catch drips to keep your child's hands cleaner. Cut a small slit in the center of the muffin cup liner and slide the handle right through it.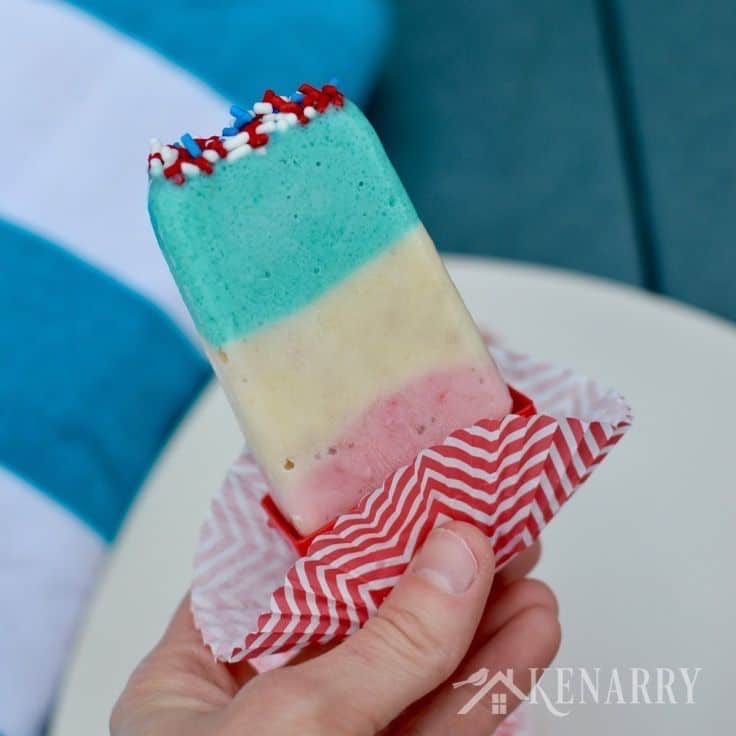 What's your favorite summer treat to enjoy by the pool? Please comment to let us know. Ashlyn and I are always looking for new ideas to try.
If you liked this idea for Patriotic Pudding Popsicles, please share it with your friends or pin it for later: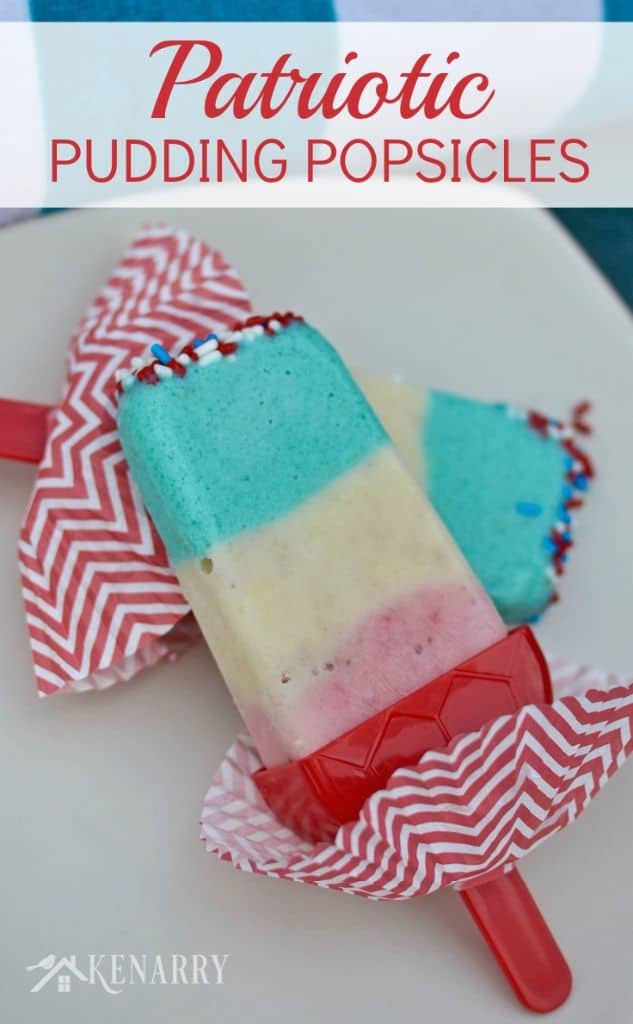 You may also enjoy these summer treat ideas on Kenarry: Ideas for the Home —
Tropical Turtle Beach Jello Cups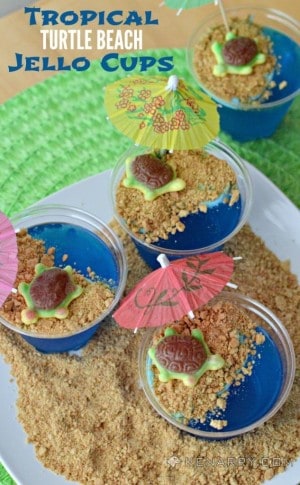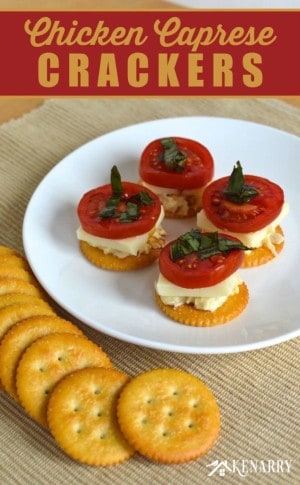 A special thank you to Ashlyn for allowing me to trade blogs with her today. I love coming over to share new Ideas for the Kitchen with all of you and already have a great recipe idea in the works for next month. See you then!
About Carrie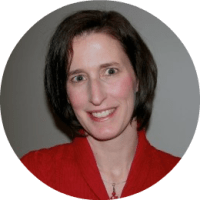 Carrie is the chief writer, crafter and cook at Kenarry: Ideas for the Home where she and her husband create and curate ideas you'll find useful for your home. She's an optimist by nature and enjoys sharing recipes, trying new craft ideas, planning for parties and events as well as organizing and decorating. Carrie's passion, though, is volunteerism and connecting people with opportunities to make a difference in their community. When she's not blogging, preparing meals or picking up around the house, you're bound to find her hidden away in a castle under the stairs reading to her two young boys. Whether you're cooking, crafting or creating for your family, you'll find inspiration by connecting with Carrie. Find her online at Kenarry, Google+, Pinterest, Facebook, Twitter and Instagram.
This site contains affiliate links, if you make a purchase through them, we receive a small commission.