This post was sponsored by Tastefully Simple as part of their Project Simplicity Program.
All opinions are mine alone.
This Creamy Bruschetta Dip starts with a layer of roasted garlic and herb cream cheese from Tastefully Simple, followed by the BEST fresh bruschetta. Serve with crackers, mini toasts, or crusty bread for the perfect appetizer!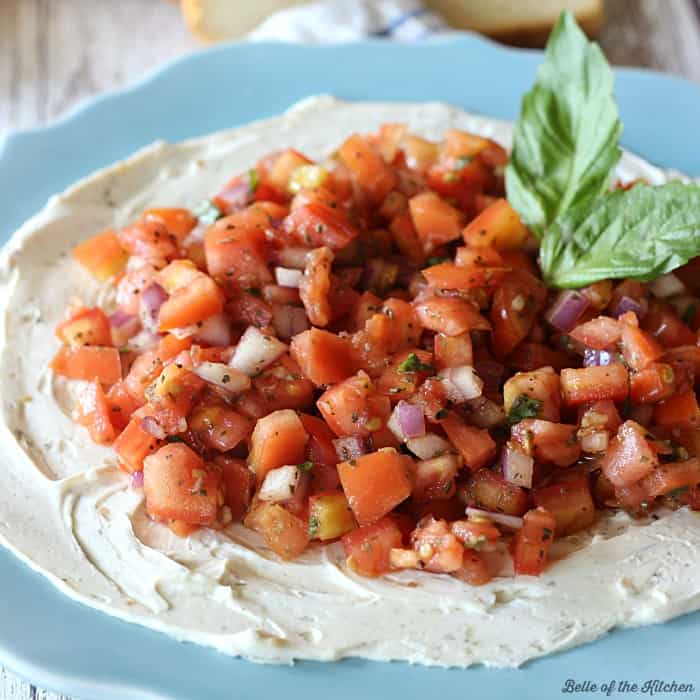 I'm really excited to share this recipe with y'all today. I'm going to make a really big statement right now, and I mean really big. Are you ready? Ok here it is. This recipe is one of my favorites ever here on Belle of the Kitchen!
I truly love each and every recipe on my blog, but I do have a few favorites that I make all the time, like Cheesy Crockpot Tortellini, Barbecue Green Beans, Oreo Chocolate Chip Cheesecake Bars, or Creamy Chicken Enchiladas. And now this Creamy Bruschetta Dip is the newest one to make the list!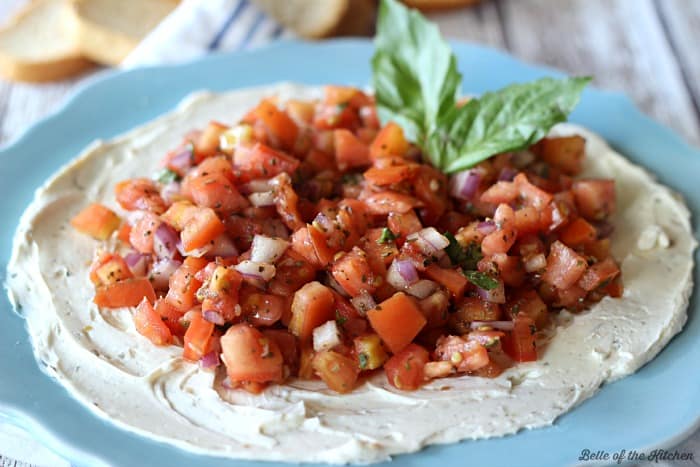 It all started with the bruschetta. After spending some time tweaking it and testing it out a few times, I've finally gotten my bruschetta just right. The day that I accomplished this, I was so excited that I called my husband at work just to tell him! You know it's true love when your hubby humors your constant food blogger experiments, and of course the messy kitchen that goes along with it. 🙂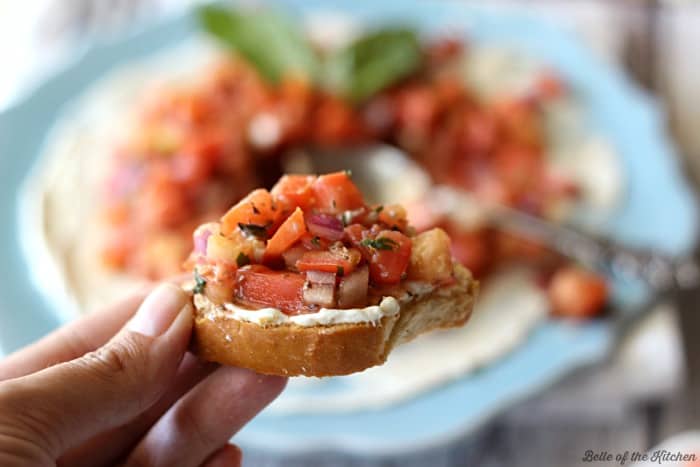 After I got my bruschetta just right, I started thinking of all the possibilities that could come from something so delicious. I always like to take things to the next level, and I knew that was exactly what could happen if I added a creamy layer to my bruschetta.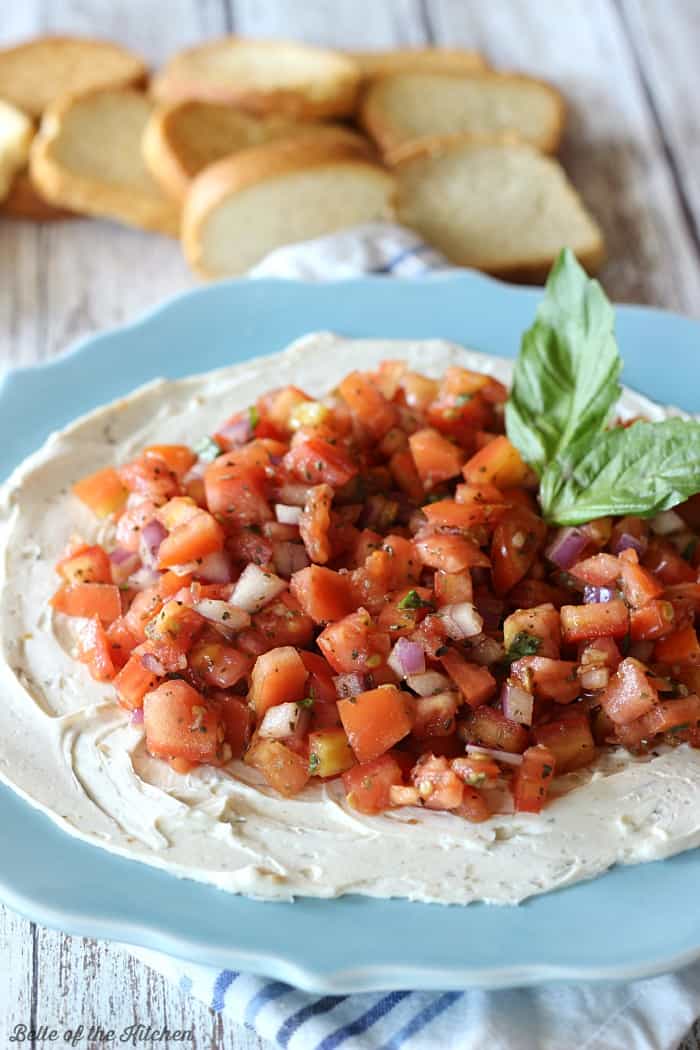 I used the Roasted Garlic and Herb Cheese Ball Mix from Tastefully Simple, which is delicious on its own, but created a match-made-in-savory-appetizer-heaven when I paired it with the bruschetta!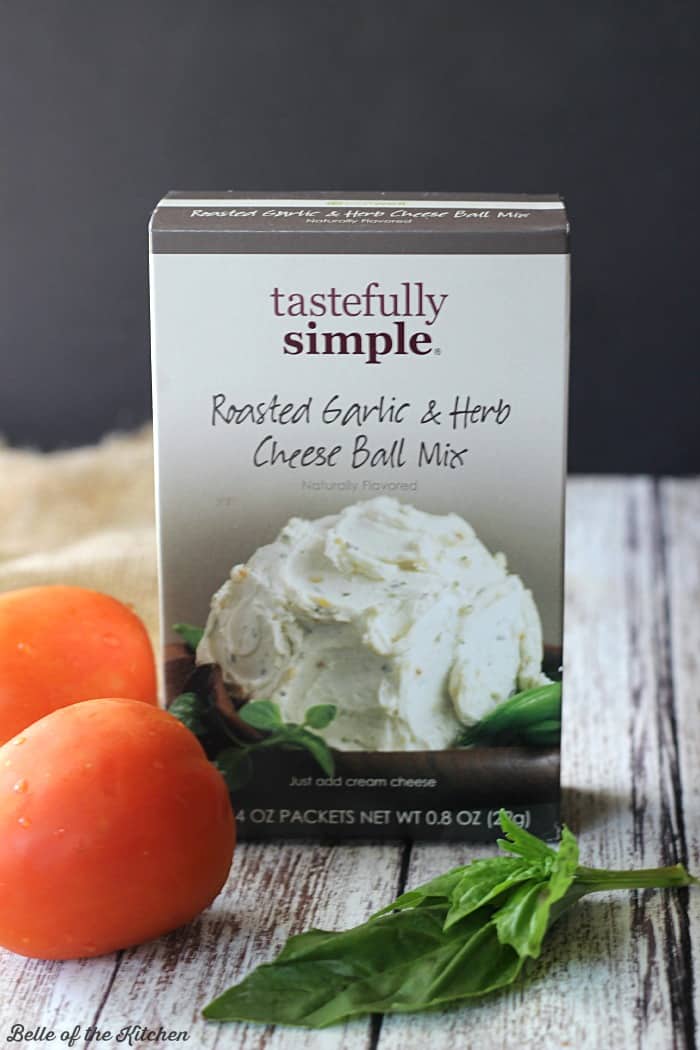 This was so good that when my husband came home from work and saw the leftovers in the fridge, he actually wanted to try it. This is a HUGE deal because my husband does not like tomatoes. He likes them in sauces, but that's about it. If there's a raw tomato anywhere, he doesn't want anything to do with it. He also doesn't like cream cheese, so this recipe was a double whammy! Y'all he DEVOURED this stuff! I was in shock a little bit listening to him say how awesome it was, and also a little sad because that meant it wasn't all going to be just for me! 😉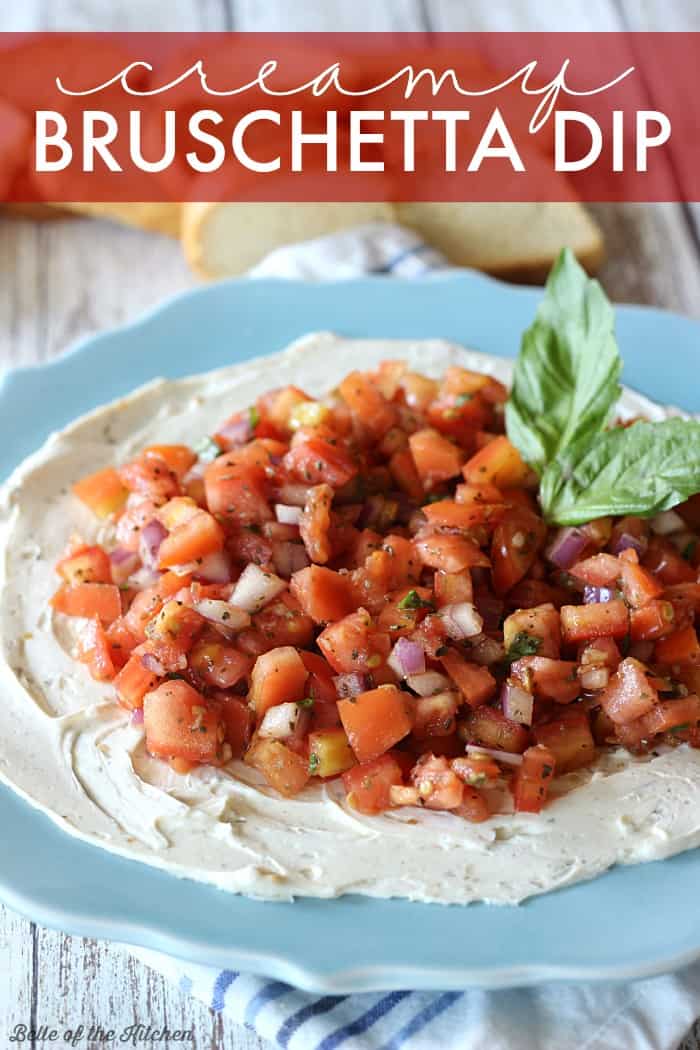 Enjoy y'all, and be sure to check out my other Tastefully Simple recipes here.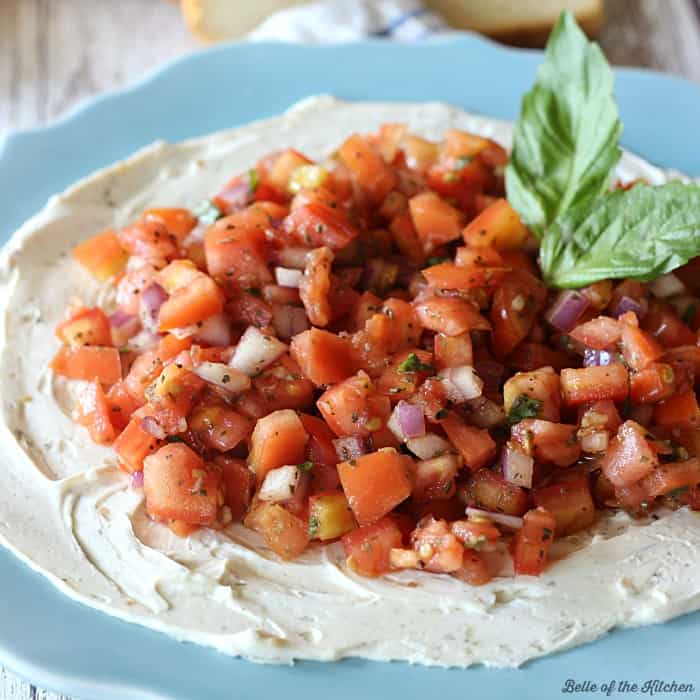 Creamy Bruschetta Dip
Creamy Bruschetta Dip Recipe Type : Appetizer Author: Ashlyn
Ingredients
1

packet Tastefully Simple Roasted Garlic and Herb Cheese Ball Mix

1

8 oz package cream cheese, softened

4

Roma tomatoes

seeds removed and diced

1/3

cup

red onion

diced

1 1/2

teaspoons

minced garlic

1 1/2

teaspoons

dried basil

2

teaspoons

balsamic vinegar

1/2

teaspoon

salt

fresh black pepper to taste

1

Tablespoon

fresh basil

chopped
Instructions
Combine cream cheese and Roasted Garlic and Herb Cheese Ball Mix in a small bowl, mixing thoroughly. Spread evenly onto a plate or small serving platter. Refrigerate until ready to use.

In a separate medium bowl, combine all remaining ingredients except for fresh basil and mix well. Cover and refrigerate for at least 30 minutes to allow flavors to blend. When ready to use, remove from refrigerator and add fresh basil. Spread bruschetta over the top of cheese ball mix. Serve with crackers, mini toasts, or slices of French baguette.