These Lemon Sugar Cookies are perfectly chewy and filled with white chocolate chips. They are the perfect treat for spring or anytime of the year!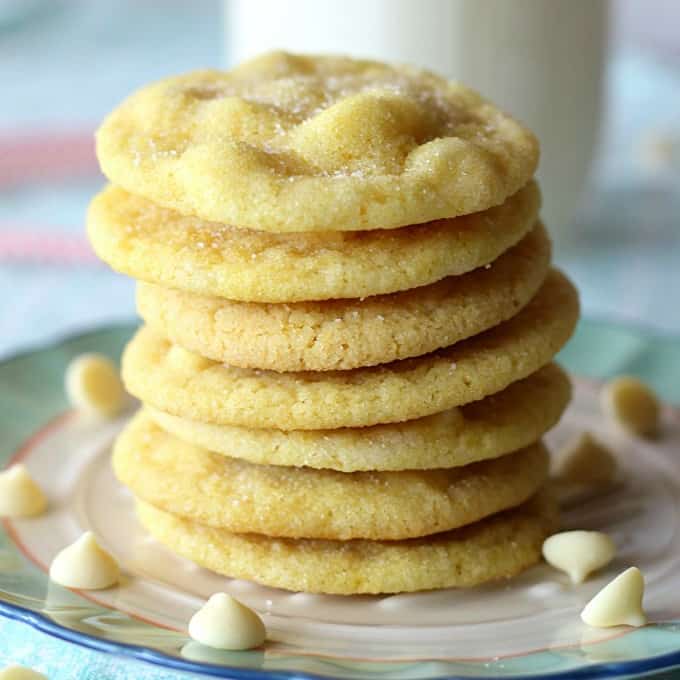 Hi there y'all, and happy Friday! If you're celebrating Good Friday today and Easter this weekend, I've got just the dessert for you to make for your special dinner or brunch!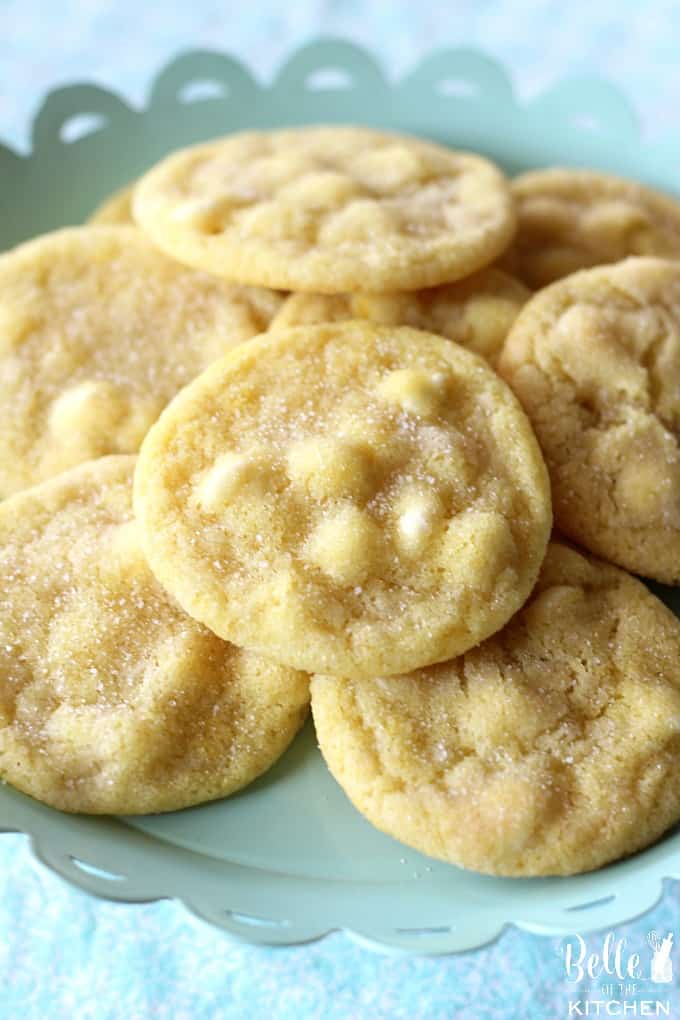 I'm excited for Easter this weekend, and am hopeful that both of my kids (and my husband and I!) are well enough to participate in all of the fun. We were supposed to head to an Easter Egg Hunt put on by my workout group yesterday morning, but my poor little guy woke up with a fever and the stomach bug, so we weren't able to go. It broke my heart seeing how devastated he was to miss it, all while feeling sicker than a dog at the same time.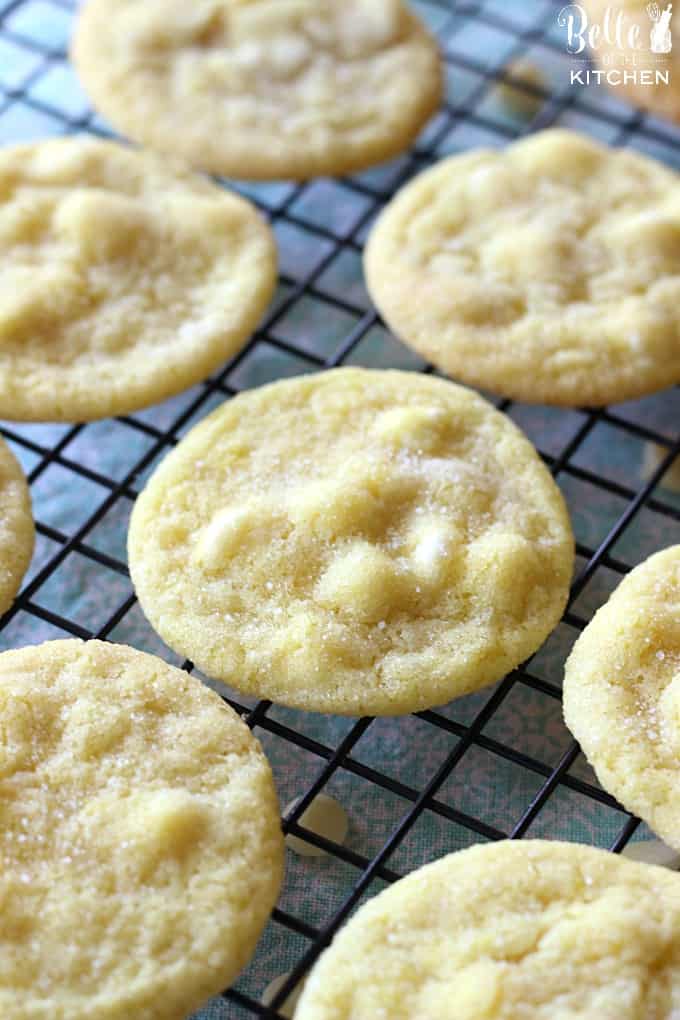 Doesn't it just hurt your heart when your kids feel disappointment like that? The night before he was so excited helping me fill plastic eggs with candy and treats for the hunt, and then he had the hardest time falling asleep because he was looking forward to it so much! When he stumbled into our bedroom around 4 a.m. complaining his tummy hurt, I knew that wasn't a good sign.
Here's hoping he's all healed up tomorrow so we can try another egg hunt and visit the Easter bunny, too. In the meantime, maybe I'll just stuff a few more of these cookies in my face and make another cup of coffee while I wash my third load of Paw Patrol sheets. Oh, the joys of being a mama.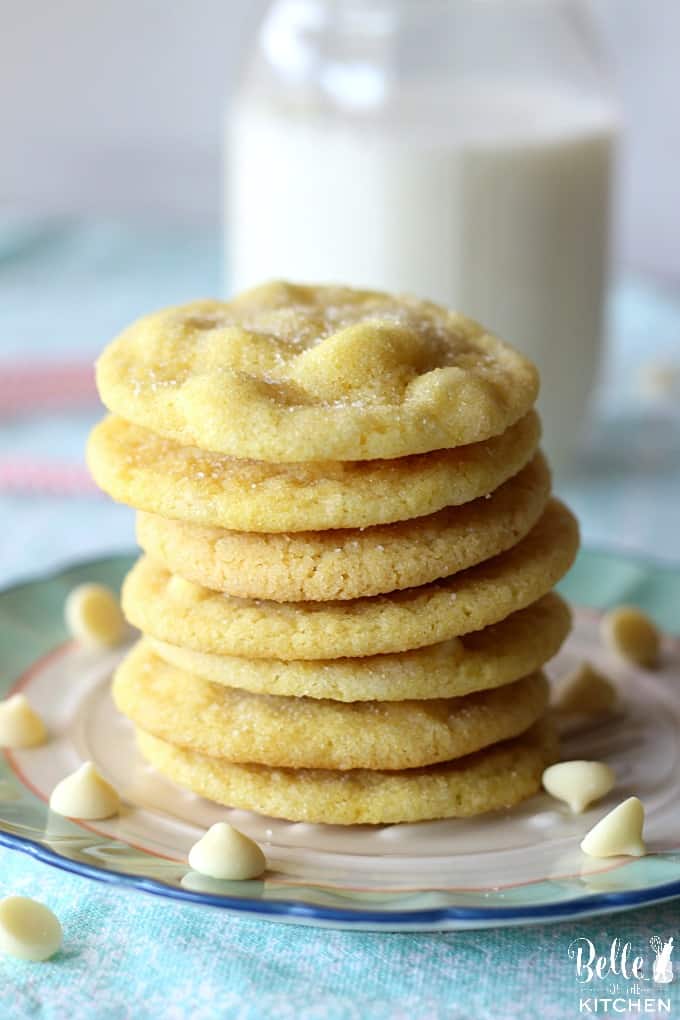 On a serious cookie note, if you are a lemon lover, then you are going to absolutely LOVE these cookies. They are perfectly chewy and they have just the right amount of delicious lemony flavor. I added white chocolate chips, but if you prefer your cookies plain you can totally leave them out. I also added a few drops of yellow food coloring to give them that pretty yellow color, but that's totally optional, too.
Happy Easter, y'all!

White Chocolate Lemon Sugar Cookies
Ingredients
¾ cup unsalted butter, softened
1 cup granulated sugar
1 egg
2 teaspoons lemon extract
2 Tablespoons light corn syrup
2 cups all purpose flour
1 teaspoon baking soda
1 teaspoon baking powder
¾ cup white chocolate chips
¼ cup granulated sugar, for rolling cookies in
yellow food coloring, optional
Instructions
Cream together butter and 1 cup of sugar with an electric mixer until fluffy. Add in the egg, lemon extract, and corn syrup, and a few drops of yellow food coloring (if using) and beat until combined.
In a medium bowl, sift together the flour, baking soda, and baking powder. Add to creamed mixture, beating a little at a time until fully incorporated and smooth. Stir in the white chocolate chips. Cover dough and chill in the fridge for one hour.
Preheat oven to 325 degrees and line baking sheets with parchment paper. Roll chilled dough into balls (about ⅛ cup each) and roll in the remaining ¼ cup sugar. Bake on prepared cookie sheets for 10-12 minutes, until edges are set. Cool on a wire rack before enjoying.
Adapted from
Allrecipes