Cajun Sausage Pizza – a creamy homemade cajun sauce tops your favorite pizza dough, then gets piled with sliced andouille sausage, bell peppers, and gooey cheese. Grab a slice and pair it with a glass of wine for an easy summer dinner!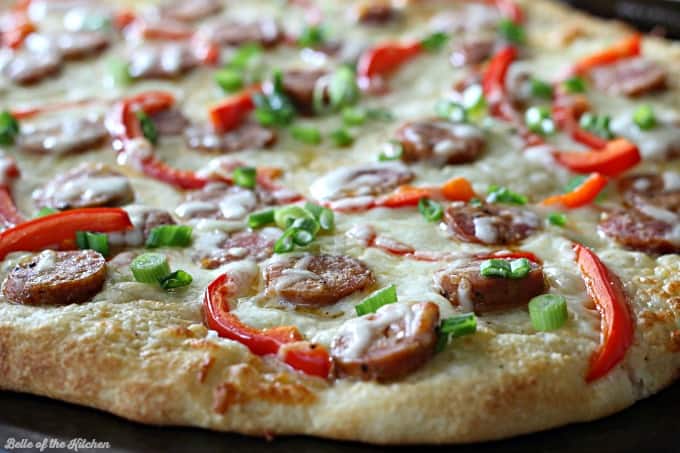 If I could profess my family's love for one specific food group it would be pizza, hands down. I mean, pizza does count as a food group, right? I'm going to go ahead and say yes, because considering the amount of pizza we eat on a regular basis it should be!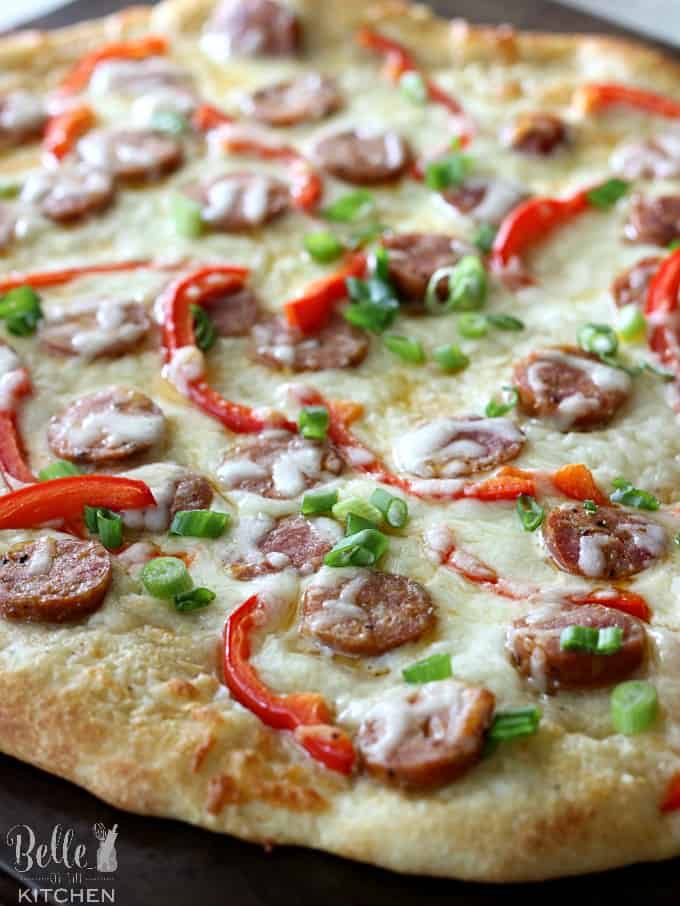 Pizza is also one of my favorite ways to experiment with food. I like to take some of my favorite meals and make them into a pizza, and 9 times out of 10 the results are just as I hoped for. I'm happy to report that this Cajun Sausage Pizza (a play on one of my favorite pasta dishes) is going to become a regular in our pizza night rotation! All of the yummy flavors dancing together on that crust are just sooooo good!
The big star of this pizza is the sliced Andouille sausage from Aidells®. It is my absolute favorite brand of sausage and it comes in so many delicious flavors and varieties. All of Aidells® Sausages are gluten free and contain no nitrites or added hormones. Plus they are fully cooked and ready in just 8-10 minutes flat! I couldn't wait to try out the Cajun Style Andouille in this pizza and it did not disappoint!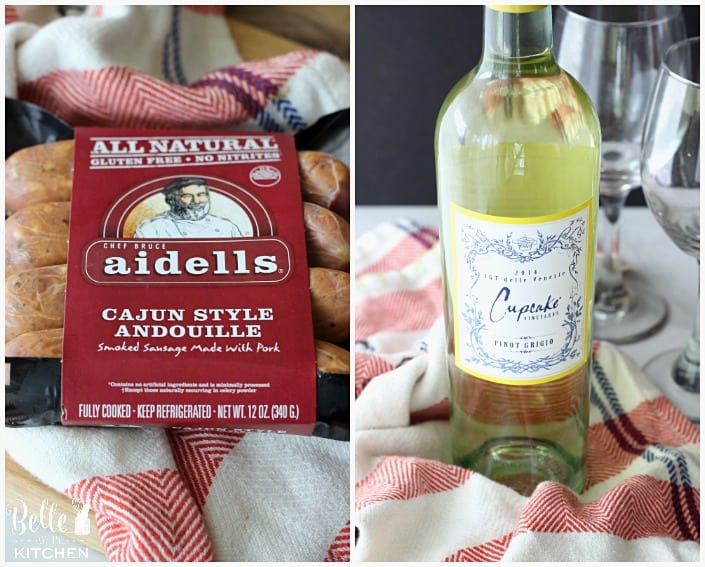 And when it's pizza night at our house (which we will be having a lot more of now that summer is in full swing) I trade in my iced water or tea for a big ole glass of wine.  Wine and pizza just go hand-in-hand, y'all. And after a long day of chasing my two crazy munchkins around, a glass of The Wine Group's Cupcake® Pinto Grigio becomes a necessity! I love their wines because they are luscious and silky and they make any occasion delicious. Especially a Friday pizza night. 😉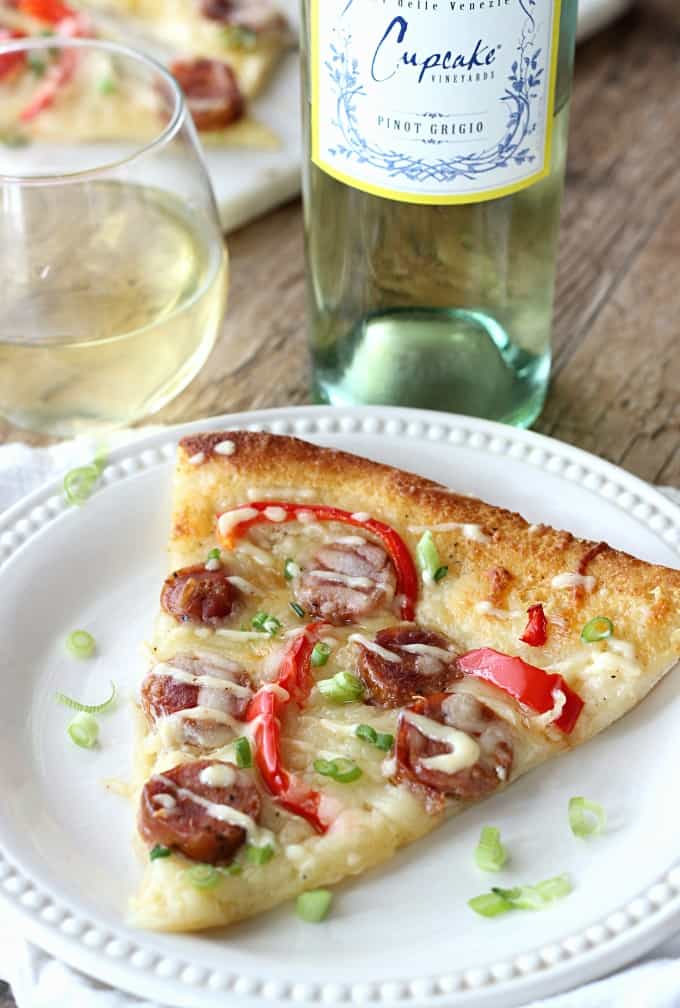 To help balance the heat from the andouille (which is on the milder side, by the way) I chose the Pinot Grigio to enjoy with my many slices of this Cajun Sausage Pizza. Then I enjoyed another glass  after all the pizza had been devoured because wine is like dessert, right? I mean, it is called Cupcake® after all… 😉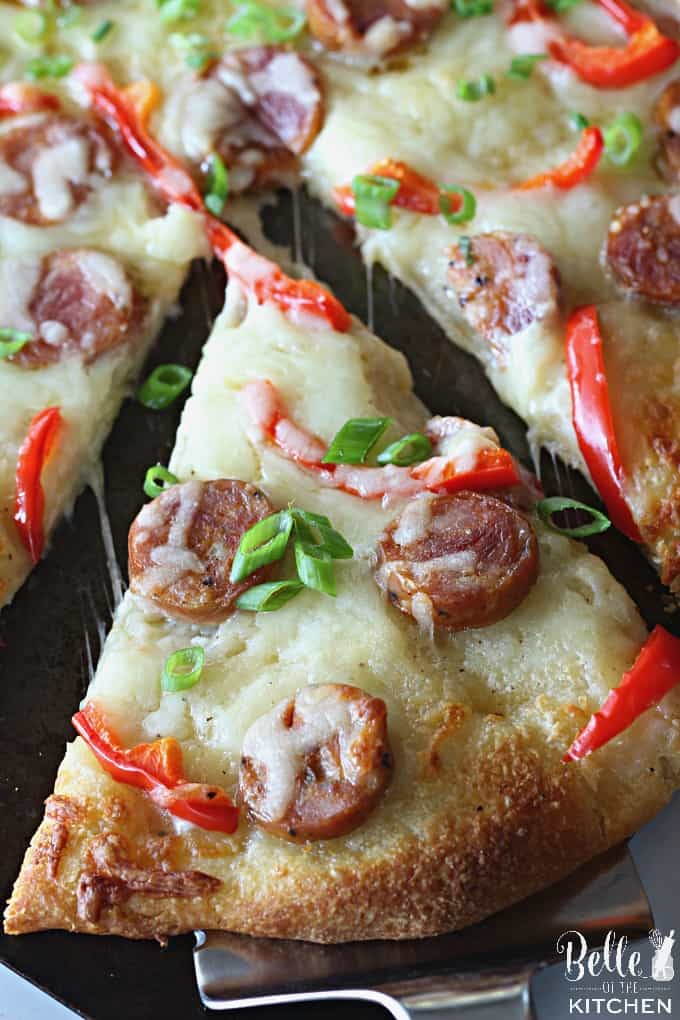 I purchased both the sausage and wine from my local Safeway store. I'll be shopping there pretty frequently this summer to pick up easy ingredients for summer time cooking and barbecuing. Ya know, juice boxes, popsicles, watermelon. Oh, and more wine, of course. 😉

Cajun Sausage Pizza
Ingredients
1 pizza crust (homemade or refrigerated)
¼ cup butter
¾ cup heavy cream
2 cloves garlic, minced
¾ tsp Creole seasoning
¼ cup grated parmesan cheese
1 (12 oz) packageAidells® Cajun Style Andouille Sausage, sliced
1 red bell pepper, sliced
1½ cups shredded mozzarella cheese
chopped green onions for topping
Instructions
Preheat oven to 425 degrees. Line a cookie sheet with parchment paper and set aside.
Melt butter in a small sauce pan over medium heat. Stir in garlic and cook until fragrant, about 30 seconds. Stir in heavy cream and Creole seasoning. Reduce heat to low and cook until sauce thickens, about 5-10 minutes. Remove from heat and stir in parmesan cheese until melted.
Roll pizza dough out onto prepared baking sheet. Spread sauce over the top, reserving a very small amount for drizzling over the top of pizza at the end (maybe a couple tablespoons). Top the pizza with sliced sausage, bell peppers, and cheese.
Bake in preheated oven for 12-16 minutes until cheese is melted and edges are golden brown. Slice and drizzle remaining sauce over the top. Enjoy!
Notes
*If you like a crispy crust, you can pre bake your crust for about 5 minutes before adding the toppings!

This is a sponsored conversation written by me on behalf of Aidells® & The Wine Group. The opinions and text are all mine.
Related posts: