Bacon Wrapped Spinach Artichoke Stuffed Chicken
This is a sponsored post written by me on behalf of Tyson Foods, Inc. All opinions are entirely my own. #sponsored #ad
Bacon Wrapped Spinach Artichoke Stuffed Chicken – juicy chicken breasts are stuffed with a cheesy spinach artichoke filling, then wrapped in thick cut bacon and baked to perfection. This is a dinner no one can resist!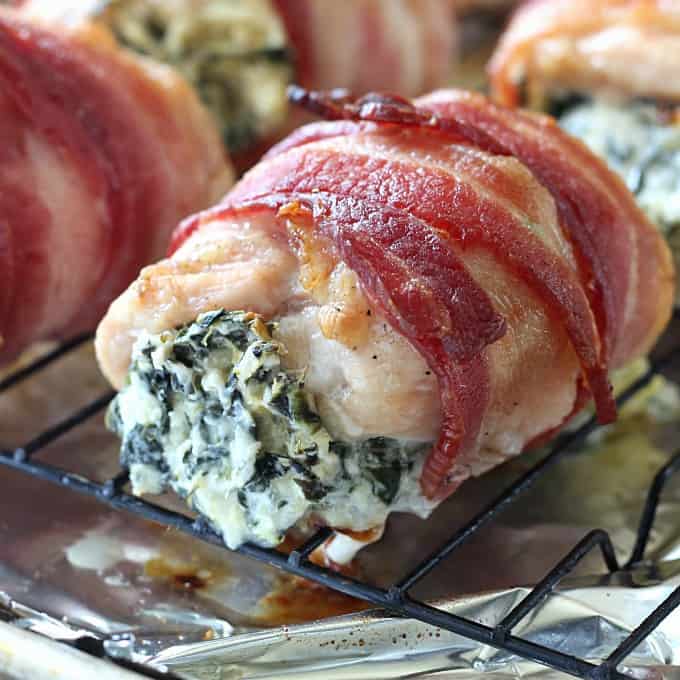 Hey y'all! I have a dinner of epically good proportions for you today. Bacon, chicken, cheese, and spinach artichoke dip come together and the result is nothing short of magical!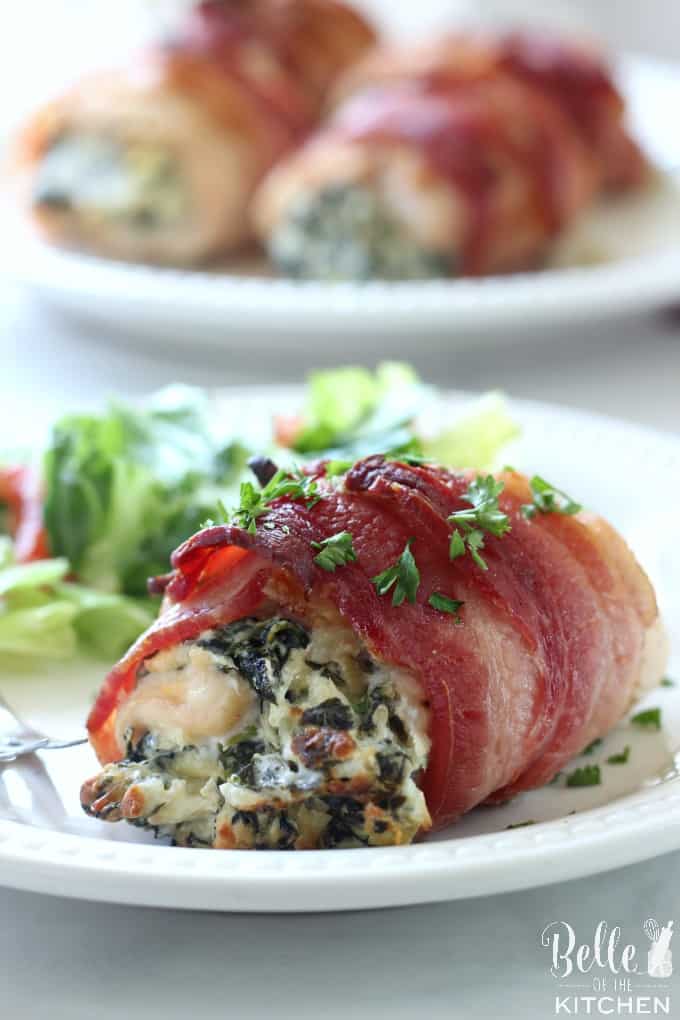 Have you ever heard the phrase "bacon makes everything better?" I've been a believer in that phrase for a long time now.
There is just something special about the effect that bacon has on food, and it can dress up just about anything. Heck, bacon is even the star of many desserts.
If you've never indulged in a Maple Bacon Donut before, I urge you to seek one out!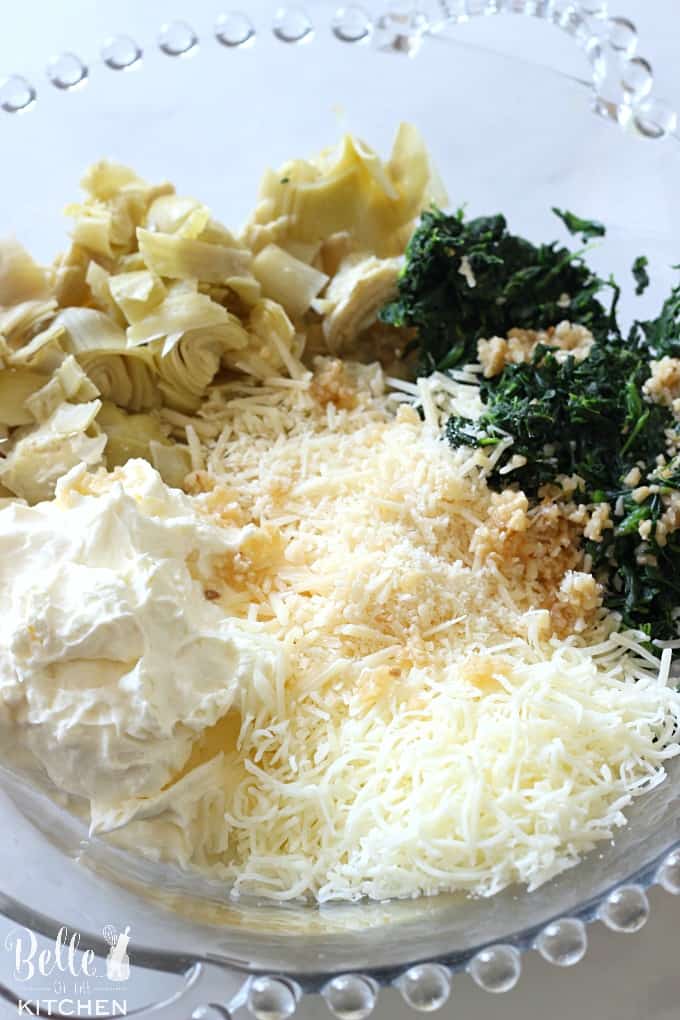 This Bacon Wrapped Spinach Artichoke Stuffed Chicken has been an idea that's been floating around in my head for a long time now. I'm always looking for fun ways to dress up a chicken breast, and stuffing them is one of my favorites.
The possibilities are truly endless. Spinach Artichoke Dip is one of my favorite appetizers and I thought it would taste pretty yummy paired with chicken. Then for a truly delicious finishing touch, I thought, HEY! Why not wrap it all up in bacon?!
I mean, ANY excuse to use my absolute favorite bacon of all time, Wright® Brand Applewood Smoked Bacon, is a win win for me.
I've loved Wright Brand Bacon for a long time and like to buy mine from my local Kroger store. It's thick-sliced, hand-selected & hand-trimmed, high quality, and comes from the best cuts of premium meat.
It's also naturally smoked with wood chips to give it that unique and delicious flavor. It comes in five different flavors including Hickory Smoked, Smoked Brown Sugar, Bourbon Barrel Smoked, Oak Barrel Smoked, and my personal favorite, Applewood Smoked.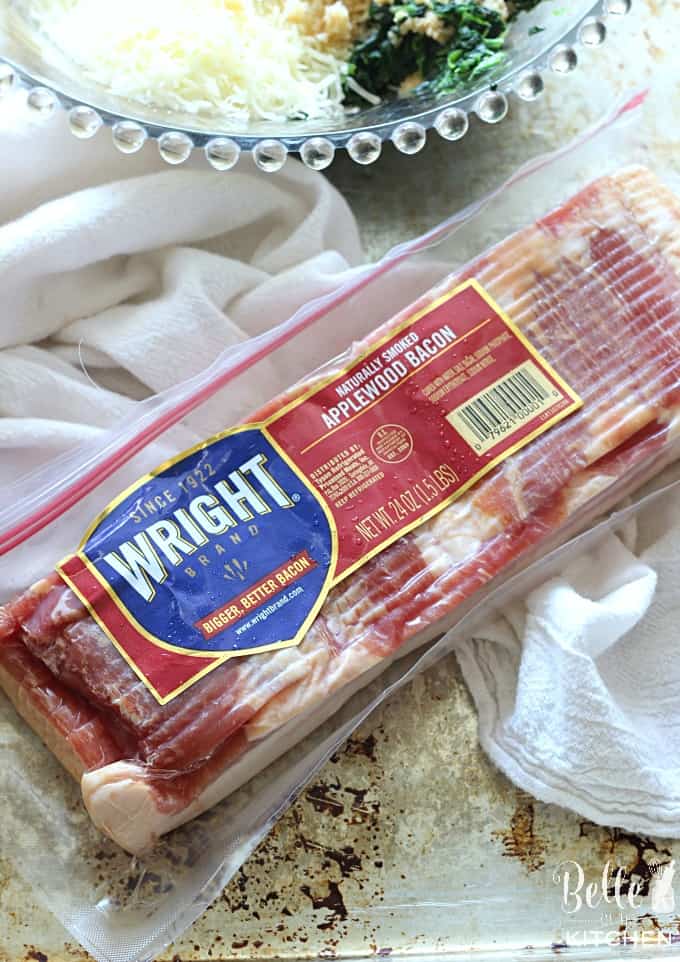 Do you have a favorite flavor? If so, head over and vote in the Bacon The Wright Way™ poll! There are so many great flavors, it's hard to choose just one!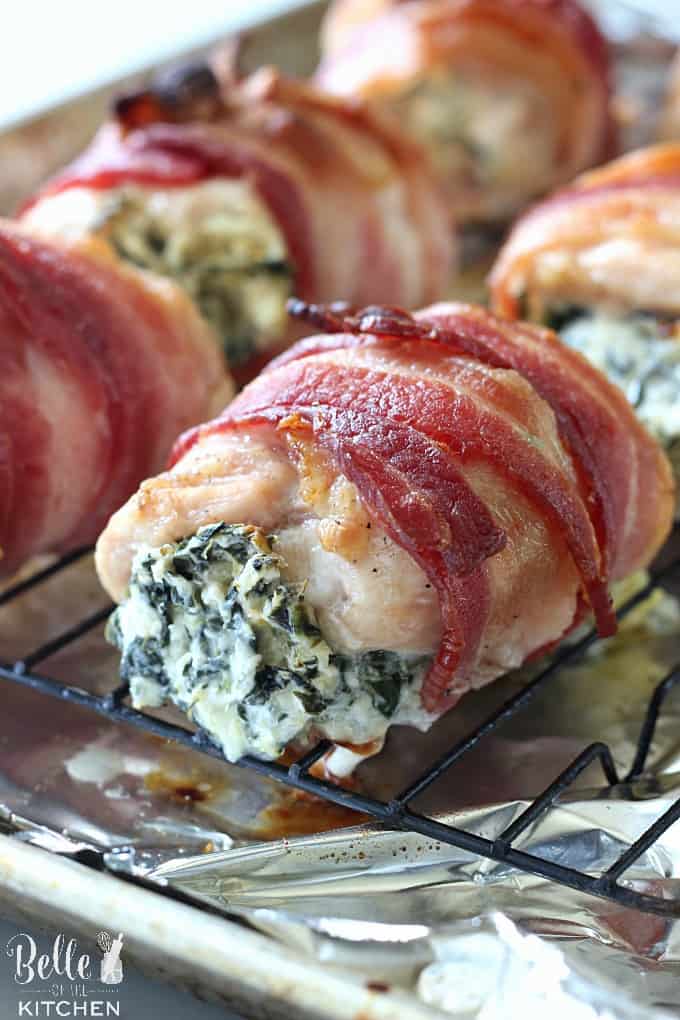 Enjoy y'all!!!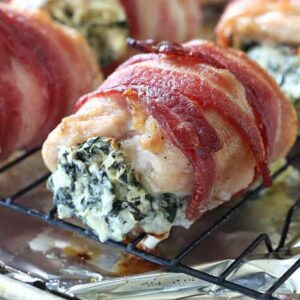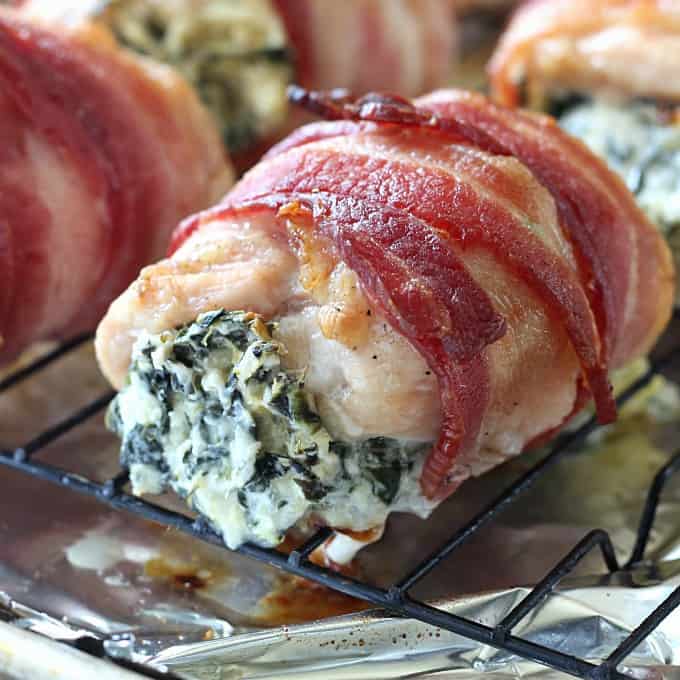 Bacon Wrapped Spinach Artichoke Stuffed Chicken
Juicy chicken breasts are stuffed with a cheesy spinach artichoke filling, then wrapped in thick cut bacon and baked to perfection. This is a dinner no one can resist!
Ingredients
Chicken:
4 large chicken breasts, sliced in half thinly (makes 8 thin breasts)
1 package Wright Brand Bacon Applewood Smoked flavor
salt, pepper, garlic powder
Spinach Artichoke Filling:
1 8 oz package cream cheese, softened
1 10 oz package frozen spinach, thawed and drained
1 14 oz can artichoke hearts, drained and chopped
2-3 cloves garlic,, minced
3/4 cup shredded mozzarella cheese
1/3 cup shredded parmesan cheese
Instructions
Preheat oven to 375 degrees. Line a large rimmed cookie sheet with aluminum foil and top with a wire baking rack. Set aside.

Slice chicken breasts thinly in half to create two thin breasts. You will have 8 total after slicing. Sprinkle each piece of chicken with salt, pepper, and garlic powder.

In a medium sized bowl, mix together the cream cheese, spinach, artichoke hearts, garlic, mozzarella, and parmesan. Spread a generous amount of filling on top of each chicken breast, then roll up carefully. Wrap with two slices of bacon and secure with toothpicks. Place each bundle on top of the rack on your prepared cookie sheet.

Bake in preheated oven for 30-40 minutes or until chicken is fully cooked. Switch oven to broil and cook for 2-3 more minutes until bacon is crispy. Enjoy!
Calories: 490kcal, Carbohydrates: 6g, Protein: 35g, Fat: 35g, Saturated Fat: 13g, Cholesterol: 138mg, Sodium: 808mg, Potassium: 660mg, Fiber: 2g, Sugar: 1g, Vitamin A: 5185IU, Vitamin C: 13.9mg, Calcium: 195mg, Iron: 1.8mg
What are your favorite bacon recipes? Share them on social media and hashtag them #VoteWrightBrandBacon @WrightBacon

.
This site contains affiliate links, if you make a purchase through them, we receive a small commission.