Baked Blueberry Oatmeal
I'm not really that crazy about traditional, gooey oatmeal. I think it all comes down to texture, so most oatmeal needs to have some chunky bits (nuts, dried fruit, etc.) in order for me to actually enjoy it. But baked oatmeal? That is texture perfection!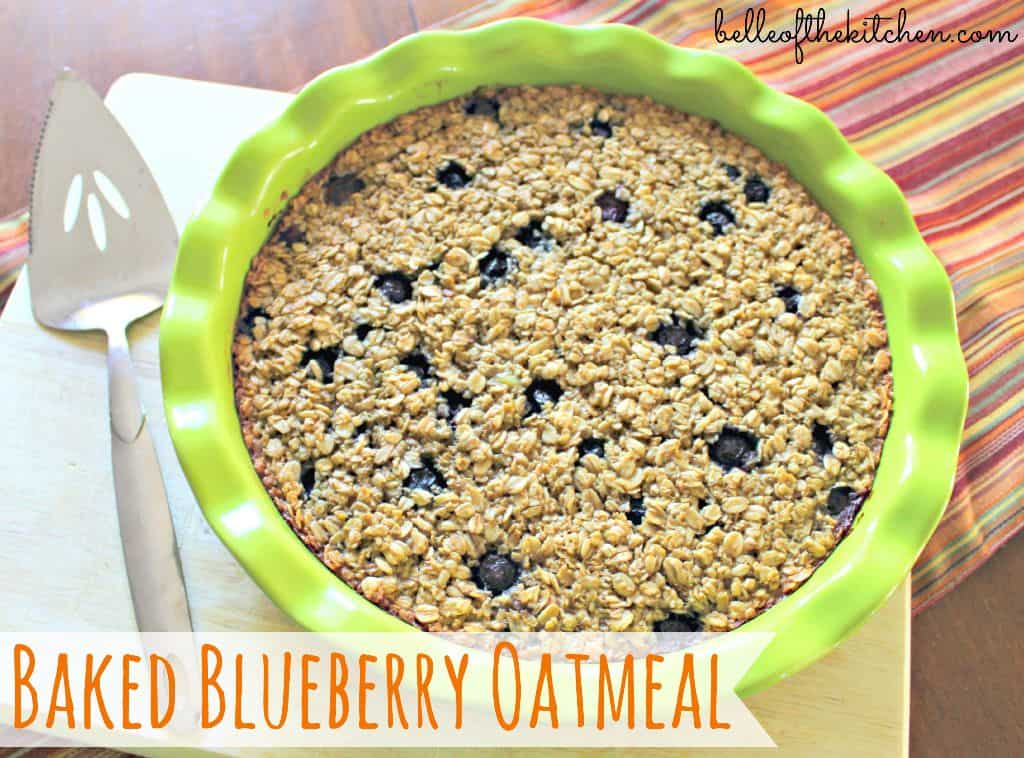 Mmmm. Perfectly crunchy, chewy, and baked with juicy blueberries, this baked oatmeal is a breakfast favorite at our house. I usually make this about once a week, and I make enough for Fischer and I to have at least one more serving for another morning. This is definitely his favorite breakfast, aside from the obvious pancakes and waffles that we have on occasion.
I've been making this oatmeal for quite awhile now, so I've tweaked it to suit our needs. I've cut down on the sugar and butter, and replaced the dairy milk with almond milk (more calcium and less calories!) I'm currently in weight loss mode to shed some baby weight, and am trying to cut down on calories wherever I can without compromising flavor.
Myfitnesspal is a fabulous app for weight loss, or just tracking food intake, by the way. I've been using it for the past two months and love it. Based on what you eat, it will also tell you how close you are to meeting your nutritional needs for the day, like calcium, fiber, iron, vitamin A, etc. Now that is useful info all of us need to know!
So here's the ingredient line-up: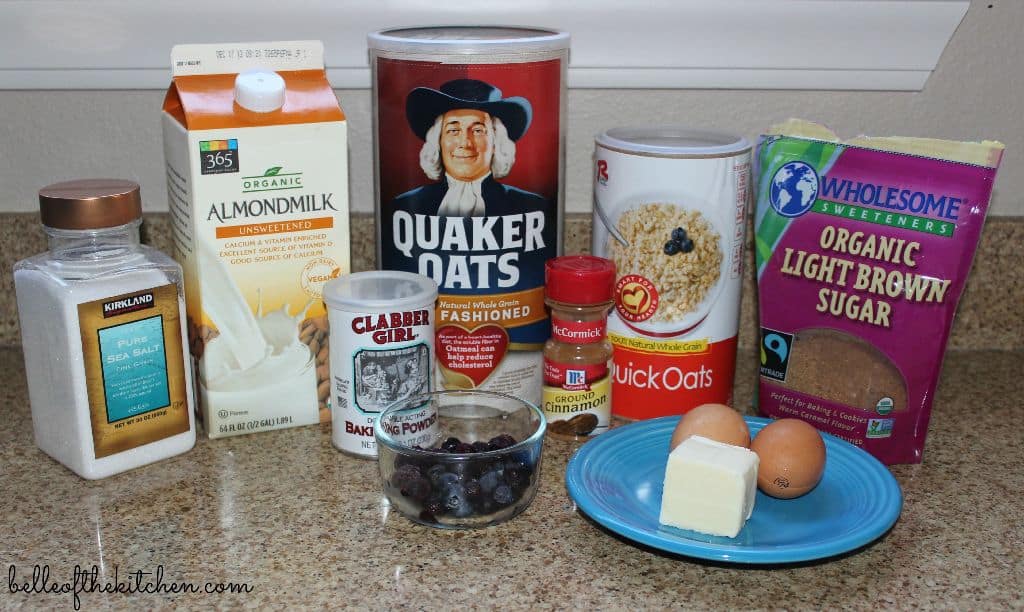 Start by mixing together the oats, brown sugar, baking powder, salt, and cinnamon in a large bowl. In a small bowl, combine the melted butter, eggs and milk.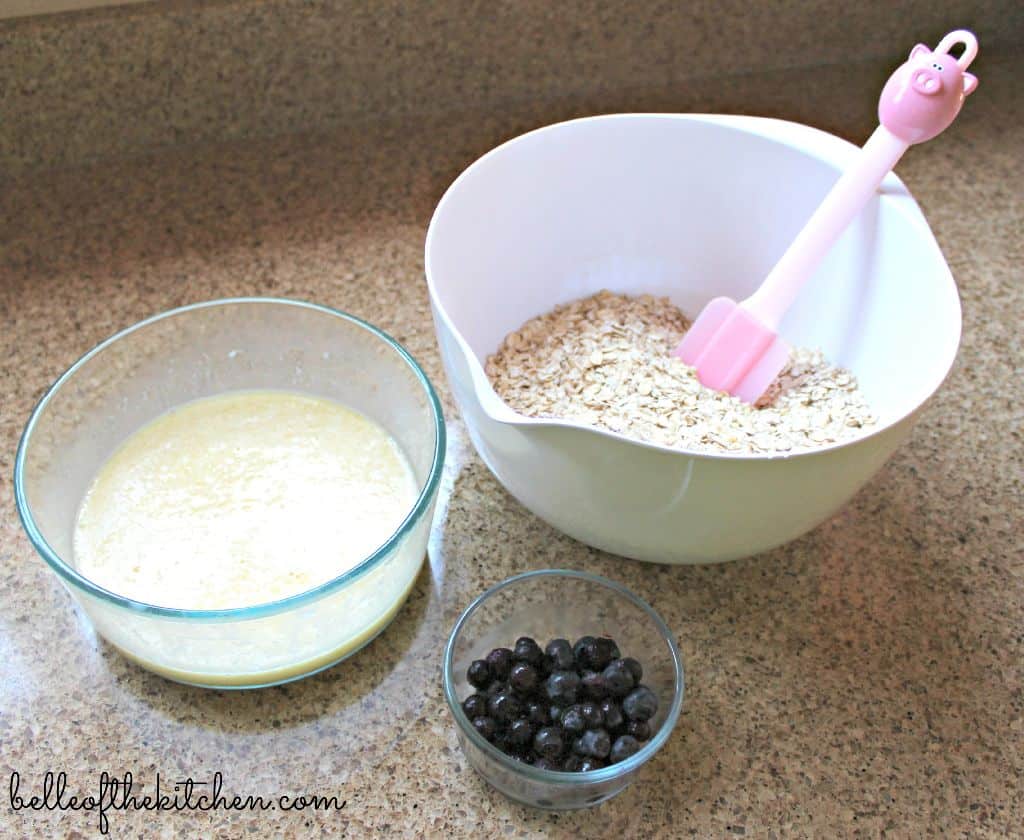 Mix the wet ingredients into the oat mixture, then fold in the blueberries. Pour into a greased baking dish and bake for 40 minutes, till golden brown on top and at the edges.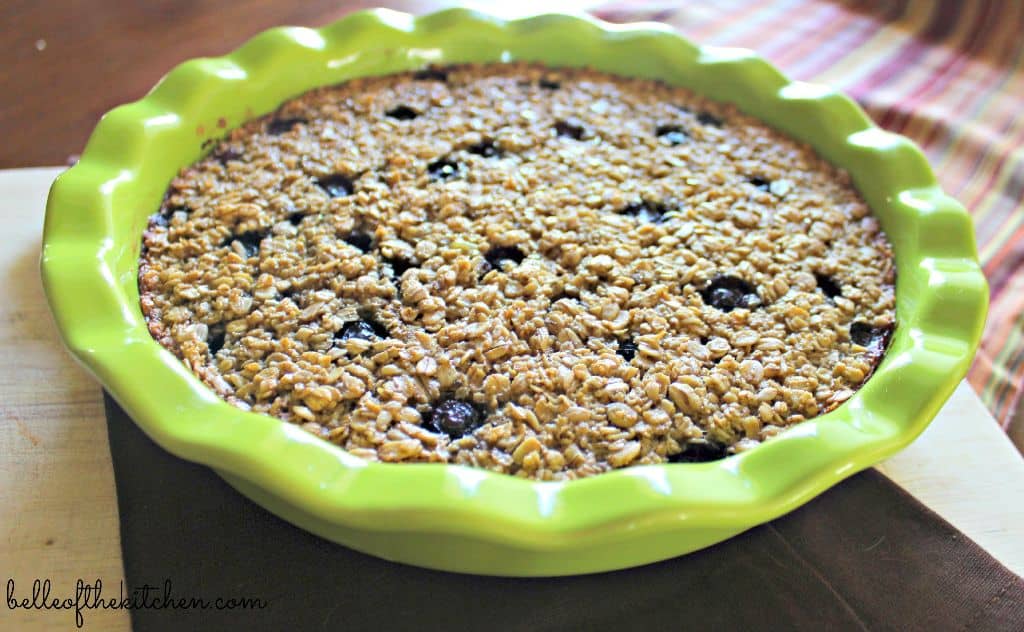 I like to top mine with a little vanilla Greek yogurt and a sprinkle of cinnamon.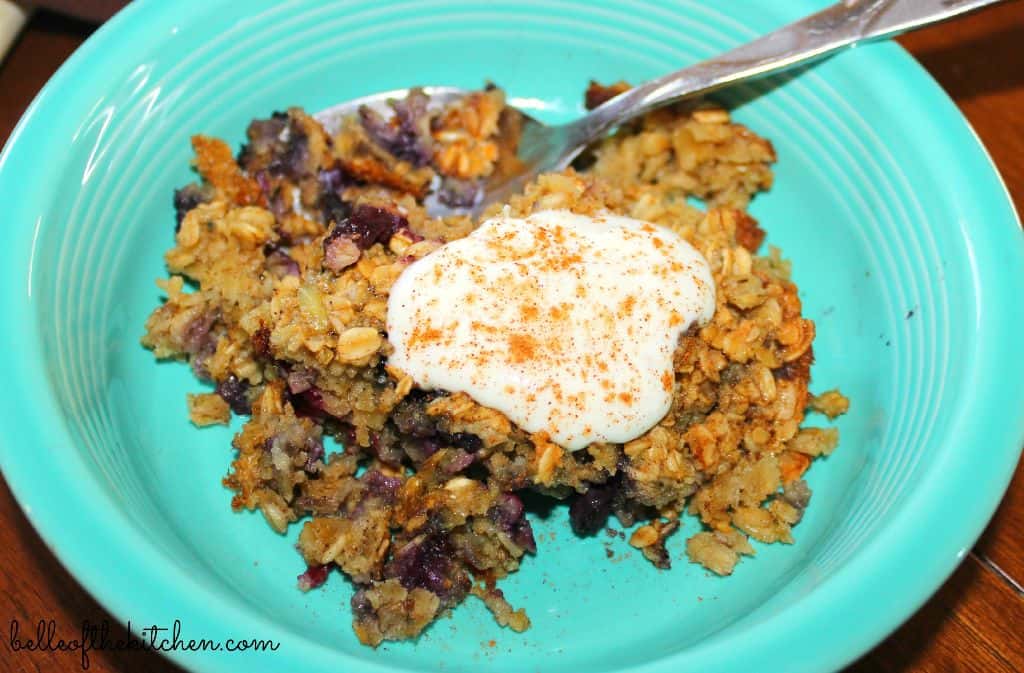 Enjoy! It's a delicious, healthy way to start your day!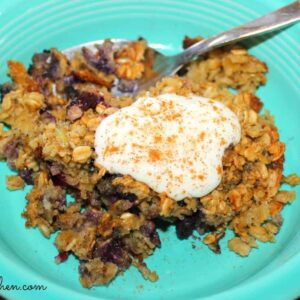 Baked Blueberry Oatmeal
This Blueberry Baked Oatmeal is a warm and comforting breakfast! Top with a dollop of Greek yogurt for an extra creamy treat.
Ingredients
3 cups oats, (I use a mixture of old fashioned and quick oats)
1/2 cup packed brown sugar
2 teaspoons baking powder
1 teaspoon salt
1/2 teaspoon cinnamon
2 eggs,, beaten
1 cup milk, (I used almond milk)
1/4 cup butter,, melted
1/2 cup blueberries
Instructions
In a large bowl, combine the oats, sugar, baking powder, salt, and cinnamon.

In a separate smaller bowl, mix together the eggs, milk, and butter.

Stir the wet ingredients into the dry ingredients then fold in the blueberries. Grease a baking dish, and pour the oatmeal mixture in, spreading evenly.

Bake at 350 degrees for 40 minutes (edges will be golden brown) and cooked through. Enjoy!
Serving: 1g, Calories: 259kcal, Carbohydrates: 37g, Protein: 6g, Fat: 9g, Saturated Fat: 4g, Cholesterol: 59mg, Sodium: 376mg, Potassium: 291mg, Fiber: 3g, Sugar: 16g, Vitamin A: 285IU, Vitamin C: 0.9mg, Calcium: 113mg, Iron: 1.7mg
This site contains affiliate links, if you make a purchase through them, we receive a small commission.