Chicken Noodle Soup with Rosemary and Ginger
December is the perfect month for delicious soups, (even if you live in Hawaii!) And what is more comforting than a steamy bowl of homemade chicken noodle soup?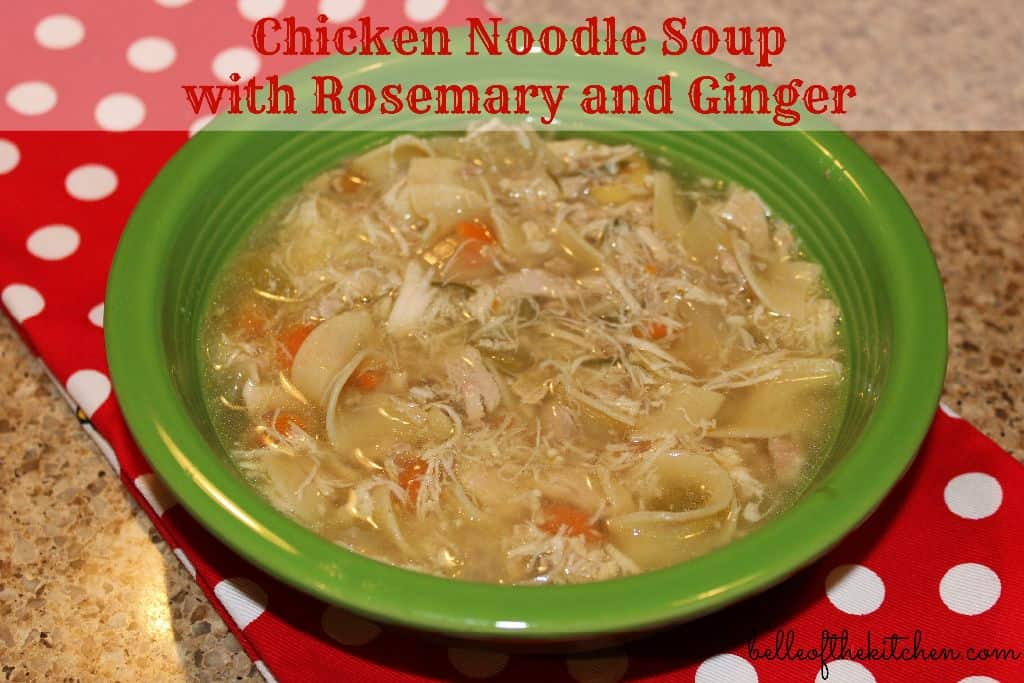 To be completely honest, chicken noodle soup is not normally a soup that I find myself craving. I think it comes from the fact that I can still remember my mom bringing a tray to my room with a bowl of chicken noodle soup on it whenever I was sick as a child. While I cherish that sweet memory of my mom and how well she cared for us when we were under the weather, to this day I simply associate feeling sick with eating chicken noodle soup. Kind of like how I can't stand saltine crackers because that's all I could eat for the first 18 weeks of my pregnancy with Caroline. I literally carried a sleeve of those crackers around with me wherever I went! Flash forward 3 months post-pregnancy, and I want absolutely nothing to do with those things!

THIS soup, however, is a far cry from the chicken noodle soups that nursed me back to health as a little girl. This soup is seasoned with fresh rosemary and ginger, giving it a wonderful balance of flavors. No bland soup here! You'll find yourself constantly checking the clock until dinner because it smells amazing, too. Oh yeah, did I mention it cooks ITSELF in the crock pot? More betta!
Get started by chopping up an onion, a couple ribs of celery, and some carrots. Also slice two thin "coins" of fresh ginger and peel.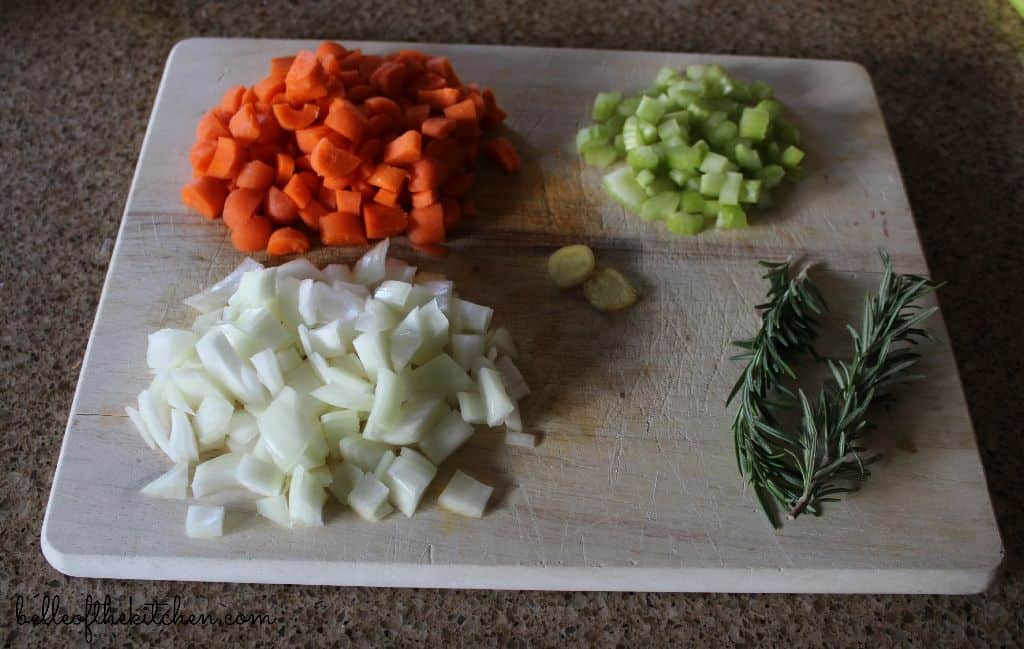 Place your chopped veggies, ginger, and 2 sprigs of rosemary into the bowl of your crock pot. Top with 8 chicken thighs and season the meat with salt, pepper, garlic powder, and a little poultry seasoning. Pour chicken broth over the top then cover and set on low for 6-8 hours.
After many hours of smelling this yummy soup, remove the chicken from pot and shred with two forks. Add it back in along with 2 cups of dry egg noodles. Turn to high for 20-30 minutes until noodles are cooked. Make sure to remove rosemary "sticks" when serving!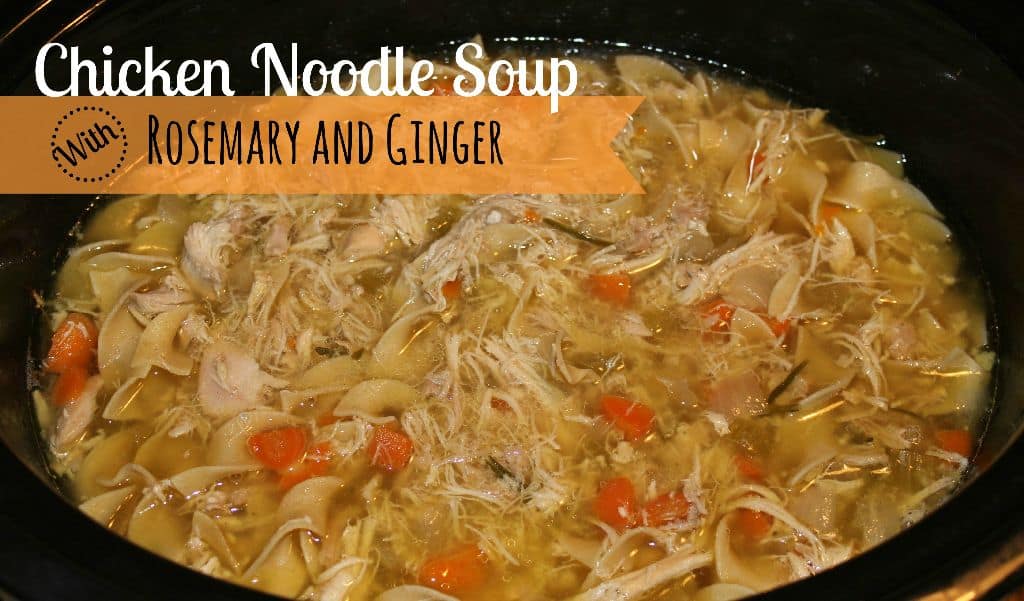 Oh yum! This makes me want to go grab another bowl right now! It was so good, y'all, really. Give it a try. Whether
you're seeking comfort food or just a tasty, healthy dinner, this is it! Enjoy. 🙂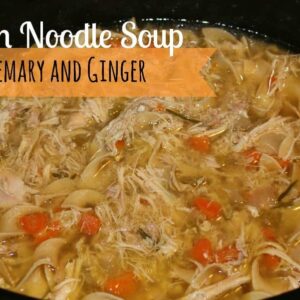 Chicken Noodle Soup with Rosemary and Ginger
This Chicken Noodle Soup is made right in your slow cooker and is so comforting and delicious. It's packed with flavor thanks to the rosemary and ginger.
Ingredients
1 1/2 cups carrots, chopped
2 ribs celery, chopped
1 medium onion, chopped
2 slices ginger, approx. 1/4 inch thick each, peeled
2 sprigs fresh rosemary
8 boneless, skinless chicken thighs
4 1/2 cups low sodium chicken broth
salt and ground pepper to taste
Sprinkling of garlic powder and poultry seasoning
2 cups dry egg noodles
Instructions
Add carrots, celery, onion, ginger, and rosemary to bowl of crock pot.

Arrange chicken on top of vegetables and season with salt, pepper, garlic powder, and poultry seasoning.

Add broth, cover and cook on low for 6-8 hours.

Remove chicken, shred with two forks and put back into pot along with egg noodles.

Cook on high for 20-30 minutes or until noodles are cooked.
Serving: 1g, Calories: 265kcal, Carbohydrates: 9g, Protein: 41g, Fat: 5g, Saturated Fat: 1g, Cholesterol: 122mg, Sodium: 263mg, Potassium: 877mg, Fiber: 1g, Sugar: 1g, Vitamin A: 3300IU, Vitamin C: 4.4mg, Calcium: 28mg, Iron: 1.1mg
This site contains affiliate links, if you make a purchase through them, we receive a small commission.