Caramel Pecan Slab Pie Recipe
This Caramel Pecan Slab Pie is the perfect dessert for the holidays! A buttery crust is topped with crunchy pecans and a sweet caramel filling, then baked on a sheet pan. Cut into slices and top them with whipped cream and a drizzle of caramel for a truly decadent dessert!
I can hardly believe I'm saying this, but the holiday season is finally here, y'all! As of today, Thanksgiving is just two weeks away so that means it's time to start shopping and planning those menus! I'm extra excited about celebrating Thanksgiving this year and eating ALL THE THINGS. I was pregnant and super sick last year, so mashed potatoes were about all that sounded good to me. This year is going to be different, and I CANNOT WAIT!
One of the things I'm looking forward to the most this year is dessert! I mean, isn't that the best part of every meal? Pecan pie tops my list of favorite desserts, and my mama makes the absolute BEST. Since we are an army family and live far away from home, I'm not always able to get my pecan-pie fix directly from the expert. So every year I make my mama's pie and think of her as I eat it. Last year we Facetimed while I stuffed my face with it.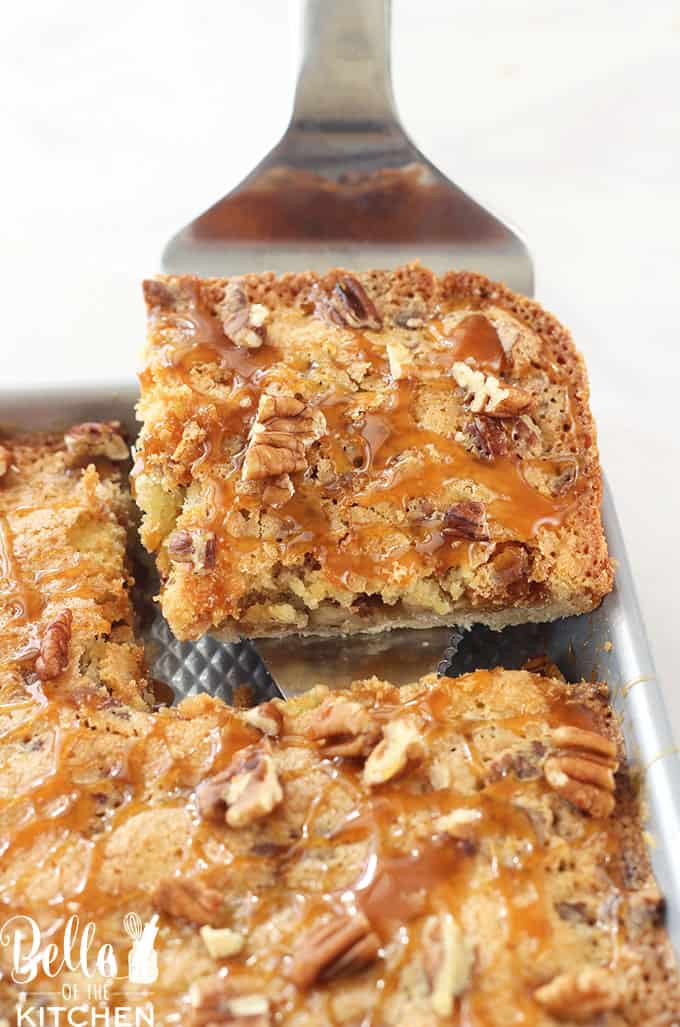 While holidays make it especially hard to be away from family, I also count my blessings that the army has given us the chance to live in some truly wonderful places. We got to spend 3 1/2 years in Hawaii, and I will never take that for granted! We were truly blessed once again when had the opportunity to move to Texas, and all I can say is that there are so many reason that I LOVE this state! I mean, tacos, cowboy boots, friendly people, and of course H-E-B!❤️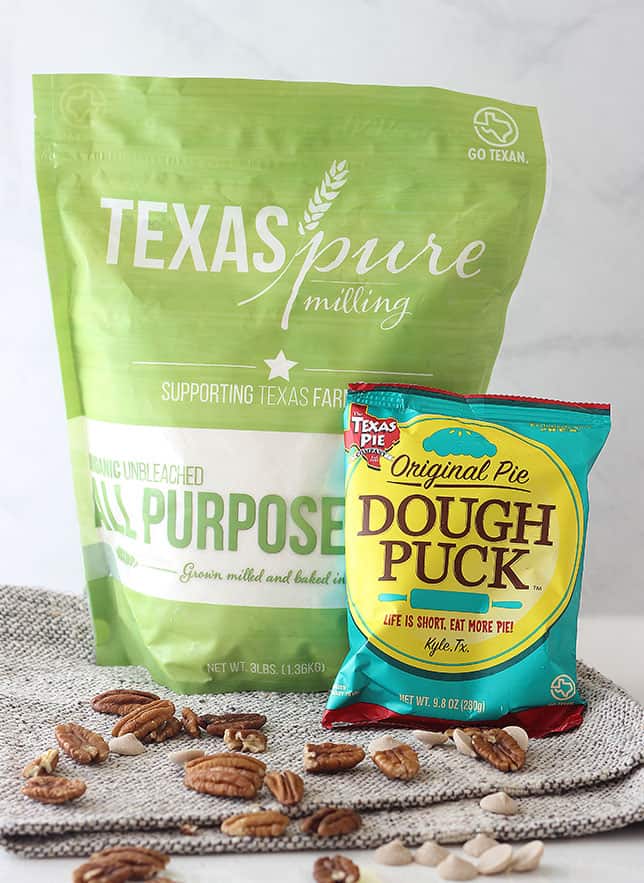 I've mentioned my love of H-E-B on the blog here before, because it is truly an amazing grocery store. If we ever have to leave Texas, I will seriously cry over having to move away from H-E-B because it is such a special place and you can always find unique and useful products there. I'm a big fan of their Primo Picks line, which highlights items that are either unique to Texas, or only available at H-E-B if you shop in Texas. This month, two of those products include this Pie Dough Puck from the Texas Pie Company, and also this Organic All Purpose Flour from Texas Pure Flour. Both products are made right here in Texas and support local Texas companies, which I LOVE. They are also both very important ingredients in this Caramel Pecan Slab Pie!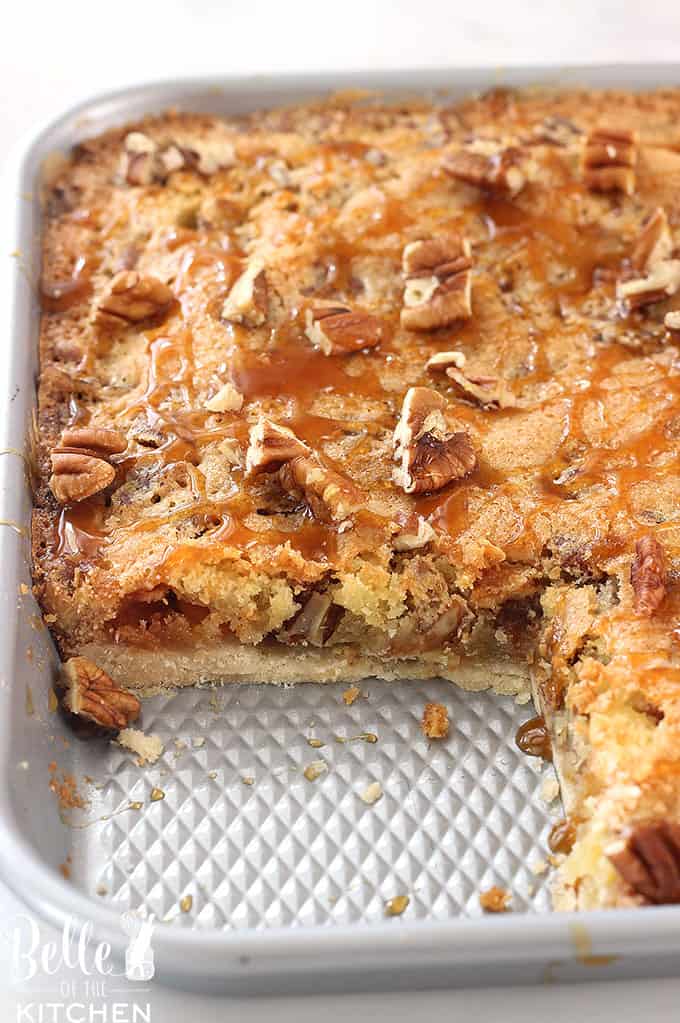 This pie is special for a couple of reasons. For one, it's full of sweet, caramel flavor inside and out, which pairs so well with those delicious nutty pecans. It's a really yummy twist on traditional pecan pie!
And two, it's made in a sheet pan, hence why it's called a slab pie. I used a smaller sheet pan for this (size 9×13) which was the perfect fit for the Dough Puck once it was rolled out. Baking it on the sheet pan makes the entire pie-making and serving process easier and more versatile. For example, you can serve the pie in large pieces on plates, topped with whipped cream, and eat it with a fork, just like you would a regular pie. OR you can cut the pie into smaller bar-size pieces, which are handy for parties where people can grab-and-mingle without ever needing a plate! That's just one of my handy-dandy holiday tips for ya!
And here's a couple more…
A few Tips to make Holiday Meals Easier:
Prepare, prepare, and prepare some more! For me, the easiest way to eliminate extra stress when I'm planning holiday meals, events, or get togethers is to be well prepared. I make a lot of lists and enjoy crossing items off those lists when I'm done. It's such a satisfying feeling!
Cook what you can ahead of time and freeze it. If you're able to prep a few dishes ahead of time and freeze them, that will help make less work in the kitchen on the day of your big meal. Desserts are one of the easiest things to freeze, like this Caramel Pecan Slab Pie. Just wrap the pan (once it's cooled completely from baking) in plastic wrap and aluminum foil, then pop it in the freezer. Take it out the night before and thaw in the fridge. You can also warm it up in the oven once it's thawed, for around 15 minutes at a low temp like 250.
Keep a few "hacks" on hand. Sometimes cooking everything from scratch can feel completely overwhelming, especially when you're cooking for a crowd. I like to simplify and take away some of the stress off by grabbing ready-made items, like fruit or veggie trays, salad kits, pre-chopped veggies for side dishes (thank you, H-E-B produce section!) and ready to roll-out pie dough, like the kind in my Caramel Pecan Slab Pie. Easier is better, y'all!
Take a breather and enjoy yourself. Holidays can be stressful, but don't let that take away from the real "reason for the season." Enjoy that special time with your family and friends, and try not to worry too much if things don't all go according to plan. Make sure to carve out a bit of "me time" for yourself during all of the holiday prep so that you don't feel burned out!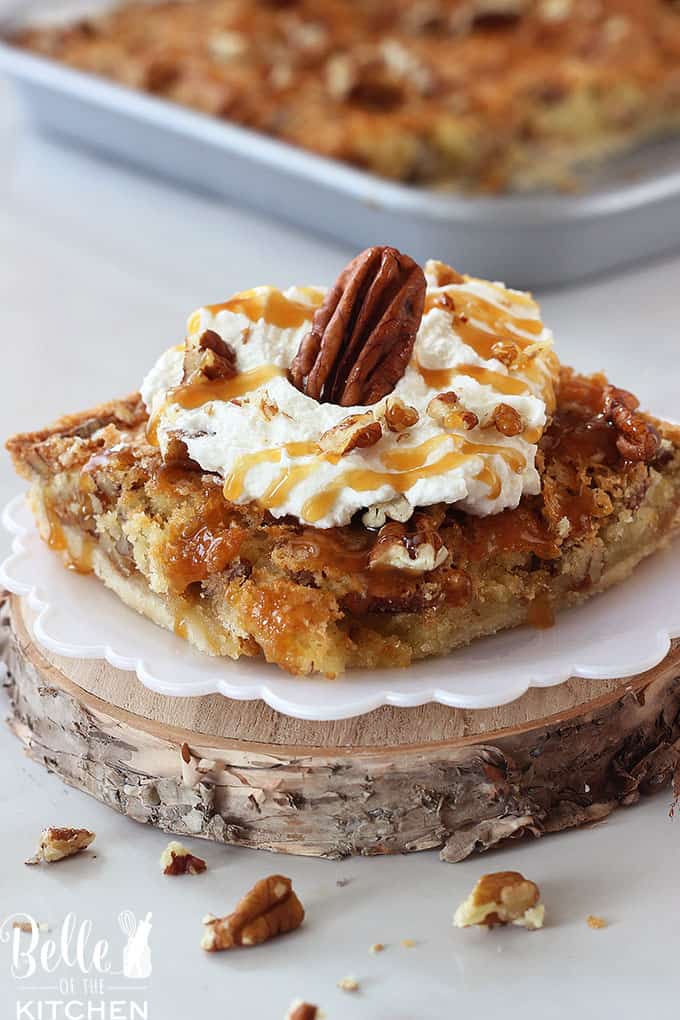 For more holiday recipes and tips, be sure to check out all of H-E-B's November Primo Picks here. Happy holidays, y'all!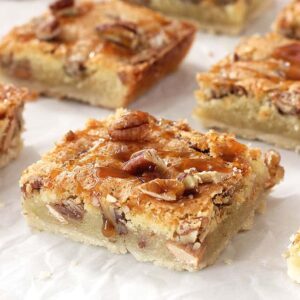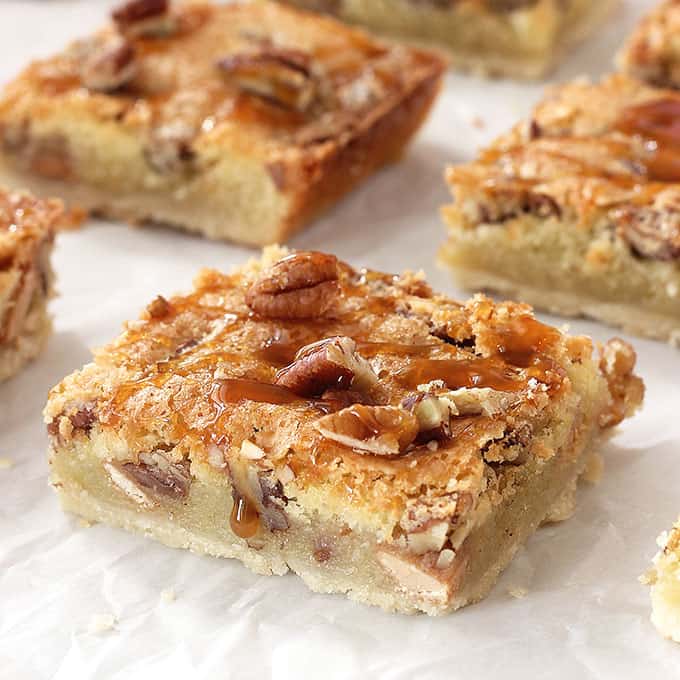 Caramel Pecan Slab Pie
This Caramel Pecan Slab Pie is the perfect dessert for the holidays! A buttery crust is topped with crunchy pecans and a sweet caramel filling, then baked on a sheet pan. Cut into slices and top them with whipped cream and a drizzle of caramel for a truly decadent dessert!
Ingredients
1 frozen Dough Puck from the Texas Pie Company,, thawed
1 1/2 sticks unsalted butter,, melted
1 1/2 cups white granulated sugar
3/4 cup all purpose Texas Pure Flour
3 eggs
2 teaspoons vanilla extract
1 cup chopped pecans
1 cup caramel baking chips
Topping:
Caramel topping
Whipped cream
Instructions
Preheat oven to 350 degrees. Spray a 9x13 inch rimmed cookie sheet with cooking spray and set aside.

Place the thawed dough puck on a large piece of wax paper. Use a rolling pin to roll the dough into a large rectangle shape to fit the cookie sheet that you prepared in step 1. Separate the dough from the wax paper and press into the bottom and along the sides of the cookie sheet, cutting off any excess dough and using it to fill in any gaps.

In a medium sized bowl, mix the melted butter with the sugar and flour. Add in the eggs and vanilla extract and stir until everything is well combined. Fold in the chopped pecans and caramel chips.

Pour the pecan mixture on top of the crust, spreading evenly with a spatula. Bake in the preheated oven for 25-30 minutes until the top is golden brown and the filling is cooked through. Remove from the oven and allow to cool on a wire rack before slicing. Serve with whipped cream and a drizzle of caramel topping. Enjoy!
Calories: 334kcal, Carbohydrates: 37g, Protein: 3g, Fat: 19g, Saturated Fat: 8g, Cholesterol: 54mg, Sodium: 138mg, Potassium: 58mg, Fiber: 1g, Sugar: 26g, Vitamin A: 335IU, Vitamin C: 0.2mg, Calcium: 28mg, Iron: 1mg

If you like this Caramel Pecan Slab Pie, you might also like:
This is a sponsored conversation written by me on behalf of H-E-B. The opinions and text are all mine.
This site contains affiliate links, if you make a purchase through them, we receive a small commission.