Chocolate Donuts with Strawberry Frosting
These Chocolate Donuts with Strawberry Frosting are the perfect treat for breakfast or dessert! The Strawberry Frosting is creamy and so delicious, too!
Wow, so I guess I took a little blogging hiatus, huh?
I didn't exactly mean for that to happen, but things just got kind of busy around here. I'm finding that as a woman, life often requires us to wear many hats, and sometimes it's hard to prioritize and balance them all. Lately, my "army wife hat" has been getting a lot of wear. It's getting a little rough around the edges, and sometimes I'd just like to throw it in the wash. Loving and marrying my soldier is still the best decision I ever made, but that doesn't mean that military life doesn't sometimes take its toll on you. As military spouses, I think all of us have probably heard, "I don't know how you do it!" at least one time or another. And when I think back over what some of my friends and I have gone through, sometimes I don't know how we did it either! But WE DID. And at the end of the day, I know that I'm blessed to be married to a man that I love with my whole heart, and that outweighs the challenges that come with the combat boots, separation, and worry.
Well, let's move onto something a little less heavy, and a whole lot more delicious…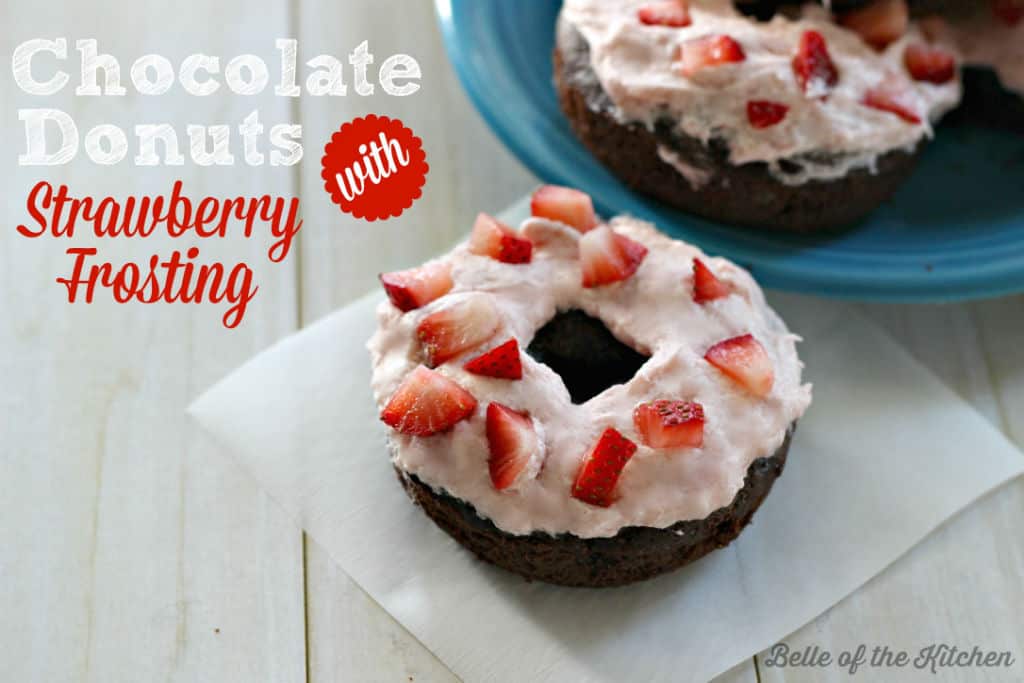 Oh yes. These babies will make you wanna run out and get a donut pan ASAP! And now that I finally have one, I think there will be many more donut recipes in my little blog's future. 🙂
I made these chocolate donuts as a special treat on Mother's Day and shared them with some of my sweet neighbors, who are also all fellow army wives. We all deserved a little chocolate that day!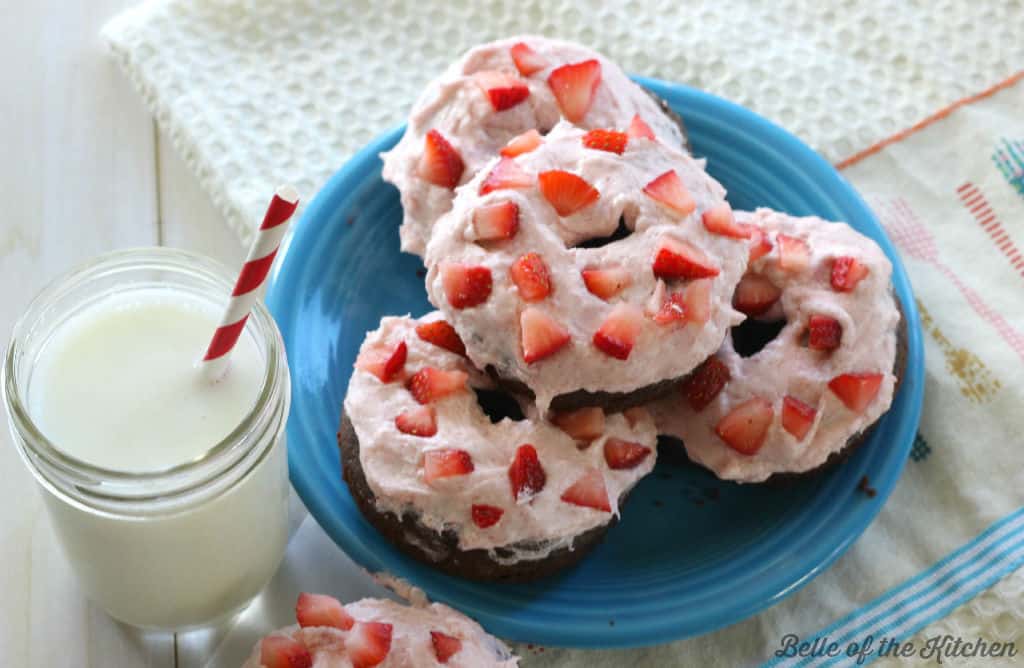 This recipe actually makes quite a few donuts! I know that I got at least 18, and I was using a standard sized donut pan. Do donut pans come in varying sizes? Hmm, may need to investigate. 🙂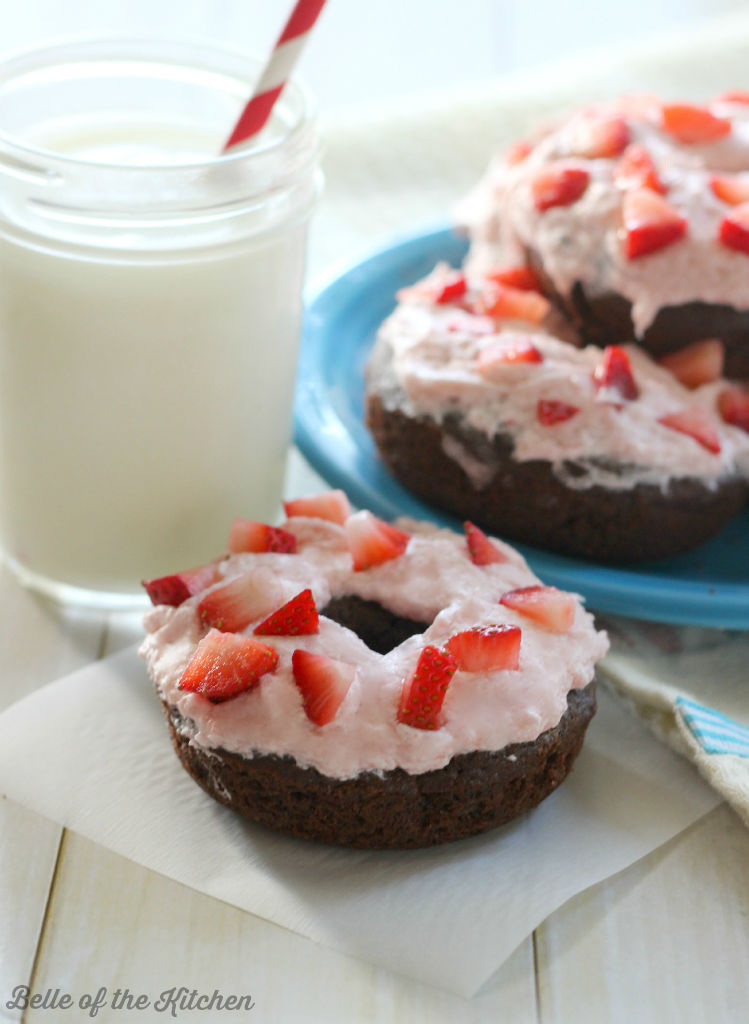 These make such a wonderful treat, and they taste fabulous on their own. But OH, this strawberry frosting will just make you swoon! My son was literally licking it off the top of his donut and asking if I would spread on some more. It's 4 year old approved, y'all. 😉
Hope you're having a great week! It feels nice to be back in the swing of things.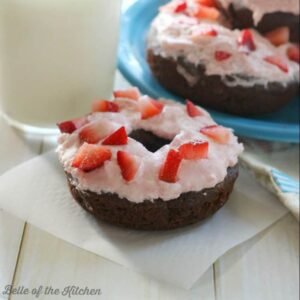 Chocolate Donuts with Strawberry Frosting
These Chocolate Donuts with Strawberry Frosting are the perfect treat for breakfast or dessert! The Strawberry Frosting is creamy and so delicious, too!
Ingredients
For the donuts:
2/3 cup Dutch-process cocoa
1 3/4 cups King Arthur Unbleached All-Purpose Flour
1 1/4 cups light brown sugar
1 teaspoon baking powder
1 teaspoon baking soda
3/4 teaspoon salt
1 cup chocolate chips
2 large eggs
3/4 cup milk
2 teaspoons vanilla extract
2 teaspoons vinegar,, white or cider
1/2 cup melted butter
For the frosting:
2 cups fresh strawberries
1 cup butter,, softened
3 1/2 cups powdered sugar
2 tsp. vanilla
Instructions
For the donuts:
Preheat the oven to 350°F. Lightly grease the wells of two standard donut pans.

In a large mixing bowl, whisk together the cocoa, flour, sugar, baking powder, baking soda, salt, and chocolate chips. Set aside.

In a large measuring cup or medium-sized mixing bowl, whisk together the eggs, milk, vanilla, and vinegar. Add the wet ingredients, along with the melted butter to the dry ingredients, stirring to blend; there's no need to beat the batter, just make sure everything is well-combined. Spoon the batter into the prepared pans, filling them between 3/4 and full.

Bake the donuts for 12 to 15 minutes, or until a toothpick inserted into the center of one comes out clean. Remove the donuts from the oven, and allow to cool slightly. Loosen donuts at their edges and then turn the pan upside down over a rack, and gently let the donuts fall onto the rack.
For the frosting:
Place strawberries in the bowl of a blender or food processor and puree until smooth. Set aside.

Cream together butter and one cup of powdered sugar until smooth and well combined. Gradually add remaining powdered sugar, beating well after each addition. Add in 1/2 cup of strawberry puree and the vanilla extract, and beat until combined. Add more strawberry puree for a thinner frosting, or more powdered sugar to thicken, if desired. Spread evenly over the top of the donuts and garnish with fresh strawberries.
Calories: 611kcal, Carbohydrates: 87g, Protein: 5g, Fat: 28g, Saturated Fat: 17g, Cholesterol: 92mg, Sodium: 475mg, Potassium: 227mg, Fiber: 2g, Sugar: 68g, Vitamin A: 805IU, Vitamin C: 14.2mg, Calcium: 92mg, Iron: 2.1mg
This site contains affiliate links, if you make a purchase through them, we receive a small commission.