Easy Cinnamon and Sugar Soft Pretzels
Thank you to Fleischmann's Yeast for sponsoring today's yummy post!
As always, all opinions and ideas expressed here are mine alone.
These Cinnamon and Sugar Soft Pretzels are sweet, chewy, and super easy to make thanks to Fleischmann's Simply Homemade Pretzel Creations! They are fun to make with your little ones, and would be the perfect treat for any occasion. We made them heart-shaped in honor of Mother's Day!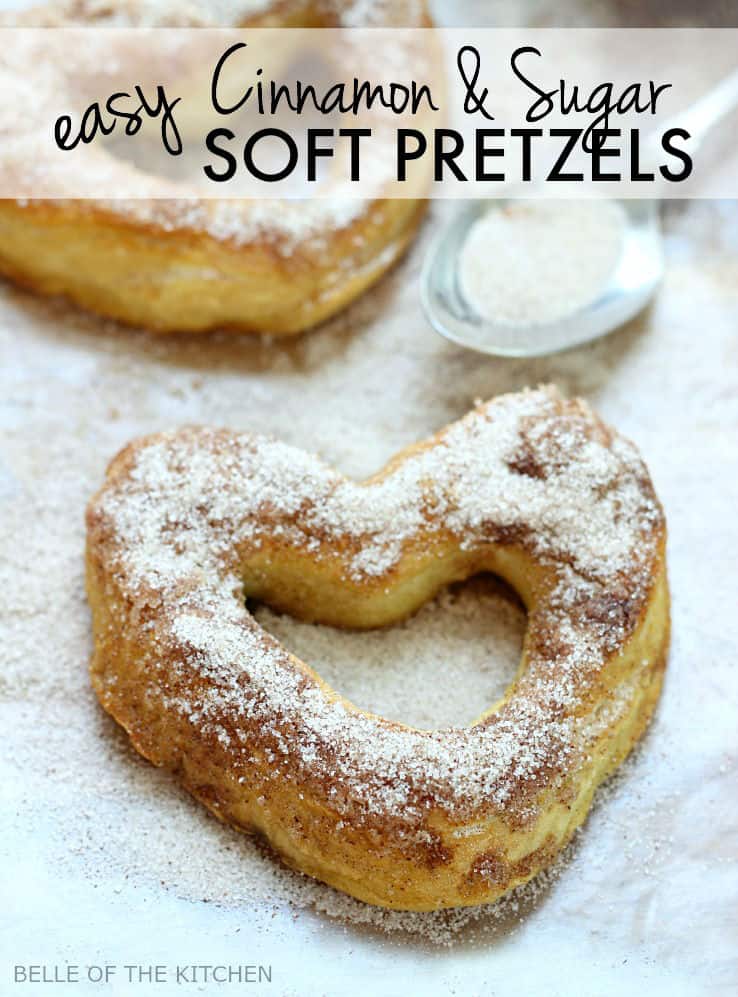 Soft pretzels are just impossible for me to say no to. Whenever we pass the pretzel stand at the mall I find myself staring with googly eyes at all the choices, and taking in all of the amazing smells. I've wanted to try making them at home, but have always felt intimidated by the amount of work that goes into making them.
But then the opportunity came for me to try out the new Simply Homemade Pretzel Creations Mix from Fleischmann's. I couldn't wait to give it a try, and my son was super excited to help out. I mean, just look at all of the fun goodies Fleischmann's sent to us!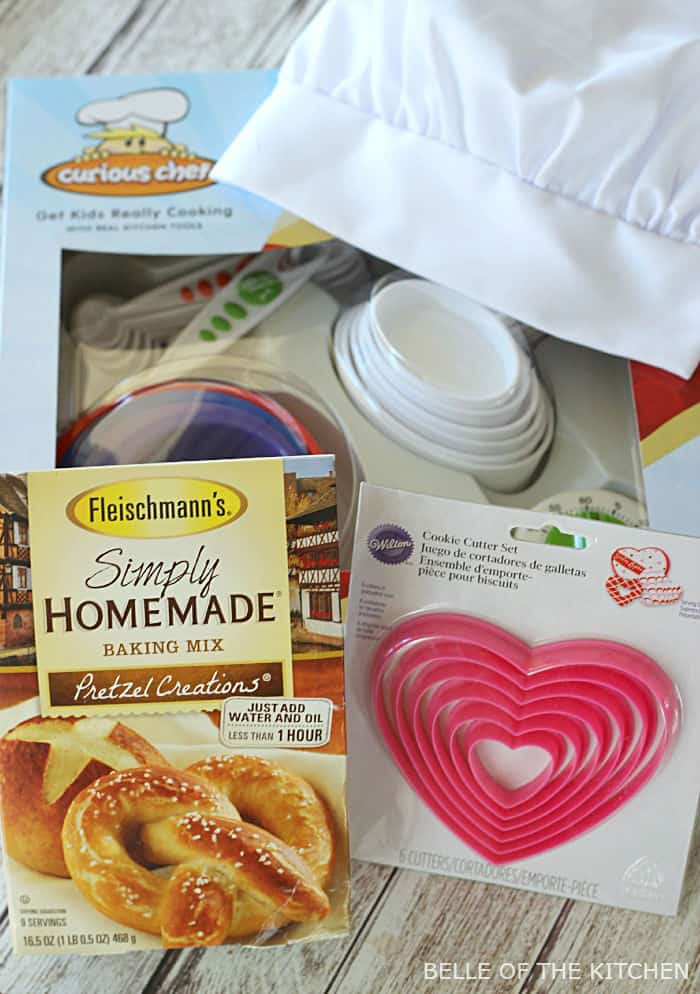 The kit made everything so easy to prepare! All you have to do is add a little water and oil to the mix along with a packet of yeast, which is included in the kit.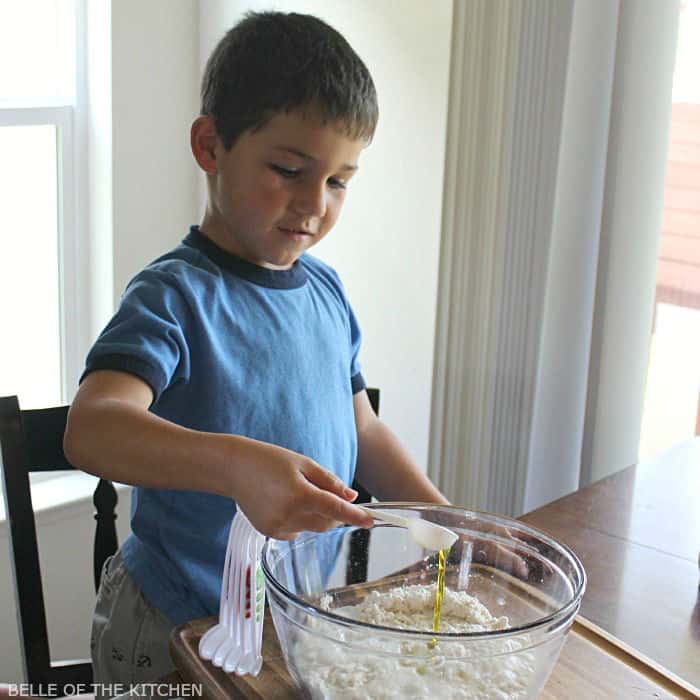 Oh and make sure you have your chef's hat on! That is a very crucial step! 🙂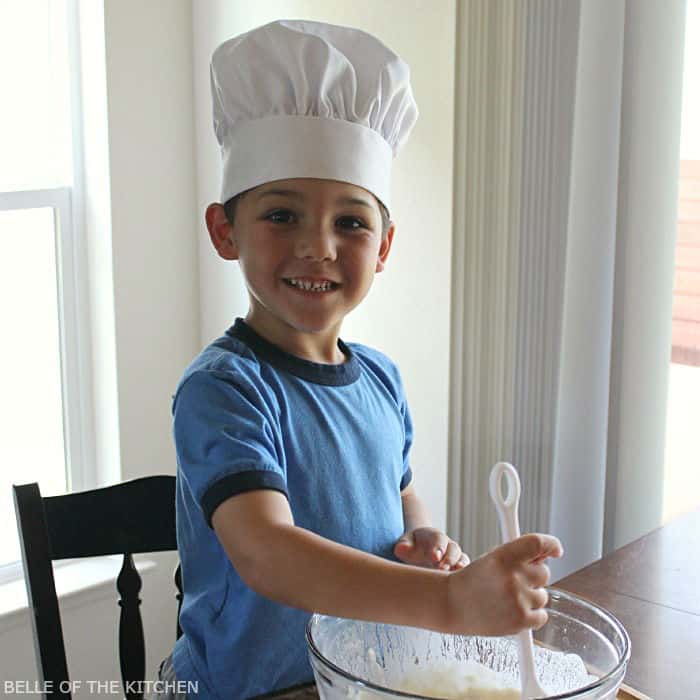 Mix it all up, then cover the dough and let it rest for a little bit. While you're waiting for it to rise, get your cookie cutters ready. This was our favorite step of all! We made our pretzels heart shaped for Mother's Day, but you really could make them into any shape you want! There are also directions on the back of the box for how to form them into traditional pretzel twists.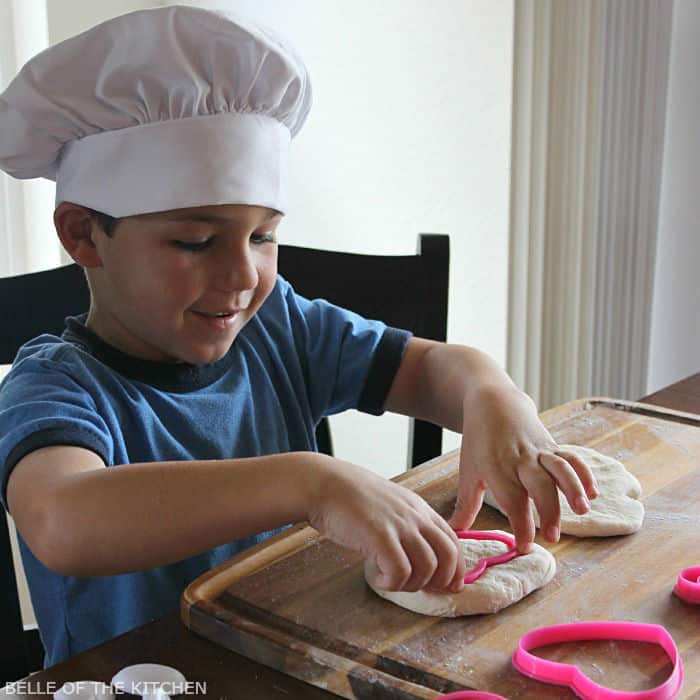 Once the dough is ready, roll it out and make your shapes. I LOVED that no kneading was required! It made everything so much easier. Finally before you put your pretzels in the oven to bake, you will need to take them for a quick dip in a "baking soda bath." This gives the pretzels a nice chewy finish. 🙂
Halfway through baking, we pulled our pretzels out and brushed them with a little butter, and sprinkled them with cinnamon and sugar. Talk about a heavenly smell!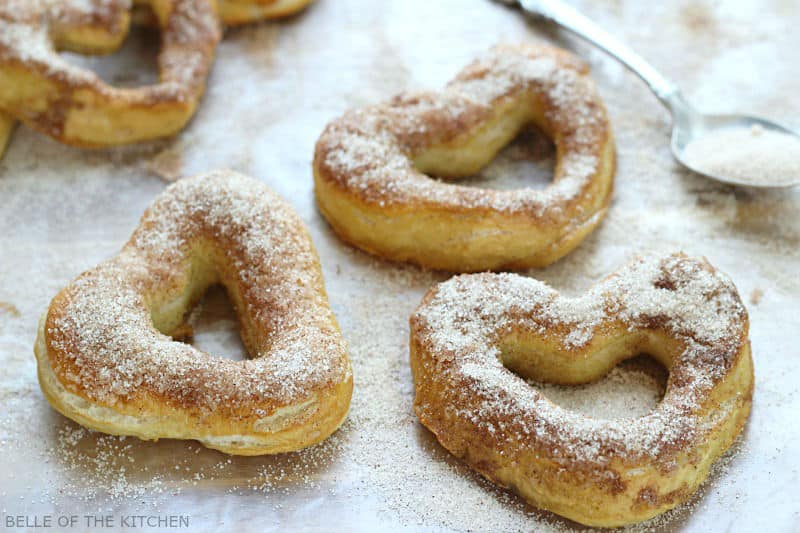 Oh and maybe we sprinkled on a bit more after baking. You can never have too much cinnamon and sugar! 😉
My son and I had so much fun making these together, and we will definitely be making them again soon! If you're wanting to get your kiddos more involved in the kitchen, this is a great way to do just that!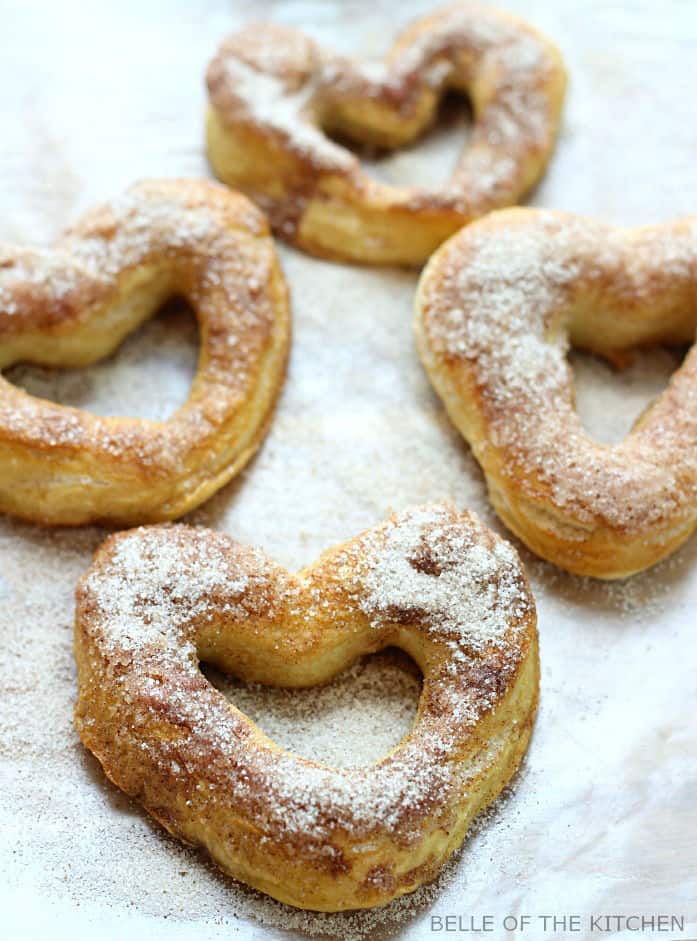 For more info and recipe ideas using the Simply Homemade products from Fleischmann's, be sure to check out their website here. 🙂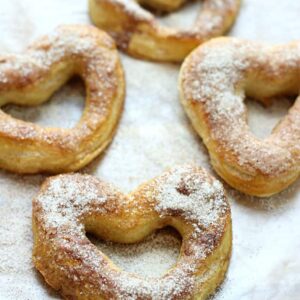 Easy Cinnamon and Sugar Soft Pretzels
These Cinnamon and Sugar Soft Pretzels are sweet, chewy, and super easy to make. They are fun to make with your little ones, and would be the perfect treat for any occasion.
Ingredients
1 Fleischmann's Simply Homemade Pretzel Creations Mix
3/4 cup water
1 TB oil
3 TB butter
1/4 cup sugar
1/2 tsp cinnamon
Instructions
Preheat oven to 400 degrees. Spray a large baking sheet with cooking spray and set aside.

Prepare pretzel mix with water and oil and allow to rise, according to package instructions.

Roll out dough and cut into hearts or form into pretzel twists.

In a large saucepan, boil 6 cups of water with the packet of baking soda from the Pretzel Creations kit. Dip each of the pretzels in the baking soda bath for 10-15 seconds, then remove with a slotted spoon and place on the prepared baking sheet.

Bake pretzels in the preheated oven for five minutes, then remove from oven and brush each one with the melted butter. In a small bowl mix together the sugar and cinnamon. Sprinkle each pretzel with a generous amount of cinnamon/sugar.

Return pretzels to the oven and bake for an additional 5-7 minutes. Remove from oven and allow to cool on a wire rack. Sprinkle with additional cinnamon/sugar if desired.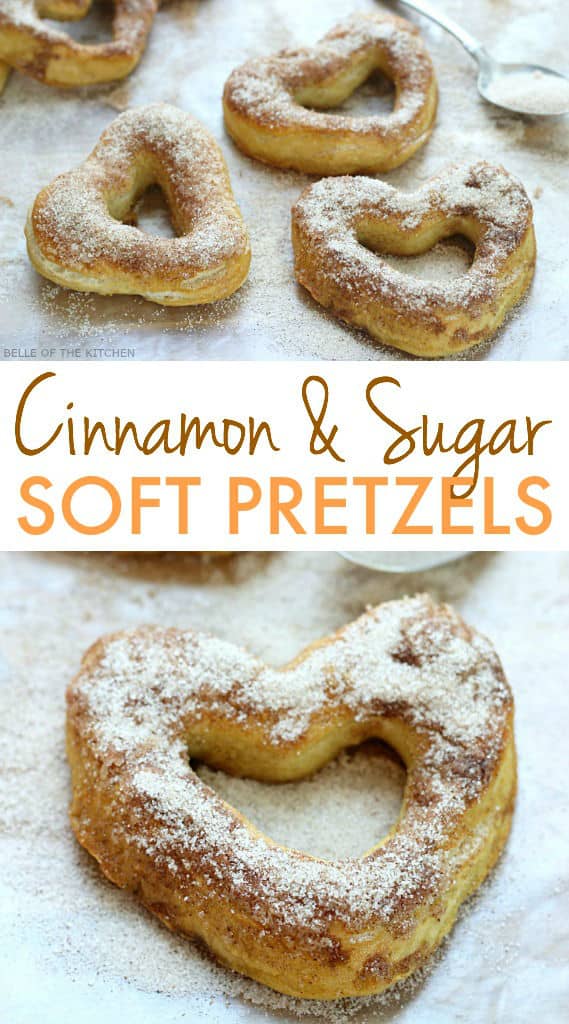 This site contains affiliate links, if you make a purchase through them, we receive a small commission.