Fanta Jack O'Lantern Floats
This shop has been compensated by Collective Bias, Inc. and its advertiser. All opinions are mine alone.
These Fanta Jack O'Lantern Floats are a sweet and spooky twist on a classic! Made with Fanta Orange soda and vanilla ice cream, they're the perfect, easy treat to impress kids and adults alike this Halloween! #SpookySnacks #CollectiveBias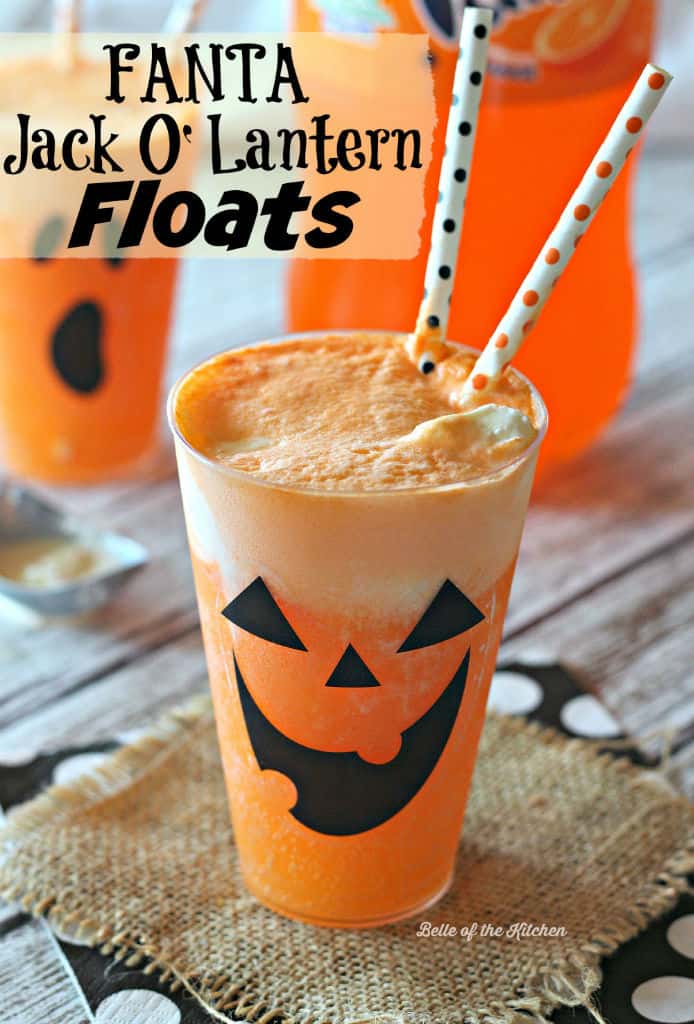 Y'all, Halloween is less than two weeks away, and I AM SO EXCITED. Have I told you that Halloween is my favorite holiday? Well, besides Christmas, of course. 😉 But really, there is just something about all of the spooky fun surrounding Halloween that I just can't get enough of. One of my favorite dates that my husband and I ever went on was to a haunted house when we were still in college. The best moment of the night (and one that I will NEVER forget) happened when my husband, who is not afraid of anything, darn near jumped out of his skin and screamed like a four year old when one of the "actors" popped out of the wall beside him. I'm laughing out loud just thinking back on that moment! Just one more reason why I love Halloween so much.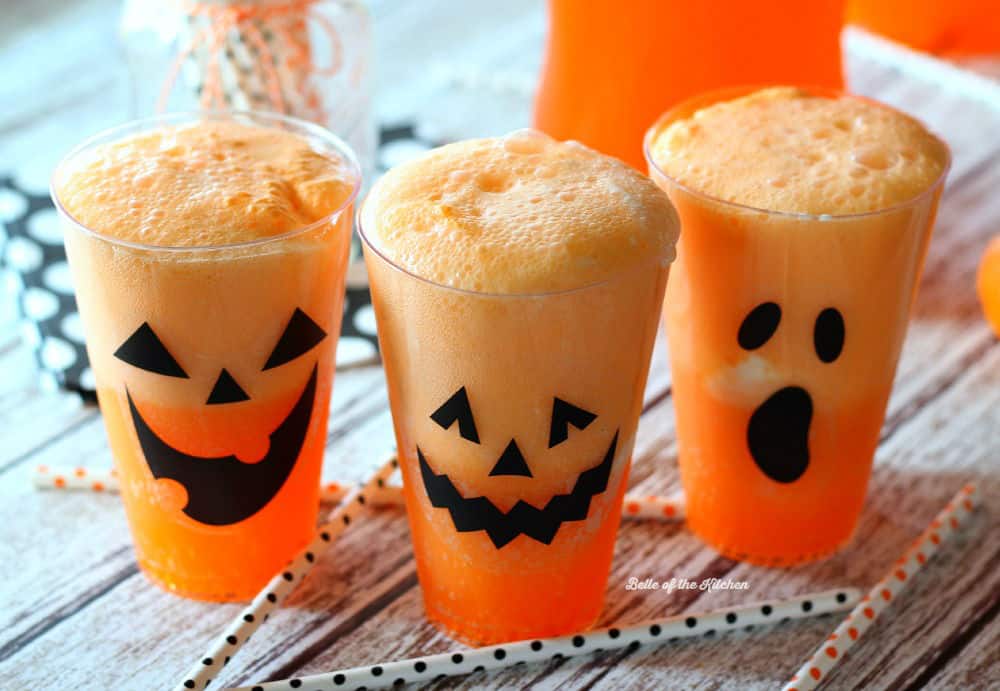 Now that we are married and have two little ones, there are even more things I love about Halloween. Seeing all the kids dressed up in their cute costumes, going trick-or-treating, and enjoying lots of the fun, and #SpookySnacks are at the top of my list. This year, I became inspired to create a fun drink after receiving a Halloween package from my mom. Along with all of the goodies she sent, there was a packet of Jack O'Lantern beverage glass clings. I decided they would be fun to use in conjunction with Fanta for a special Halloween version of a float! These would be so fun to drink with dinner before heading out to do some trick-or-treating, or for serving along with other yummy snacks at a Halloween party!
To Make Your own Fanta Jack O'Lantern Floats:
First you'll need to gather up a few easy ingredients. I found everything I needed at our local Walmart store, including vanilla ice cream, 2 liters of Fanta Orange soda, and also some 12 oz. bottles of Dasani water to keep us hydrated on our upcoming visit to the pumpkin patch. These smaller bottles of Dasani would also be great for serving at a Halloween party or carrying along with you while out trick-or-treating!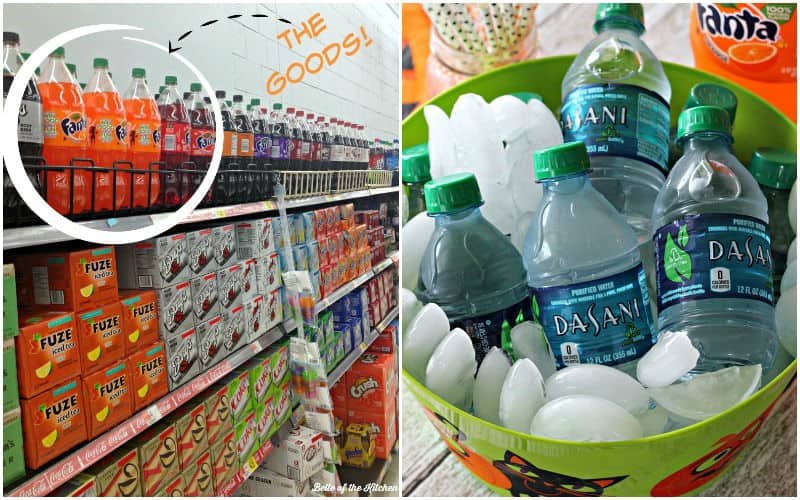 Once you have everything ready, start by decorating your plastic cups. If you don't have any Jack O'Lantern beverage clings, not to worry! All you need is a permanent marker and you can draw on your own design. This would be a fun activity to let your little ones get involved and unleash their creativity!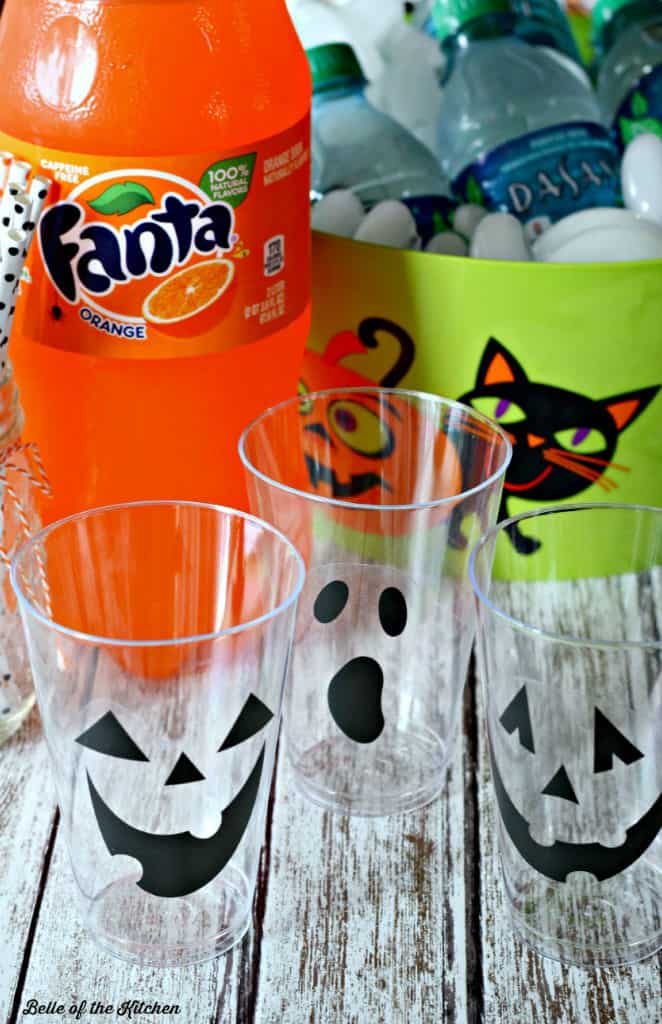 Once your spooktacular cups are ready, pour a small amount of Fanta into the bottom of each cup.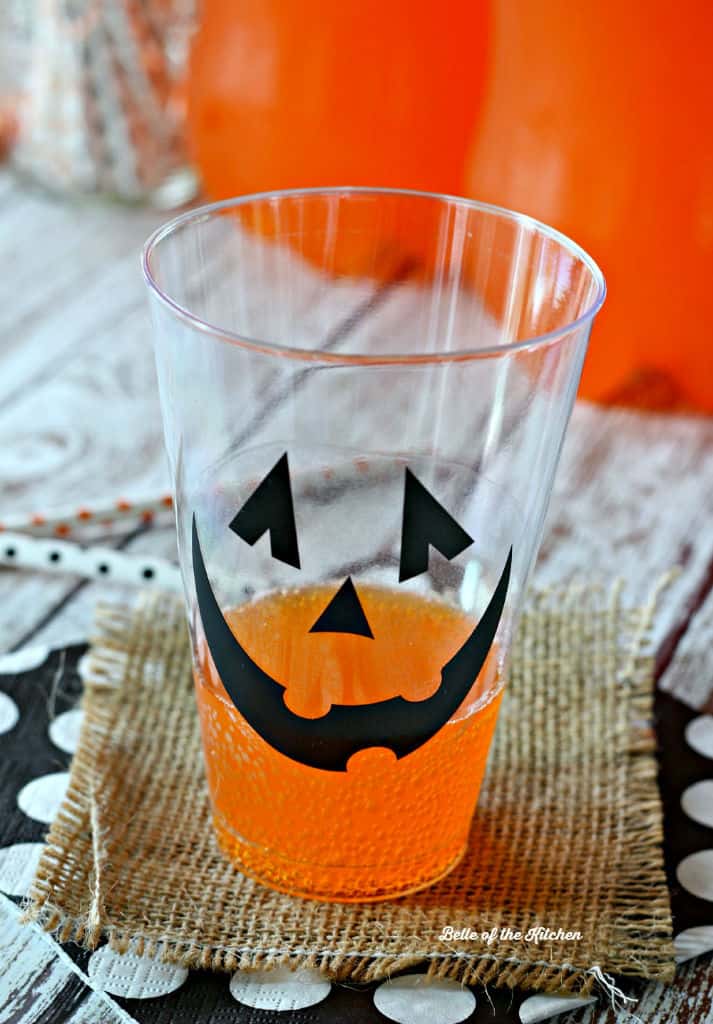 Next add a scoop of vanilla ice cream on top. Mmm…. lookin' good!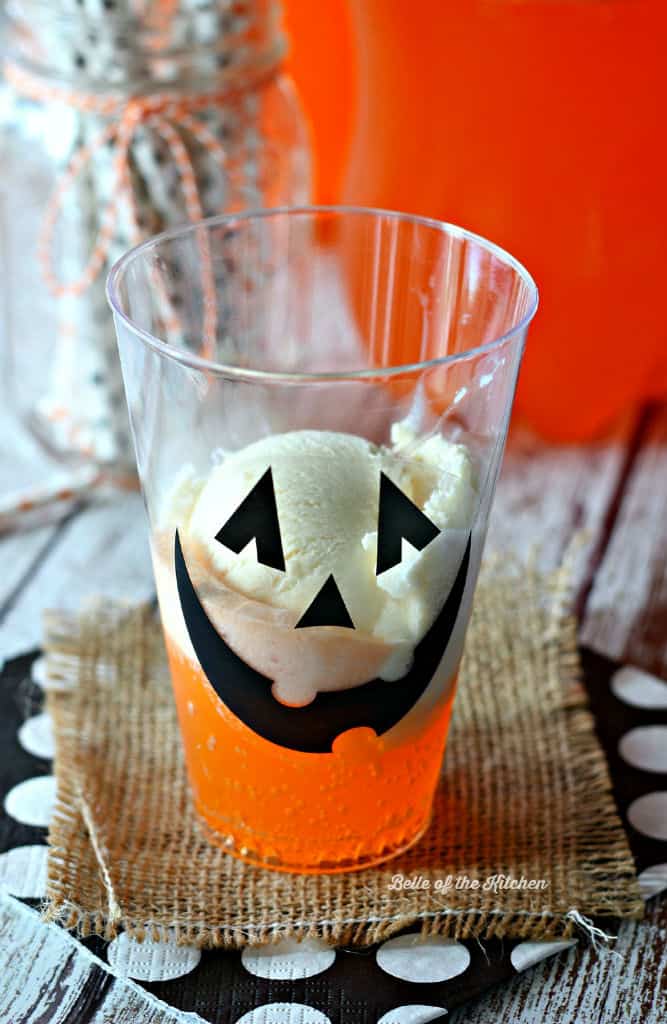 Pour some more Fanta over the ice cream, and watch as some bubbly magic starts happening.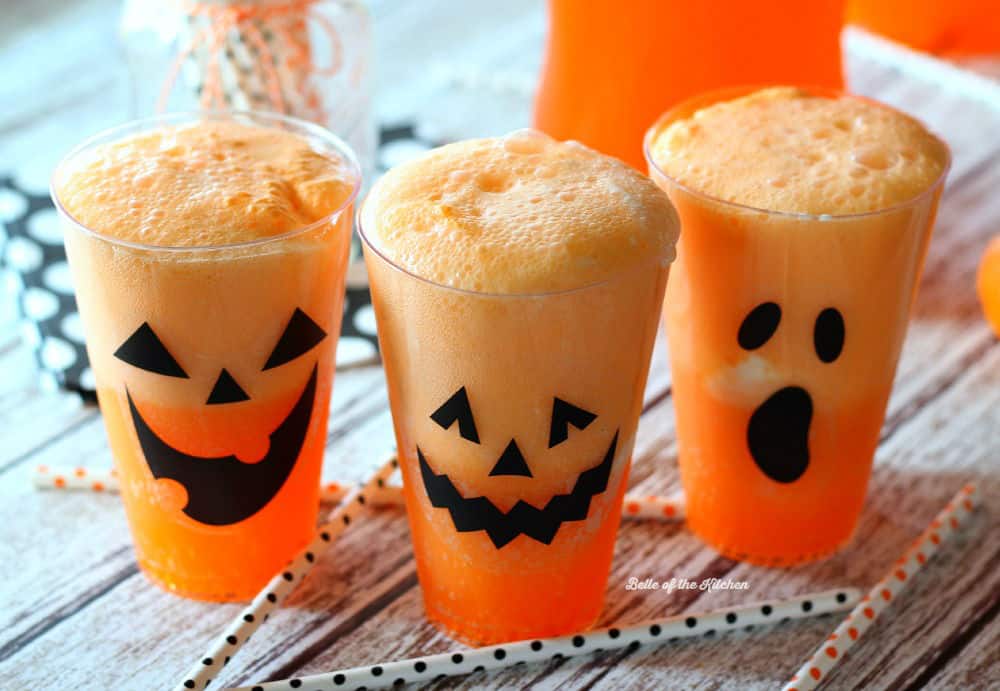 Insert a straw and start slurping that creamy, orangey goodness! It's a handheld, drinkable, Jack O'Lantern that tastes just like a creamsicle!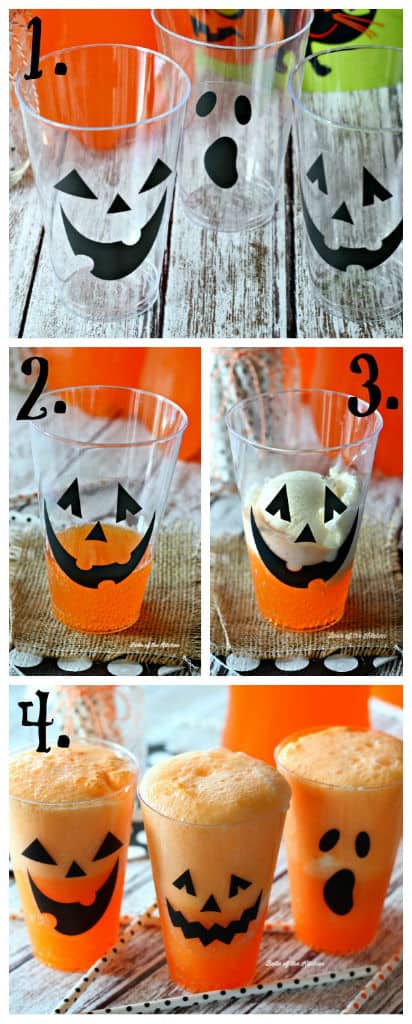 If you'd like to get in on more of the #SpookySnacks fun, be sure to check out one of the in-store demos going on at select Walmart locations October 24-26th featuring Fanta, as well as Wheat Thins and Halloween Oreos. You can also find more fun Halloween ideas by following Fanta and Dasani on Twitter.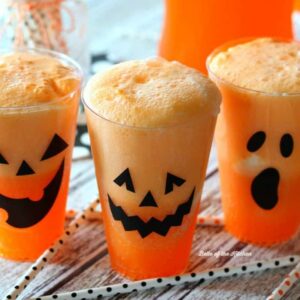 Fanta Jack O'Lantern Floats
These Fanta Jack O'Lantern Floats are a sweet and spooky twist on a classic! Made with Fanta Orange soda and vanilla ice cream, they're the perfect, easy treat to impress kids and adults alike this Halloween!
Ingredients
1 (2 Liter) Fanta Orange (could also use Fanta Mini Cans)
1 container vanilla ice cream
clear plastic cups,, decorated if desired
Instructions
Pour a small amount of Fanta Orange into the bottom of a decorated plastic cup.

Add a scoop of vanilla ice cream to the top.

Pour more Fanta over the top of the ice cream until foamy and bubbly.

Repeat instructions to make more floats. Serve each with a fun straw and enjoy!
Calories: 365kcal, Carbohydrates: 55g, Protein: 4g, Fat: 14g, Saturated Fat: 8g, Cholesterol: 58mg, Sodium: 115mg, Potassium: 267mg, Sugar: 50g, Vitamin A: 555IU, Vitamin C: 0.8mg, Calcium: 174mg, Iron: 0.4mg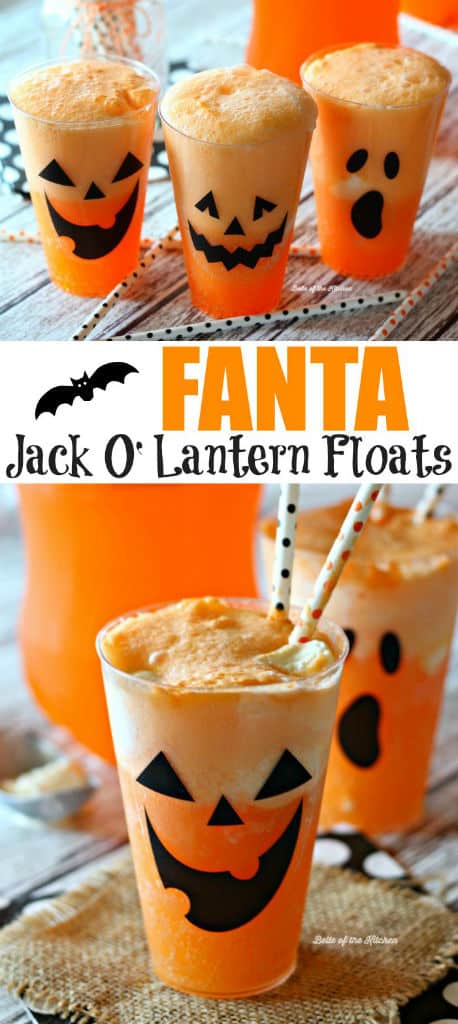 This site contains affiliate links, if you make a purchase through them, we receive a small commission.