Rainbow Veggie Pizzas
Thank you to Birds Eye for sponsoring this post.
These Rainbow Veggie Pizzas are a fun way to get your kids involved in the kitchen, all while getting them excited to eat more veggies!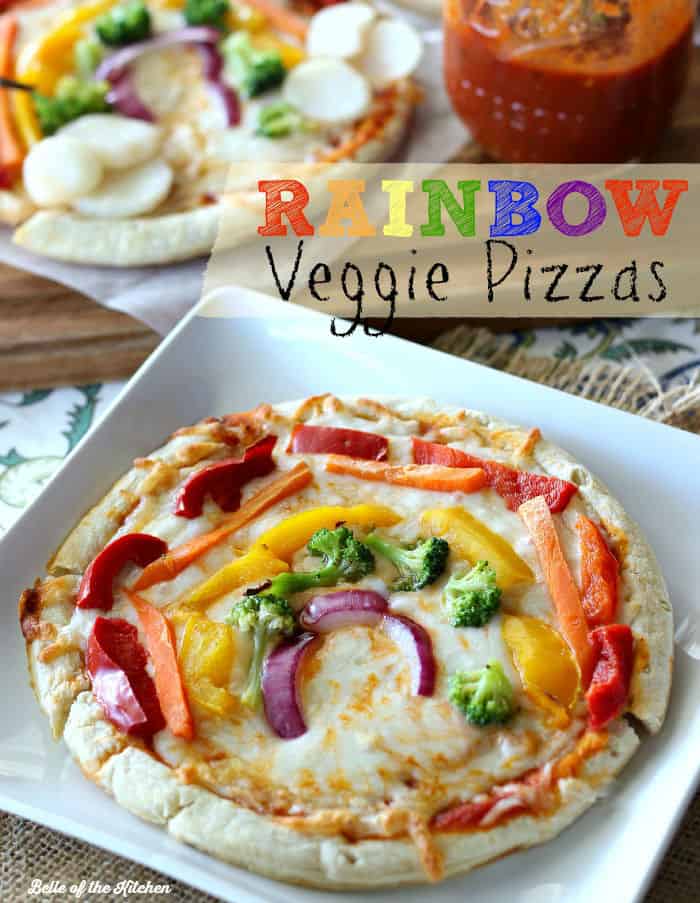 Raise your hand if you've got a picky eater at home. If you've got your hand up, I'm here to tell you that you are not alone! My son is a very picky eater, and there are many dinners at our house that end with him holding a plateful of semi-eaten food. My little guy is a total carb-lover (can't really blame him there 😉 ), but veggies take a little longer for him to warm up to. He will always gobble up any kind of bread-related food before haggling with me over the more nutritional items on his plate. I tell ya, four year olds can drive a hard bargain!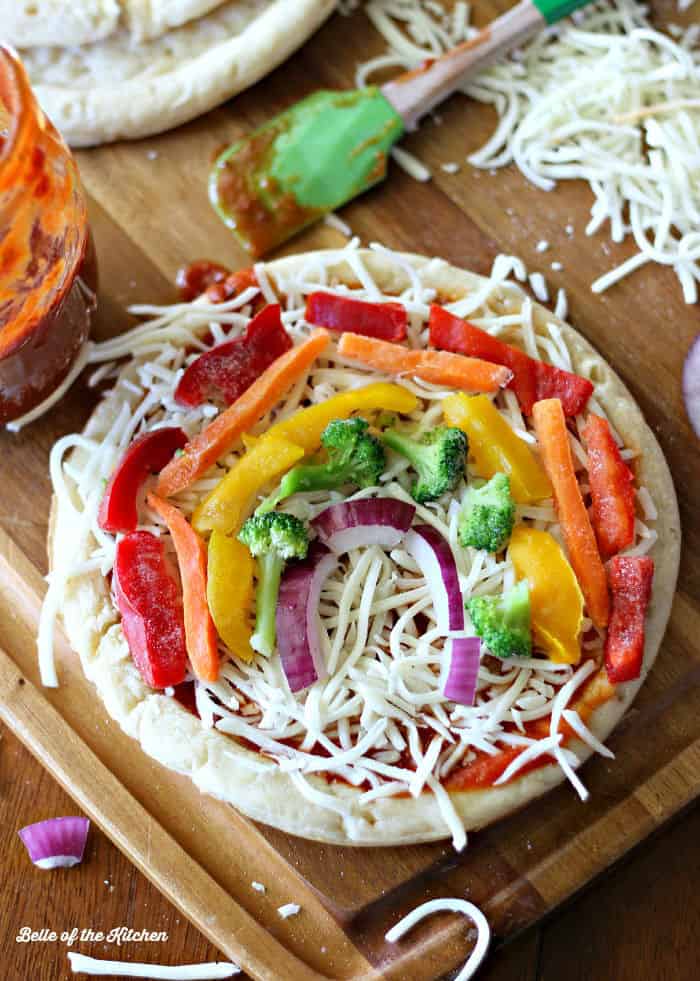 In an effort to get kids to eat more veggies, Birds Eye Vegetables has teamed up with Celebrity Chef Melissa d'Arabian to provide tips and ideas to parents to help make meal time less stressful and more nutritional. I can always use new ideas for how to get my little negotiator to eat more colorful foods, so I found a lot of her tips to be very helpful!
One of Melissa's suggestions is to introduce new foods slowly, and to pair them with foods your kids already enjoy and are familiar with. I definitely took that advice to heart when we made these Rainbow Veggie Pizzas, since pizzas is by far my son's favorite food. He's much more inclined to give anything a try if it involves mozzarella and pizza sauce. 😉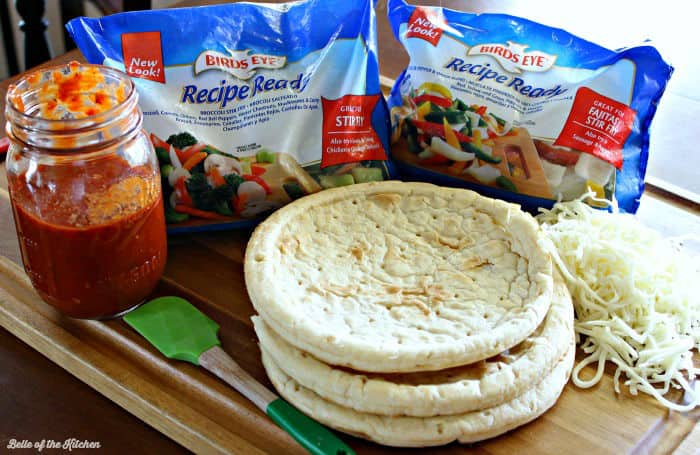 To make our Rainbow Veggie Pizzas, we used two packages of Birds Eye Recipe Ready Vegetables. My son loved helping with these, especially making the rainbow out of the veggies! He even thought to use the water chestnuts as clouds on his pizza! That was a proud mama moment.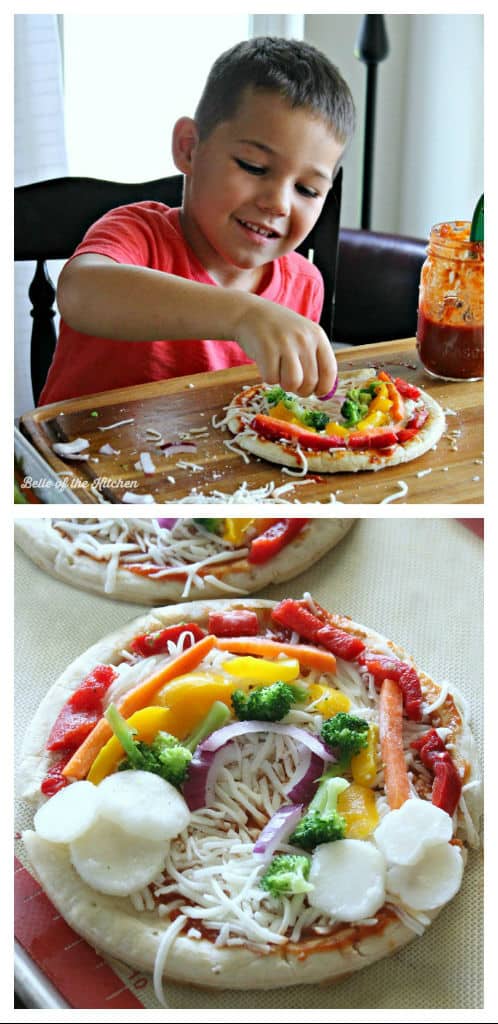 Did you know that according to The State of the Plate report, 9 out of 10 people in the United States do not get the proper amount of vegetables? To help change this, Birds Eye has made a commitment through their Step Up to the Plate campaign to help reshape the way kids see veggies, with the goal of getting kids to like them for life. Setting a good example for our kids and eating colorful fruits and vegetables everyday (a "rainbow," if you will), is a great way to get started.
Speaking of eating a rainbow, I have a little freebie for you… 😉
Free Printable Rainbow Eating Chart (Click image to open)

I made this free printable rainbow chart that you can use at home with your own kiddos to help them keep track of how many colorful foods they eat everyday! Hopefully this will help encourage little ones to choose healthier foods, and maybe even try something new! I simply printed ours out, slid it into a sheet protector, and mounted it on the fridge in a place that is easy for my son to access. I also keep a dry erase marker (or vis-a-vis marker) nearby for him to fill in the chart on his own. You can laminate your chart if you wish, but a sheet protector works just as well! That's a little teacher trick there for ya. 😉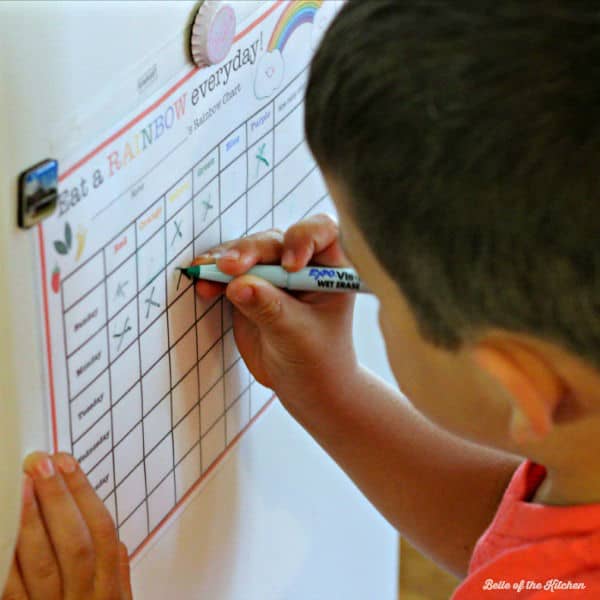 I do remind my son that we are only counting colorful fruits and veggies when he fills in his chart, that way he doesn't think he can eat a handful of candy and call it a day! Since we've started using this, he has really enjoyed keeping track of what he eats. He was definitely excited to fill in his chart after we made our Rainbow Veggie Pizzas, since he got to fill in almost every single color at once!
So how do you get your kids excited about eating veggies? Share your tips below! I can always use some new ideas. 🙂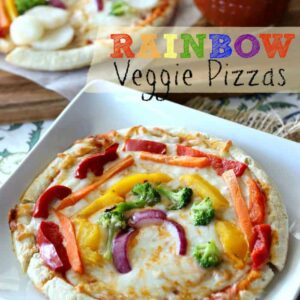 Rainbow Veggie Pizzas
These Rainbow Veggie Pizzas are a fun way to get your kids involved in the kitchen, all while getting them excited to eat more veggies!
Ingredients
1 package Birds Eye Recipe Ready Broccoli Stir Fry
1 package Birds Eye Recipe Ready Pepper Stir Fry
1 roll of pizza dough,, divided into 4 equal pieces (you can also use a homemade crust)
1 jar pizza sauce
2 cups shredded mozzarella cheese
Instructions
Remove veggies from freezer and empty onto a cookie sheet or large plate to thaw a bit. If they are not completely thawed by the time you bake the pizzas, don't worry, they will cook just fine in the oven.

Prebake dough according to package directions, if required. We pre baked ours for 8 minutes.

Remove from oven and top evenly with pizza sauce, followed by mozzarella cheese. Decorate the top of each pizza with the thawed veggies to make a rainbow.

Return pizzas to the oven and cook for about 7-10 more minutes, or until crust golden at the edges and cheese is melted. Enjoy!
I was selected for this opportunity as a member of Clever Girls Collective and the content and opinions expressed here are all my own.
This site contains affiliate links, if you make a purchase through them, we receive a small commission.