Greek Yogurt Banana Pancakes
Greek Yogurt Banana Pancakes – an easy and healthy breakfast, these Greek Yogurt Banana Pancakes provide a delicious protein-packed start to your day.
We love pancakes around here. On days where I can't seem to get myself around in time to make dinner, we will sometimes enjoy a VERY late breakfast, and I usually make pancakes because they're easy and fast.
I have tried tons and tons of recipes, either looking for the perfect fluffy-yet-crispy-at-the-edges pancakes (my fave recipe for those here), OR the perfect healthified pancake.
Finding pancakes that are made with healthier ingredients, but are still delicious, has really been a challenge. After many failed attempts, I decided to combine the ingredients that I liked from a few different recipes and make my own version.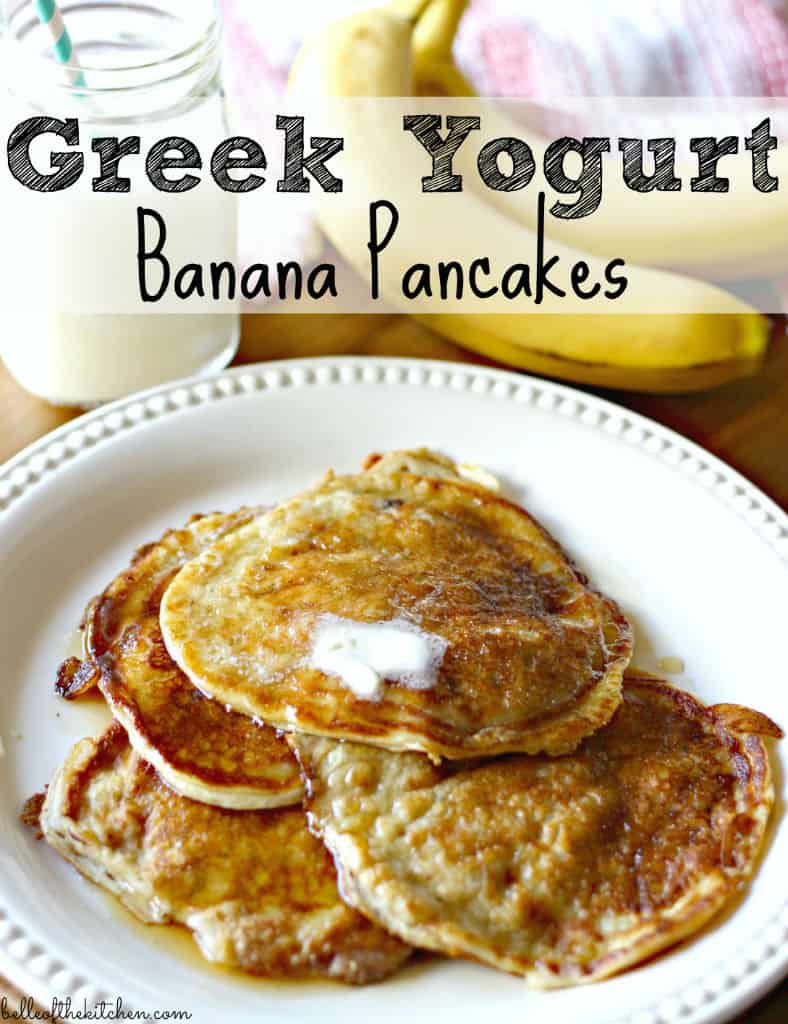 Yes, you can create amazingly delicious, protein-packed pancakes from Greek Yogurt! These are a great way to start your day and they will definitely keep you full until lunch.
You can also try using a different flavor of Greek yogurt for a unique twist. I've tried it with strawberry banana Greek yogurt and that was pretty tasty, too. You can also leave out the bananas if you wish. We're a little crazy about bananas at our house and eat them pretty much daily. My daughter actually tried out bananas for the first time last night!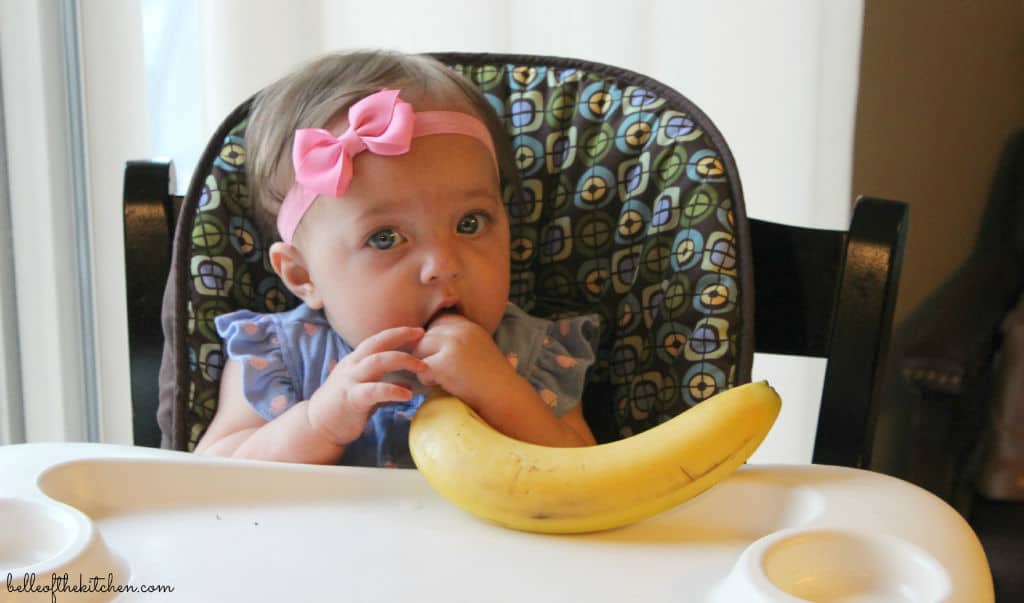 It's her second solid food and she seemed ok with it. We tried avocado first and she wasn't all that impressed. We will keep trying, though. I had this feeling she was going to love avocado because I craved it CONSTANTLY while I was pregnant with her. Maybe she just needs a little more time. And some salt. And tortilla chips.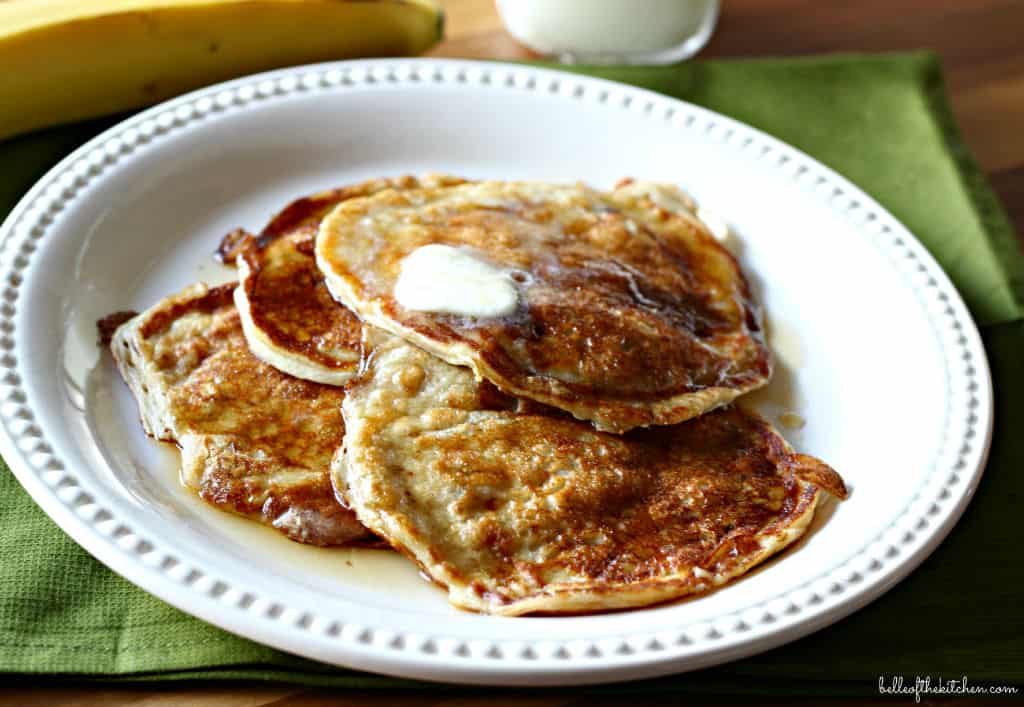 Anyway, I hope you enjoy the recipe. If you have an individual cup of Chobani (6 oz) in your fridge at home, you can cut the recipe in half and take it for a test spin. I bet you'll be pleasantly surprised. Have a wonderful week!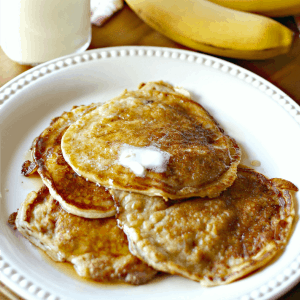 Greek Yogurt Banana Pancakes
An easy and healthy breakfast, these Greek Yogurt Banana Pancakes provide a delicious protein-packed start to your day.
Ingredients
12 oz. Vanilla Greek yogurt
2 eggs
1 cup white whole wheat flour
2 teaspoon baking soda
1/2 cup milk, (I use unsweetened almond milk)
1 medium banana,, mashed
Instructions
Combine the greek yogurt and eggs in a medium sized bowl. Whisk to combine.

In a separate bowl, mix together the flour and baking soda.

Pour the yogurt mixture over the dry ingredients and stir to combine. Add in the milk and mashed banana and mix well.

Heat a large skillet on the stove to medium heat, or turn an electric griddle to 350 degrees. Melt a little butter in the skillet or on the griddle and scoop batter on top into desired sizes. (I use a heaping 1/4 cup scoop and spread them out a little.)

Once tops start to bubble, flip and cook until both sides are cooked through. Serve with maple syrup, jam, almond butter, or fresh fruit.
Calories: 81kcal, Carbohydrates: 13g, Protein: 4g, Fat: 1g, Cholesterol: 29mg, Sodium: 205mg, Potassium: 95mg, Fiber: 1g, Sugar: 5g, Vitamin A: 60IU, Vitamin C: 0.8mg, Calcium: 22mg, Iron: 0.4mg
This site contains affiliate links, if you make a purchase through them, we receive a small commission.