Mixed Berry French Toast Casserole
This Mixed Berry French Toast Casserole is perfect for a special breakfast or brunch! It's a total crowd pleaser and can even be made ahead of time for busy mornings!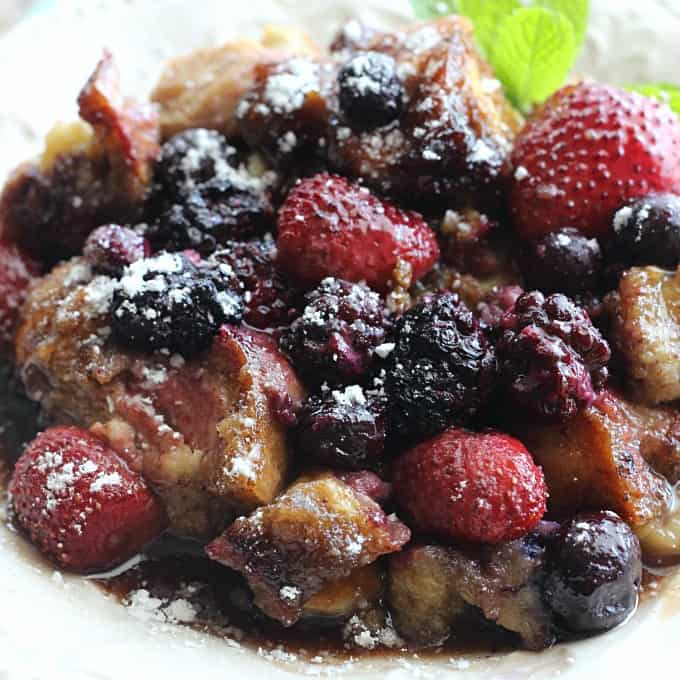 Hey there, y'all and Happy Friday! I am very excited about today's recipe because it's part of a fun event that I'm taking part in along with some other awesome food bloggers. Basically, each of us were secretly assigned another blog to read through and find a recipe we would like to make. Then, we needed to try out the recipe, photograph it, and share it today, AKA "Freaky Friday!" We weren't allowed to tell each other whose blog we had or what we were making from their site. Until now…
I was very excited when I found out that I would get to make one of the yummy recipes created by Nicole from PicNic! Nicole actually has a PhD in neuroscience/biochemistry (wow!) and when she's not in the lab or teaching, she enjoys writing new recipes for her blog, and creating in the kitchen. She's also from New Zealand, AND she just got married, too!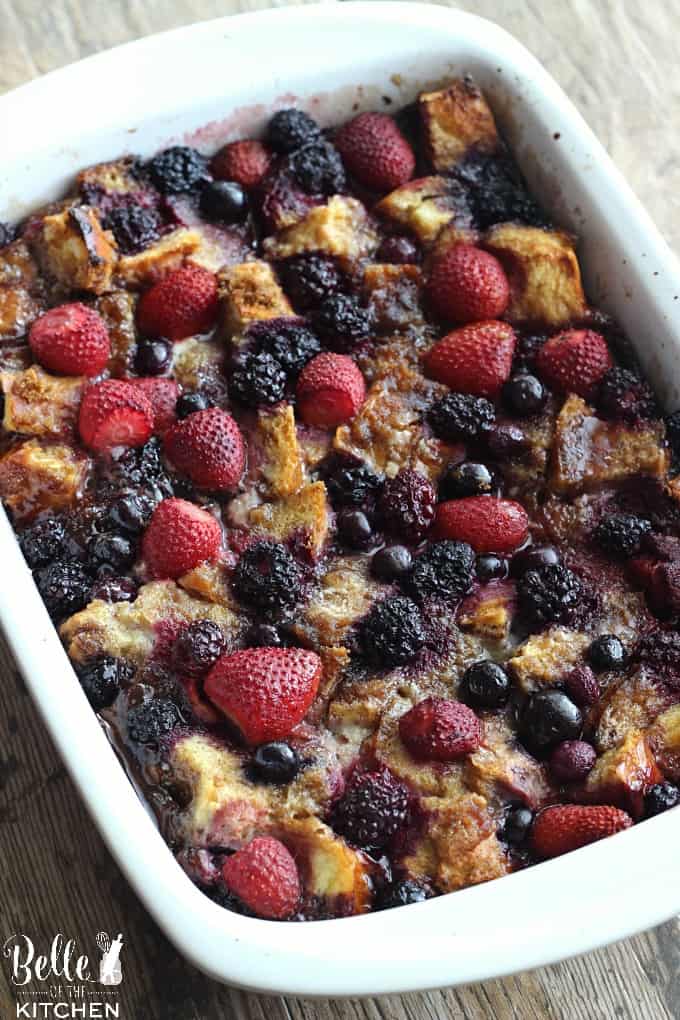 I had fun looking around Nicole's blog trying to choose what to make. There were so many yummy choices like her Double Chocolate Cheesecake, Ricotta Meatball Pasta Bake, or these totally mouthwatering Cheesesteak Quesadillas. I can't wait to make those sometime soon!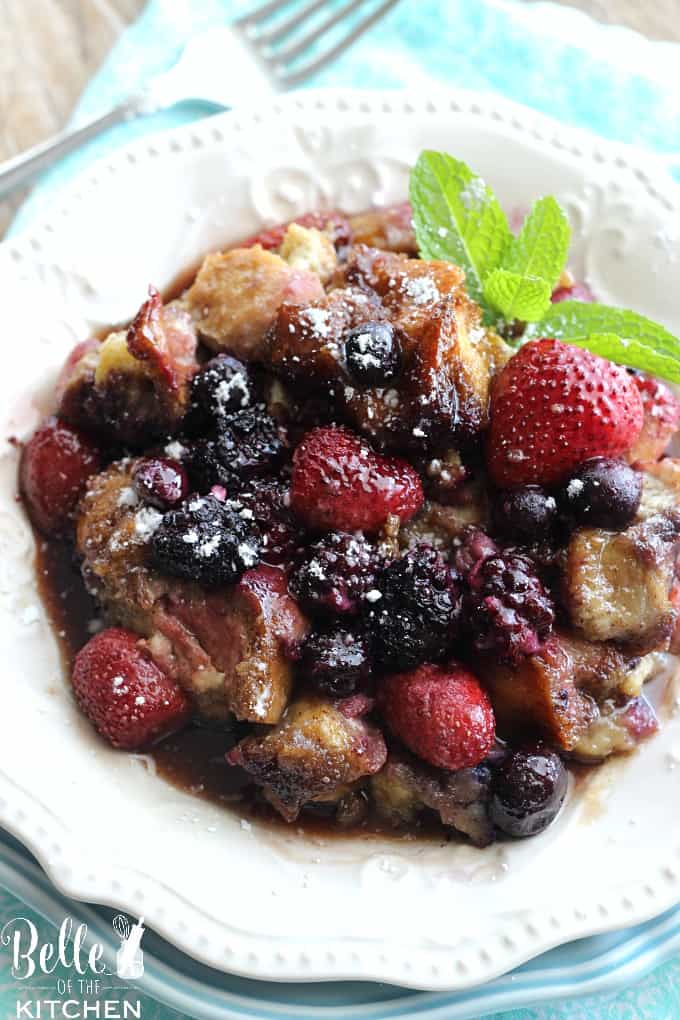 I didn't make too many changes to Nicole's recipe, aside from adding a little base layer to the casserole. It's made of brown sugar and melted butter, and I actually use it in my French Toast Casserole recipe here. I also baked my casserole right after preparing it instead of letting it sit overnight in the fridge because I was pressed for time! It came out tasting delicious, but you could totally prepare it ahead of time and chill it in the fridge until ready to bake like Nicole did. I think that would be the perfect way to prepare breakfast ahead of time for busy mornings or a for a holiday breakfast!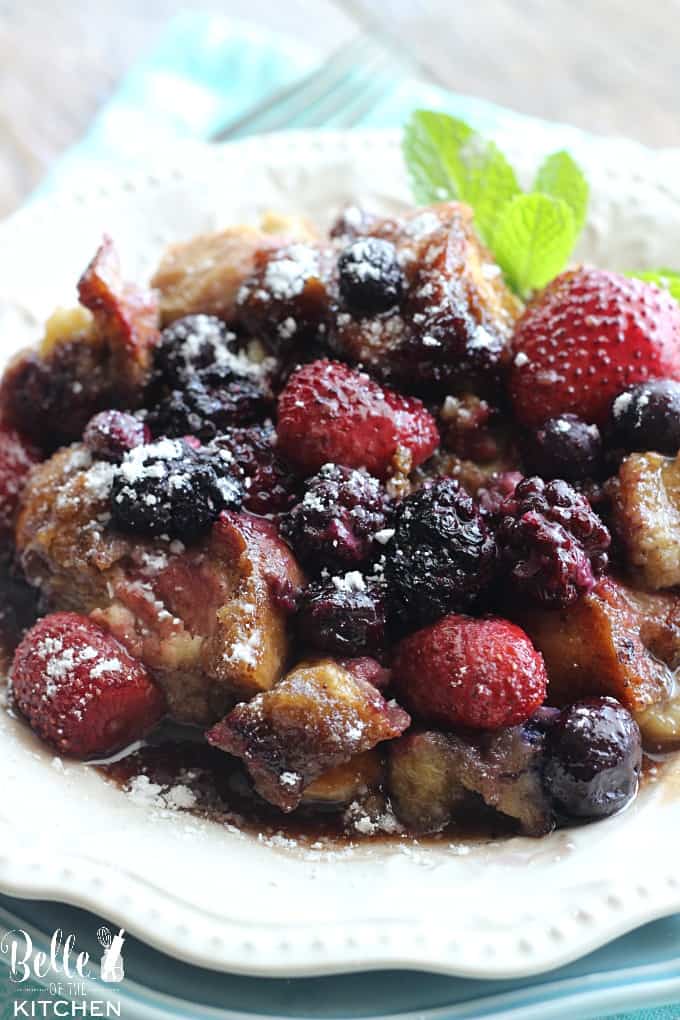 If you'd like to see more of the recipes that were secretly swapped today by the other 16 bloggers, you can check them out below! Just click the pictures in the link-up to take you right to their page.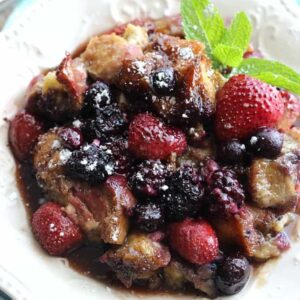 Mixed Berry French Toast Casserole
This Mixed Berry French Toast Casserole is perfect for a special breakfast or brunch! It's a total crowd pleaser and can even be made ahead of time for busy mornings!
Ingredients
Casserole:
½ a loaf of French bread,, about 10 oz, cut into cubes
1/4 cup butter
1/2 cup packed brown sugar
6 eggs
1 3/4 cups milk
1 tsp vanilla extract
1 tsp cinnamon
1/4 tsp salt
12 oz frozen mixed berries
Topping:
1 Tablespoon cold butter
2 Tablespoon packed brown sugar
Instructions
Preheat oven to 350 degrees. Butter a 13x9 inch baking pan and set aside. Remove berries from freezer and allow to thaw slightly while you prepare the casserole.

In a small sauce pan, melt 1/4 cup butter over medium heat. Once butter has melted, stir in 1/2 cup brown sugar until dissolved and mixture is smooth. Pour mixture into the bottom of a 9x13 pan and spread evenly.

Add bread cubes to the pan, spreading over the top of the brown sugar/butter mixture. Spread thawed berries over the top.

In a medium sized bowl, whisk together the eggs, milk, vanilla, cinnamon, and salt. Pour egg mixture over the top of bread cubes, ensuring that all pieces of bread are saturated. Cut together the remaining 2 Tablespoons brown sugar and 1 Tablespoon butter with a fork and sprinkle on over the top. Cover pan with foil.

Bake in preheated oven for 30 minutes. Remove foil from pan and return to oven for 30 more minutes. Remove from oven and allow to cool slightly. Enjoy!
Calories: 333kcal, Carbohydrates: 44g, Protein: 10g, Fat: 12g, Saturated Fat: 6g, Cholesterol: 147mg, Sodium: 392mg, Potassium: 202mg, Fiber: 2g, Sugar: 23g, Vitamin A: 505IU, Vitamin C: 1.1mg, Calcium: 117mg, Iron: 2.1mg
Recipe adapted from PicNic
"Freaky Friday" was brought to you by:
A Dish Of Daily Life || A Kitchen Hoor's Adventures || An Affair from the Heart || Aunt Bee's Recipes Belle of the Kitchen || Big Rigs 'n lil Cookies || Cooking on a Budget || The Devilish Dish
Full Belly Sisters || LeMoine Family Kitchen || Life Currents || Pic-Nic || Take Two Tapas
The Flavor Bender || The Foodie Affair || Who Needs A Cape || Wildflour's Cottage Kitchen

This site contains affiliate links, if you make a purchase through them, we receive a small commission.