Oatmeal Lemon Creme Bars
These Oatmeal Lemon Creme Bars are bound to be your new favorite! With a tart, yet sweet lemon filling and a streusel oatmeal topping, these are hard to put down!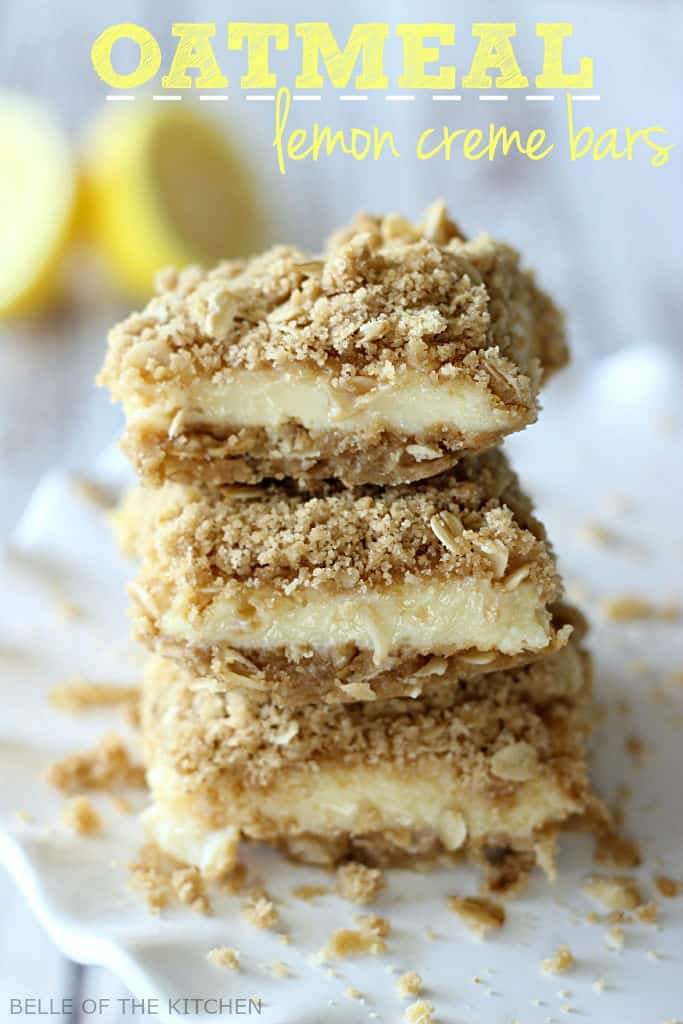 Happy Friday, y'all! I'm really excited to share today's recipe with all of you because it's part of a big, fat secret I've been holding in for the past month! See, awhile back I got together with a big group of awesome food bloggers to participate in a fun "Freaky Friday" recipe swap. Basically, each of us was secretly assigned another blog to read through and find a recipe to make and post about. We weren't allowed to tell each other whose blog we had or what we were making from their site! Until today that is… 🙂

Lucky for me, I got to choose from an incredible collection of recipes from Debi of Life Currents. Debi is a vegetarian blogger who focuses on using healthy, whole food ingredients in her cooking. Trying to decide which of her recipes to make was SUPER difficult! There were so many amazing choices, like this Polenta Pizza that she recently posted, or this Tomato Parmesan Slow Cooker Soup, which I'm definitely going to try out soon. She also has a recipe for Cinnamon Sore Throat Tea that I'm filing away for all of those sick days in the future!
What I ultimately set my sight on, though, were these incredible looking Oatmeal Lemon Creme Bars. The moment I spotted them while checking out Debi's blog, I knew I had to make them! I can never turn down a lemon bar, and that crumbly oatmeal topping just seemed to be calling out my name!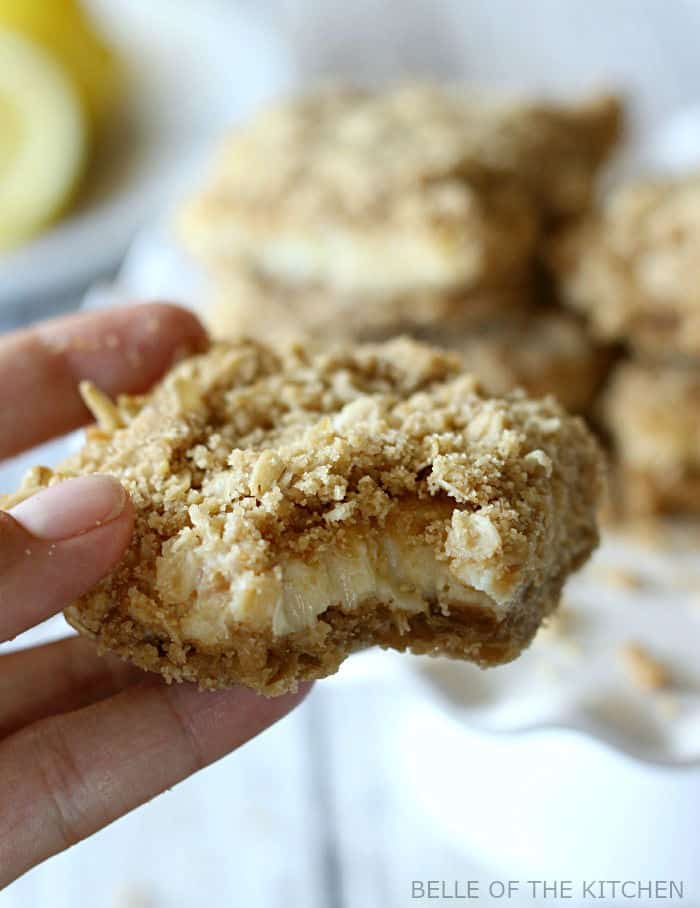 So I gave in of course, and just made them. 😉 Y'all, these lasted all of 24 hours at our house. I did give a couple to one of my friends, and my hubby took one in to one of his coworkers, but for the most part…. they were devoured by us alone!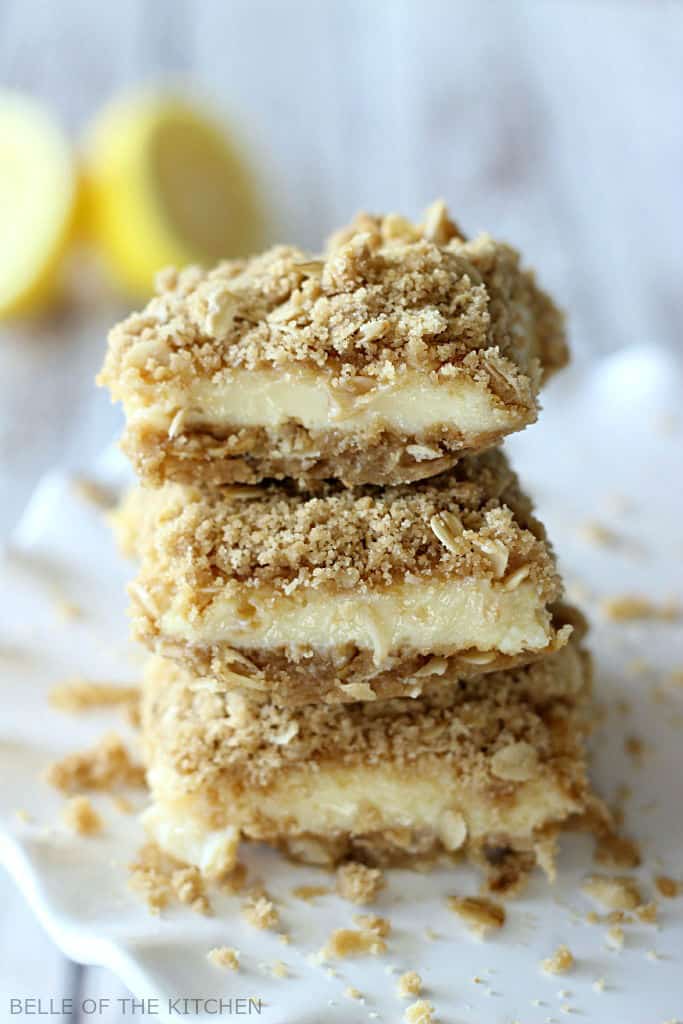 If you'd like to see more of the recipes that were secretly swapped today by the other 18 bloggers, you can check them out below! Just click the pictures in the link-up to take you right to their page. 🙂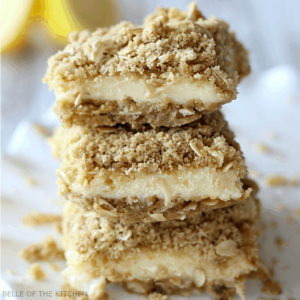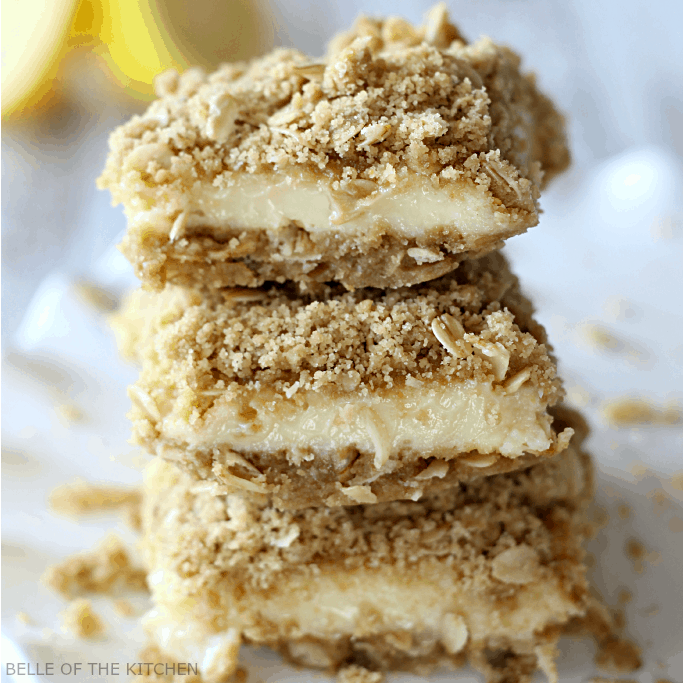 Oatmeal Lemon Creme Bars
These Oatmeal Lemon Creme Bars are bound to be your new favorite! With a tart, yet sweet lemon filling and a streusel oatmeal topping, these are hard to put down!
Ingredients
½ cup butter,, softened
1 cup packed dark brown sugar
1 1/3 cups all purpose flour
½ teaspoon salt
1 teaspoon baking powder
1 cup old-fashioned oats
1 (14 oz) can sweetened condensed milk (not evaporated)
2 teaspoon lemon zest
¼ cup lemon juice
¼ teaspoon lemon extract
Instructions
Preheat oven to 350 degrees. Grease a square 8x8 baking pan and set aside.

In a large mixing bowl, cream together the butter and brown sugar with an electric mixer over medium speed until crumbly.

In a separate smaller mixing bowl whisk together flour, salt, and baking powder. Add oats to the dry ingredients and stir to combine. Add the dry ingredients to the butter mixture and mix well.

Press 3/4 of the oat mixture into the prepared pan. In a small bowl mix together sweetened condensed milk, lemon juice, lemon zest, and lemon extract. Spread evenly on top of the oat mixture in the pan. Top with the remaining oat mixture.

Bake for 20 to 25 minutes or until the top is golden brown. Let cool, then refrigerate for 30 minutes or until set. Cut into bars and store in the refrigerator.
Calories: 241kcal, Carbohydrates: 38g, Protein: 3g, Fat: 8g, Saturated Fat: 5g, Cholesterol: 23mg, Sodium: 159mg, Potassium: 168mg, Sugar: 27g, Vitamin A: 245IU, Vitamin C: 2.5mg, Calcium: 99mg, Iron: 0.9mg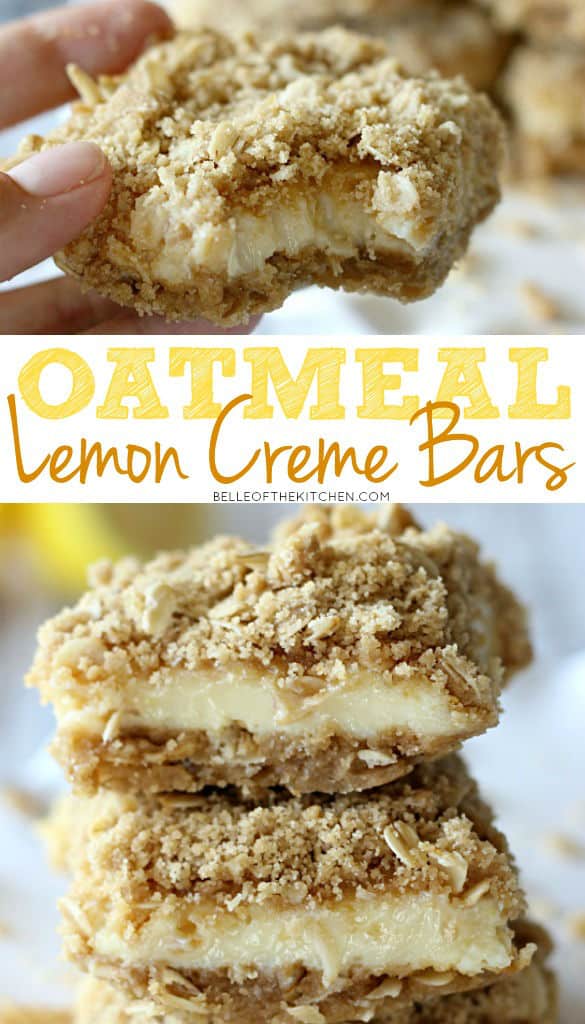 Freaky Friday was brought to you today by all of these fabulous bloggers!
Michelle from A Dish of Daily Life
Debi from Life Currents
Terra from Café Terra
Nicole from Pic-Nic
Lori from Who Needs A Cape?
Kris from Big Rigs 'n Lil' Cookies
Jenny from Honey & Birch
Candi from The Devilish Dish
Dini from Giramuk's Kitchen – Food & Recipe Blog
Michaela from An Affair from the Heart
Brandi from Aunt Bee's Recipes
Justine from Full Belly Sisters
Sandra from The Foodie Affair
Kelly from Wildflour's Cottage Kitchen
Christie from A Kitchen Hoor
Ashlyn from Belle of the Kitchen
Angela from LeMoine Family Kitchen
Sarah from The Magical Slow Cooker
Christine from Christine It
This site contains affiliate links, if you make a purchase through them, we receive a small commission.