Parmesan Meatball Sandwiches Recipe
These Parmesan Meatball Sandwiches are made with delicious, homemade meatballs that are stuffed with parmesan cheese and cooked up in a flavorful tomato sauce. They're topped with a cheesy layer of mozzarella and toasted to crispy, sandwich perfection!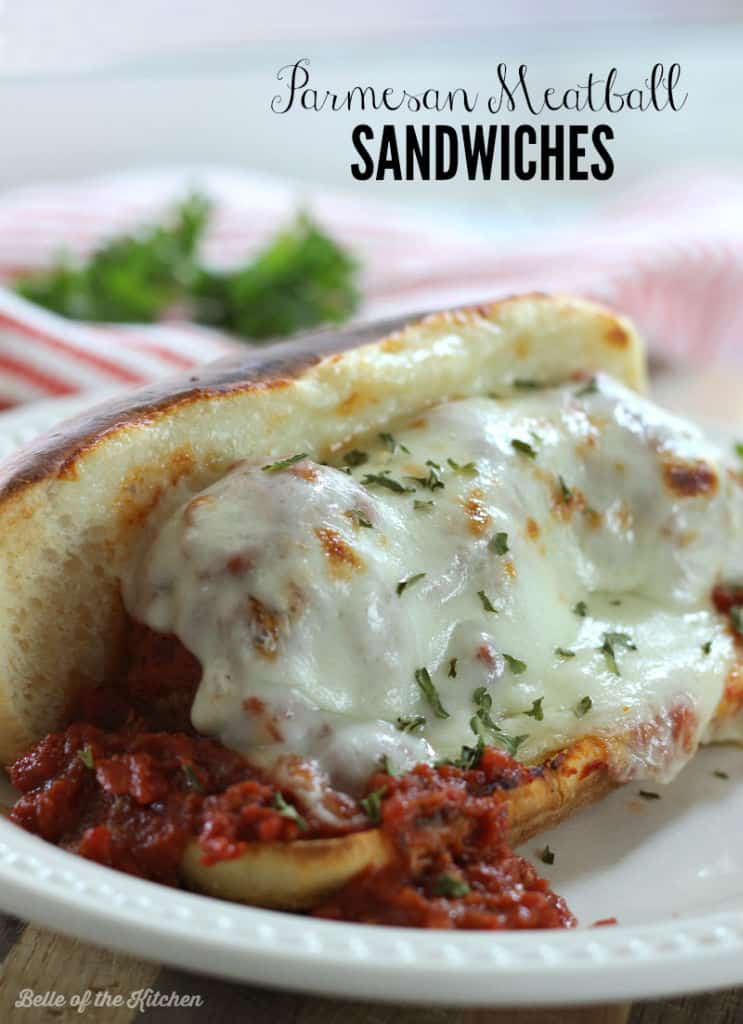 Any football fans out there? We are a total football loving family, and are a house divided! My husband is an Auburn fan and I bleed red and black for my Georgia bulldawgs. Most of football season, though, we get along pretty well and even support each other's teams. But when the south's oldest rivalry takes place each November? Well, the claws come out, and the trash talk spews. 😉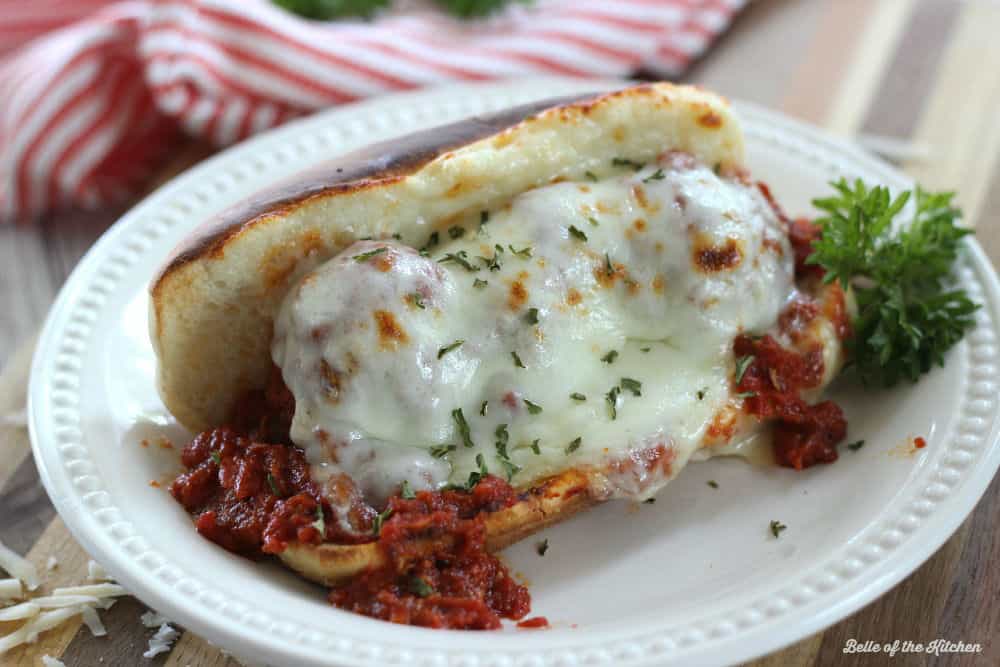 I love making these meatball sandwiches for us to chomp on while watching a game. They are so yummy and everyone at my house loves them, including both of my kids. This recipe is also excellent for making spaghetti and meatballs! All you have to do is prepare some noodles instead of bread for sandwiches and you've got another delicious meal option!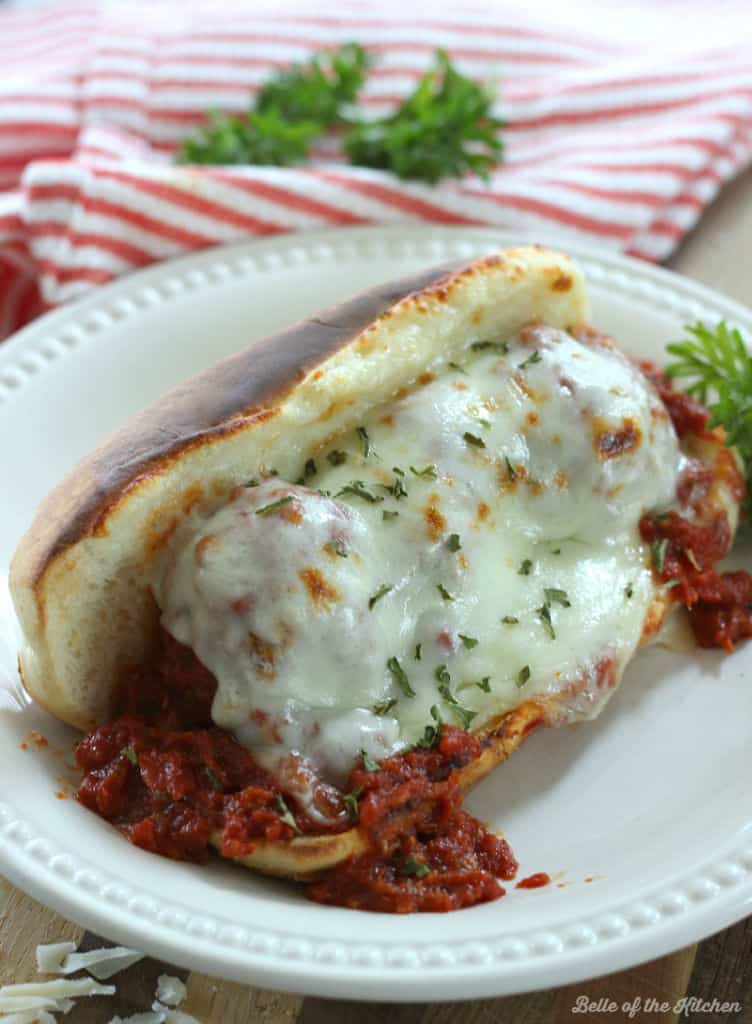 With football here, it means fall is just around the corner! Who else is excited about that?! Y'all, I bought a pumpkin candle at Target the other day on September 1st because I just couldn't wait any more. Football and pumpkin-everything are probably what I look forward to the most, though I used to look forward to boots, leggings, and sweaters. Fall is my favorite season for clothing, but I can't really wear any of my fall wardrobe out here in Hawaii. I know I won't be complaining in a few more months, though, when I start to see posts about snow back on the mainland! That is one thing I can definitely say I don't miss. 😉
Have a great weekend, y'all, and be sure to come back tomorrow for Saturday Night Fever, my new recipe link party gig! It goes live at 6 p.m. Pacific time on Saturday nights, or 3 p.m. Hawaii time if you happen to be out here on the islands, too!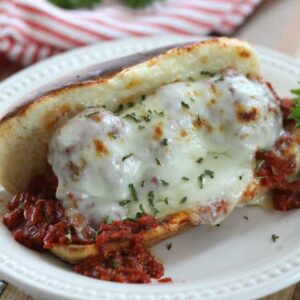 Parmesan Meatball Sandwiches
These Parmesan Meatball Sandwiches are made with homemade meatballs stuffed with parmesan cheese and cooked up in a flavorful sauce. A meal the whole family will love!
Ingredients
For the meatballs:
2 Tablespoons olive oil
1/2 lb. mild Italian sausage
1/2 lb. lean ground beef
1/2 cup onion,, diced
3/4 cup parmesan cheese
1/2 cup italian bread crumbs
2 cloves garlic,, minced
1 egg
salt and pepper
For the sauce:
2 cloves garlic,, minced
1 (28 oz) can crushed tomatoes
1 teaspoon Italian seasoning
1 teaspoon oregano
For sandwiches:
French bread rolls
sliced mozzarella or provolone cheese
Instructions
Combine italian sausage, ground beef, onion, parmesan cheese, bread crumbs, 2 cloves minced garlic, egg, and salt and pepper in a bowl, mixing well. Form into meatballs (about 18-20).

Heat olive oil over medium-high heat. Add meatballs and cook about 6 minutes, turning to ensure meatballs are browned on all sides.

Remove meatballs from pan. Add in 2 cloves minced garlic to the same pan and sauté for 30 seconds. Add in tomatoes, italian seasoning, and oregano.

Return meatballs to pan and simmer, covered, for 20 minutes. Turn on oven broiler.

On a cookie sheet, top sliced french bread rolls with 3-4 meatballs and sauce. Place slices of cheese over the top of meatballs. Broil sandwiches in the oven for about 2 minutes, or until cheese is melted and dotted with brown. Enjoy!
Notes
*Nutrition facts do not include bread or toppings
Calories: 112kcal, Carbohydrates: 5g, Protein: 6g, Fat: 6g, Saturated Fat: 2g, Cholesterol: 26mg, Sodium: 246mg, Potassium: 203mg, Fiber: 1g, Sugar: 2g, Vitamin A: 130IU, Vitamin C: 4.5mg, Calcium: 73mg, Iron: 1.2mg
This site contains affiliate links, if you make a purchase through them, we receive a small commission.