S'mores Chocolate Fudge Cake
Welcome to March, Belle of the Kitchen readers! I'm Carrie from Kenarry: Ideas for the Home back again for the latest installment of Ideas for the Kitchen. Once a month Ashlyn and I trade blogs to bring you new recipes and ideas for your kitchen. Both Ashlyn and I were born in the month of March. To celebrate, we thought it would be really fun to swap birthday dessert ideas this month. I've brought over a melt-in-your-mouth S'mores Chocolate Fudge Cake to share with you today. With graham cracker, toasted marshmallow and melted chocolate bars, it's like having your favorite summer-time treat any time of the year.
While I'm here, Ashlyn's over at Kenarry: Ideas for the Home sharing a delicious recipe for Cake Batter Bars. She'll share it with you here in a few weeks, but if you're anxious to try it sooner head over to Kenarry: Ideas for the Home and check it out.
Are you the type of person who relishes the thought of your birthday and marking the start of a brand new year of life? Or are you the type who loathes it and would rather no one noticed? Personally, I'm not quite as bad as my sister who claims an entire birth-month to celebrate, but I do look forward to having a day once a year to feel special and reflect on who I've become and where my life is headed. This year, I'm officially reaching "mid-life" — the big 4-0! It's not going to be black balloons, tombstones and over the hill stuff for me, though. I love celebrating birthdays with my family and prefer we mark this momentous occasion with bright colors, good cheer and of course, cake!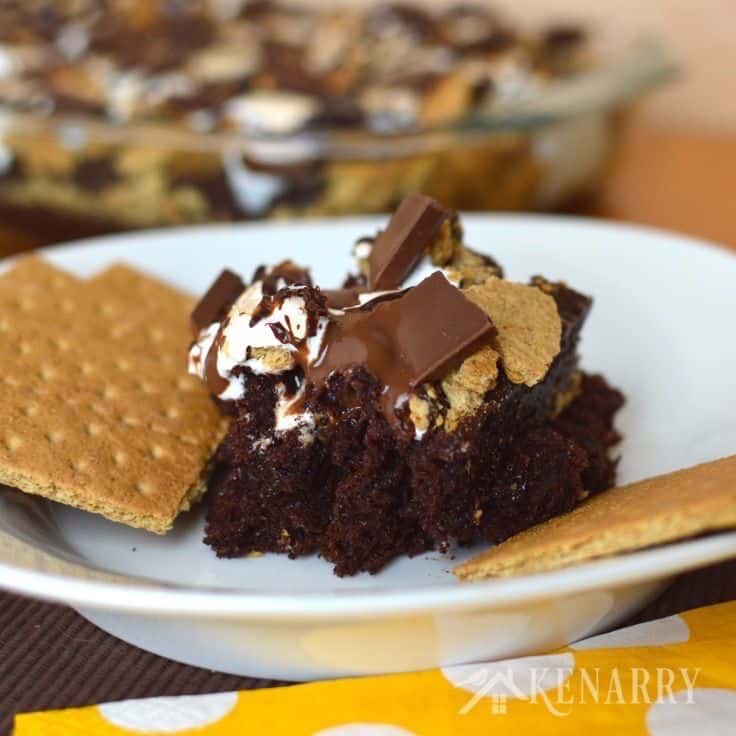 The S'mores Chocolate Fudge Cake I'm sharing today was inspired by a "Campfire Cupcake" I had at a bakery in Chicago several years ago. It was covered in toasted marshmallows, crushed graham crackers and rich chocolate. I just knew I had to try making my own version as an entire 9 x 13″ cake when we celebrated my mother's birthday that year. She has a summer birthday and what says summer more than s'mores and campfires?
Why wait until summer, though, to enjoy s'mores?! This delicious S'mores Chocolate Fudge Cake is like having gooey toasted marshmallow s'mores by a roaring campfire to bring a little warmth and good cheer to what can otherwise be a cold dreary season.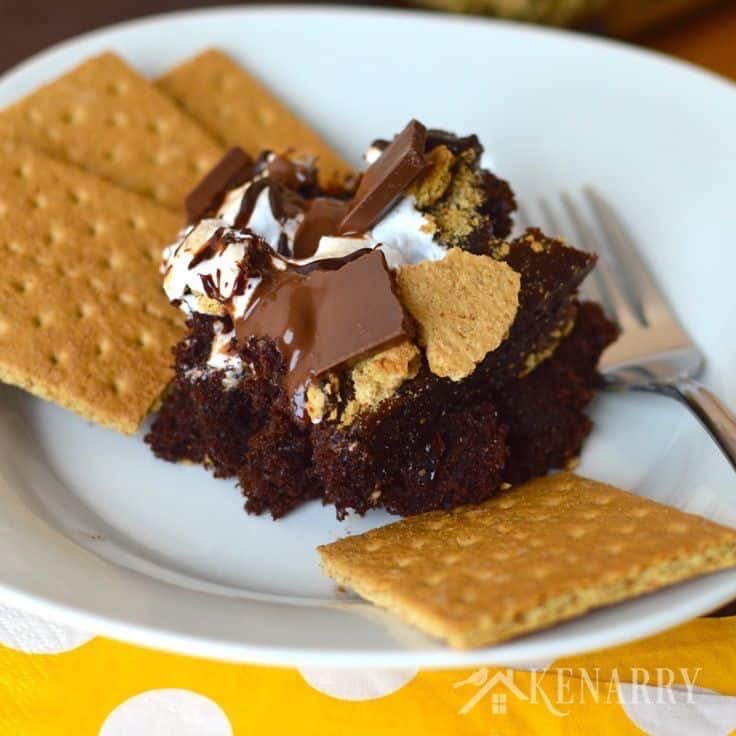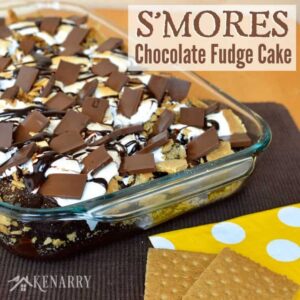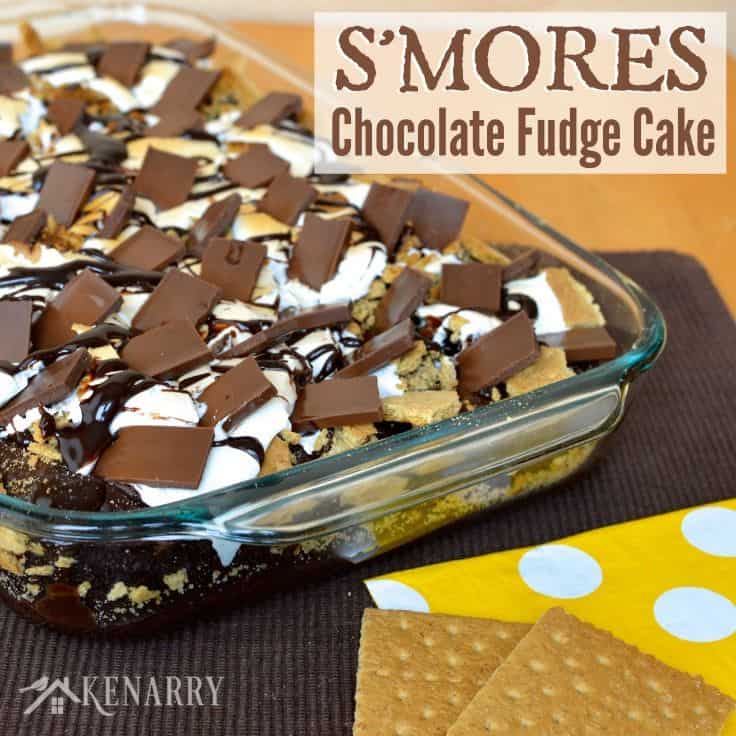 S'mores Chocolate Fudge Cake
S'mores Chocolate Fudge Cake is made with graham crackers, toasted marshmallow, and melted chocolate bars. it's like having your favorite summer-time treat any time of the year.
Ingredients
15.25 oz chocolate fudge cake mix
1 1/4 cup water
1/2 cup vegetable oil
3 eggs
11.75 oz jar of hot fudge
6 graham crackers
7 oz jar marshmallow cream
4 - 1.55 oz. chocolate bars,, broken into pieces
Instructions
Mix the chocolate fudge cake following the instructions on the box for oil, water and eggs.

Pour the chocolate fudge cake mix into a lightly greased 9 x 13" glass baking dish. TIP: To help the cake cook evenly, run a strip of terrycloth from an old bath towel under cold water. Wrap it around the cake pan and secure it with a safety pin. This will keep the edges from cooking too quickly which causes the cake to mound up in the center.

Bake at 350 degrees for 30-35 minutes or until a toothpick comes out clean. Let the chocolate fudge cake cool for 15 minutes.

Use the end of a wooden spoon to poke holes in the cake about 1 inch apart.

Heat the jar of hot fudge in the microwave for 30 seconds. Stir, then heat for 20 more seconds. Pour 3/4 of the jar over the top of the holes in the cake.

Crush the graham crackers and sprinkle over top of the chocolate fudge cake.

Spoon dollops of marshmallow cream across the chocolate fudge cake.

Broil on high for 1-2 minutes or until the marshmallows are toasted. WATCH CLOSELY so the marshmallow doesn't burn.

As soon as you take the chocolate fudge cake out of the oven, drizzle the remaining hot fudge across the top. Insert chocolate bar pieces into the toasted marshmallow.

The warmth of the cake will cause the chocolate bars to melt slightly. Enjoy!
Calories: 404kcal, Carbohydrates: 53g, Protein: 5g, Fat: 20g, Saturated Fat: 11g, Cholesterol: 31mg, Sodium: 345mg, Potassium: 270mg, Fiber: 2g, Sugar: 29g, Vitamin A: 50IU, Calcium: 70mg, Iron: 3.5mg
Serving Suggestions for S'mores Chocolate Fudge Cake
This S'more Chocolate Fudge Cake is best served warm. Pair it with cold vanilla ice cream, if you're celebrating a birthday. Candles and party hats are optional. I served this S'mores Chocolate Fudge Cake to my Bible study group the day after I made it, though, and they seemed to enjoy it just as well at room temperature.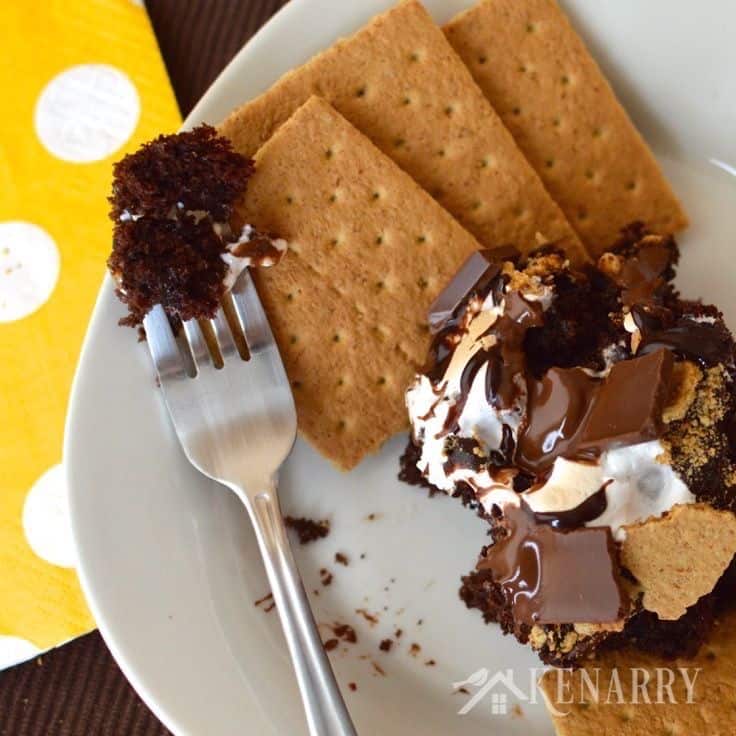 What's your favorite birthday cake or dessert? Do you have a standard one you enjoy every year or do you prefer to try new desserts for your birthdays? Please comment below and share. Ashlyn and I would love to hear about your traditions and are always looking for new ideas.
If you liked this S'mores Chocolate Fudge Cake Recipe, please share it with your friends or pin it for later: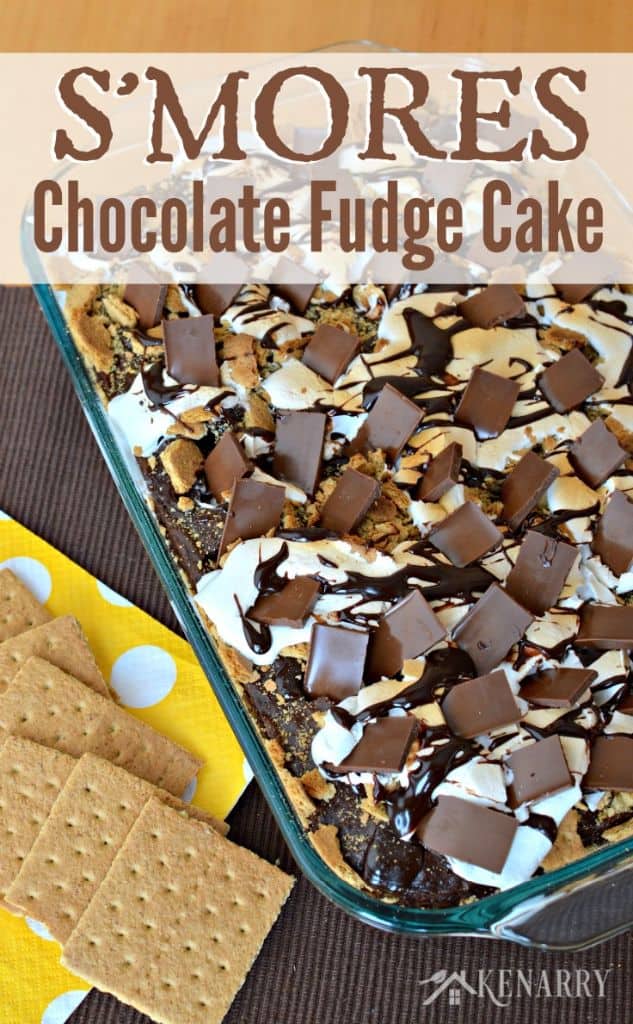 You may also enjoy these Cake Ideas on Kenarry: Ideas for the Home:
Peanut Butter Fudge Cake with a Graham Cracker Crust
1-2-3 Cake: A Single-Serving Dessert in a Cup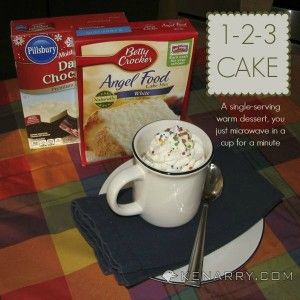 A big thanks to Ashlyn for allowing me to share this S'mores Chocolate Fudge Cake recipe today. I look forward to coming back next month to share more Ideas for the Kitchen with you.
About Carrie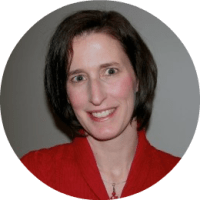 Carrie is the chief writer, crafter and cook at Kenarry: Ideas for the Home where she and her husband create and curate ideas you'll find useful for your home. She's an optimist by nature and enjoys sharing recipes, trying new craft ideas, planning for parties and events as well as organizing and decorating. Carrie's passion, though, is volunteerism and connecting people with opportunities to make a difference in their community. When she's not blogging, preparing meals or picking up around the house, you're bound to find her hidden away in a castle under the stairs reading to her two young boys. Whether you're cooking, crafting or creating for your family, you'll find inspiration by connecting with Carrie. Find her online at Kenarry, Google+, Pinterest, Facebook, Twitter and Instagram.
This site contains affiliate links, if you make a purchase through them, we receive a small commission.