This Rosemary Roasted Chicken tastes delicious and will look beautiful on your table. It's perfect for a special occasion or just a simple weekday dinner.
My husband and I celebrated our five year anniversary yesterday. We kept it pretty low key since we celebrated over the weekend by going out to dinner at a Japanese steakhouse with the kiddos. It was the first time our son had ever been to one and he LOVED it. He kept asking our chef/entertainer to make more fire. I knew our chef had earned himself a big tip when he told our little guy that he had to eat his vegetables first. And wow, it totally worked! 🙂
Even though we weren't going out to eat, I still wanted to make a nice dinner for us and Rosemary Roasted Chicken sounded like the perfect anniversary meal.
I love making rosemary roasted chicken because it usually makes enough for a couple different meals. We ate it for dinner last night and I plan to use leftovers to make chicken salad this evening. Gotta love multi-use recipes!
I remember the first time I made a roasted chicken. I was intimidated because it was a large bird and I wasn't sure I could do one justice. If you've felt this way, too, just go ahead and let go of those big-bird fears! 😉 They are actually very easy to prepare and make for a beautiful presentation! AND, I have a little tip to share with you to make the breast meat perfectly moist and delicious.
Start by preheating the oven to 350 degrees. Add some chopped veggies to a 9×13 inch baking pan. I added half of a small bag of baby carrots, half of a chopped onion, and three small chopped russet potatoes. You could use whatever veggies you have on hand though! Also pour 1 cup of chicken broth into the pan and over the top of the veggies.
Next, get started on the chicken. Remove the neck and giblets from the cavity. I discarded mine, but you can always keep them to make gravy if you wish.
Rinse your bird inside and out, and pat dry with paper towels. Place it breast-side up on top of the veggies in the baking pan. Now, for that little trick I mentioned! I learned this tip from John over at Food Wishes while preparing my Thanksgiving turkey this past year. Grab a little spatula and loosen the skin starting near the cavity. Run your spatula around under the skin to loosen it up, then spread some softened butter in between the skin and breast meat and smush it around using your fingers on top of the skin.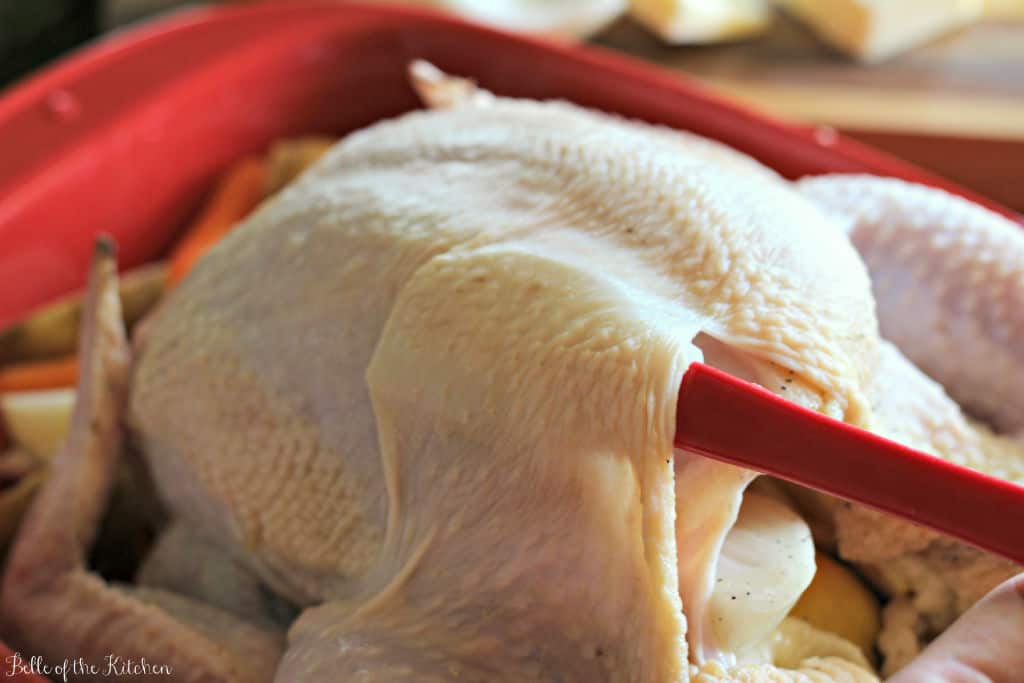 The butter will make the breast meat incredibly moist! No dry chicken here. 🙂 You can also add some garlic or seasonings to your butter before you put it under the skin to add even more flavor. I kept it simple this time though, and just used plain butter.
Season the cavity with salt and pepper and stuff with half of a quartered lemon, half of a quartered onion, a couple sprigs of rosemary, and two cloves of garlic.
Season the outside of the chicken with salt, pepper, garlic powder and the remaining sprig, of chopped rosemary. I also used these same seasonings on my veggies. Drizzle a little melted butter over the top of the chicken.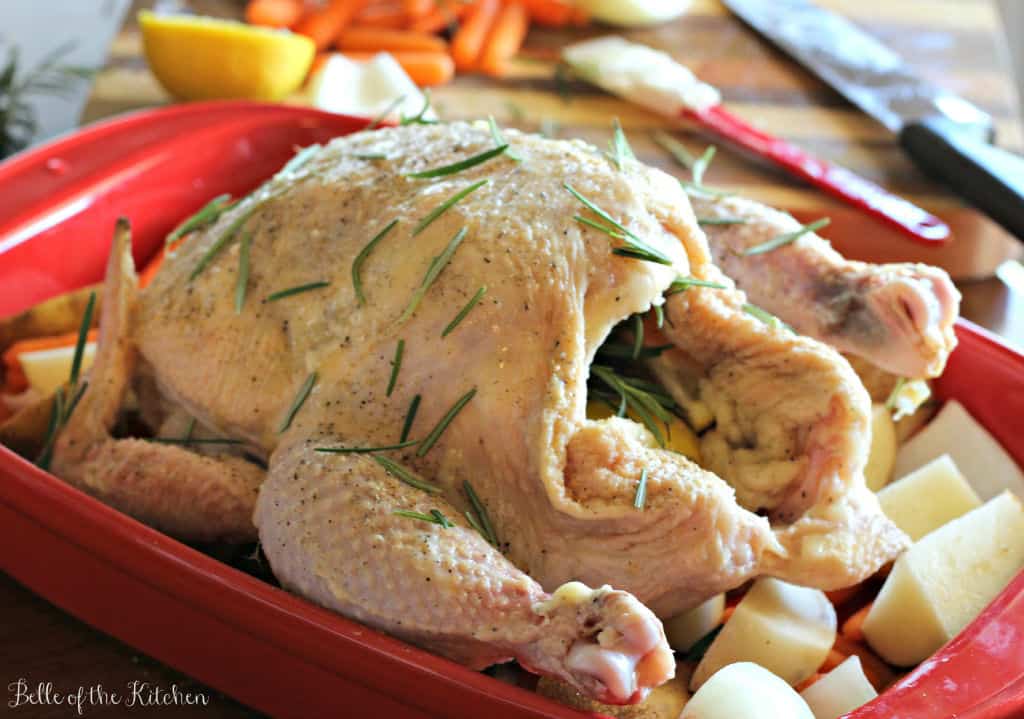 Before placing your awesome chicken in the oven, take some cooking twine and tie the legs together. I used some fun, green twine in honor of St. Patty's Day. 🙂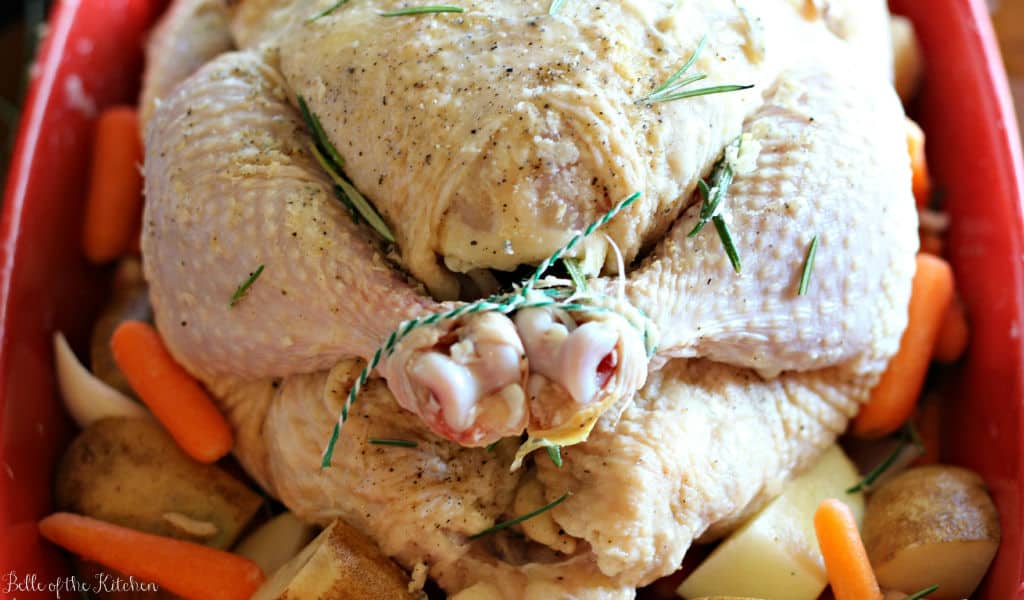 I like to cover the breast meat of my chicken with a little tent of aluminum foil for the first hour and half to keep it from getting too brown. After that, I remove it so the breast meat turns a lovely golden brown.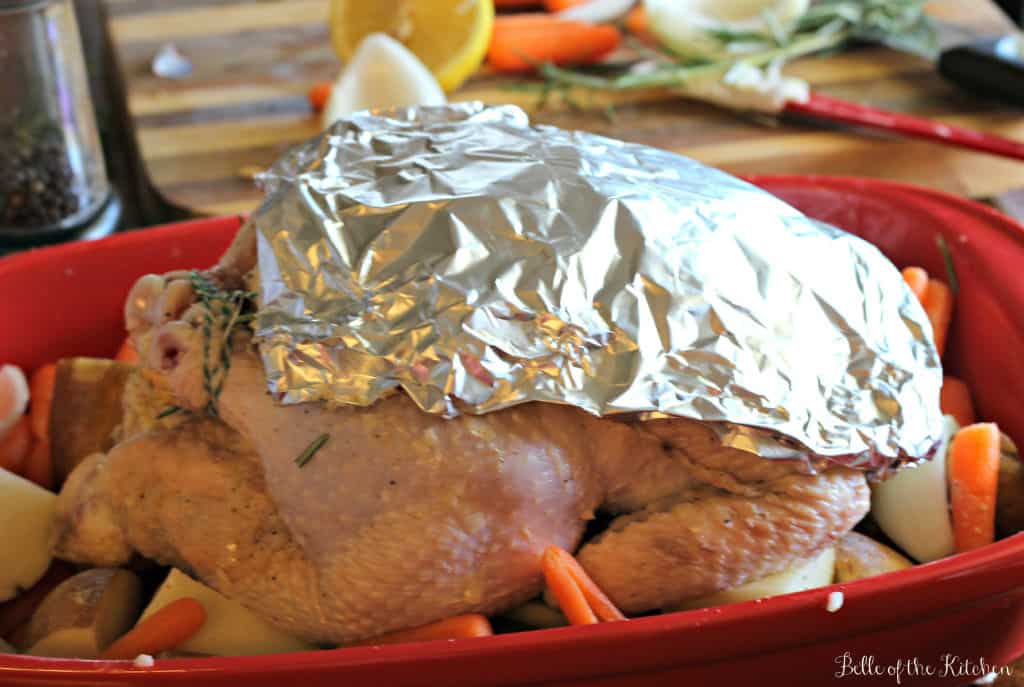 Roast the chicken at 350 degrees for about 20 minutes per pound, or until a meat thermometer in the thigh reaches 165 degrees. I had a 4.75 pound bird and it was done in about 2 hours.
Mmmmm. This makes for such a wonderful dinner! Whether you're celebrating something special or just looking for a yummy weekday meal, I promise you will love this Rosemary Roasted Chicken! Hope all of you had a fun St. Patrick's Day and are enjoying your week so far. 🙂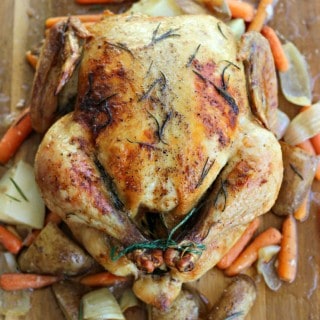 Rosemary Roasted Chicken
Total Time
1
hour
15
minutes
Ingredients
1

whole chicken

1/2

lemon,

quartered

2

cloves

garlic

1

small onion,

quartered

3

small potatoes,

chopped

1/2

small bag of baby carrots

3

Tablespoon

butter

1

cup

chicken broth

3

sprigs rosemary

1/2

tsp

garlic powder

salt and pepper,

to taste
Instructions
Preheat oven to 350 degrees.

Remove neck and giblets from cavity of chicken and discard. Rinse chicken inside and out and pat dry with paper towels.

Place potatoes, carrots, and half of quartered and separated onion in the bottom of a 9x13 inch baking pan. Pour the chicken broth over the top of the vegetables.

Season cavity of chicken with salt and pepper. Stuff cavity with lemon, garlic, 2 sprigs of rosemary, and remaining half of the onion. Place chicken over the top of vegetables in baking pan.

Loosen skin from the breast meat of the chicken by running a small spatula gently underneath the skin. Spread 2 tablespoons of softened butter underneath the skin on both breasts. Use your fingers to smush it around on top of the skin.

Season the outside of the chicken and vegetables with salt, pepper, and garlic powder. Melt the remaining tablespoon of butter and drizzle over the top of the chicken.

Make a little tent of aluminum foil and cover the breast meat of the chicken. After about and hour and a half, remove the aluminum foil and continue roasting. Roast your chicken for about 20 minutes per pound, or until a meat thermometer placed in the thickest part of the thigh reaches 165 degrees. Slice and serve with the roasted veggies, and the pan drippings ladled over the top!
Nutrition Facts
Rosemary Roasted Chicken
Amount Per Serving
Calories 409
Calories from Fat 225
% Daily Value*
Fat 25g38%
Cholesterol 110mg37%
Sodium 323mg14%
Potassium 827mg24%
Carbohydrates 18g6%
Protein 27g54%
Vitamin A 5565IU111%
Vitamin C 19.6mg24%
Calcium 68mg7%
Iron 5mg28%
* Percent Daily Values are based on a 2000 calorie diet.