Honey Dijon Pork Tenderloin Recipe
Honey Dijon Pork Tenderloin – juicy and delicious pork tenderloin is roasted in the oven with an irresistible honey dijon glaze. This is so easy to make and is perfect for a weeknight dinner, or a special occasion, too!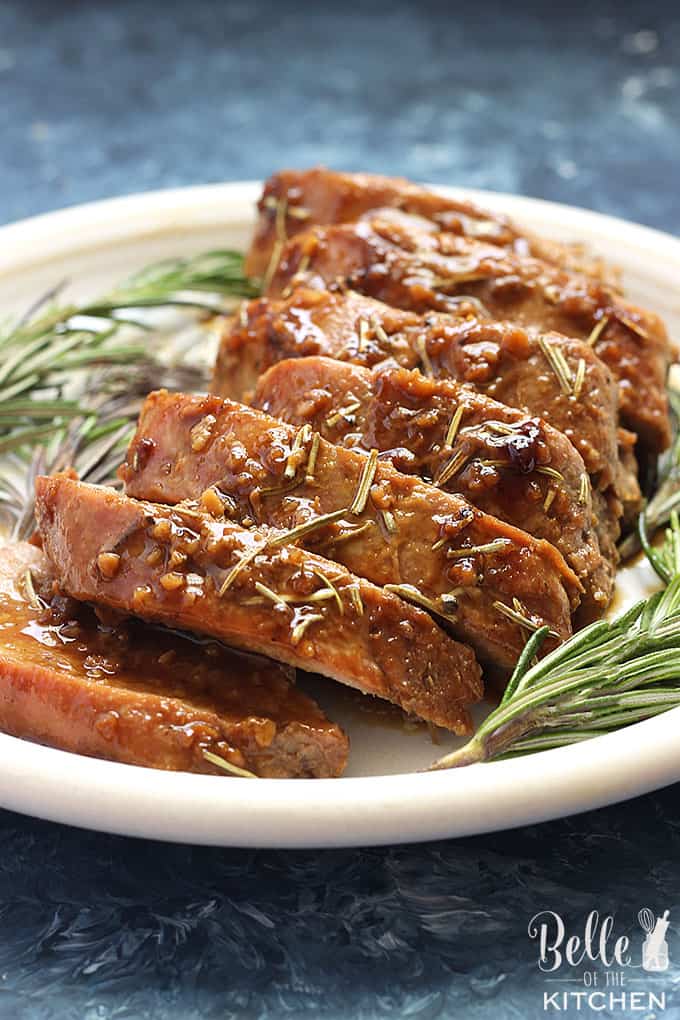 Do you ever get into a dinner time rut? Where you just keep making the same things over and over, whether it's out of habit or just due to late-in-the-day exhaustion?
I'm guilty of it, and my oldest likes to remind me of that fact, too. According to him and his groaning all we ever eat is chicken.
Which I guess is true. Cilantro Lime Chicken Tacos and Crockpot Chicken and Noodles are two regulars at our house, but with good reason!
They're easy and GOOD! Why mess with a good thing?!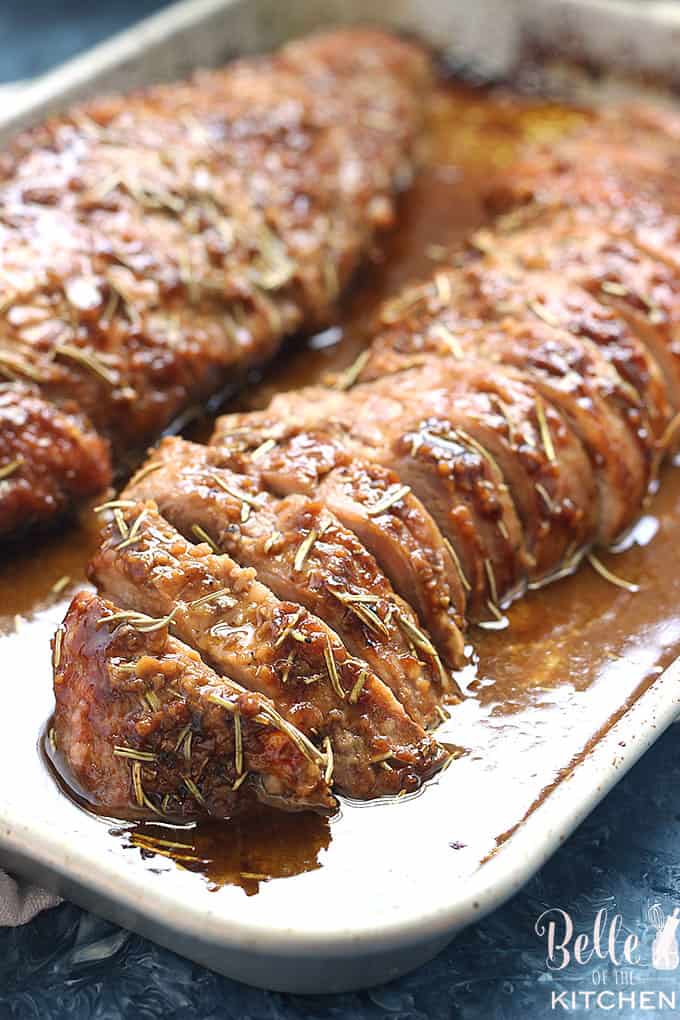 But I do kind of see his point. It's not fun to eat the same thing all the time.
In fact, for Easter this year, I decided I didn't want to have ham, which is what we usually eat for Easter dinner every year. I just wanted something different.
So I decided to branch out and make a pork tenderloin, which I hadn't made in ages.
I have no idea why I waited so long though! This Honey Dijon Pork Tenderloin is so tasty, flavorful, and easy!
Seriously, it's the perfect way to spice up your dinner rotation if you're feeling stuck in a rut.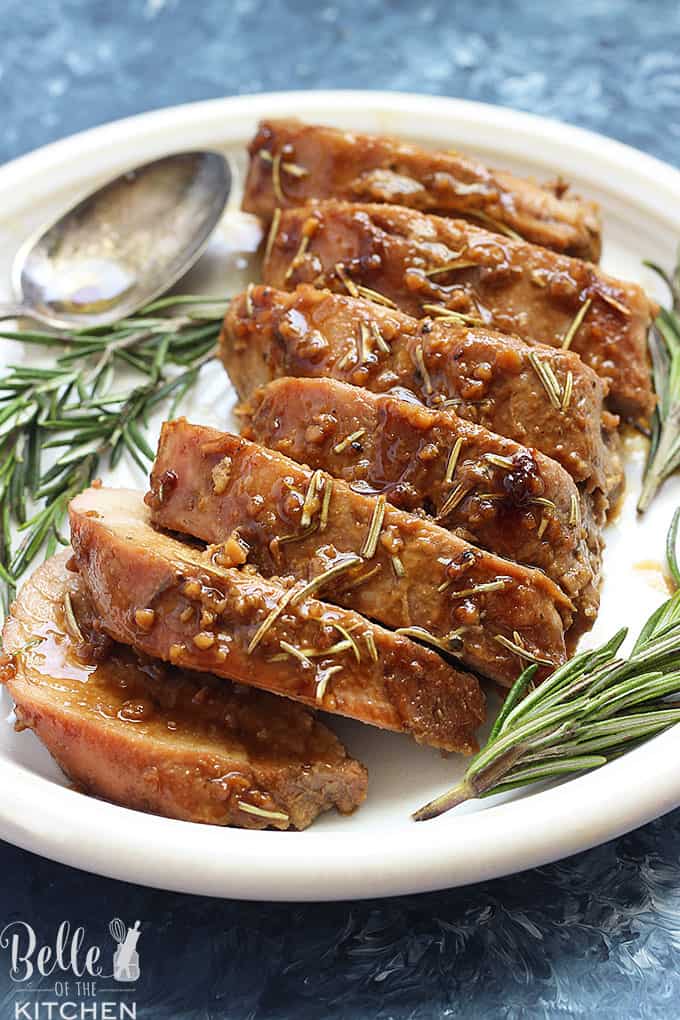 What I love about this recipe is that it's easy enough to make for a weeknight dinner, but also elegant enough to make for a special occasion like we did on Easter.
I like to serve it with mashed potatoes and Garlic Parmesan Roasted Asparagus on the side.
Give it a try. You are seriously going to love it. ESPECIALLY that sauce!
It's so good, you'll want to drink it! You've been warned.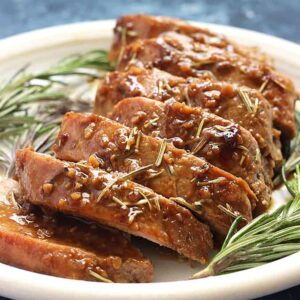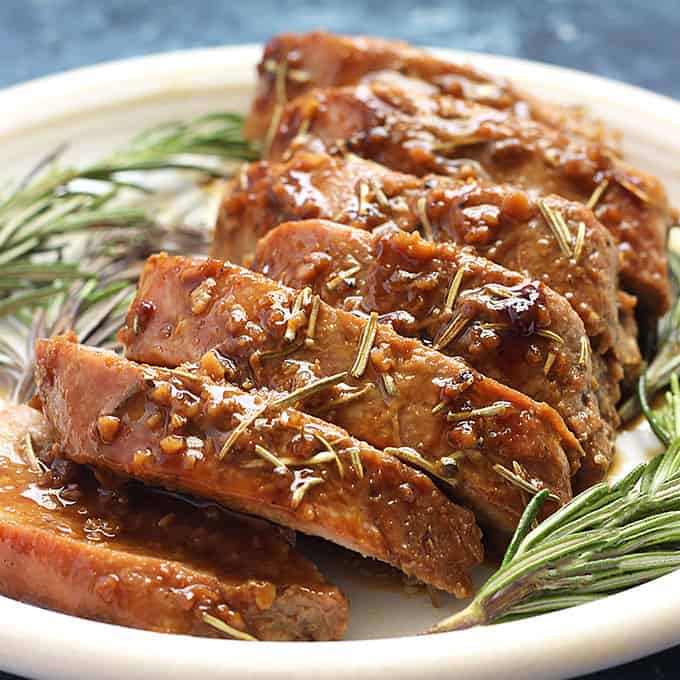 Honey Dijon Pork Tenderloin
This Honey Dijon Pork Tenderloin is roasted in the oven and topped with a delicious glaze that you'll want to drink with a spoon! It's so easy to make, too!
Ingredients
1 package pork tenderloins (package should contain two tenderloins)
1/4 cup soy sauce
3 Tablespoons honey
3 Tablespoons olive oil
2 Tablespoons orange juice
2 Tablespoons dijon mustard
3-4 garlic cloves, minced
2 teaspoons dried rosemary (or 1 sprig freshly chopped)
fresh ground pepper, to taste
Instructions
Preheat oven to 350 degrees. Spray a rimmed baking sheet with cooking spray, and place the two pork tenderloins on top.

In a small bowl, whisk together the soy sauce, honey, olive oil, orange juice, dijon mustard, garlic, rosemary, and pepper. Cut small slits in the top of each of the tenderloins, about halfway through (about 6 slits on each). Pour the sauce over the top of the tenderloins.

Bake in the preheated oven for 40-50 minutes, spooning the sauce over the top of the tenderloins every 10 minutes. This creates a super yummy glaze on top, and will soak into the slits you cut in the meat. Bake until a meat thermometer inserted in the largest part of the tenderloins reads 145.

Remove tenderloins from the oven and allow to rest for 10-15 minutes before slicing and serving. Serve with sauce from the pan drizzled over the top. Enjoy!
Calories: 250kcal, Carbohydrates: 7g, Protein: 30g, Fat: 10g, Saturated Fat: 2g, Cholesterol: 92mg, Sodium: 521mg, Potassium: 590mg, Sugar: 6g, Vitamin A: 10IU, Vitamin C: 2.5mg, Calcium: 14mg, Iron: 1.7mg
Adapted from Diva di Cucina

If you like this Honey Dijon Pork Tenderloin, then you might also like:
This site contains affiliate links, if you make a purchase through them, we receive a small commission.