This Chocolate Chip Cookie Cheesecake Pie is a truly rich and decadent dessert. Each bite is creamy, chocolaty, and delicious!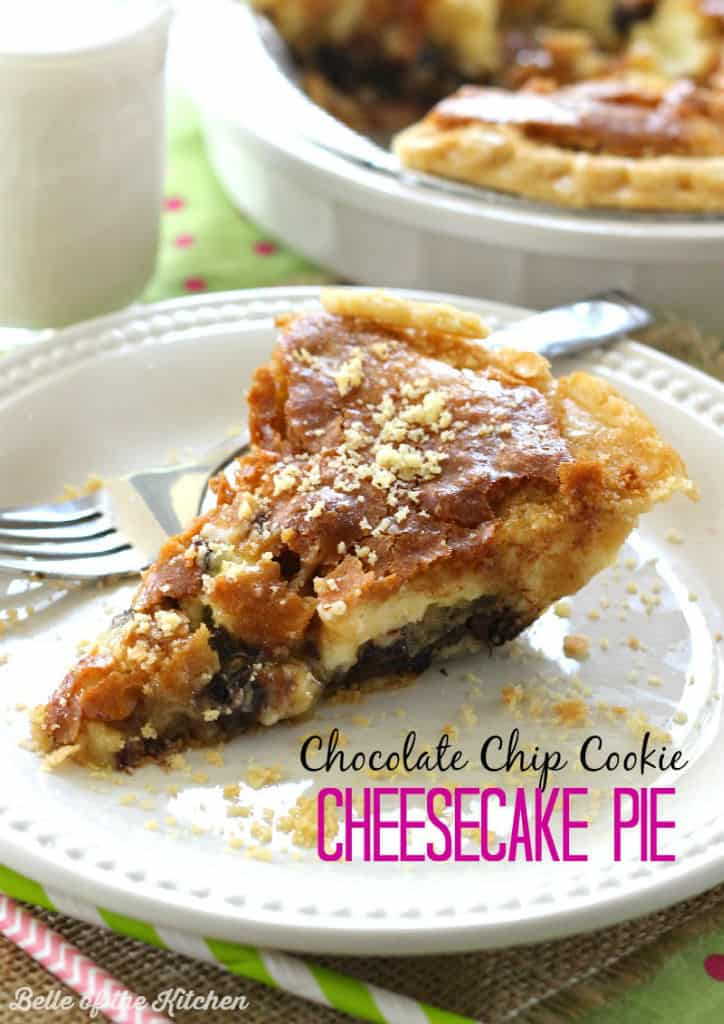 So I must confess. I had a very difficult time taking pictures of this pie. Not really because of environmental issues, which I do deal with during a photo session. Lighting, weather, etc. can all cause problems when you're trying to get one decent picture. But none of these were my biggest problem today.
From the second I took this pie out the oven, I had to fight the urge to stick my fork right in the center and scoop out a big, gooey chunk. See, there is a wait involved with this pie. First you have to wait for it to bake. Then you have to wait for it cool off! And if this is prepared as a special dessert meant for sharing with others, then you have to wait until it's time to serve it. And we all know waiting is the hardest part in anything.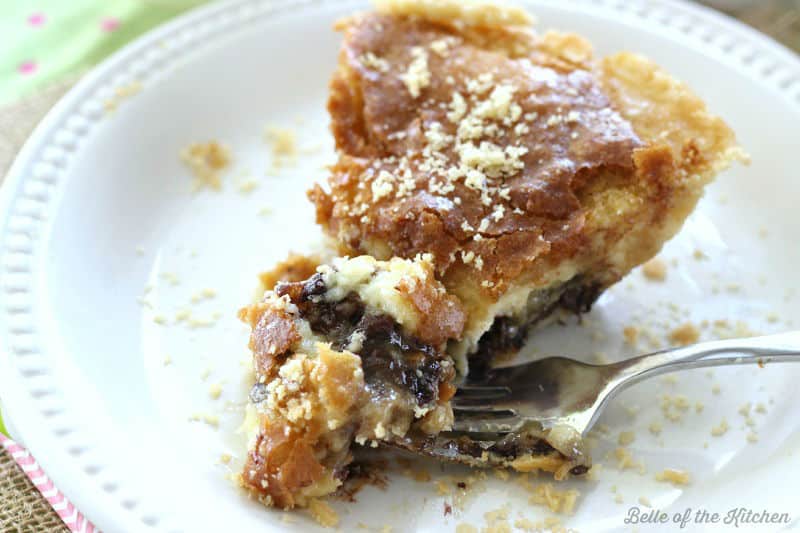 So after the pie had baked and cooled off, then I needed to take the pictures. And all I wanted was just a bite! My son was feeling the same way as me. He and I both just kind of stood staring wistfully at the pie in all its decadent glory, as it rested patiently beside my camera. I somehow powered through and took the pictures, though. And my son survived the wait with a little help from Curious George. Oh the struggle was real, y'all.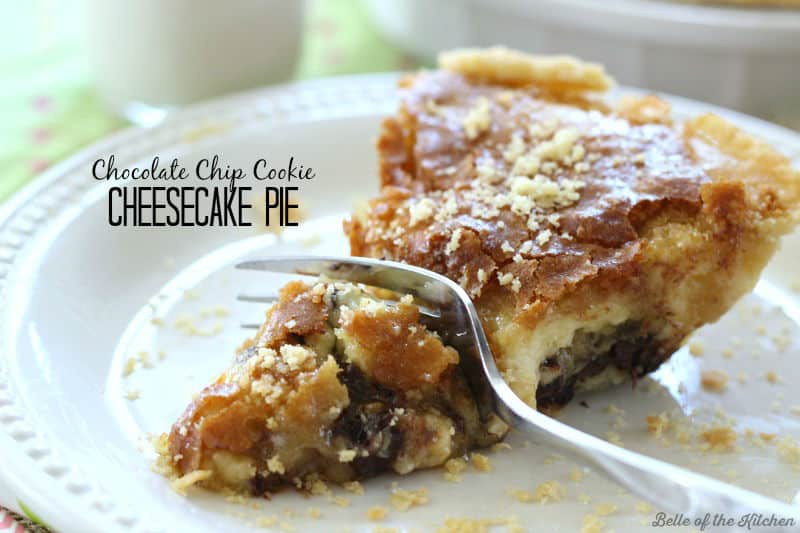 And after the pictures were taken? Well, that white plate was looking mighty clean. 😉
Chocolate Chip Cookie Cheesecake Pie
Ingredients
Chocolate Chip Cookie layers:
1 unbaked 9-inch deep-dish pie shell
2 large eggs
½ cup all-purpose flour
½ cup granulated sugar
½ cup packed brown sugar
¾ cup butter, softened
1 cup semi-sweet chocolate morsels
Cheesecake layer:
1 (8 oz) package cream cheese, softened
½ cup granulated sugar
1 egg
½ tsp vanilla extract
Instructions
Preheat oven to 325° F. Beat eggs in a large mixing bowl on medium-high speed until foamy. Beat in flour, granulated sugar, and brown sugar until smooth. Beat in butter, then stir in chocolate chips by hand. Spoon half of the cookie dough into the bottom of the pie shell. Set aside
Beat together cream cheese, ½ cup sugar, 1 egg, and vanilla until smooth. Spread over the top of cookie dough layer in pie shell. Carefully spread remaining half of cookie dough over the top of cheesecake layer.
Bake for 50-60 minutes or until pie is set. Cool before serving.
Check out some of my other pie recipes!



Related posts: