Almond Butter Oreo Ice Cream Pie
Valentine's Day is coming up and if you're looking for a special dessert, oh boy, do I have a treat for you.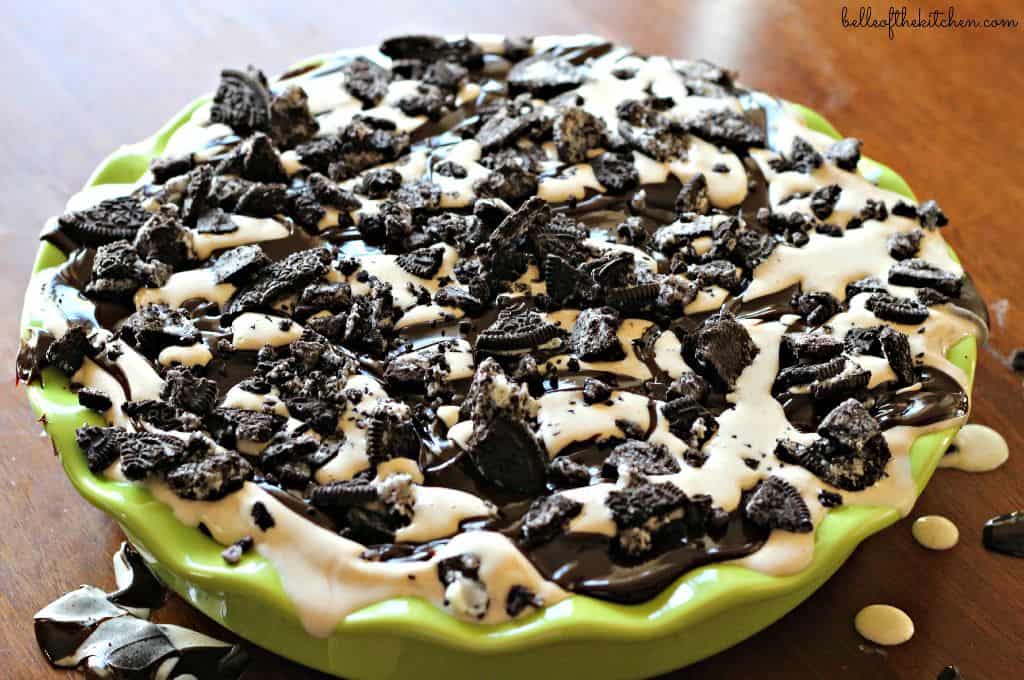 Oh yeah, pure decadence is what you will find here today. When my little guy and I made this, we had a very difficult time not devouring it on the spot. The hardest part about making this pie? THE WAIT! Yes, it needs to freeze for a good 6 hours. That is just cruel and unusual punishment!
I used almond butter in this pie in place of peanut butter because our son has a peanut allergy, as I shared in my post for Maple Almond Butter Oatmeal. The almond butter was such a delicious twist on this pie, we all went bananas for it! The original recipe does call for peanut butter, so if you would rather, you can totally use that instead! I also think it would be amazing with a flavored almond butter or even Nutella! Oh my.
This pie is pretty easy, too. NO BAKING! All of the magic happens in the freezer. 🙂
To get started on the crust, first you will need to finely crush about 25 Oreos and mix them with 6 TB melted butter in a pie plate.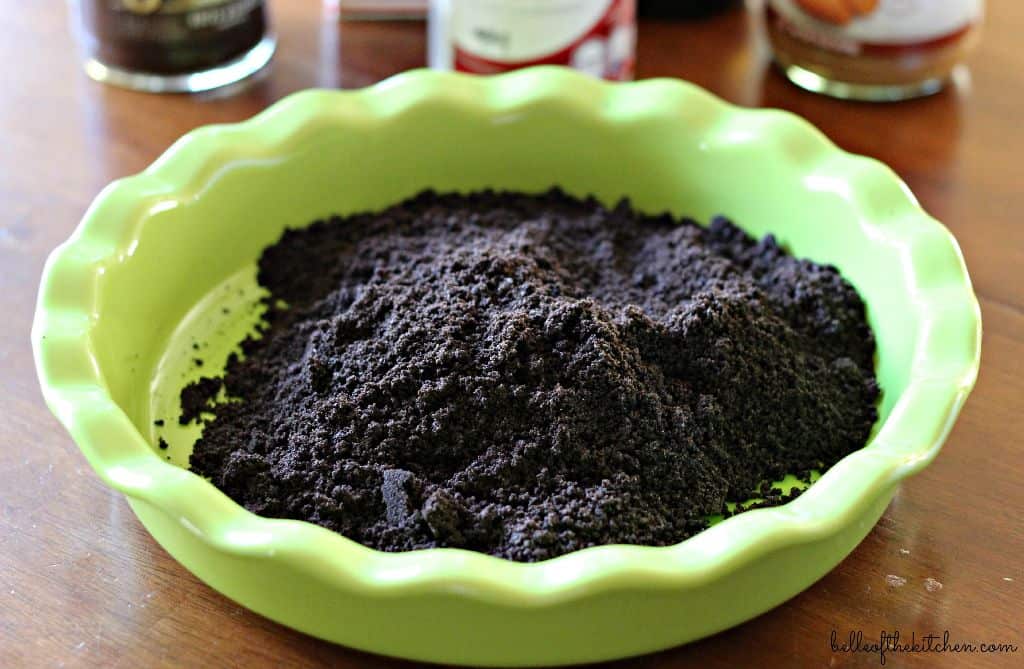 Press the mixture into the bottom of the pie plate to form the crust and freeze for about 10 minutes. Meanwhile in a separate bowl, mix some sweetened condensed milk, vanilla, and 1/3 cup almond butter together until smooth.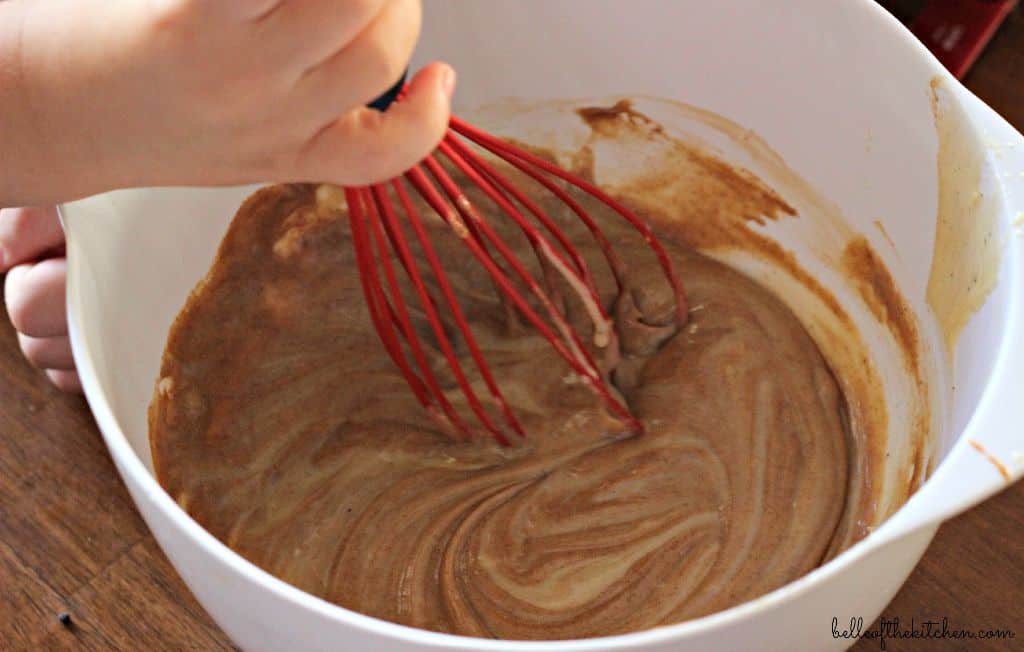 In another separate bowl that has been chilled in the freezer, beat 2 cups of heavy cream until stiff peaks form. I placed my metal Kitchen-Aid bowl in the freezer for about 10 minutes before mixing. The icy, cold bowl helps the cream to come together better and quicker. Once it's ready, fold the cream into the almond butter mixture.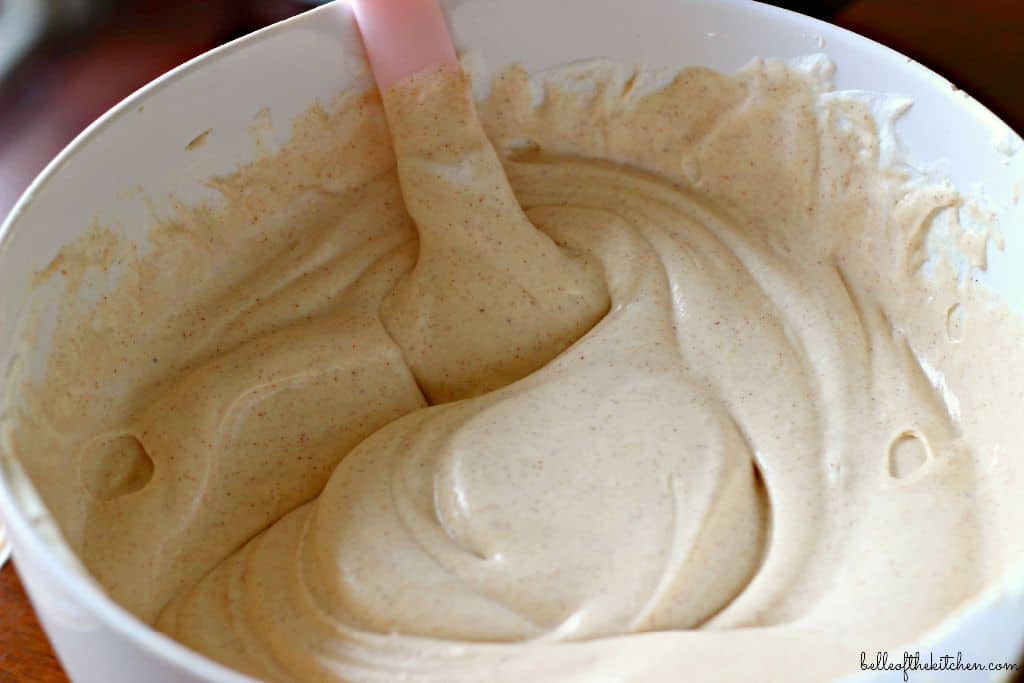 Remove your crust from the freezer and top with half of the almond butter cream. Take a jar of hot fudge and microwave it ( according to directions on the package) until it's easy to pour.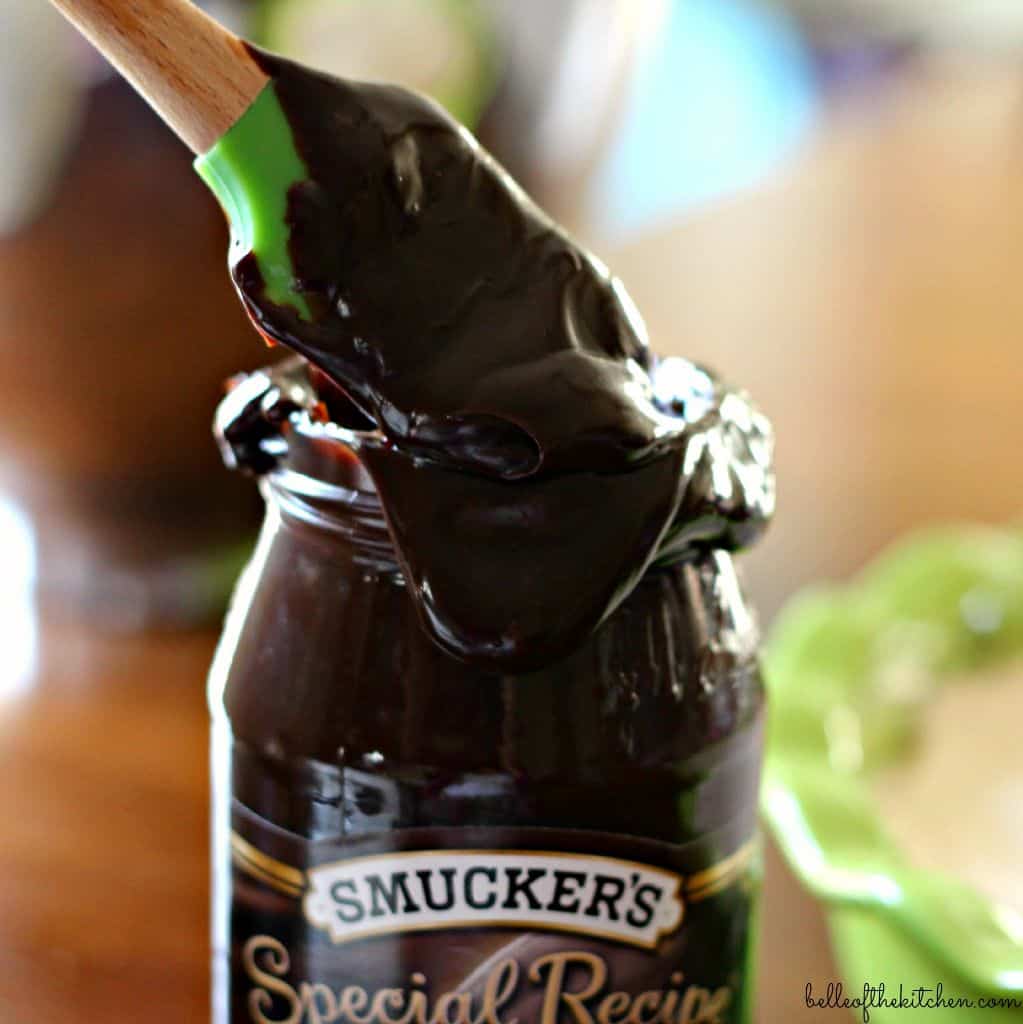 Pour about half the jar over the top of the cream.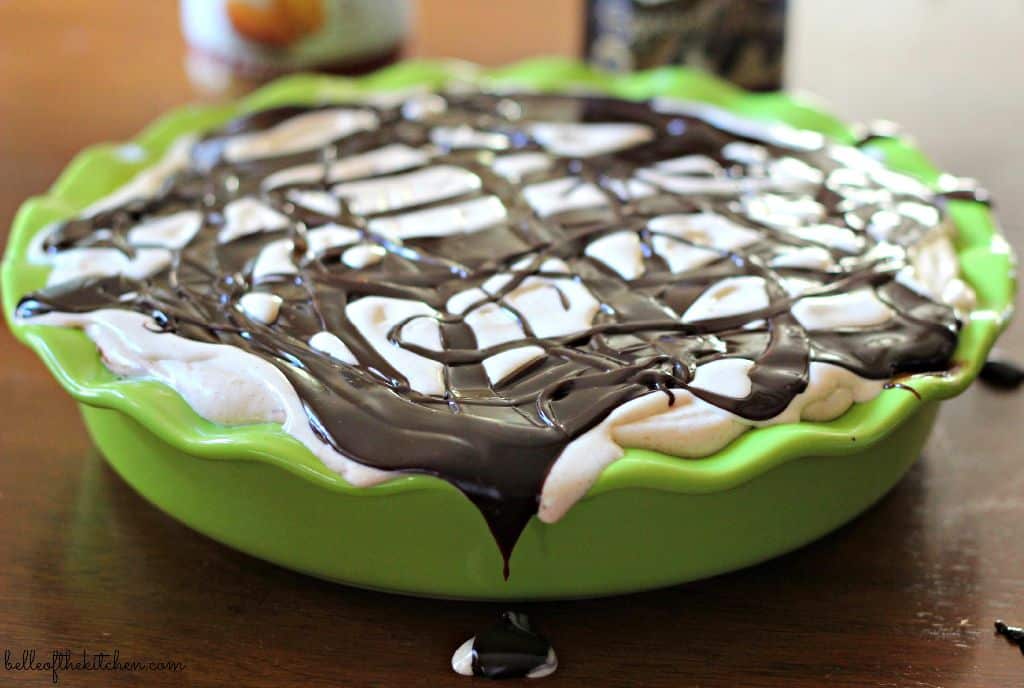 Oh yeah, baby.
Follow that with another layer of the remaining almond butter cream and the rest of the fudge. Top it all off with the remaining Oreos, crushed and sprinkled over the top.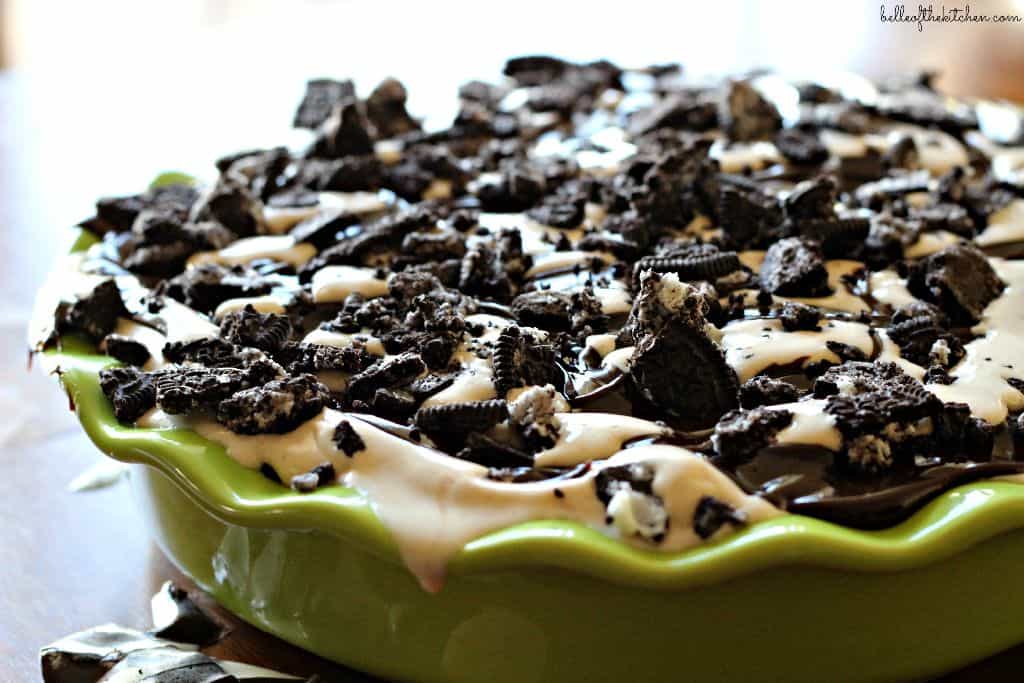 Now the hard part. It has to freeze for about 6-8 hours. But when it's ready, you're gonna fall into chocolaty, almond buttery, love! And in the mean time, you can always "lick the table" where the yumminess is sure to have overflown from your pie plate. At least that's what this guy helped me do…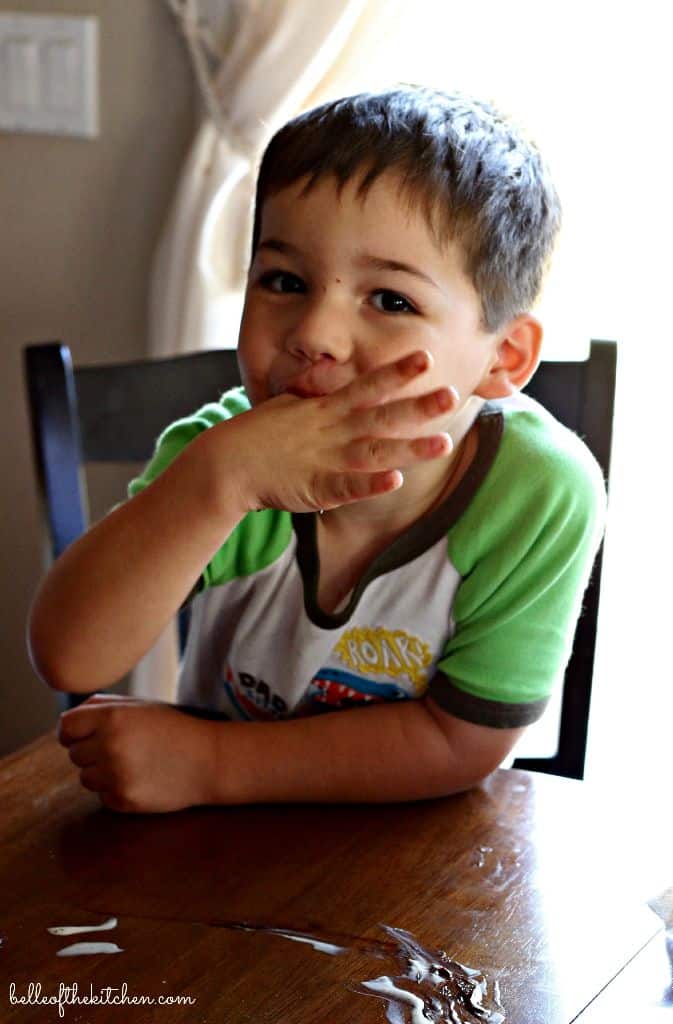 We made our own little spin on "licking the spoon." 🙂
Once it's nice and frozen, pull out your ice cream pie and let it sit on the counter for about 10 minutes to thaw just a tad. This will make slicing much easier. You could also run your knife under hot water to help.
Valentine's Day is just a couple weeks away, and I think this would be a great way to finish dinner if you're celebrating at home ! I hope your sweetie/ies love it as much as mine did! 🙂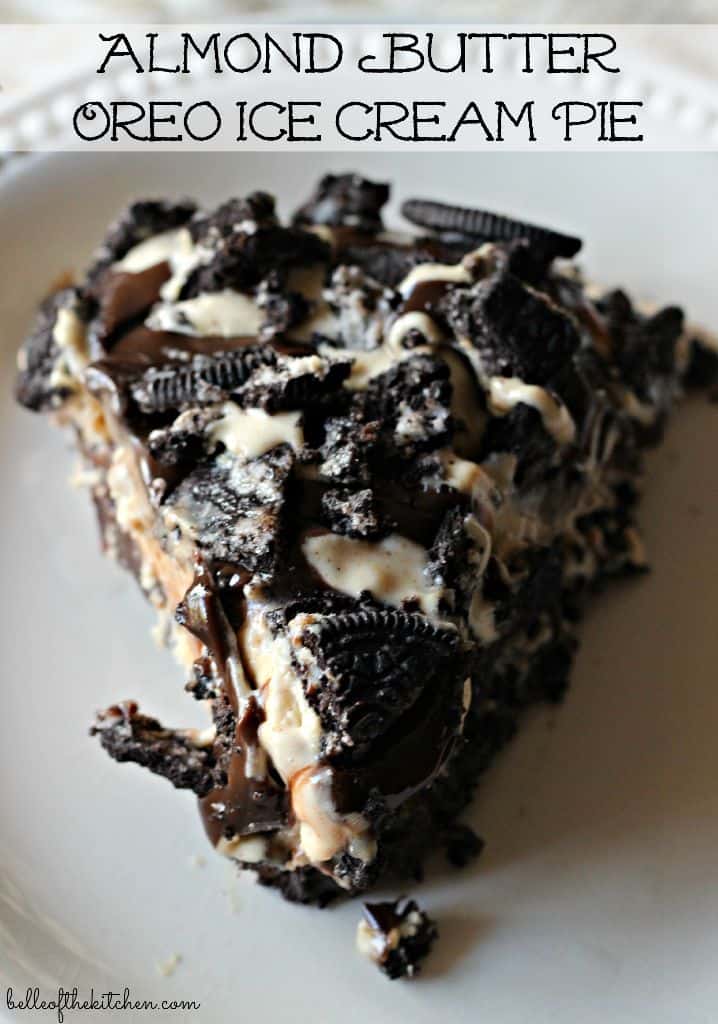 Enjoy!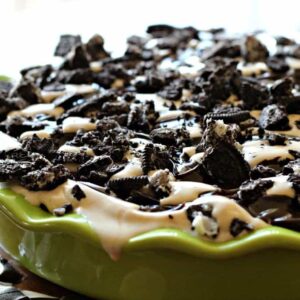 Almond Butter Oreo Ice Cream Pie
This Almond Butter Oreo Ice Cream Pie is the ultimate, decadent treat! A total showstopper of a dessert!
Ingredients
1 package Oreo Cookies
6 Tablespoons melted butter
2 cups cold heavy cream
1 (14 oz) can Sweetened Condensed Milk
1/3 cup almond butter
1/2 teaspoon vanilla extract
1 jar Chocolate Fudge Microwave Topping
Instructions
Finely crush about 25 Oreos. Mix with melted butter and spread in the bottom of a 9″ round pan for the crust. Freeze for about 10 minutes.

Meanwhile, lightly crush the remaining Oreos into large pieces. Whisk sweetened condensed milk, almond butter, and vanilla in large bowl and set aside.

In a bowl that has been chilled in the freezer, whip the heavy cream until stiff peaks form, then fold the whipped cream into the sweetened condensed milk mixture.

Pour half of the almond butter ice cream mixture on top of the frozen Oreo crust. Heat Chocolate Fudge according to the directions on the bottle, and pour half of the bottle in a layer over the ice cream.

Add the remaining ice cream, hot fudge, and top with the Oreo cookie pieces. Freeze for at least 6-8 hours before serving.
Calories: 814kcal, Carbohydrates: 80g, Protein: 11g, Fat: 52g, Saturated Fat: 26g, Cholesterol: 121mg, Sodium: 466mg, Potassium: 483mg, Fiber: 3g, Sugar: 55g, Vitamin A: 1270IU, Vitamin C: 1.7mg, Calcium: 242mg, Iron: 4.7mg
This site contains affiliate links, if you make a purchase through them, we receive a small commission.