These Strawberry Cheesecake Muffins are made with fresh strawberries and a layer of creamy cheesecake filling. They're finished with a perfectly sweet dusting of cinnamon sugar on top!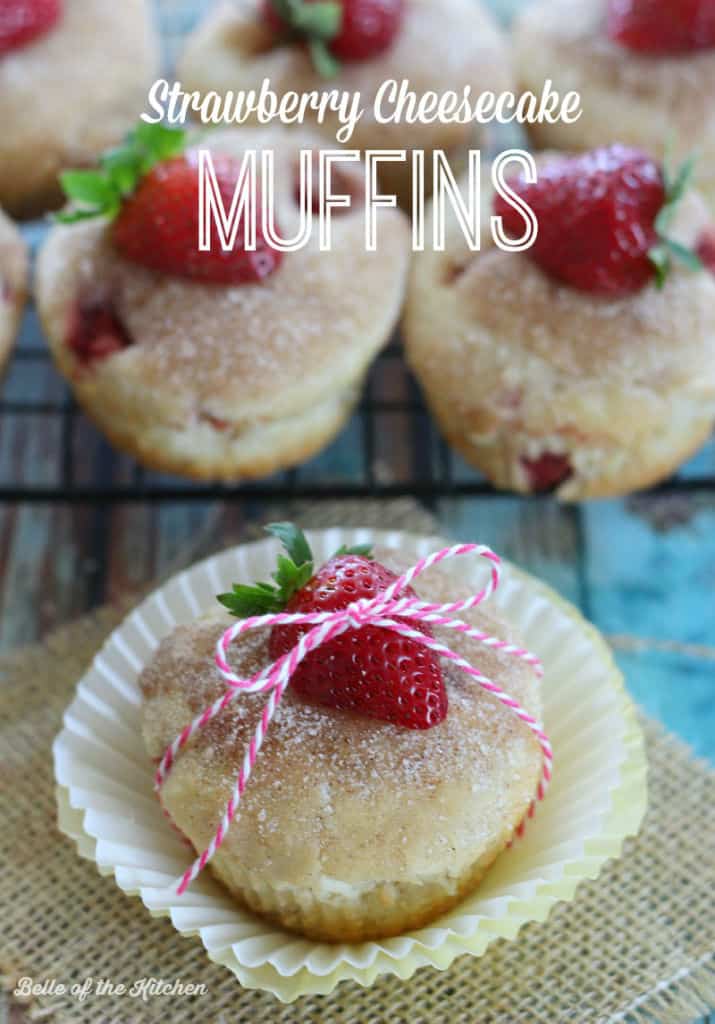 Back to school time is in full swing again! Have your kiddos started back to school yet? My son started preschool a couple of weeks ago, but the older kids actually started back on August 1st. I know there are some schools, especially on the east coast, that don't start until after labor day, so if your kiddos are headed back this week, I hope they have a great start!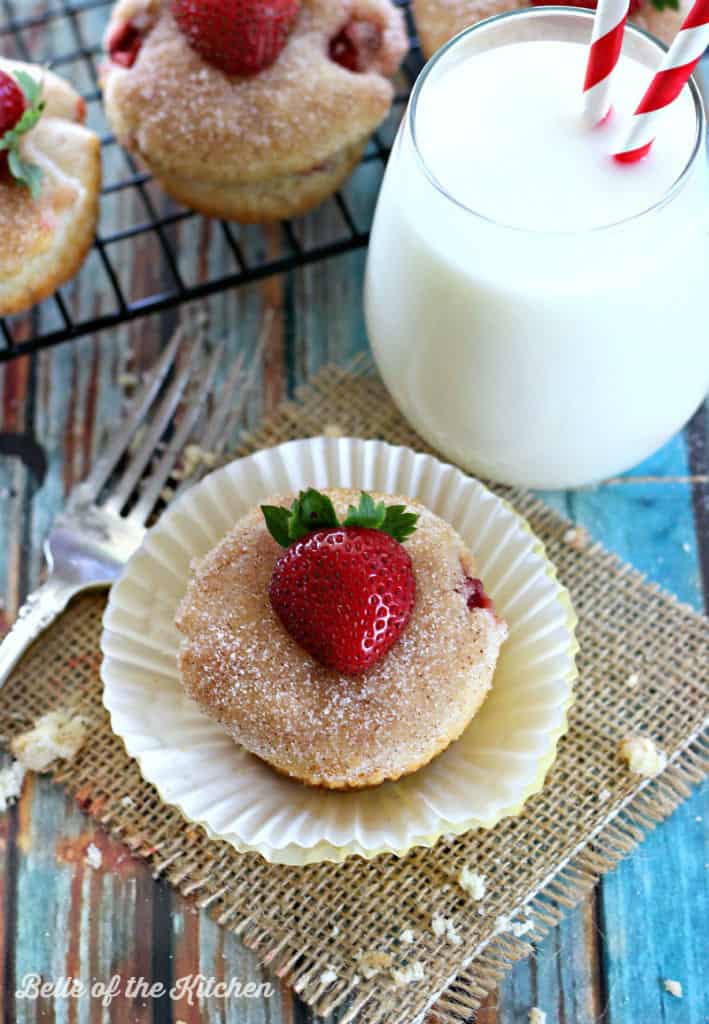 I made these muffins last week to help make breakfast time a little bit easier for both my husband and son. They only lasted a couple of days though (not a lot of self-control around here 😉 ) so when I make them again, I'll definitely make a double batch! They make a great on-the-go breakfast option, or even just a nice afternoon treat.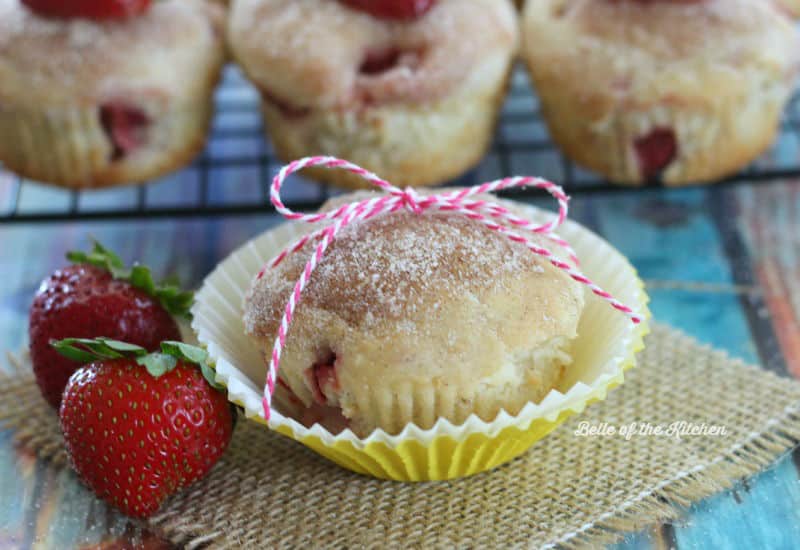 Be sure to drop back by later this week, because I'll be sharing a recipe for Meatball Sandwiches (oh, SO good!) and, every Saturday now I'll be hosting Saturday Night Fever, a recipe link party! We've had lots of great link-ups so far at this week's party, so be sure to stop by, link up if you've got a recipe to share, and look around to find some great meal ideas!
Strawberry Cheesecake Muffins
Ingredients
Muffins:
⅓ cup butter, softened
½ cup granulated sugar
1 egg
1½ c. all-purpose flour
1½ tsp. baking powder
¼ tsp. salt
¼ tsp. cinnamon
½ cup milk
1 cup diced fresh strawberries
Cheesecake Filling:
4 oz. cream cheese, softened
⅓ cup granulated sugar
½ tsp. vanilla extract
Topping:
3 TB butter, melted
¼ cup sugar
½ tsp. cinnamon
Instructions
Preheat oven to 350 degrees. Line muffin pan with 12 paper liners.
Combine flour, baking powder, salt, and cinnamon in a medium bowl and mix well. Set aside.
In a large bowl, beat butter and sugar with an electric mixer until light and fluffy. Add egg and mix by hand. Add in dry ingredients and milk, mixing just until combined. Carefully mix in strawberries.
Prepare cheesecake filling by beating cream cheese, sugar, and vanilla together until smooth.
Place 1 heaping tablespoon of muffin batter into each prepared muffin cup. Next, layer 1 tablespoon of cheesecake filling on top. Complete with a final layer of muffin batter, about 1 heaping tablespoon. Add any remaining batter to any muffins that look like they need a bit more. :)
Bake in preheated oven for 30 minutes or until toothpick inserted into center comes out clean. Allow to cool in pan slightly before transferring to a wire rack.
Melt butter in a small, shallow bowl. Combine cinnamon and sugar in another small bowl. After muffins have cooled slightly, dip the tops of each into the melted butter, then into the cinnamon sugar topping. Enjoy!