Parmesan Pesto Tuna Melts
Thank you to Bumble Bee for sponsoring this post.
Take your tuna melt to the next level with these Parmesan Pesto Tuna Melts! A creamy, parmesan pesto filling made with Bumble Bee® Tuna, a hint of garlic, and gooey cheese, is sandwiched between two slices of buttery crisp bread. Get ready to sink your teeth into this one!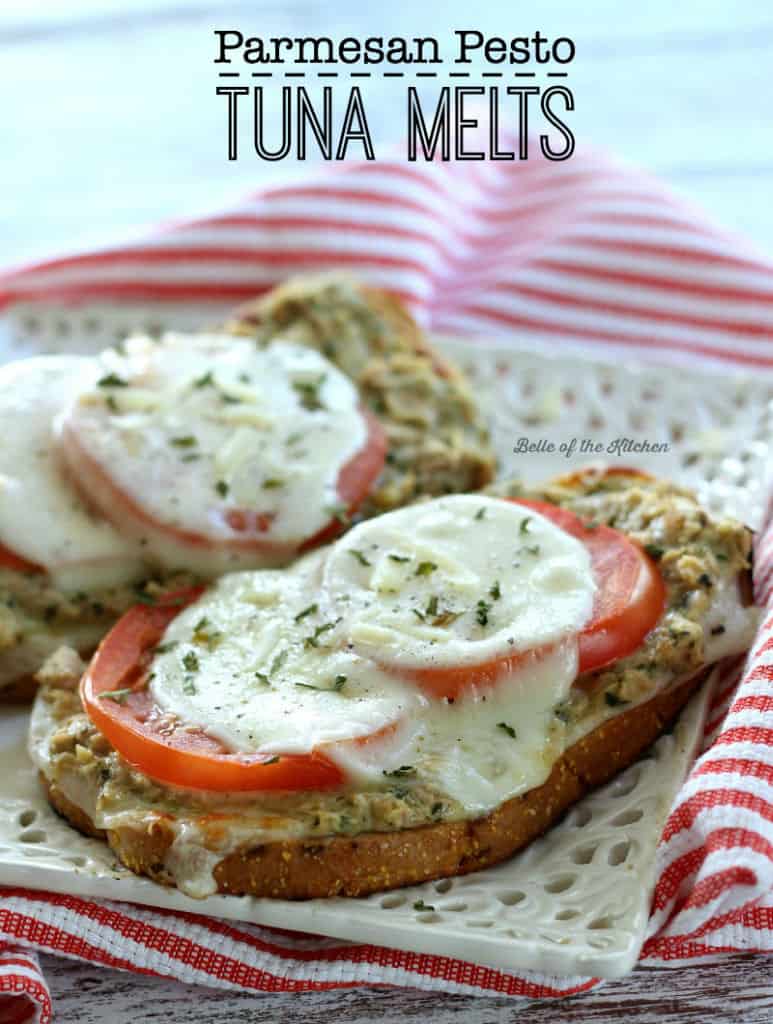 I have two older sisters who I love dearly. They are eight and nine years older than me, so in some ways they have always felt like my little mommies, in addition to being my BFFs. Growing up, they used to prepare a lot of our meals while our parents were working. Thinking back now, I've realized that they were pretty talented teenage chefs! 😉 Out of all the meals they would make, my favorite was a simple tuna melt. I love how delicious, cheesy, and filling a tuna melt is, and whenever I eat one now, I get all nostalgic thinking of my sweet siblings. Love them!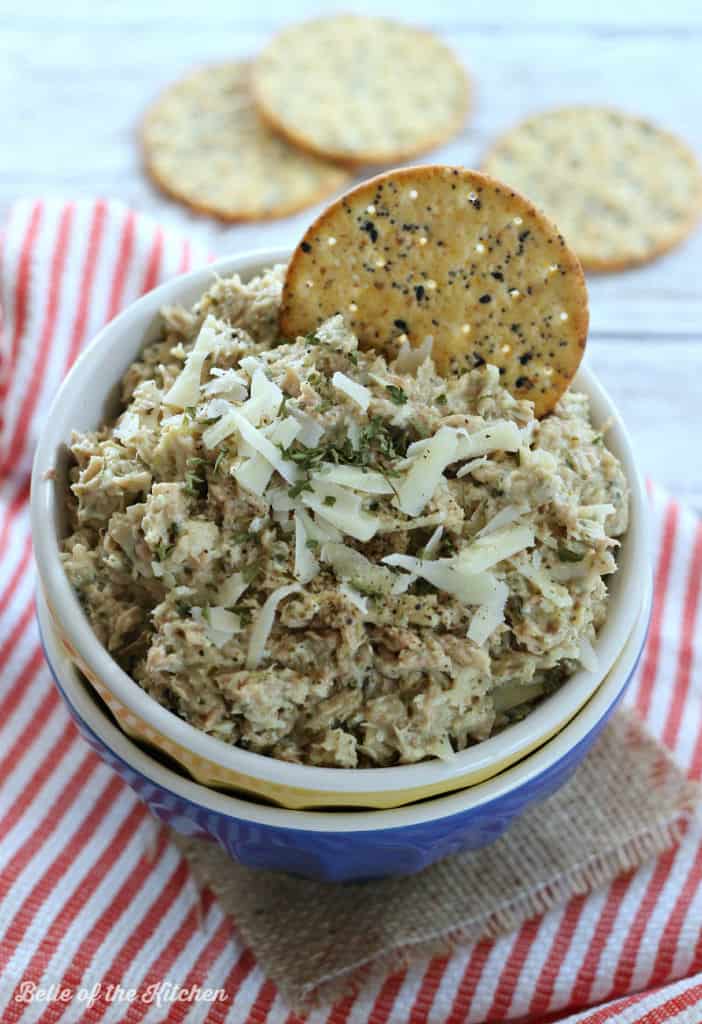 I do love a classic tuna melt, but let me tell ya, if you throw in some parmesan cheese and some pesto? Oh my goodness, tuna melt perfection! The pesto just adds an amazing flavor to the tuna, and OH. THE. CHEESE! Seriously y'all, this sandwich took me about 15 minutes to make from start to finish. Talk about the perfect, easy dinner now that the kids are back in school, and everyone is a bit busier. My husband and I "mmm'ed" through the entire meal as we ate these for dinner the other night, and my four year old even devoured his! That says a lot for a little guy who claims he "doesn't like eating fishies." 😉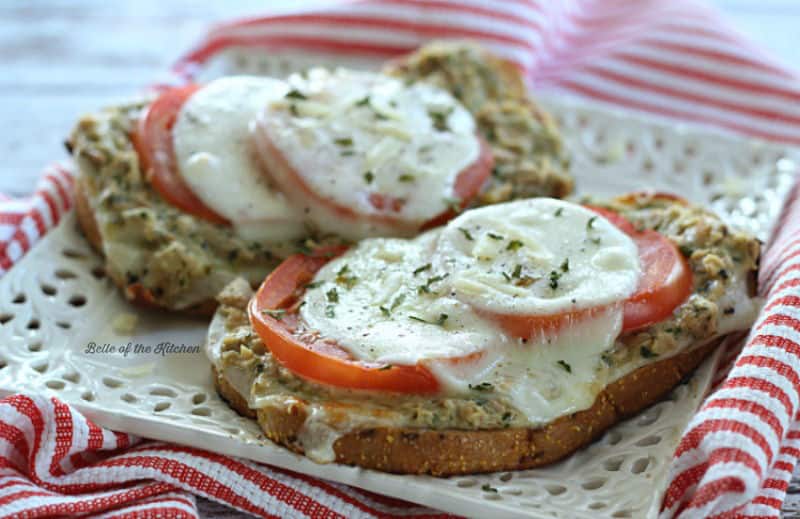 To make these delicious sandwiches, I used four 2.5 oz pouches of Bumble Bee® Premium Albacore Tuna, but you could also use their Light Tuna. I love the pouches because they are so easy to use; you don't even have to drain them! You could also use two of their 5 oz. packages, or two 5 oz. cans. Bumble Bee also has lots of custom recipe ideas for whatever size you like best over on their website.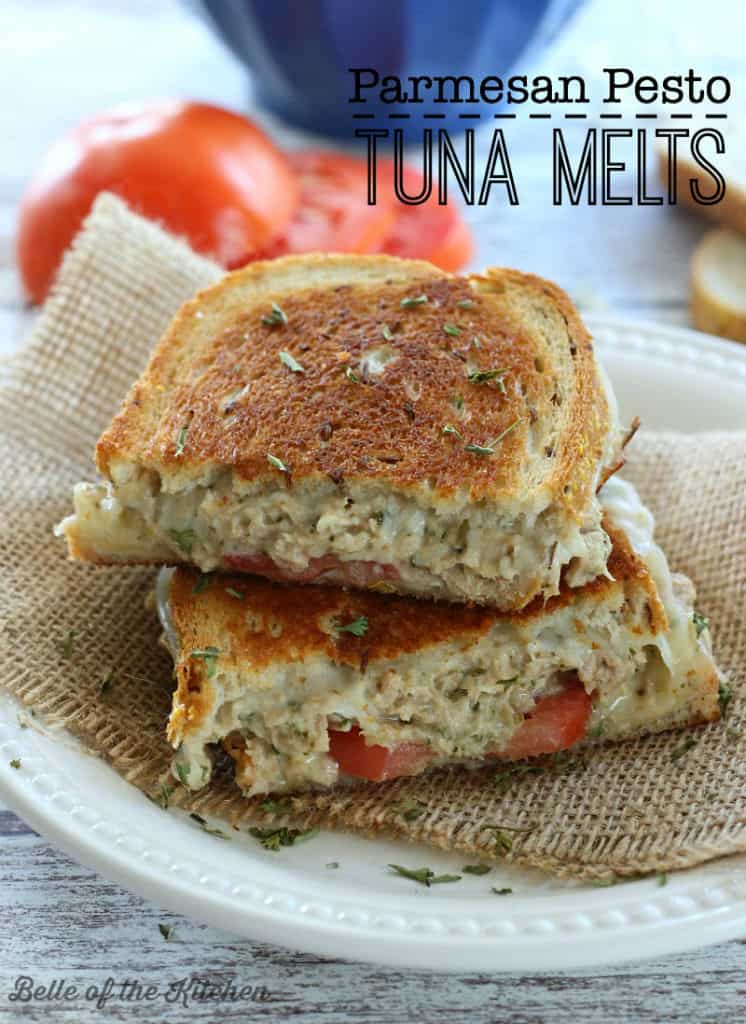 To the tuna I added some mayo, pesto, garlic, shredded parmesan, and some salt and pepper. At this point, I couldn't help but dig in with some crackers, it was so good! I also decided to try scooping it up with some apple slices that I had cut up for my son to eat while I was making the tuna melts. It was delicious! Perfect as a dip AND a yummy sandwich filling? WIN!
I made the sandwiches two different ways. First as a traditional, two-slice sandwich, and then as an open-face version that I dug into with a fork. I chose to top mine with a couple of tomato slices and some mozzarella cheese. Both were equally delicious!
So, what are some of your favorite ways to enjoy tuna? I'd love to hear your favorite recipes. 🙂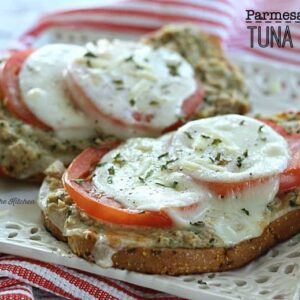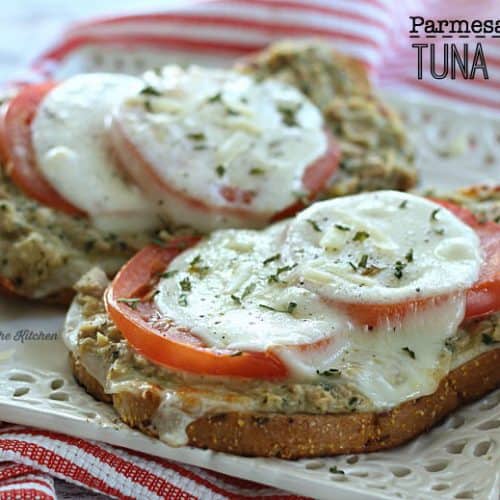 Parmesan Pesto Tuna Melts
These Parmesan Pesto Tuna Melts are made with tuna, a hint of garlic, and gooey cheese, sandwiched between two slices of buttery crisp bread. Get ready to sink your teeth into this one!
Ingredients
4 (2.5 oz) pouches Bumble Bee Premium Albacore Tuna or Light Tuna (you could also use 2 (5 oz) pouches or 2 (5 oz) cans)
4 Tablespoons mayonaise
4 Tablespoons prepared pesto
1/2 cup shredded parmesan cheese
2 teaspoons garlic,, minced
salt and pepper, to taste
sliced bread of choice, (I used rye)
butter
sliced tomato,, optional
sliced mozzarella or provolone cheese
Instructions
Empty pouches of tuna into a medium sized bowl and flake tuna with a fork. Add in mayonnaise, pesto, parmesan cheese, garlic, salt and pepper, and mix well.

Heat a large skillet over medium heat. Butter one side each of eight slices of bread. (You will only need to butter four slices if making an open-face sandwich.)

Once skillet is warm, add one slice of bread to the skillet, butter side down. Immediately layer with one slice of cheese, 1/4 of the parmesan pesto tuna mix, tomato slices (if using), and another slice of cheese. Top with a second slice of bread, butter side up.

Allow to cook, about 3 minutes, or until bottom slice of bread has turned golden brown. Flip sandwich with a spatula, and repeat on the other side. Remove tuna melt from skillet and repeat process to make three more sandwiches.

For Open-Face Tuna Melt: Prepare sandwiches in an oven-safe skillet, using the same process as above, except for leaving off the top layer of bread when layering sandwich ingredients. Cook sandwiches until bottom slice of bread has turned golden brown. Turn oven broiler to high. Place skillet on middle oven rack, and broil for about 2 minutes, or until cheese on top is melted and dotted with brown. Remove skillet from oven and enjoy!
Serving: 1g, Calories: 343kcal, Carbohydrates: 2g, Protein: 19g, Fat: 28g, Saturated Fat: 10g, Cholesterol: 63mg, Sodium: 685mg, Potassium: 138mg, Vitamin A: 705IU, Vitamin C: 0.5mg, Calcium: 189mg, Iron: 1.4mg
I was selected for this opportunity as a member of Clever Girls Collective and the content and opinions expressed here are all my own.
This site contains affiliate links, if you make a purchase through them, we receive a small commission.